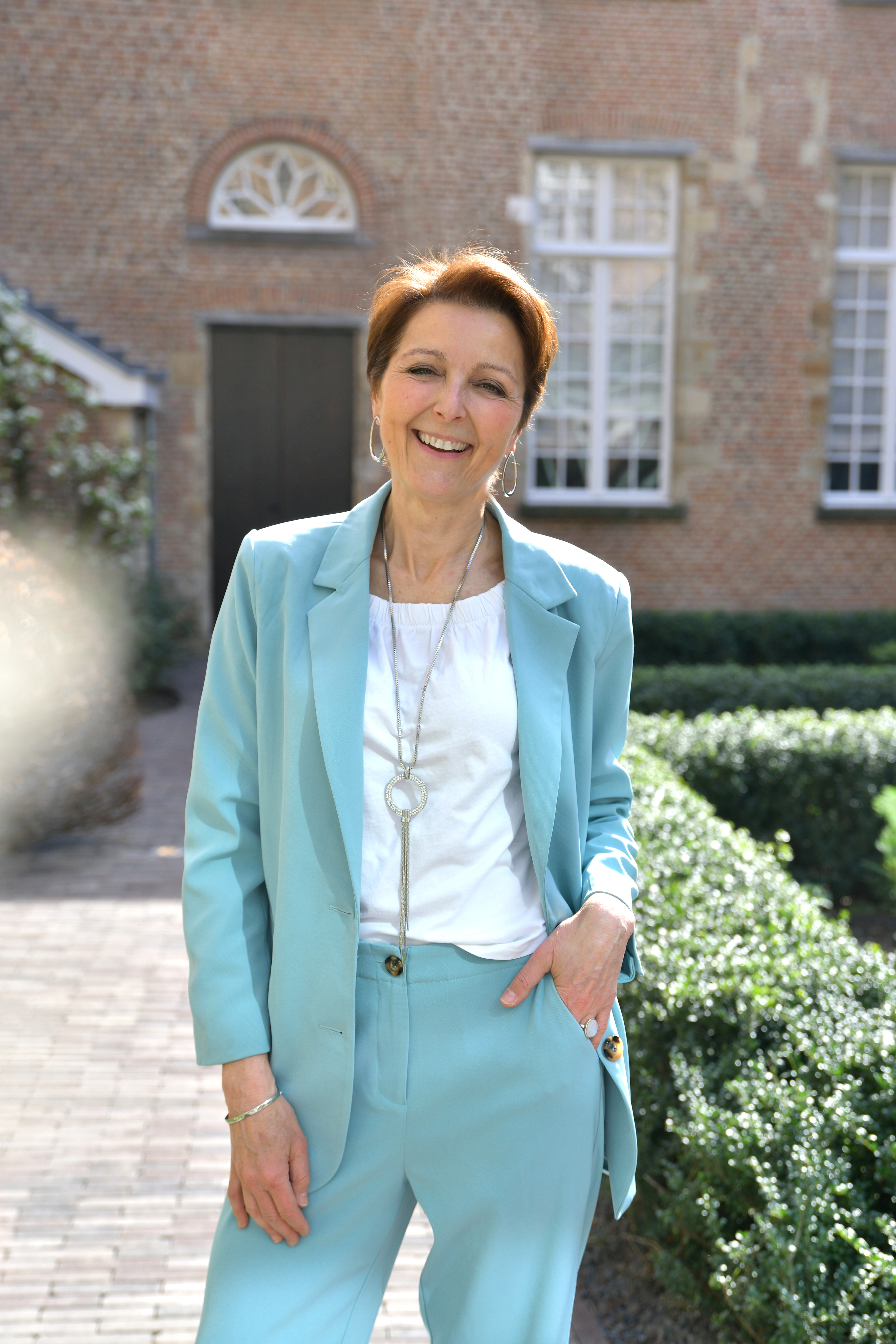 Dominique Stulens: Unleashing My Potential—How I became Europe's First Certified 10X Business Coach
Get ready for an enlightening interview with Dominique Stulens, a dynamic and experienced Business Coach who specializes in mindset, marketing, and sales. Dominique's journey from the corporate world to coaching is truly inspiring, reflecting her resilience and self-discovery.
Since the start of this year, her first year as an entrepreneur producing great success through massive action, she carved her niche as Europe's first certified 10X business coach. Her transformative journey has shaped her distinctive coaching philosophy empowering individuals to conquer limiting beliefs, set ambitious goals, and achieve success across different areas of their lives. Dominique's coaching programs, like the "yournextme Mastermind" and "VIP Program," provide practical solutions for personal and professional growth.
What sets her apart in the coaching world is her focus on authenticity, intuition, and cross-cultural understanding. Whether it's through her eBook, podcast, or success stories from her coaching clients, Dominique aims to inspire individuals to unlock their full potential by fostering self-awareness and personal leadership for success.
---
Can you share a bit more about your journey and how you transitioned from your corporate career to becoming a 10X Business Coach focused on mindset, marketing, and sales?
In 2015 I could feel it was time for me to work as my own boss. I was tired of working so hard for others and in the end losing my job because of company restructuring. When sitting at the chiropractor, I saw an article from a coach and felt immediately that that was something I wanted to do. I just didn't dare to do it because of financial insecurity.
Fast forward, during my burnout in 2021, I knew my body was telling me to go for it and deal with my insecurity. I came across Tony Robbins and Dean Graziosi who helped me start my journey. I then started following Grant Cardone and felt he was a good match for me.
I wanted to learn the money mindset and present as a strong seller. With his courses I could combine my expertise in marketing, and learn more about mindset and sales. I felt in love with his 10X rule and decided to participate in his mission to reach 8 billion people on the planet.
I'm the first woman in Europe to be a certified 10X business coach.
Could you provide an example of a common limiting belief you've encountered and how you've helped someone overcome it?
One of the most limiting beliefs I hear is "not being good enough." One that has hit me too many times.
We tell ourselves many stories. In a day, we have approximately 60.000 thoughts, of which 70% are negative. Our mind is willing to protect us, but in the end, it keeps us from trying things and daring to fail. What I do with my clients is — I first teach them how to be more conscious of the voice talking to them. That voice isn't you; it's your mind. I call her Charlie.
Mindfulness is a very good way to practice consciousness. Once you are conscious, you can start dealing with your thoughts through exercises. An important point, though, is that you must be willing to look at it honestly and accept change in order to be released from your limiting beliefs.
The "yournextme Mastermind" program seems to be about mindset transformation. What key strategies or techniques do you employ to help individuals gain more confidence and conquer their fears?
The yournextme mastermind is composed of easy-to-follow online courses. For 10 weeks, you'll get a course with practical exercises, every week, and they help you through the process of building consciousness. You'll have more clarity on what your limiting beliefs are. You'll manage to understand where they come from and learn how to accept them.
This course proves itself as a very effective self-education course, accessible to all.
If you follow the guidelines and practice every day, you'll notice a real change and release. You'll start feeling less stress, control your emotions better, and have more clarity. You'll also notice an impact on your energy levels and your health.
Many people struggle with change and setting concrete goals. Can you explain how your "yournextme Immersion Day" helps individuals clarify their goals and overcome resistance to change?
I noticed that some clients needed something that would really help them get immediate clarity on their next steps in life. What helped me transform during my burnout includes five essential steps to achieving massive results.
The 5 steps are:
Setting 10X goals big enough to get you motivated.
10X your health, because without health, there is no wealth.
Build an unbreakable 10X mindset.
Take massive action.
Be obsessed on your commitment.
During this full immersion day, clients unpeel their onion, go deep inward in self-awareness, work on their limiting beliefs during a walk-in nature, step out of their comfort zone through a metaphor of intuitive cooking, and develop their goals in all aspects of life.
Amazingly, we see transformation at the end of the day.
It always proves a precious gift to see clients in an "aha-moment" and feeling energized while going home!
In your "yournextme Group Coaching" program, you mention the importance of personal leadership. Could you elaborate on the role personal leadership plays in entrepreneurial success and how your program addresses it?
In this program, we check, firstly, for mindset and state. Without a strong mindset, you attain no success. Majorly, you must focus on belief and self-esteem. Believe in yourself, your product/service and company if you want to create massive results.
When you reach clarity on that, we begin developing your business. We do this with strong and worldwide proven systems and strategies in marketing and sales. The program follows the needs of the group.
There is a weekly assignment and accountability process to see the progress. It's built for a minimum of 3 months but can extend if more time is needed to attain further development.
Your "yournextme VIP Program" offers fully customized coaching. What specific strategies or systems do you use to drive significant growth for your clients in a relatively short period?
This programme is a "do it for YOU" type of program.
We measure gaps in a client's personal and professional life. Every week, we check what we can address. This one-on-one work allows our clients to build their business from scratch or upscale it to a new level with a personal approach and all while thinking through different steps along each phase in mindset, marketing, and sales.
There is also access to Cardone University, which offers over 800 courses. I'll remain available for all questions between the weekly sessions through WhatsApp. A fully designed strategy, branding implementation, social media presence, and/or offline visibility, as well as simple and incredible efficient sales techniques are all offered.
Strategy and implementation don't need to be complex and difficult. By keeping it simple and efficient, you find yourself lead to even stronger results. To emphasise: I only work with conscious business owners willing to change things and take massive action to achieve MASSIVE results.
Your eBook, "Leading from Your Own Strength," emphasizes authenticity and intuition in leadership. Can you share a key insight or tool from the eBook that aspiring leaders can apply immediately?
What I realised is that our intuition is the compass for all our decisions. But we live in a highly stressful environment and don't take the time to check in on how we feel. I have come to know that our body informs us on what we need.
We must only remain willing to listen.
Therefore, it is important to pause a few times a day and gauge our bodies, inside-out. We can always decide where we want to be:
1) in a positive state of mind, changing our behaviour to fit what we need; or 2) remain in a negative state of mind and continue suffering unconsciously.
The easiest and most effective exercise comes down to breath-work. Breathe 10 times, for a few minutes, by counting 4 breaths in and 6 breaths out while staying concentrated on the way you breathe. Self-leadership is where your role as a leader starts. Only by running self-checks will you build empathy and remain authentic to others around you.
Your podcast is geared toward ambitious women seeking self-care and intuition in leadership. Could you share a particularly impactful interview or topic that has resonated with your audience?
To achieve success, you must understand it all starts with self-care and intuition. If you go against these two elements, you won't keep running. A ferocious believer in massive action-takers, I also believe massive action includes what you do to keep your health, relationships, finances, purpose/goals, etc. at a level you can grow and move into a successful life from.
By trusting your intuition, you'll probably make better decisions than if you only did used your head. One of my most popular podcasts was an interview with a successful entrepreneur in Belgium, who explained that his business started flowing a lot better once he became more authentic, to himself and to others. He started realising how empathy and intuition made the difference.
By applying these principles, he felt a lot closer to himself, but also to his employees and his clients. He started listening differently, paying more attention to any suggestions from others instead of simply pushing his own beliefs. It was a real turnaround in personal and professional life for him.
With your international background in marketing and people management, what valuable cross-cultural insights have you gained, and how do they inform your coaching approach?
Having worked with many different cultures, I must say they all contributed to who I am today.
I must admit that I always naturally adapt quite easily to the people I dealt with in my experience. This helped gain trust and respect. I also realized no matter what culture you hail from, there remains one common thread: if you treat people with respect and remain authentic, you receive respect as well and gain their trust. You don't need to speak their language for that. It's your attitude and body language that do the work.
Finally, could you share one of your most memorable success stories from your coaching practice? What was the individual's journey, and what lessons can others learn from their experience with your coaching?
One of my students wanted to venture into business as an interior designer and architect. Clear on her mission, she nevertheless felt a lack of self-confidence necessary to make herself visible to the outside world. She believed she could not keep herself accountable by taking the necessary actions to do the needful things that put her in front of a client to make the sale.
She chose to be coached in a VIP program.
We started first by identifying her gaps in mindset, marketing, and sales. What seemed so beautiful about her, I remember, was that she showed real motivation and a unique willingness to take massive action. She accepted my advice and took all the necessary steps, one after the other.
It has been wonderful to see her gain confidence.
She now goes to so many networks, cold-calling people effortlessly, and wins over business in just 6 weeks' time. This is what she had to say about her first weeks as a coachee: "The coaching with Dominique Stulens is truly extraordinary. I called her because I already knew a little bit about the 10X philosophy, but I didn't have what I needed to apply it. Dominique brought me everything I was missing and much more.
What an amazing meeting! I would say that coincidence makes things right but does coincidence exist? I recommend her to anyone who wants to grow and reach their professional and private goals. "Thank you, Dominique, 🤩"
Coaching is the fine art of finding the true needs of the person, teaching them what you know, and celebrating their successes. Each coach has his or her own way of working and has unique experiences.
What really matters is finding the right match and developing mutual trust for each other; then a true transformation awaits, no matter the field. My mission: making sure I can help you gain the confidence and overcome your limiting beliefs to build massive personal and professional results in any aspect of your life supported by a 10X mindset, marketing and sales tools. The question is, what do you want to achieve?
Did you enjoy this article and find it helpful? Why not share it with your social media network below?