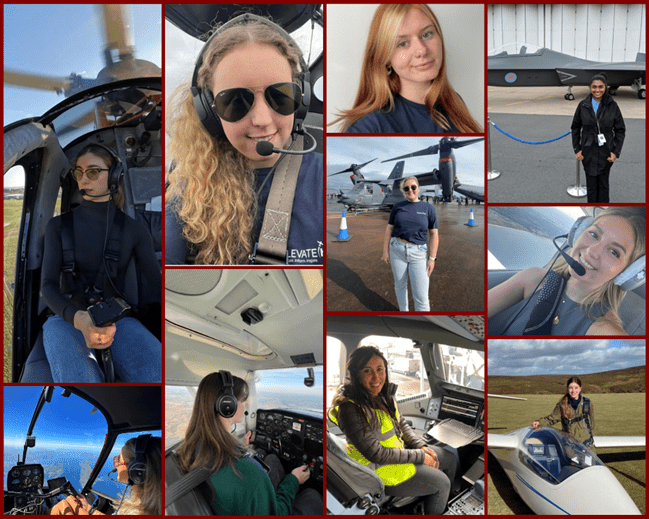 The Young Women Breaking Boundaries in Aviation Today!
---
Elevate(her) is a groundbreaking new online platform dedicated to help increase the percentage of women in the aviation industry. We provide all of the information to young women looking to enter aviation, from what to consider when choosing a flying school, who to follow on social media to be inspired, to latest industry news and scholarship opportunities.
Our Instagram @elevateheraviation brings women together from all areas of aviation, and of all ages to support and encourage each other. We run events, like our most recent, hosted by Bremont Watches at their incredible new facility 'The Wing' in Henley on Thames, with Ex RAF fast jet pilot Mandy Hickson as the keynote speaker. We had 70 women attend from all areas of the industry, from Pilots, to Engineers, Air Traffic Controllers and Wing Walkers! It was the largest gathering of female pilots in Europe.
The project originally started in 2022 with the inaugural lunch for women in aviation, hosted by Elevate(her) founder Katherine Moloney, at Brighton City Airport. This event was organised as Katherine didn't feel she knew many women in the industry.
With female pilots only making up 4.7% of pilots in the UK, we are spread thinly throughout the country! And it can feel lonely at times, whether you are learning to fly, or working in aviation. The event was a great success and inspired Katherine to take the initiative forward in a more meaningful way, to create a space where women in aviation can feel connected, inspired, encouraged and challenged.
Since the launch of Elevate(her) in May this year, the response has been phenomenal! With a clear demand for a platform of this nature, we have received many messages from young women in the industry or who want to get involved in aviation, who have found a home with Elevate(her).
We have a team of five volunteers who are all incredible women in aviation in their own rights and are dedicated to making a difference in the industry. We are all young women in aviation and have our own perspective, having travelled different routes into aviation.
---
Katherine Moloney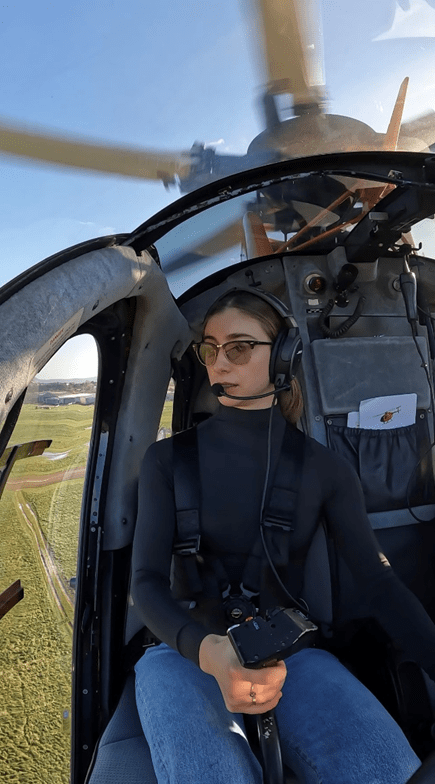 Founder of Elevate(her) Aviation. She started flying at 18, after she had a trial lesson in a helicopter while working in the warehouse for Transair Flight Equipment. That flight changed the course of her career, and she has now obtained a Private Pilot's License for both helicopter, and fixed wing aircraft. As well as this, she now works as Marketing Director for Transair Flight Equipment, and a Department for Transport Aviation Ambassador. She also runs an aviation social media account with over 220,000 Instagram followers aimed at supporting and encouraging people in the aviation industry.
Amelia Brunt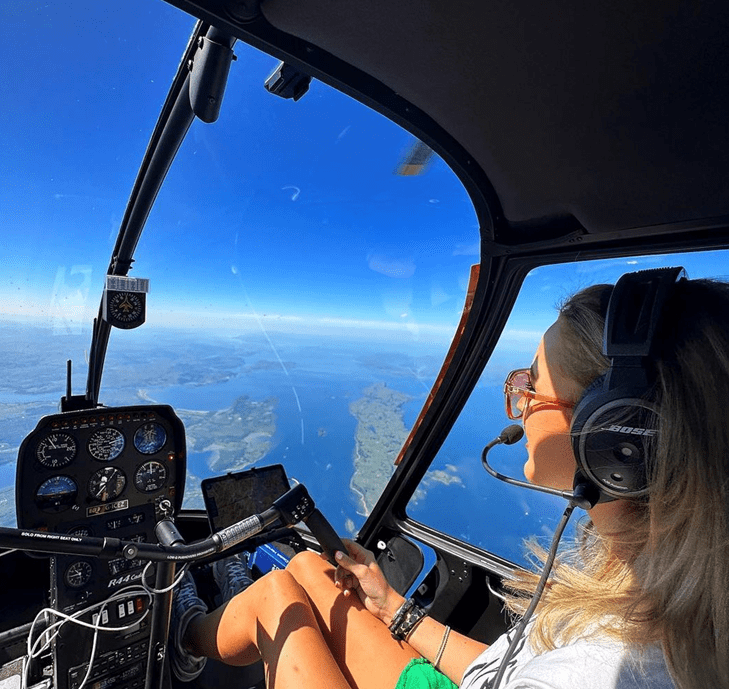 Achieved her PPL (H) in January 2023 after training out of Elstree Aerodrome alongside her university degree. Obsessed with helicopters for as long as she can remember, she would now love to go on to get her CPL (H) and do some work around these machines. She displays incredible passion for showing other women how amazing aviation truly is.
Madison Dooley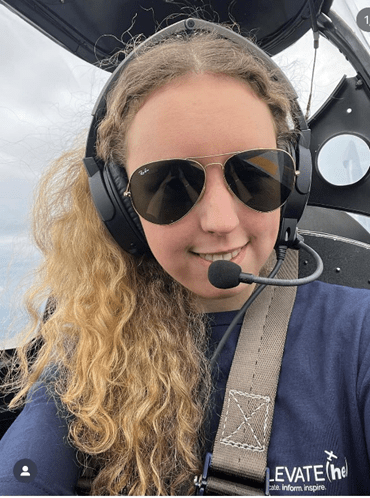 Madison had her first flying lesson at the age of 16, falling in love with flying and deciding to obtain a PPL(A) from East Midlands Airport. Since then she has gained her commercial pilot's license and built up hours flying in the UK and US. Her goal is to fly for the airlines and continue flying for fun in her spare time. She would love to inspire the next generation into aviation-related careers and enjoys sharing how amazing the industry proves to be.
Kate Lenny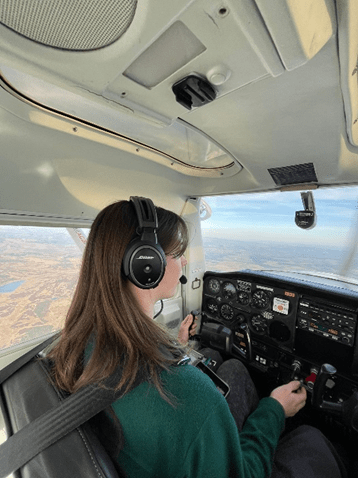 Became involved in aviation through engineering. She studied a HNC in aeronautical engineering and volunteered at a local aircraft museum.
In 2022 she moved to Scotland to begin commercial pilot training. Kate is currently completing her ATPL.
Madison Buckley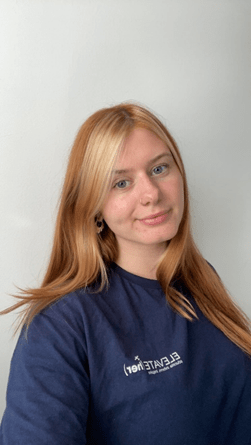 A Law Student at the University of Southampton, Madison loves empowering women through initiatives like Elevate(Her). She will resume her private pilot's licence (A) studies after she graduates!
Jess Fraser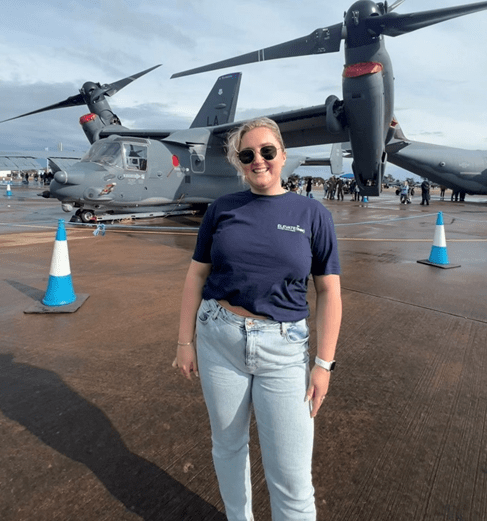 Jess has always enjoyed an interest in aviation and joined the industry after university as an airline cabin crewmate. It is here where she felt truly inspired by her colleagues, and especially looked up to the few female pilots. She now has a PPL(A) and is working towards her ATPL, as well as building on her experiential hours. Her goal is to be a commercial pilot and hopefully inspire other young females along the way: her message is that they can do the same! Jess also has a real passion for general aviation and loves flying in to different aerodromes, as well as visiting different airshows around the world!
Women Making Waves in the Aviation Industry
However, Elevate(her) is not just a platform for our team to share our thoughts and ideas. We are a platform for our followers and subscribers to share their own thoughts and opinions, as well as a place to celebrate the successes incredible women have enjoyed in changing the future of aviation. We endeavour to break boundaries, challenge perceptions, and tackle issues within the industry. We achieve this through our blogs, social media posts and further events & meetups.
Although the current percentage of female pilots is only 4.7%, 2 in 5 people working in the aviation industry are women. This shows us that there is a desire for women to be involved in aviation but there are barriers to becoming a pilot, engineer, etc. We want to tackle the factors affecting these numbers and address them with key players in the industry.
Some of the biggest challenges affecting the industry today are the questions of sustainability, skill retention, costs of training, and encouraging young people to engage with the industry. We cannot tackle these upcoming challenges without utilising the full breadth of talent within the UK.
We were recently featured on BBC South News and had a segment on why the numbers of female pilots in the UK persists so low, and what we can do to improve it. We had six young women involved from different areas of the aviation industry, to share their own opinions and experiences. The segment was a complete success!
The Elevate(her) project is passionate about using media where we can promote these incredible women and create really strong visual role models for the next generation of women in aviation.
Here are some of the other young women who are making waves in the Aviation Industry!
Alice Goodwin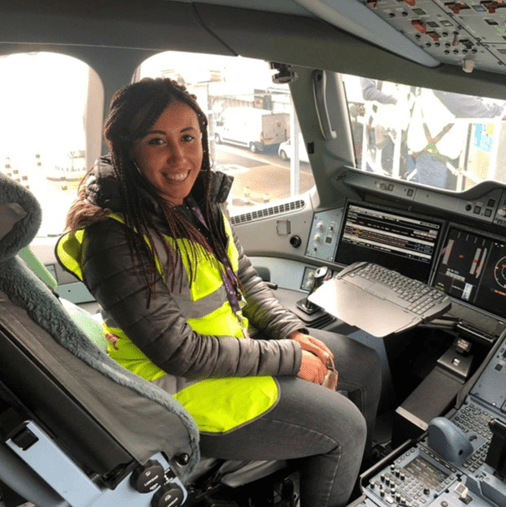 Alice is an Avionics Engineer at Virgin Atlantic. She originally joined Virgin Atlantic in 2017 on a summer internship in flight operations; over the past 6 years Alice worked her way up to a Graduate Engineer level, later specialising in Avionics Design & Development, alongside studying for her Aerospace Engineering Undergraduate and Masters Degrees.
She has proven her passion for the aviation industry since age 17 when she attained her Private Pilot's license on a scholarship, and since then has used her knowledge and mentorship to help give young people from underrepresented backgrounds a chance to make a start in aviation.
Krystina Pearson-Rampeearee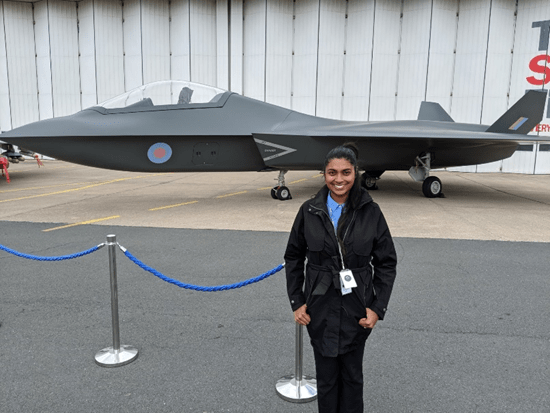 Krystina is a multi-award winning Chartered Engineer, STEM Ambassador and Department for Transport Aviation Ambassador.
She works as an Engineering Team Lead at BAE Systems and owns her own small business, AviateHer. Through AviateHer, Krystina sells accessories to promote diversity in engineering. She has expanded into various careers in STEM and part of the proceeds from each accessory goes towards charities working to improve diversity & inclusion within the STEM industry. She studied a Masters degree in Aerospace Systems Engineering at university and became the first engineer in her family.
Krystina is passionate about showcasing Aerospace Engineering and stands to encourage more young girls to consider STEM careers.
Lily Ayres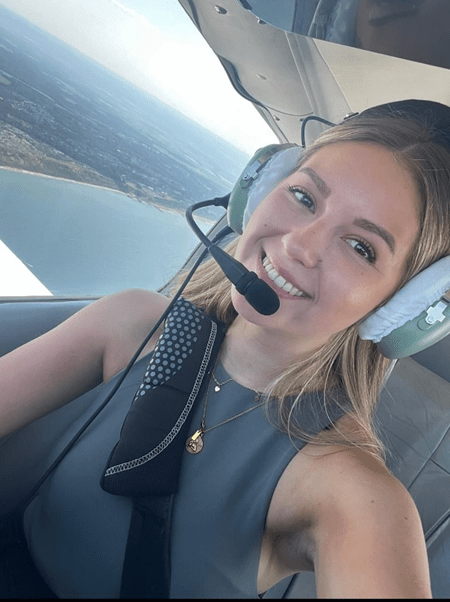 Lily is currently a full time Airworthiness Engineer (CAMO) and part time trainee pilot, doing the modular route here in the UK out of Bournemouth Airport! Growing up in a single-parent household and not knowing much about aircraft or even getting close to one until she was older, her passion for diversity and inclusion in the aviation industry has propelled her into open and honest conversations about the hurdles you face during pilot training and joining the industry as a whole.
Something she truly invests herself in is working to find sustainable funding routes for potential pilots, because this challenge arises as the most significant for those wanting to learn to fly.
In the UK, no student loans currently exist for the route allowing you to complete pilot training. This, Lily strongly believes, needs to change.
Amelia Richardson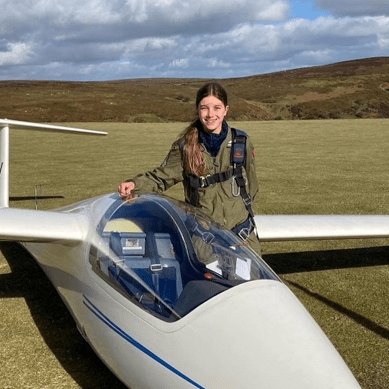 Amelia is a Glider Pilot, Social Media Influencer, and advocate of supporting young people and women in aviation. She is currently completing her education at GCSE level and will complete her A levels before hopefully joining the RAF to become a Royal Air Force pilot.
Amelia started gliding in 2020 and went solo at 14. Amelia trains at RAF Shawbury to go on and achieve the Aerobatic Sports badge, funded by a British Women Pilots Association scholarship. Three months after her 16th birthday Amelia achieved her Basic Instructor rating at RAF Shawbury Gliding Club. Amelia also provides media support to British Women's Gliding Team and stood as the reporter for the Women's World Championships in 2023.
She has over 80,000 Instagram followers and promotes gliding at every opportunity.
The future of women in the aviation industry is a bright one with many fantastic initiatives like Elevate(her) working towards increasing the numbers of women in aviation and STEM!
Furthermore, with the explosion of social media, content creators, and influencers from a variety of roles within the aviation industry all pushing properly for progress, the industry remains more accessible than ever today. Especially to younger generations, this will have a positive impact on transforming the perceptions backgrounding these careers for future female engineers, pilots, air traffic controllers, and many more key roles in the industry.
Elevate (her) (@elevateheraviation) • Instagram photos and videos
Did you enjoy this article and find it helpful? Why not share it with your social media network below?