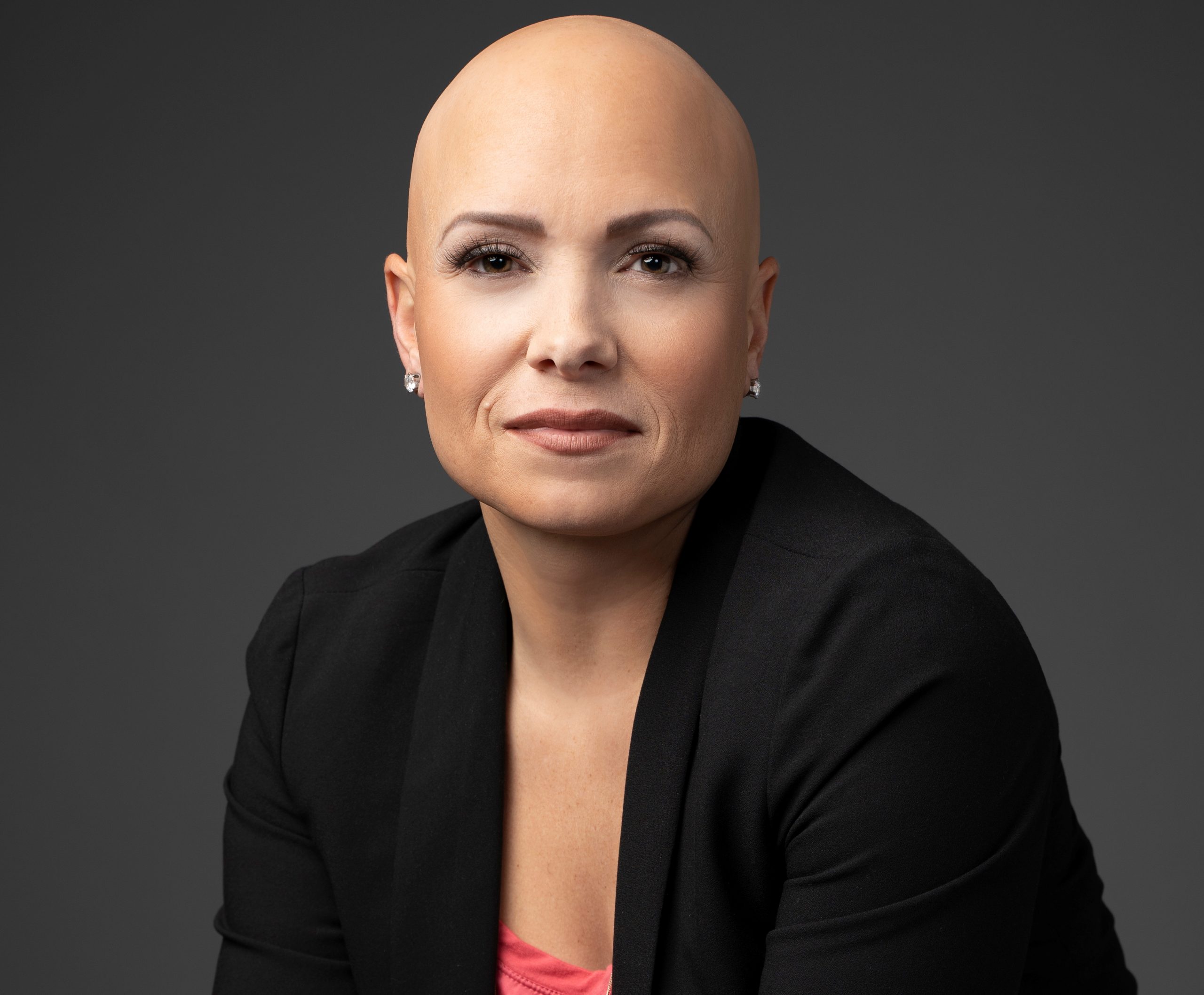 McKenna Reitz: How I turned the drama of hair loss into strength
McKenna's story begins as a nightmare that any woman can relate to. When she was only 33 years old, she started to notice that her hair was getting thinner and what started out as a bad experience quickly turned into a major drama in her life. In this interview she talks about some of the most difficult moments she experienced like discovering that her hands were filled with hair while taking a shower.As she explains emotionally below, "My hair was my life and my identity". But after every storm the sun rises again and in this interview McKenna explains how she turned her challenge into a strength and,in doing so, became an inspiration for others. Today as a woman, but also as a mother, she wants every woman to feel fulfilled in their life no matter what society dictates.
Can you share with me the moment you first learned about your illness? What were your first thoughts?
"There is a possibility you could lose all your hair". That is the LAST thing any woman every wants to hear, especially a 33 year old woman. My husband and I had our second beautiful daughter, Maddox, in May 2015 and I started to experience the normal postpartum hair loss throughout the Fall months, but this time it was different. While I was teaching at the beginning of the school year in the Fall I started noticing that my shirts would be covered with hair. However, at the time this wasn't unusual.I didn't think anything more of it until my volleyball season ended in late October and I then noticed that my hair had become incredibly thin.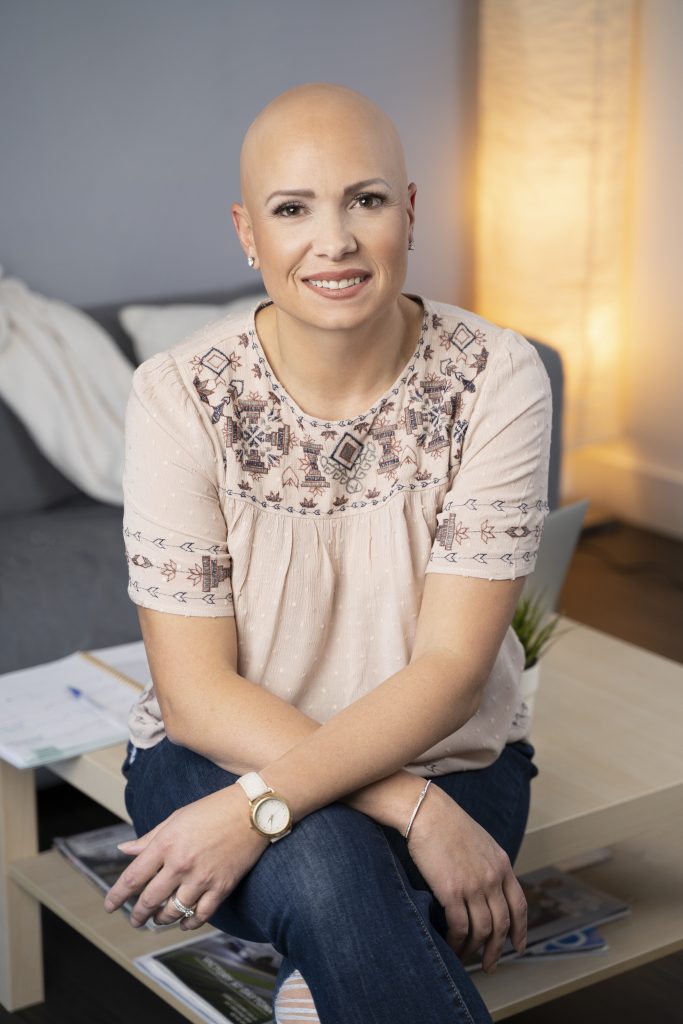 How was the recovery phase and what do you remember from those days?
When my hair was shedding uncontrollably, I made an appointment with a dermatologist who suggested different topical creams including women's 'Rogaine' to help with any type of hair re-growth. I will never forget taking some family pictures on November 1st 2015 and seeing a picture of myself with my four month old daughter. I could literally see my scalp because my hair had become so thin. Little did I know that would be the last picture I would take with my daughter for some time.The month of November was a month of complete hell and showers were the absolute worst. I hated washing my hair because my hands would be end up being covered with hair. I would stand there crying uncontrollably whilst holding clumps of hair in my hands. My worst nightmare was coming true. I was losing all of my thick, beautiful hair and my identity was being ripped away from me and I had absolutely no control over it. My dermatologist said there was nothing more he could do for me. I was doing everything in my power to hide all the bald spots on my head using headbands, makeup and hair fiber powder feeling that I had to. I am a high school teacher and all my students are therefore staring at me everyday. I wanted to hide myself away.
Maybe I was in denial, but regardless, I explained to all my students that I was losing my hair and I that would be looking a little different for a while. I told them there was no explanation for what was happening to me except it was something called 'Alopecia'. In hindsight, this was the best decision I could have ever made – being vulnerable and transparent with my students. I then found another dermatologist who was committed to exhausting every possibility to help grow my hair back which included weekly injections into my scalp for six months. This was two minutes of the most excruciating pain I had ever experienced. Unfortunately, nothing was working and I was devastated. The problem was that I was totally focused on getting my hair back and putting so much energy into it -but it was something that was out of my control. Then I began to see that the problem is not the problem. The problem is the attitude about the problem.It is at that point that I started to put my energy and focus into something I DID have control over and that was my 'mindset' about being bald. It took time. Lots of time. I reminded myself that it wasn't going to happen overnight as patience is not a part of my vocabulary!
Gradually, I started to have more good days then bad days and little by little I started to accept that I was bald.It wasn't until June 2019, when I went to the 'National Alopecia Areata Foundation Conference' in Seattle, WA,that I made the decision to walk out of my hotel room bald for the very first time. I thought there was no better time or place than being surrounded with hundreds of people who understood and supported me unconditionally.It was truly the scariest moment of my life but I did it. And I haven't looked back since!
As a woman, how did you feel when you lost your hair?
Standing in the shower with my hands covered in hair, I felt as though with every strand falling out my identity was being ripped away from me. As women we are subconsciously told by society from a very young age that our identity is defined by our hair. We start comparing ourselves to others and wishing we looked just like them. And now with social media it is a totally different ballgame. Since a very young age I was known for my hair. It was thick, wavy and beautiful. My hair truly was my identity. I remember my husband saying, "McKenna, it is only hair." He simply didn't understand thatmy hair was my life.
Where did you find the strength to re-emerge and become a model of success?
My strength has truly come from my family. Their unconditional support has allowed me to be patient with my journey and enabled me to work on my mindset. My mom is my shining example of what strength is and she empowers me everyday to believe in myself. Vulnerability and transparency has given me more strength than I could ever have imagined. When we are open and honest, not only with other but ourselves, it truly allows us to see everything with much greater clarity. The strength of transparency has opened up so many new opportunities for people around me, especially my daughters and students, to understand that we ALL have a story because we are all battling something. It has allowed me to connect on another level with my high school students by being open and honest about what I am going through physically, mentally, and emotionally. That has allowed them to also not feel like they are alone. Social media has also been my outlet for my transparency and vulnerability. Posting about how I feel and how I am waking up everyday regardless of the challenges I am experiencing has been therapeutic for me and I have been receiving lots of feedback that it is empowering and inspiring others to face their issues as well. This gave me validation that this is what I am supposed to be doing and where I am supposed to be. My mom always said to me at the beginning of my hair loss that God gives us the strongest and the toughest challenges and it has taken me five years to truly understand that.
How can we turn a challenge into a success in our lives? Is there a secret to that?
As humans we are faced with daily challenges and we tend to put too much energy into what is out of our control in those challenges. What we should be doing is focusing on what we DO have control over and that is about using our mindset to cope with our challenges. As I said earlier, the problem is not the problem; the problem is our attitude about the problem. When we start to understand that, then we have a clearer perspective on the challenge and we can create a different approach. We will then start to see the silver linings in situations. For example: not having hair has freed up a lot of time for me! I am able to get ready for work much faster because I don't have to waste time shaving or washing and drying my hair!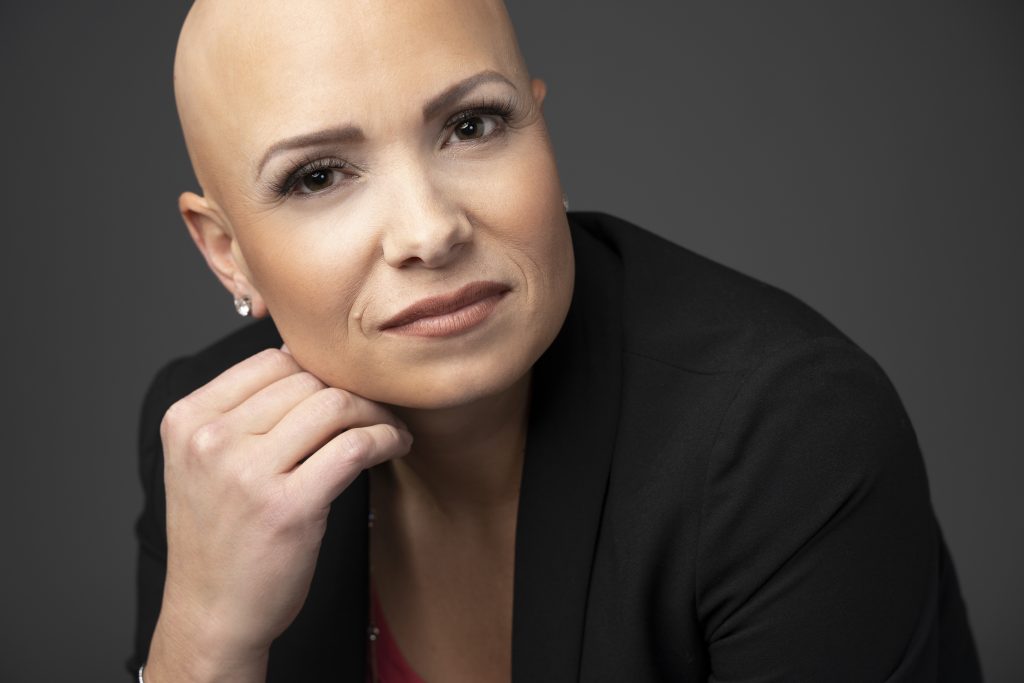 As the mother of two daughters, what are the most important pieces of advice you want to share with them? Would you like them to follow in your footsteps?
I truly believe the most important piece of advice I can give to my daughters is not through words but through action. I wake up every day with the intention to be the best possible version of myself.To be better than I was yesterday. I want to exemplify to my daughters the true meaning of strength and that hair, or any other aspect of our physical characteristics, are not our true identity.It is our character that defines who we are. I now have the ability to be that driving force to hopefully stop the influx of external influences from social media, peers and society that subconsciously tells us how we should look and feel about ourselves. I've told my daughters that they must never allow what anyone says about them to ever dictate how they feel about themselves.
With Alopecia being possibly genetic, IF my daughters ever lose their hair, I want them to know that their mom was strong and got through it and so can they!
Did you enjoy this article and find it helpful? Why not share it with your social media network below?