How Nepali women are becoming independent and enterprising
This is a story from Kathmandu valley, Nepal. A story about going on with life, staying positive and pursuing your dreams no matter what. It paints a picture of strong women and above all, women supporting each other.
Kevin Rohan Memorial Eco Foundation (KRMEF) is a non-governmental organisation established in 2008 in the Kathmandu valley. KRMEF was founded by Krishna and Leela Gurung to commemorate the life of their son, Kevin Rohan Gurung, who passed away in a domestic accident at the age of only seven. The foundation is trying to save the local environment and promote sustainable development by employing local disadvantaged people, recycling waste in creative ways and educating the locals about the benefits of protecting the environment.
In total there are 43 locals working at KRMEF, of which 23 are women. These women work in different fields such as biodynamic farming in the gardens and fields surrounding the foundation, teaching in the Waldorf-inspired kindergarten and school operating at the foundation, working at the office, and at a medical clinic for the villagers. Finally, seven women have a job at a handicraft workshop. Besides these permanent employees, there are always international volunteers and interns sharing their knowledge and helping hands. All in all a variety of women work in diverse tasks, helping each other whenever they can. That is where the beauty of the foundation lies: in the constant collaboration and mutual learning of this network of women.
The foundation is trying to save the local environment and promote sustainable development by employing local disadvantaged people
Seven women are working in the handicraft workshop, Usha, Maya, Manju, Sanu, Sumitra, Sita and Saru, make jewellery, sleeping bags, shoulder and cell phone bags, socks, hats, baskets, Christmas cards, and pot holders using recycled materials. They also produce soap nut liquid, which can be used for washing dishes, clothes and hands. The soap nut shells are cooked for a long time to make the liquid, whereas the seeds of the nuts are used as pearls for making jewellery. In 2010 KRMEF contacted Manju's husband, who works in the jewellery production for another organisation. He was asked if he could drill holes in the soap nut seeds so that they could be used in the jewellery making. An agreement was made and in the process Manju, a stay-at-home-wife at the time, asked if she could join the workshop too. This was the start of a new chapter in her life.
This is a huge step on their personal path towards becoming independent women.
As with Manju, for most of the women the handicraft workshop is their first job. Some of the younger women combine the workshop with studying and others also work in household chores at the foundation. Some of them used to be patients at the nearby Khokana leprosarium, when Leela went there to tell about a job opportunity in making handicrafts. In Nepal leprosy is still a widespread disease and there is a stigma associated with it. This is the reason why these women could not even imagine being able to employ themselves one day, and are so grateful to have the job now. Like Maya put it: "I feel happy to have something to do instead of sitting at home and doing nothing."
Usha is the leader of the handicraft workshop, who has taught all the other women how to make the handicrafts. A few had some experience in sewing and knitting before joining the foundation, all the others have learned everything on the job. Now they have the skills to employ themselves even if the workshop should close in the future.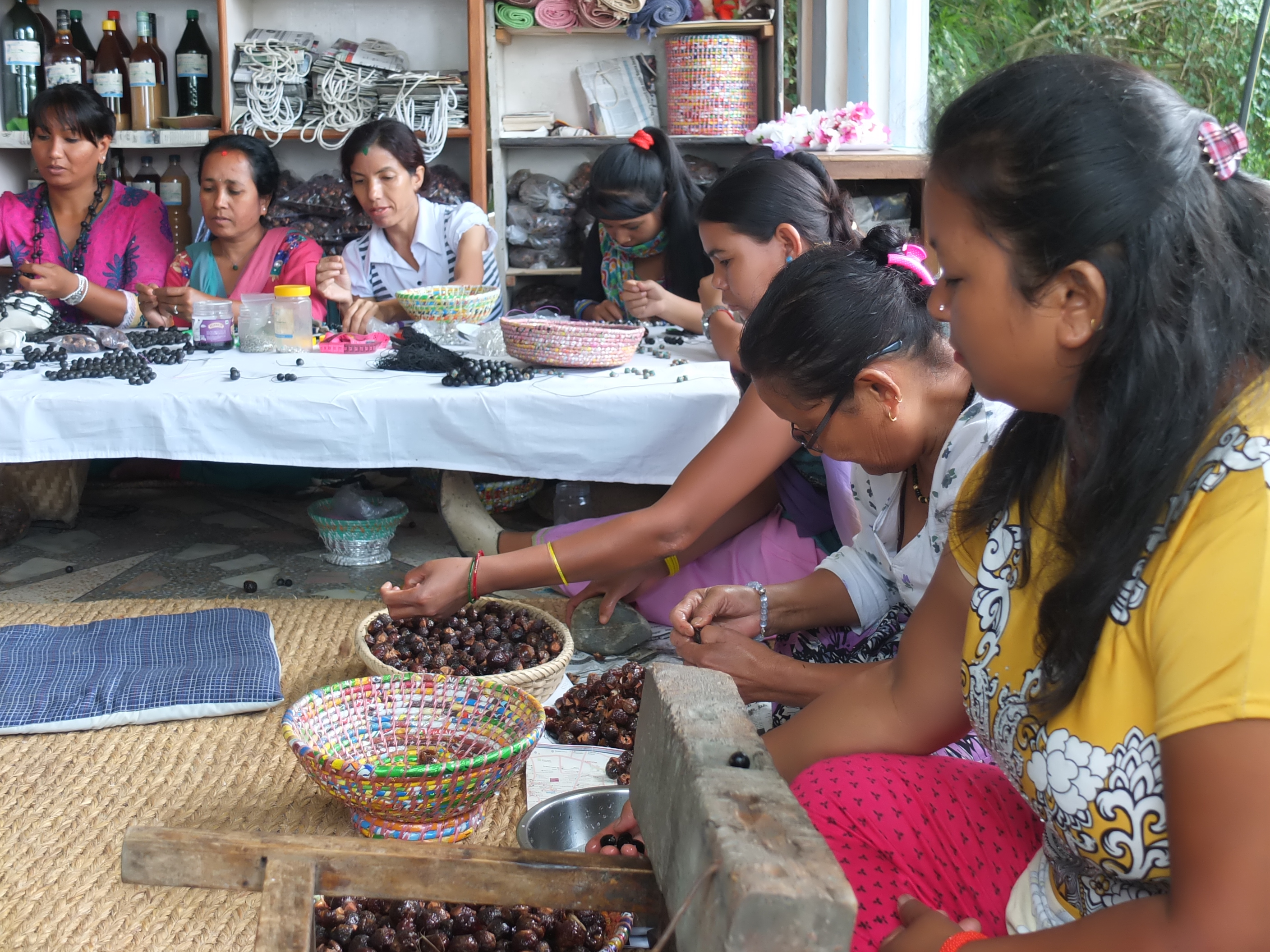 Leela is the warm and caring co-founder, the good soul of KRMEF who keeps track of all the employees and projects going on while her husband Krishna is busy with all the administration and paperwork. Leela can take over if someone is on sick leave, ensures that things get done and also sees to the volunteers and interns. Leela also receives visitors, and shows them around the foundation,
Usha and Leela have been working hard to promote the sales of the jewellery and other handicraft products, which would enable the foundation to hire more women if the workshop can make more of a profit. A purchase of 6000 rupees (approximately £37 or €51) gives one woman a job for a month at the handicraft workshop. Since last January the jewellery made at KRMEF has been sold in a social entrepreneur's collective store called 'A shop with a story' in Kathmandu. Luna, the woman behind this collective, has encouraged Usha and Leela to keep on trying and helped them on the path to becoming independent entrepreneurs. She has told them that they have to learn about marketing and business themselves and stop relying so much on their husbands. For a Nepali woman this is not the easiest thing to do – it takes courage.
Usha and Leela will soon be on an adventure, travelling to Bangkok, Thailand, in a group of 15 women, organised by Luna. The women get to combine leisure with business on this trip, as they will have the chance to meet some possible retailers and present their products to them. This is an amazing opportunity to expand into international markets, and is a huge step on their personal path towards becoming independent women. For both it is the first time abroad without any family members with them.
My role is helping out as an intern and gaining valuable life experience through working with and learning from these brave and enterprising women. There have been so many obstacles in their way – the death of a son, leprosy and the stigma following the disease, the 7.8 magnitude earthquake in April, the ongoing political unrest around the country – and yet these women come to work every day smiling. Each morning I am greeted with a sunlit "Namaste!" and a big smile. I hear these women joking and laughing and planning the future while they work.
Life here at KRMEF is all about learning and looking ahead into the future, not being stuck in the past. The women at the workshop are always ready to teach me how to make the jewellery, the women working in the garden show me right away which weeds to pick out and which plants are the ones to be left alone. I try to speak some words in Nepali, and they ask me "How are you?" in English. Luna is encouraging the women to be more independent and to believe in themselves. It is a circle of teaching and learning.
I believe there are lessons to learn here for us westerners too. Sometimes we take our privileges for granted and instead focus on all the things that are wrong in our lives. I know how easy it is to wallow in disappointment and misery. That is the reason why I must recommend volunteering in Nepal to each and everyone: seeing these people keeping that smile on their faces while they recover and rebuild together is truly inspiring. One thing I have learned here is that despite all the difficulties and obstacles in our way, we can do anything if we just have a dream, a network of people around us and some faith in ourselves!
For more information go to www.krmef.org or email info@krmef.org
Who is Anku?
Anku is 24 and originally from a small town called Sotkamo in Finland, gaining a bachelor degree on cultural anthropology at Oulu University in northern Finland. One year ago she moved to Aalborg, Denmark to do her master's in Development and International Relations. The internship at KRMEF in Kathmandu, Nepal, is part of her studies, until January 2016, and due to graduate next summer. Beyond that, Anku has yet to decide. She enjoys travelling and going to exciting new places, which attracted her to Nepal. Her future aspirations, besides finding a good role in the field of women empowerment and community development, is to fulfil one life-long dream. Anku's father is from Iraq, and she yearns for the chance to meet her relatives there, see the country of his origin, and to explore Baghdad!
Did you enjoy this article and find it helpful? Why not share it with your social media network below?