Elizabeth Gowing: What the Rubbish-Picker's Wife taught me!
Elizabeth is an author of many books but the "Rubbish-Picker's Wife" is not a usual book. In fact it has been much more, not only for her as a writer, but also for her main character, Heteme, who is now probably the most famous real character in Kosovo. Elizabeth has been sharing the lives of the Ashkali of Fushe Kosove over the past five years and she tells us that it has been a very intense experience.
The book describes the intimate impact it's had on her, educating her about birth control, infesting her with head lice, giving her experiences of birth and death and sickness and weddings, and lives changing through the doors that education opens, or the doors that early marriage slams shut. It's been an inspiration for her to see the resilience and energy of people with so little, not just materially, but in terms of education or opportunities. Those things all helped her to put the minor inconveniences of her comparatively luxurious life into perspective and as she confirms: "I prioritise better now, feeling that I have improved at identifying what really matters".
This interview doesn't tell a novel but a real story and the impact it brought to her, her character and the readers.

Rubbish-Picker's Wife is becoming very popular – how did the idea come to you and for turning the reality into art?
With every day I spent with Heteme (the 'Rubbish-Picker's Wife' of the title) and her community I realised how little I'd known about their way of life, and about the realities of such extreme poverty and exclusion in Kosovo. I realised that other people were probably in the same position as me, and even Kosovars know very little about this community, so it could be a powerful story to share my experiences with others. I had blogged a bit about some of the work our NGO, The Ideas Partnership, had done when we were first working in the community, getting children into school, and some of the readers of the blog encouraged me to write more about it which gave me confidence to think about making it into a full-length book  
What has this book taught you so far?
The things that I've learned from the experiences narrated in the book are part of the story of the book – I hope that through the writing I've been able to share some of what I've learned. But even after the book was published, the story, of course, continues as it's a true story and real people continuing to live their lives. In fact, the book itself has played a part in moving our work in Heteme's community forward as before it was published, I made sure that I shared everything I'd written about the individuals concerned with them, and got their permission for what I wrote.
I hope that through the writing I've been able to share some of what I've learned.
Of course you don't often sit down and tell your colleagues and friends just what you think about them, and it was a very lovely process in most cases, giving me the chance to tell people how much I respected them, or the incidents that had made an impression on me. There was another case which I shared with my colleagues, the incident where the hoxha of the local mosque had failed to come to meetings I'd tried to arrange with him. My colleague was horrified to hear I was going to write about that and said he hadn't known I'd wanted to meet the hoxha, so he arranged the meeting a few days later! It was a really productive meeting with a lovely community leader – and something I'd failed to achieve in the five years I'd worked in that community, so the book achieved things that hadn't been possible before!
Is there anything not in the book that you could share with us?
The saddest thing that's not in the book is the death of Heteme's husband. Agron is a key figure in the story of the book, and without him we wouldn't have managed to get children registered for school, as he worked as an inspiring volunteer community activist right at the beginning of my time in Fushe Kosove, when there were no other volunteers from his community – just foreigners and Kosovar Albanians. I had finished writing 'The Rubbish-Picker's Wife' and was preparing it for publication when he died, very suddenly, in February this year.
I then had a hard decision to make – whether to rewrite the book's ending somehow, or make no reference to his passing. But the end of the book is of course not the end of Heteme's story anyway, and I had drawn an artificial line under the story when I finished my final chapter. So it seemed that it would just be unnecessarily painful to Heteme and me – and probably the reader – to include his death.
It makes it upsetting for me now to reread some of the earlier chapters though, as Agron's presence was so fundamental to the way I understood Fushe Kosove. He even took me out with his wheelbarrow to go through the rubbish so I could learn what his working life was like, and he gave me access to experiences and an understanding that wouldn't have been possible otherwise.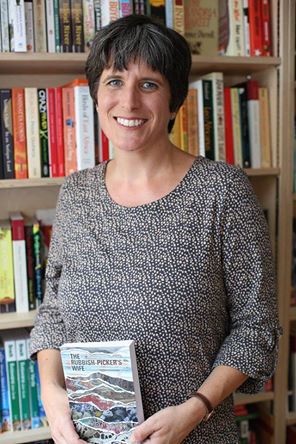 The character of the book travelled from Kosovo to London for your book launch – can you tell us about this experience?
It was wonderful to have Heteme in London, and extraordinary generosity of the Kosovan Ambassador in London, Lirim Greiçevci, to arrange her visit. I thought it would be bewildering and perhaps overwhelming for her, but she took the rush of new experiences completely in her stride. Heteme loved London, commenting that it was very big, very expensive, with very clean air, and no-one who says "why are you here, you gipsy"… which tells you less about London than about her experience living a few kilometres from the power station in a community isolated from mainstream Kosovan society.
I think the experience during her London visit that gave me the biggest lump in my throat was at the launch, when Heteme sat next to me signing copies of the books that were bought and saying "thank you" to everyone who came up. She learned to write her name and her basic English from volunteers at The Ideas Partnership!
How will your book influence the lives of other women like Heteme?
The book itself won't make much difference to Heteme's life, except that she now has people who care about her all over the world! But it has already impacted the life of her community as it has inspired people to make donations to The Ideas Partnership. The launch at the Kosovan Embassy in London was also a fundraiser, and we raised 1,300 euros for the community kindergarten, which was attended by Heteme's youngest son.
Perhaps the book will also make people think about the issues experienced but which are manifested elsewhere in Kosovo, and beyond.
Heteme is also still working in the soap making project which is supported by The Ideas Partnership, and her older children come to our Saturday academic support activities, along with about 100 other kids. She is also a beneficiary of the Widows' Fund we set up in memory of her late husband, Agron. So those things are changing her life and the lives of other women in her community. Perhaps the book will also make people think about the issues experienced but which are manifested elsewhere in Kosovo, and beyond.
What is the message that goes beyond this book?
I hope that one of the messages of the book is what you can learn with, from and about people from very different backgrounds, and the power of female friendship. I know that some people have found it a helpful reminder of the realities of international aid, and what can be achieved by grass roots work with volunteers and small budgets.
It's easy to feel overwhelmed by a problem like the fact that 96% of the Roma, Ashkali and Egyptian community in Kosovo haven't finished compulsory education, and if I'd set out to tackle that it would have felt impossible. But supporting one woman and her daughter seemed something that was possible, and it turned out that it was the way to change the opportunities not just for that one family but also their neighbours, and now 300 other children too.
Did you enjoy this article and find it helpful? Why not share it with your social media network below?