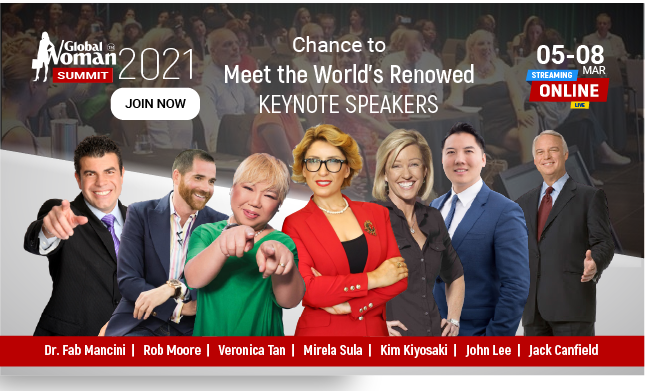 Global Woman Summit 2021/ Surprises and first day guests; What happened at the big global event of the year for women
The world is facing difficult pandemic days. But this doesn't mean that we stop, on the contrary, it means that we find the strength to rebuild even stronger, even more united. Today started the Global Woman Summit, definitely an elite event that brought together some of the "bright" minds of the world, instructing us in valuable tips. It doesn't matter if you are a successful woman in business, a successful woman in family, an unemployed person, someone who is looking for ideas, who is looking for support, or who is looking for a way out of a crisis, this Summit will be the summary of everything you are looking for.
On its first day, this event was opened by the founder of Global Woman, Mirela Sula. Thanking everyone present and giving a description of all the topics and speakers of the first day, Mirela gave the floor to Giovana Vega, who with her panel discussed the topic 'The Role of Women in Leadership'. Anne Kristine Aksnes, Kim Lee Macquet, Linda Attram & Rebeca Riofrio, shared their powerful stories along with tips for the general public. Successful women, who today enjoy a role in Leadership, share details with the public.
What is it that we all ask for, not only at work, but also in everyday life? Of course, all our "war" is for success. But not only work is the path to success, you often need some advice, some lived experiences, to get close to success, but also to enjoy it. Veronica Tan was at the Global Woman Summit telling us the key to success, on a road full of challenges, but always with a beautiful ending.
The meaning of time changed about a year ago, when the world became involved in the COVID pandemic. We were all used to running, catching trains, taxis, moments, people, feelings, to make a career and success. But it seems that this notion has already changed. Today everyone wants to work smarter, spending less time and energy but earning more money. Can we do that? Of course yes, and Jessen James told us how we can accomplish this in a few steps. His topic for the Global Woman Summit was "How to make big money and big impact in business without having to work all the time" and it must be said he had the expected impact.
Apparently business is a field of numbers, cold decisions, people with suits and collars, who make decisions and campaigns. But for all those who have been involved in business once in their life, know that it's not just it, there is even more. Dr. Nashater Deu Solheim was invited to talk to us about the psychology and effects that negotiation has on business. It seems that language and numbers are not enough. Eloquence, psychology and negotiation play an important role in business and Nashater shared with us some secrets on how we possess this art as well.
I believe that today, social networks have become a way of life. There are some who use them to pass the time and to be visual, there are those who use them for business. I believe I got your attention?! A business needs online visibility to grow. To better explain how we can do this, Paul O'Mahony added value to the Global Woman Summit on 'Rethink Social media and Grow Online'
With the hours that passed during the Global Woman Summit we met many friends who became part of our virtual meeting and all of them seem to be spiritually involved in the topic of Lisa Graziosi, "How to manifest abundance and Happiness". Happiness is a relative term, but during her speech, Lisa taught us some tips on how to reflect it.
Make a note to join us tomorrow at 9:00 GMT (UK time) to see and listen to more great speakers and presentations that will affect our knowledge and subconscious mind. Together we will discover other topics that in one way or another will serve us for something. There are 4 days full of inspiration, with success stories and reflections that will influence your journey for the future.
Did you enjoy this article and find it helpful? Why not share it with your social media network below?