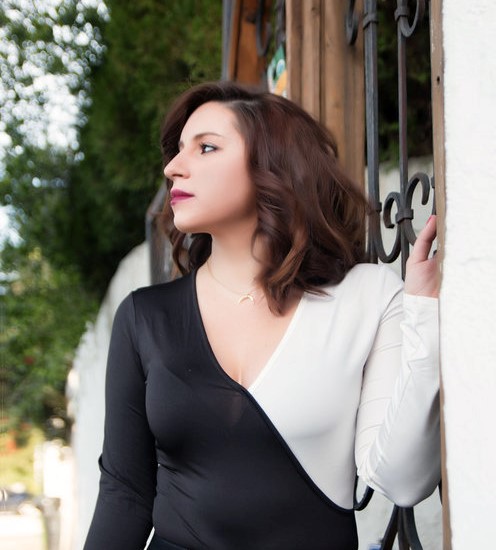 Composing Music while Unlocking the Symphony of Neurones
By Srishti Kapoor
Ghiya Rushidat is a musician, composer, and video game producer. She was born in Saudi Arabia, raised in Jordan, and is currently residing in Los Angeles. As one of the few female composers of Arab heritage, Ghiya takes pride in shattering stereotypes about women in film music and about Middle Eastern women in general. Despite a physical attack after her concert in Jordan, this resilient artist continues to share her voice and her emotive and provocative scores with American audiences. She is especially interested in scoring films not traditionally offered to women, such as big action films. Ghiya entered the world of music at the age of four. Playing the piano by ear, then receiving formal and classical piano education. From childhood, she intended to become a concert pianist, and followed that path until 2008.
Her accomplishments are impressive and she has never let her background define her future success. To date, Ghiya has attended the Royal College of Music in London, become a Sundance Composers Lab Fellow 2019, debuted at Carnegie Hall, composed Hollywood films, received a commission for composition for a Royal Event, and is partnering with an ex-NASA rocket scientist in developing technologies to help children with autism express themselves more freely.
[rml_read_more]
Can you tell me something about yourself? What is music to you?
I am just another person who's a fan of music and happened to take it a bit further in life. I have had music instilled in me since I was a baby in my mother's womb. She would listen to Tchaikovsky, Mozart, and Grieg on a daily basis until she gave birth to me. I have played piano since I was 4 and decided to "go pro" when I turned 12. I truly don't see myself being anything but a musician: no matter how many businesses I am involved with, music is always my foundation and core.
How did you know at such a young age that you wanted to be a musician?
I was bullied in school from grades 6 to 9. I practically had no friends. Nobody wanted to hang around me at school or sit with me during recess. I started going to the music room every recess to play on the piano there – it was a gorgeous white piano. And I would play away the entire 30 minutes until the bell rang and I am back to class. I found back then that music was my escape. It was the way I dealt with my emotions and it made me feel loved and important. The more successful I became in music, having concerts, playing in the assembly, going for competitions, the more fulfilled I felt. That stage presence made up for how "invisible" I was made to feel by others.
What is the inspiration behind your music? Is there a hidden meaning or story in your music?
I don't feel there is a hidden meaning. Music is a form of self-expression and story-telling for me. It is derived from my emotional library and the experiences I had or would like to have in life. I am always inspired by stories in my music, however.
As a Middle Eastern female artist, has your path been difficult? Were there any obstacles in your journey and what helped you overcome them to become successful?
Looking back, I think I was doing well in what is supposed to be a male-dominated society. I was definitely getting a lot more work than some of my colleagues, which shows there has been no discrimination against me being a woman whatsoever. It definitely was challenging at times, of course. I have a lot of stories to tell about those obstacles, but I am grateful, for they helped shape me as a person and shape my career and values.
After achieving so much, what drew your interest towards neuroscience? Do you think being a music composer plays a role in guiding you to unlock the symphony of the neurones?
That is a nice analogy. I have been reading a lot of books about the science of the brain and the way our brain works, without actually knowing that this has been a fascination of mine the whole time. I then started reading more about the future of Artificial Intelligence, music therapy and integrating all of those together. The way I would like to incorporate neuroscience in music would be in healing, reprogramming subconscious and thought patterns, and more. Of course, I have a long way to go until I become even close to an expert, but I have set the goal and am driven to achieve it.
Did you enjoy this article and find it helpful? Why not share it with your social media network below?