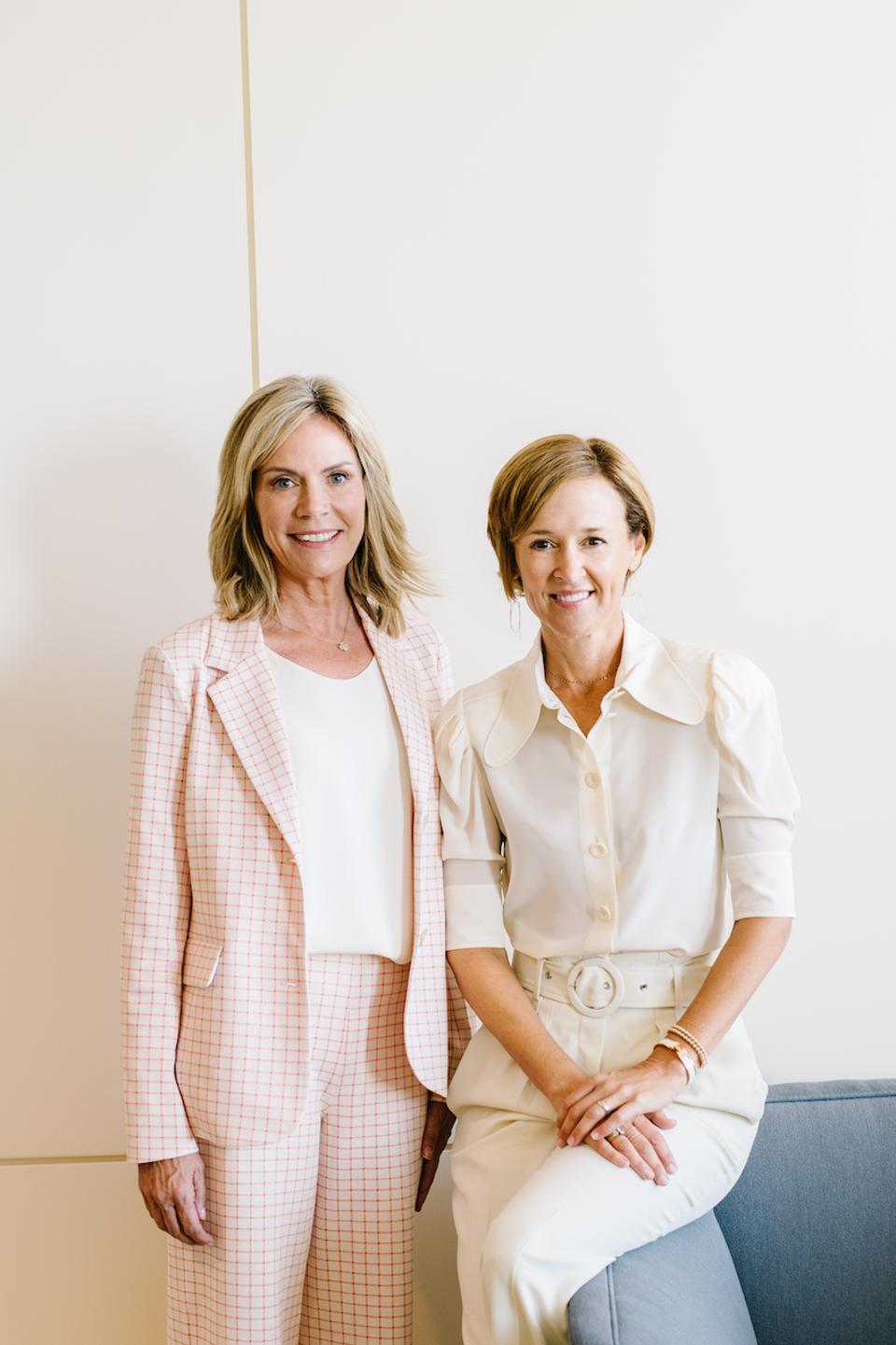 Carrie Mapes and Patty Pappas: Treating Menopause with Cannabis
Treating Menopause with Cannabis
                                                        By Lea Steuri
They are breaking the mould in the industry of female wellness and menopause products. Carrie Mapes and Patty Pappas are experienced entrepreneurs and the founders of Hello Again, which is a female wellness and menopause care line specialised in CBD products. The unpredictable physical symptoms of menopause can be effectively treated and relieved by the powerful cannabinoids in the cannabis plant. As the two LA moms and friends realised there were a few plant-based natural solutions to treat their menopause related symptoms, they came up with the all-natural CBD and THC vaginal suppositories as a treatment to their symptoms. Through Hello Again, Carrie and Patty empower women and help them reclaim and accept their changing bodies so that they can welcome back their confident selves.
You founded Hello Again. What inspired you to bring such a product to the market?
When adult use for cannabis became decriminalised in our home state of California, the two of us went into a dispensary out of curiosity. Neither of us had a previous relationship with cannabis, nor had we been to a dispensary. The shelves in 2018 looked very different from the shelves of today. Product packaging was less developed and wellness products were few and far between. In short, there was nothing there for us. However, when we began to ask questions about the products we saw, we realised that cannabis addressed mood, anxiety, sleep, energy, focus, pain, inflammation. Cannabis was uniquely suited to address many of the unwanted experiences women have during menopause, yet there were no products developed for this phase of life. Our vaginal suppository delivery method allows women to utilise the potential of cannabis without the typical psychoactive high.
Patty: "Neither of us was looking to get into the cannabis industry."
[rml_read_more]
Carrie: "There was nothing created specifically for women in menopause and we believed that cannabis could provide relief for women like us."
What motivated you to venture out?
Taking Hello Again from concept to product was a journey of inches. Our quest for information about cannabis, menopause and vaginal suppositories confirmed what we
suspected: 55 million women in the United States will be in menopause in 2020 and no one escapes menopause. Cannabis is uniquely suited to address sleep, mood, energy, focus, and body temperature. The vaginal suppository addresses vaginal dryness and allows for the use of the right dosage of THC without a psychoactive high. We decided to invest in a professional formulation, which brought us to Saman Razani and Jeff Miller of Lost Horse Supply Company. Our partnership with them provided insight and experience in the cannabis industry, enabling us to take our formulated product to the next step. We have also been supported by several industry professionals along the way. We have found the cannabis industry in California to be open and collaborative.
Patty: "Many times we felt we were at an impasse then we'd talk to someone, follow up on an introduction, or have a small world moment that would lead us to our next step."
Carrie: "Our earliest big decision was to formulate our product while also investing in developing our brand. Looking back, that could have been a risky decision, but we had full confidence in the concept and Lost Horse Supply Co. Clever Creative was an early, very impactful partner in developing our brand look and language."
Your product is catered to a particular demographic. How do you deal with this? Do you employ any particular marketing strategies?
We are very aware that a segment of our target market is not currently frequenting dispensaries. Also, many women don't realise that the way they are feeling is a result of the hormone changes of perimenopause or menopause. Still others are already using cannabis, but new to the idea of a vaginal suppository. Our mission is to inform women about menopause and cannabis through events and educational forums. In our experience, most women don't realise their symptoms are related to the hormone changes of menopause, nor do they understand how long perimenopause (the running head start toward menopause) can last. Women are used to turning to their physicians for guidance, but studies show that most medical school programs spend very little time discussing menopause. And, of course most of today's physicians were trained during the criminalisation of cannabis and thus not well versed in the wellness potential of the plant. Hello Again will be hosting Menoposiums to further educate women about menopause and the benefits of incorporating cannabis in their treatment plans. We also recognise the vital role dispensaries and bud-tenders play in the patient experience and are committed to supporting bud-tenders in this process.
Patty: "The purity of our product is key. Our list of ingredients is 100% recognisable to women, and when compared to the ingredients in Ambien or Xanax, it speaks volumes."
Carrie: "In the end, we are providing the alternative many women have been asking for. It happens to use cannabis, yet it is formulated for a woman to feel healthy, not high. We know the demand is there."
A product containing cannabis, might make some people hesitant to try it. How do you deal with this hesitance people might show?
Our goal is to provide an effective alternative to either tolerating or pharmaceutically medicating the negative aspects of menopause and to build our company in a way that allows us longevity in the marketplace. We see that the use of cannabis in health and wellness is becoming increasingly more commonplace and believe that women in menopause a few short years from now will already have incorporated cannabis into their wellness. In the meantime, we've found that many women are open to our product and have responded to it with enthusiasm and gratitude.
Patty: "When we first conceptualised this product, some of our peers referenced their bad experiences with cannabis back in high school or college and said they knew this wasn't for them. Then, they'd read an article, or see an interview, or hear a news report. Eventually, after a few of these touch-points, they'd come back to us with a willingness to try."
Carrie: "We have to continue to speak about what this product has done for us and others and be patient with the rate at which we grow as a company. We are proud of the product and know it makes a big difference in women's lives."
As a topic typically reserved for women of a certain age, menopause is not something often talked about. What can we do to change this? 
We think this is already changing quite a bit. TV shows and movies have incorporated characters and storylines around menopause. Oprah magazine and Vogue are among many magazines that have featured articles in their publications this year. There are menopause apps and national support groups. It comes as no surprise, as this is not your grandmother's menopause. Women in their 40s, 50s and 60s are leading robust, complicated lives in a fast-paced sophisticated world. The physical challenges of menopause hit us when we are still raising our kids, working full time, dating, and meeting financial challenges. We are also used to having data at our fingertips. No wonder this generation of women aren't sitting silently and waiting for menopause to pass. Hello Again wishes to add to the dialog our message about this phase of life. We believe that, if you feel like yourself, a woman's middle age can be a very dynamic, robust chapter. There is no doubt that we are older, but we are absolutely wiser. We speak our truths more easily and are more confident. We are more accepting of one another and have learned the value of time. Hello Again wishes to help women welcome themselves back and get on with the dynamic business of their lives.
Did you enjoy this article and find it helpful? Why not share it with your social media network below?