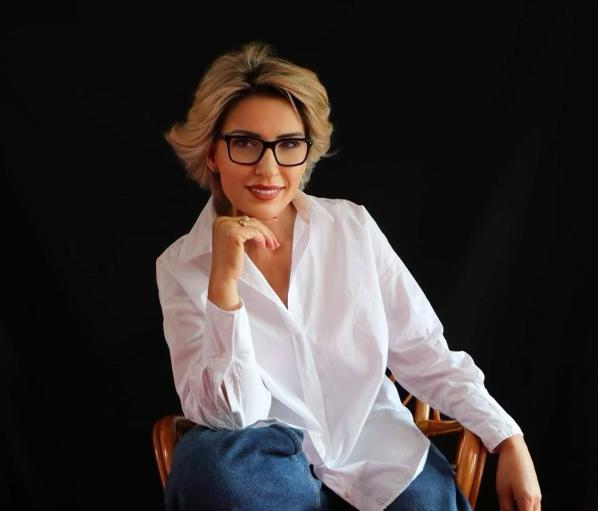 Sorry for my English
By Mirela Sula
TEDx

if you want to know what I mean with that) but she treated me as a real VIP. I will never forget people who gave me a hand when I was a nobody and I will always be grateful for those who supported me and saw something in me.
I remember when I moved to London, exactly 10 years ago I was feeling so lost, broke and broken. I didn't know anyone and with my little English I was really struggling to build new relationships. Most of the time when I was trying to communicate something I used to say "Sorry for my english" and I would repeat it over and over again feelings so embarrassed, until one day, there was an amazing english women who took me in the corner gave me a hug and said "You never ever again need to say "Sorry for my english, Your english is good enough and you are good enough too". That was the beginning of a new chapter for me. This lady in the picture below, a few months later put me on stage with big names such as Joe Dispenza, John Demartini and many others. I was still broken and trying to find my seat (watch my
Now 10 years later, I have found my seat and I speak on big stages around the world, and what makes me feel so touched and grateful is when I receive feedback from people who tag me in social media or volunteer to send me messages and share with me their thoughts and feelings. 
I thought I would share this with you, just in case you are sometimes doubting yourself and thinking "My english is not good, I am not good enough" and like me keep saying "Sorry for my english, or sorry for everything you do". I remember I had a member a few years ago, she was coming from a culture where being a woman it felt like saying sorry all the time. She came on stage with Global Woman Club and said "I finally can let go of that old limited belief of saying "sorry" for everything. And another woman came and shared with us that for a long time she had this mindset of saying "sorry I exist, sorry I am a woman". Not anymore my darlings. We don't need to feel sorry for who we are, for our vulnerabilities and imperfections. When we become aware and accept ourselves for who we are then we are more willing to work with self development and progress to reach our best potential.
Yesterday as I was speaking for the Blue Cow congress I had so many women coming to me and saying "Thank you for everything you do for women, thank you you exist" and I can't describe the feeling you experience in these moments. On the way back home I also received a call from another organizer who invited me to speak for another summit. He said "I am going to share great news with you. We have got some feedback from our girls and 99% of them have put you as their favorite speaker, so I am afraid we are going to have another one year contract together". 
These are the moments you can't trade with anything. This is what drives us women when we see that we are making a difference and inspiring others to take actions so we all can contribute to a better world.
Below are some screenshots from the feedback I received yesterday and inspired me to write this message today. I hope it makes sense to you and if there is something I can do to help you please let me know.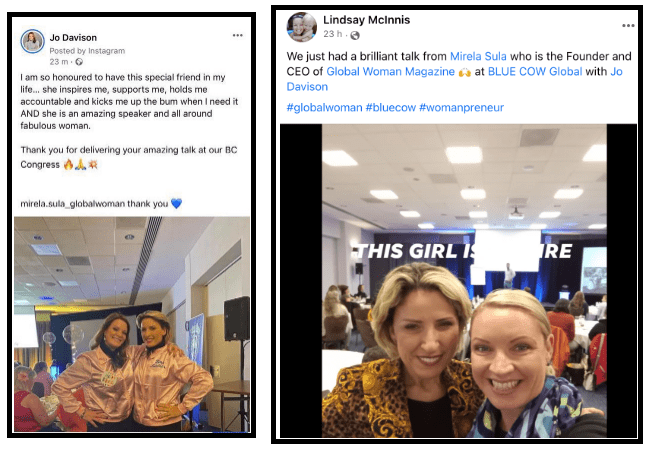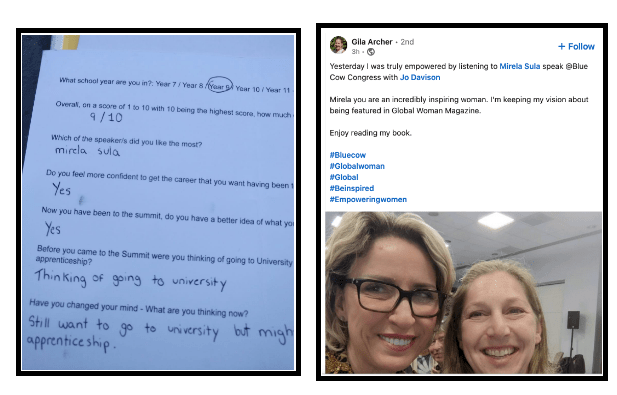 Did you enjoy this article and find it helpful? Why not share it with your social media network below?