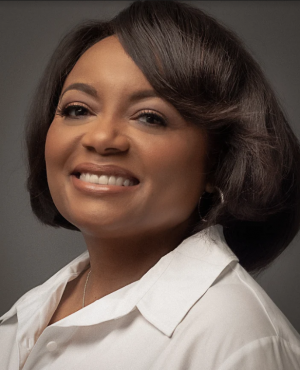 Sharon Harris: The Critical Role Women Play in Pushing Society Forward
Sharon Harris is the Global Chief Marketing Officer at Jellyfish, a digital partner to some of the world's leading brands including Uber, eBay, Disney, Spotify, Nestlé, Ford, Aviva and ASOS. Sharon is a passionate champion for diversity, equity and inclusion, and is involved in several professional mentorship organisations and is a frequent speaker on the topics of representation in tech, inclusion and allyship. She served as chair of the advisory board for the Marcus Graham Project where she continues to promote diversity in the industry. She is the board chair for Seattle's Be Bold Now annual International Women's Day celebration, and is also the Vice Chair of IGNITE National, a nonpartisan organisation that encourages young women to actively engage in the political process.
As we approach the end of 2020, we are reminded of how different this year has been – like nothing we have ever known or seen before. From the global pandemic and economic crisis to social unrest and political upheaval, this year has been a tipping point and real opportunity to reset society going forward.
Technology, as an industry, is leading the way and set to play a fundamental role in how we move forward as a global society. The tech industry has come to life this year with a massive acceleration towards digital adoption. But, we have yet to touch the tip of the iceberg – the opportunities are vast and we, as women, must be a part of this future. We need the diversity of perspectives, gender, race, and background, to drive continued innovation, deliver the best products and services, and help us prepare for the future growth of the world.
Women embrace so many characteristics similar to those which have driven technological innovation and success: we are creators by nature, and our flexible and adaptable mindset keeps us open to change and new skills. We must believe that our involvements and inputs are invaluable in shaping how our world evolves, innovates and continues to create.
But there are still far too few women who have reached the pinnacle of what they're actually capable of simply because they have not received as many opportunities. Resetting society to be more inclusive of gender, race, ethnicity, religion, sexuality, age and beyond is no easy feat – creating this change is not a sprint but a long distance, uphill run.
It starts early – we need to reexamine the education of girls in primary and elementary school. Not only do we need to shift our societal norms and perceptions about what girls and women can do, but we also need to encourage women at younger ages to explore science, technology, mathematics – those fields that have been typically dominated by men. We need to reinstate a passion for learning with inquisitive enthusiasm. And we need to carry this through the years from schooling to mentorship and sponsorship.
Sponsorship is absolutely critical to the success of women in business today. Having senior leaders and managers create an inclusive space to bring people in and be their 'champion' is so powerful – to have strong, respected leaders who are willing to go to bat for you when you're not in the room is how we facilitate change.
The biggest piece of advice I give to women I meet and mentor is that when you're starting your career, you must understand your value because every single person you encounter is going to attempt to tell you what that is. You need to know it for yourself – don't let someone else define it.
I have a frame on my desk that says, "Show up in every moment as though you were meant to be there." There have been many, many circumstances where I've been the only woman of colour in the room and I've been mistaken for many things – the administrative assistant, the cleaner, the caterer. To change this perspective, you have to be strong, find resilience and let go of the negativity. Be confident in who you are and own it, eventually others will come around.
This year taught us that there is certainly a lot of bad out there, but it has also proven that strength, resilience and a can do attitude will persevere. For me, the single most important thing the pandemic has highlighted is that more people now see the critical role women play in the workforce and that they can not only have a seat at the table, but they have the power to make decisions and direct how we move forward in a positive way. I am eager for what comes next and I hope more people join in empowering women and girls to be the absolute best versions of themselves.
Did you enjoy this article and find it helpful? Why not share it with your social media network below?