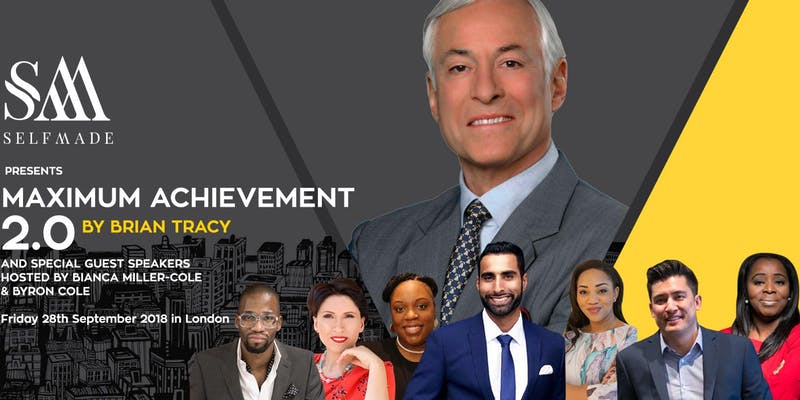 Self Made presents Maximum Achievement 2.0 by Brian Tracy – London
The 'Self Made' business conference has been created as the first in an annual series of events. Presenting the best speakers & trainers in the world to encourage success and personal development for business leaders, entrepreneurs and these who want to achieve more in their career and life.
Brian's goal is to help you achieve your personal and business goals faster and easier than you ever imagined.
Brian Tracy: A message from Brian: Click HERE
Brian Tracy has consulted for more than 1,000 companies and addressed more than 5,000,000 people in 5,000 talks and seminars throughout the US, Canada and 70 other countries worldwide. As a Keynote speaker and seminar leader, he addresses more than 250,000 people each year.
[rml_read_more]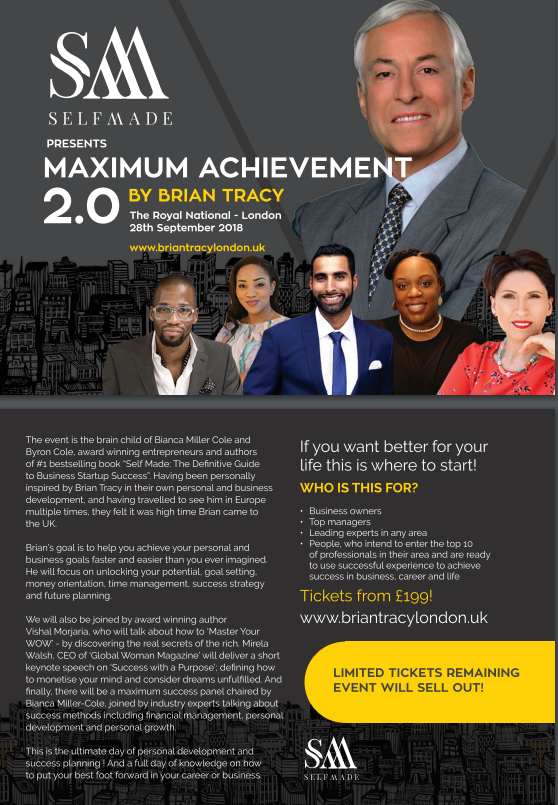 THE HOSTS – BIANCA MILLER-COLE
Bianca Miller-Cole is an award-winning Entrepreneur, having started The Be Group in 2012 with the belief that all individuals should be able to access personal development services.
THE HOSTS – BYRON COLE
Byron Cole is an award-winning serial entrepreneur, public speaker, investor, philanthropist and mentor to entrepreneurs and students.
BONUS SPEAKER – VISHAL MORJARIA
Vishal is an international speaker and award-winning author of 'Master Your WOW' which is about discovering the real secret to the rich.
BONUS SPEAKER – MIRELA SULA
Mirela is an award-winning entrepreneur and inspirational business woman. Having worked in the media and education industry for the last 20 years, Mirela choose to combine her passion for women's rights and the media by creating 'Global Woman' magazine and 'The Business Woman Today'.
MAXIMISING ACHIEVEMENT PANEL
DAYNA BYFIELD, FINANCIAL WELLNESS & EDUCATION EXPERT
Renowned financial wellness and education expert, Dayna Byfield has the knowledge and experience to assist you in making sound financial decisions.
ELAINE CUNNINGHAM-WALKER, EDUCATION EXPERT, FOUNDER OF EVERYTHINGSEDUCATION
Elaine is the mother of two award winning children who were endorsed by MENSA when they appeared on the Channel 4 series 'Child Genius' in 2015.
PHEBI KING, PERSONAL DEVEOPMENT COACH AND FOUNDER OF BOSSES 'N' MUMS
Phebi King is a mother of 2, wife, a Public Health Professional and a Personal Development Coach. Phebi has worked with the UK'S largest Health Organisation for over 10 years.
MAXINE WYNTER – AWARD WINNING SPEAKER & ENTREPRENEUR
Entrepreneurial Maxine realised that there is a constant need for updating and learning skills to evolve both in business and personal life. She Co-Founded 'Your Business Academy' which focuses on personal development from data protection to social media training.
FUTURE OF BUSINESS PANEL
JENK OZ – "THE UK'S YOUNGEST CEO"
Born and brought up in London, 13 year old Jenk is the founder & CEO of iCoolKid, a Publishing, Media, Consulting and Production company aimed at Generation Z.
MARK MCLANE – HEAD OF GLOBAL DIVERSITY & INCLUSION FOR BARCLAYS PLC
He is responsible for architecting a global diversity and inclusion strategy that will leverage organizational strengths, remain nimble in the every-changing global business climate and enable Barclays to maintain their competitive advantage by driving innovation to its customers.
OLIVER OGUZ, DIRECTOR & FOUNDER OF TRADE MARK WIZARDS
Oliver has been a Trademark lawyer for over a decade and has worked with some of the largest brands and brand owners in the UK.
3 Reasons to attend the seminar
#1 Business trainer – Expert Number 1 on the issues of success in the world, he is a sample of the highest personal efficiency and personal leadership

Systemic approach: the seminar includes a system of skills, the use of which ensures rapid growth in the efficiency and manageability of personal and professional life

Practicality: every participant will draw up a personal map for raising personal efficiency and leadership skills
Who is it for?
Business owners

Top managers who are committed to enhancing their team's performance

Leading experts in any area

People, who intend to enter the top 10 of professionals in their area and are ready to use successful experience to achieve success in business, career and life

For more information about the event please visit:

www.selfmadebook.uk/briantracy
For corporate ticket packages or group tickets (5 or more) please email office@selfmadebook.uk 
Download price guide. Click HERE
https://www.briantracylondon.uk for more information or click HERE  
Did you enjoy this article and find it helpful? Why not share it with your social media network below?