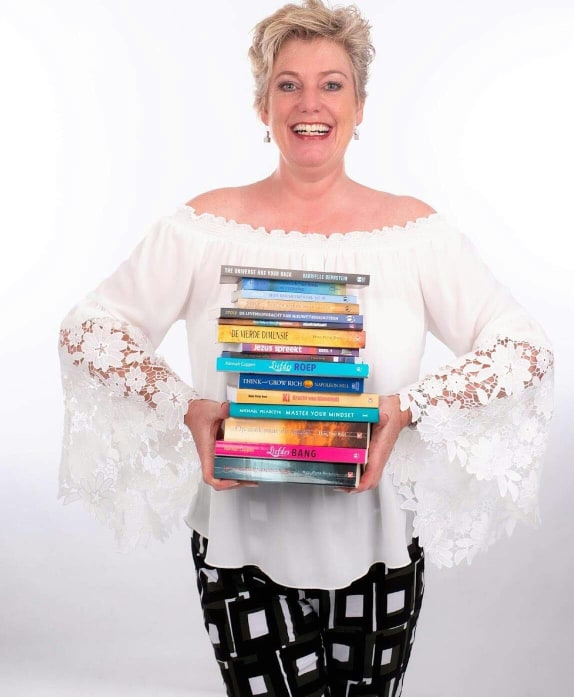 Sandra Bonestroo – "With a positive mind-set miracles will happen"
Sandra Bonestroo 
"With a positive mind-set miracles will happen"
By Fati Gorezi
Sandra Bonestroo is an inspirational motivator, spiritual rebel and international Speaker based in Holland. Through her company "SB Consaletancy", she is in close contact with CEO's, managers and employees whom she energises and motivates. She believes we need more women at CEO positions, more empathy, coaching spirit and meaningful leadership. She guides people to experience what they will achieve when forgiveness, surrender and faith are part of their daily life.
[rml_read_more]
What does being a business owner mean to you? And why did you become an entrepreneur in the first place?
For me, being a business owner, it means freedom and staying true to myself. Listening to my feelings, following my heart and doing what I like most. Trying to have no fear, just 'doing it' with the attitude of 'no guts, no glory'.
After having had two successful family businesses, one being market leader in the Netherlands and the other having a market leading position in Europe, I decided for personal reasons to work again for an employer. But after having worked for different employers I found out my vision, my energy and my passion was different compared to other employees. I noticed that colleagues couldn't keep up with me and my managers felt criticised and became uncertain, or even felt threatened, by such drive and energy. From that moment on I decided to make these skills my power and started my own business "SB Consaletancy".
How did you come across your idea?
I noticed around me that so many Companies are not using every chance or means they have available to gain optimum results. I decided with the knowledge, the experience and the results I achieved in the past, to help other Companies to reach that same goal – and to reach that goal in the easiest and most financially optimised way. Now I have come to a point in life that I realise business is not only about setting goals, achievements, turnover and making profit. What is more important is that you and your employees are happy with work and life. Try to listen to your feelings, follow your heart and find yourself. Then your intrinsic commitment, your drive, and having fun with what you do will achieve profit – not only for you or your Company but also for the other Companies you work with and/or for your customers.
What or who has been your greatest influence in business and why?
To be honest and without wanting to sound arrogant, but from a self-love point of view, that would be me. As a single working mom and sole entrepreneur, it was me who did everything and worked my way up to where I am standing now in life. Of course, there are several people, in private and business life, who I am grateful to for believing in me, supporting me and who were with me all the way.
With my new adventure and Company, called 'Sandra Bonestroo', being an International Speaker, Motivational Inspirator and Spiritual Rebel added to my personal and business life it was the writer Gabrielle Bernstein who was my kick-starter and life changer around July 2018. Her book 'The Universe has your back' made me cry after having read every chapter. Her words were a complete confirmation of my inner knowing and self-conscience. Her words were my words. Her mission is my mission.
What is your vision for the future and what makes you different from everyone else?
My vision for the future is me being an International Speaker, Motivational Inspirator and Spiritual Rebel. Steve Jobs said: ''People who are crazy enough to think they can change the world are the ones who do". I am one of these crazy rebels. My amazing life and business story are my message and my mission – and that makes me different from everyone else. But at the same time, you can easily identify yourself with me.
I have experienced conscious and spiritual growth, overcome obstacles and faced personal and business challenges. My ambition is to share with the world how to live from an attitude of love instead of fear and without judgement. I would like to show people what you can achieve when forgiveness, surrender and faith are part of your daily life. People and situations come into your life for a reason – to teach you life lessons that you should be grateful for. With a positive mind-set and self-love, miracles will happen. Happiness, freedom and personal, as well as business success, will follow. Change starts within yourself; together we can connect and irradiate each other with positivity to create a better world.
My goal for 2019 is to be on that 'Global Woman World Conference' stage in Singapore. To inspire people worldwide and teach about how to find yourself again and become the real you. To combine being an International Speaker with exploring the world, discovering and photographing different cultures and meeting people. And finally, within the coming years, to meet Gabrielle Bernstein and to be on Oprah' show.
Can you tell us about your experience with Global Woman?
After having read Gabrielle Bernstein's book two months ago I asked the Universe how I could become an International Speaker. Within one week after my question the 'Global Woman Club Amsterdam' showed up on my time line at LinkedIn. I had never heard or read about them. That was only the end of July this year. I read on the website that you could give me an international platform to speak and help me to publish a book. From that moment on it has been a rollercoaster ride of miracles coming on my path. I received help from friends and business relations and within two months I had my website, promotional material and social media ready to go! I haven't met the 'Global Woman Club Amsterdam' yet – that will happen in one week's time from now writing this article, on the 24th September. Six days later, on 30th September, I will already be one of the Speakers at the 'Global Woman Club Conference' Amsterdam. My life changed quickly when going into 'surrender' and having faith! And that is exactly what I would like to speak and teach about worldwide. Business and private life can be so much easier for you and for everybody if you go with the flow and learn how to do that!
What advice would you give entrepreneurs that want to start their own company?
Stay f**cking true to yourself. Love yourself and believe in yourself. Be proud of you. Let nobody or any others' opinions distract you from your goal or mission in life. Your journey in life and business isn't so much about becoming anything, it's about un-becoming everything you're not so that you can be who you were meant to be in the first place. You can become everything you think and want to be. What makes you different or weird, that's your strength and you must never forget that!
 Contact : www.sandrabonestroo.com
Did you enjoy this article and find it helpful? Why not share it with your social media network below?