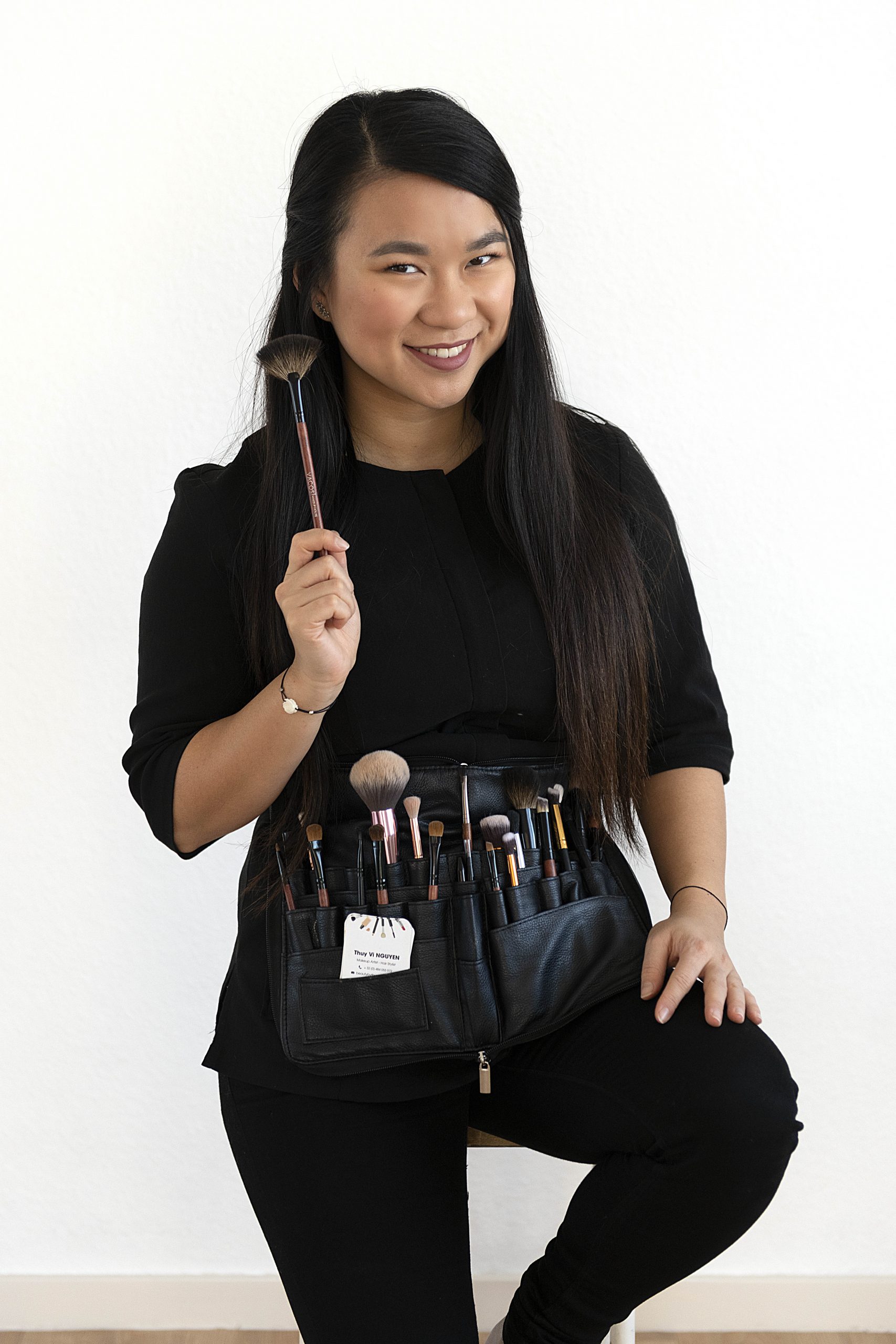 How to beautify yourself in less than 15 minutes
By Thuy Vi NGUYEN
"I don't have 45 minutes to put make-up on. I need to take care of my kids before going to work". We sometimes feel overwhelmed, and it is easy to skip the "beauty time" in order to dedicate time for others. I will help you to look your best not only on the outside but also to bring your shiny self out from the inside. I am going to share with you 5 simple actions to incorporate in your daily routine.
STEP #1 : Hide your tiredness with concealer
The purpose of a concealer is to hide all your visible imperfections on your skin – spots, scarring, dark circles. If you don't have time, or you don't want to put foundation all over your face, the concealer is your best friend!
In the Make-up shop, you have 2 choices of this product. There is a liquid concealer – which is most popular because it gives you a natural look. The other one is a cream concealer. It has a thicker texture and you have a stronger covering of the area you want to cover. It will hide your imperfection better.
If you don't have any brushes, I advise you blend this product with your ring finger. Dab gently because your skin needs to absorb it.
[rml_read_more]
STEP #2 : Look fresh and natural with your blush
This is an amazing product because it adds redness to your pale skin. What I really like is that you need to smile in order to put the blush on correctly. Just under your eyes on the corner of your cheekbones. Putting on make-up has never been so pleasant!
If you are a beginner and you want to go fast, I suggest you use a powder blush because it is simple to blend it. And if you put too much on, it is also easy take off. If you want a longer stay, you can wear a cream blush. Be cautious: it is harder to blend it. My advice for this type of blush is: take a little bit of this texture and go step by step. That might take more time than the powder.
In case of EMERGENCY, you can use your pink or red lipstick as a blush. As with the creamy one, do not forget to blend it because you do not want to look like a tomato.
There are several colours of blush. Make sure that it suits to your skin tone. This is something I teach during my coaching session. For more information, contact me on www.theselfshine.com.
STEP #3 : I am too busy to kiss you
Do you know which make-up product I am talking about? LIPSTICK !
What is wonderful about this product is that people think that you have full make-up on and that you spent hours in front of the mirror. In fact, it took you only 3 and half minutes.
Your smile is the best make up you can wear and thanks to your lipstick, it highlights your beautiful smile. Your lips represent sensuality and express love.
Red, nude, pink, orange, lip balm, matte lipstick, gloss… The beauty industry has created so many choices. You can change up every day! The most important thing is that you need to choose a lipstick that makes you feel pretty, beautiful and sexy.
STEP #4 : Be kind to yourself
"I am too fat" "I am too tall" "I am too skinny" Have you ever put yourself down? Have you ever compared yourself to others? We constantly doubt ourselves because of the image of women you see on TV, social media, magazines… You need to understand that there is no PERFECT body. So STOP torturing yourself! You are who you are meant to be.
We are all unique on this earth and it makes us authentic. Sometimes you are the only one to see your imperfections. It is easier to focus on our negative points rather than what is positive.
STEP #5 : positive affirmations
I look amazing
I love myself the way I am
I accept who I am
I am perfect
I am beautiful
Here are a few examples of positive affirmations that you should say to yourself at least 3 times a day. Those statements help you release your negative thoughts. How ? They will be part of your subconscious mind. With your thoughts you create your reality and your world. I share more about it in my e-book. You can find it on my website www.theselfshine.com
Feeling beautiful hasn't been a priority? Well, feeling attractive is particularly important for your self-esteem. I really encourage you to take 15 minutes of your day, only for you. You will no longer look tired, because those minutes will make you feel good: mentally and physically. Taking time for yourself is very important because it is the best gift you can give to yourself. Let me ask you: If you don't see the beauty within yourself, then who else will?
Did you enjoy this article and find it helpful? Why not share it with your social media network below?