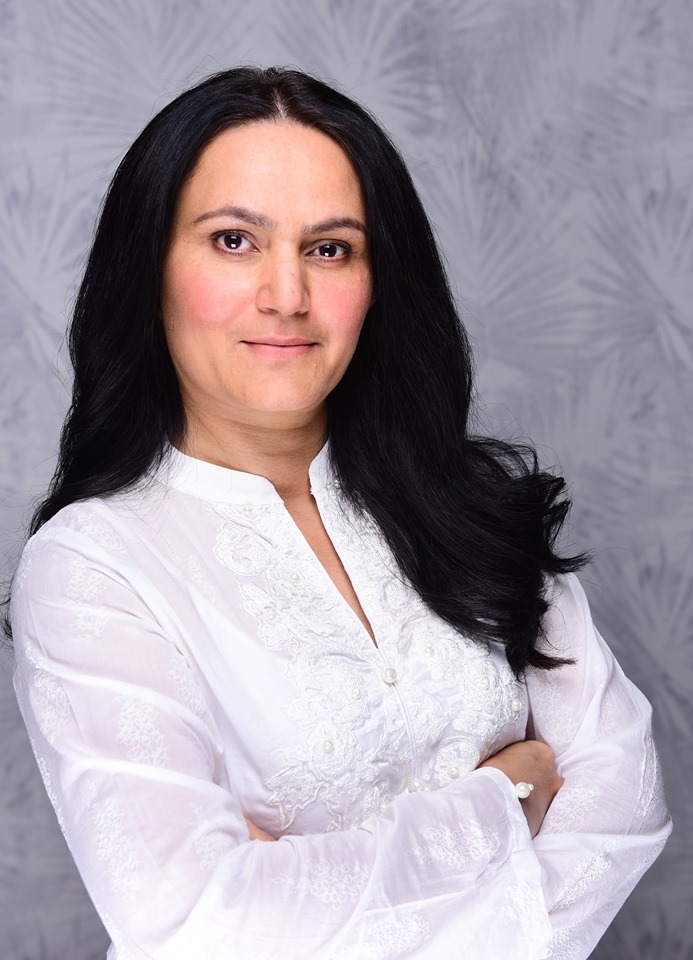 Helping women learn how to reclaim and enjoy childbirth
Saima Noureen Butt 
 Helping women learn how to reclaim and enjoy childbirth
Saima Noureen Butt is the founder of Reborn Woman University, mother of 4 children, entrepreneur and future holistic healer.
Enduring her home-birth experience with her fourth child via a preparation based on special holistic method, she found out that pain must not be a part of giving birth.
She created this platform for women who want to live an extraordinary life with health and energy every day, keeping their body functional by staying biologically young.
[rml_read_more]
The Core Programme of the Reborn Woman University is "Own the Birth". It empowers Women to overcome their anxieties and negative beliefs about their health issues, pregnancy obstacles and birthing risks. Saima Noureen is passionate about empowering women worldwide to help for a wonderful birthing experience and shift new generations mindset about birth.
Please introduce yourself to our readers and explain a little bit about your personal and professional experiences, and how you approached holistic healing.
My name is Saima Noureen, I am a 4-time mother, an entrepreneur, a naturopathic practitioner and the founder of Reborn Woman University. 
Born in Pakistan, I moved to Germany at the age of 10. I completed my studies in IT in Frankfurt, where I met my husband. For years, I managed the office of our vehicle-cleaning company, but my main dedication was my family, where I raised four children. The first 3 births where very painful and with a lot of fear involved. Following my father's stroke, I started to become interested in Naturopathy and holistic healing. Soon afterwards I discovered my mentor, Jean-Claude Alix, a French Naturopathic doctor living in Germany. Upon reading his books and personal mentoring, I learned about a holistic, phyto-therapeutic approach to healing all illnesses. He taught me that everything is healable – even things like cancer and diabetes – when you focus and treat the core cause of the issue and not just the symptoms, as modern medicine does. I experienced this healing first-hand with my 3rd child, who after a stressful birth, was diagnosed with neurodermatitis. Mr. Alix treated the root cause of the neurodermitis with natural remedies and to our joy, the neurodermatitis disappeared completely. No cortisol, no antibiotics, no pharmaceuticals. He also treated my husband's hay-fever holistically with the same result – it was gone.
I was inspired by this and when I decided to have a 4th child I wanted to approach it a different way. A natural way. A positive way. A birth without fear and pain. My previous births had been surrounded by fear and stress – I'd been stressed, my husband had been stressed, my mother had been stressed. I didn't want that again. I didn't want to be helpless and let my doctor tell me what to do. I wanted to "own" the birth, know what I was doing and what was happening, take complete responsibility for myself. Women are physically and instinctively made to carry a child… So why do we think we need help to do it? Why do we look to others for advice on what to do? I was so certain of the existence of the natural feminine "birthing power" that I stared to research. I educated myself about the biology of the human body and our mental fear-pain connection, eventually starting to holistically prepare my body and mind for my birth. My home-birth allowed me to focus 100% on myself. There were no distractions, no strangers, no stress. I created the environment I needed. Combined with specific techniques, I experienced a pain-free and actually enjoyable birth! That was the moment I realised how easy it was to independently bring a child into this world. But the knowledge and preparations that I undertook for my 4th birth aren't something that women learn in a conventional prenatal course. This is the reason that I decided to share my wisdom and experience with other women. And so, Reborn Woman University was born.
How do you help people who seek your assistance access their 'energy bars'? Is this achievable with any individual?
Over the past 5 years I've developed a guidance program filled with research, self-experience and holistic methods to help women learn how to reclaim and enjoy childbirth. It's accessible to any woman, anywhere, at any age. It's for women who want a different kind of birth; a birth that is natural, gentle, tailored to their body's needs and wants. Nowadays people associate birth with c-sections, epidurals, long labour, painful contractions and stressful hospital visits. I'm here to share and show that is not the ONLY way, that is not the NATURAL way!
What is the role of meditation in your session?
I don't work with meditation in the classical sense. I do work with mental training techniques to strengthen and get women in touch with their inner-self connection. This is very important because humans are made of body, mind and soul. When we connect and listen to our inner selves, we hear the needs of our body and our being, allowing us to give ourselves what we need.
What can you tell us about the programme ''Think Big & Go Global''. In what respects did you find it helpful?
Think Big & Go Global helped me to actually think big! It gave me a global platform to share my message with women from all over the world. Since participating in the program, I have been able to expand my own ideas and begin to see the coming together of my visions for my own venture. TBGG led me to the path I am on now, and got me learning how to speak in front of others and make connections.
Did you enjoy this article and find it helpful? Why not share it with your social media network below?