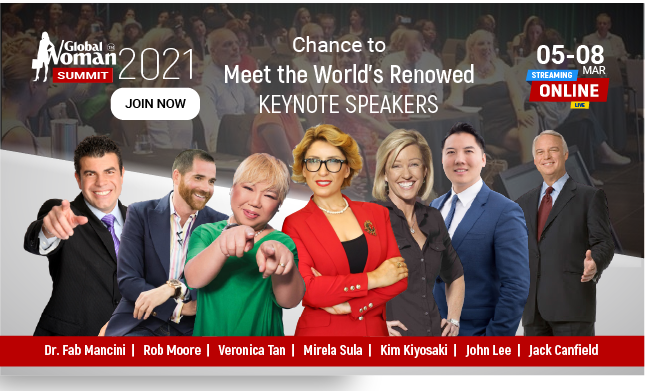 Global Woman Summit: 10 Speakers That Will Guide You to Success!
By Aluat Deng
A room full of women and one theme. Success. The Global Woman Summit is an event mainly for women, but welcomes men as well, that aims to show them the steps and motivation to achieving their goals. The summit is a virtual event
between 5 th to 7 th March with the Global Woman Awards on 8 th March, the perfect way to celebrate International Women's Day. This will be the sixth annual Global Woman Summit, previously held in London, New York and many other countries around the world, but due to the Covid Lockdown, will be online this year. Keynote speakers will include Kim Kyosaki, Veronica Tan, Jack Canfield, Rob Moore, Dr Fab Mancini and many others who will share wisdom from many years of experience in their fields.
Think Big & Go Global:
With more than 20 years of experience in the mindset, human behaviour, publishing, branding and marketing, Mirela Sula is a woman that embodies the phrase 'Go big or Go home' while being the CEO of her own company (Global Woman) as well as an author and public speaker; she has managed to expand her brand to over 26 cities around the world, and she now offers you the opportunity to learn and gain knowledge on how to achieve this for yourself.
---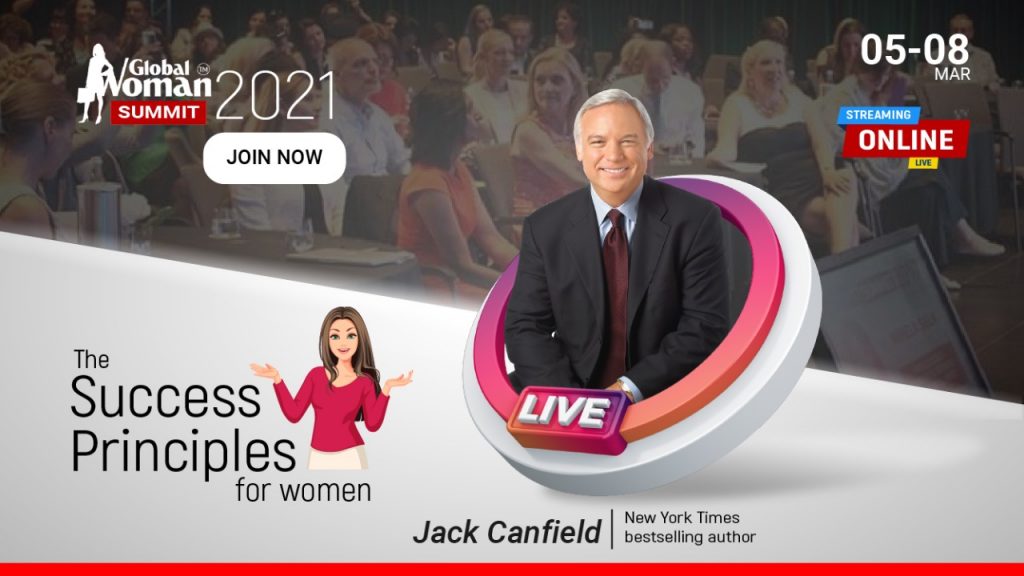 The Success Principles
With over 2.5 Million subscribers, Jack Canfield is an empowering speaker (inducted into the Speaker's Hall of Fame) who uses his personal life experiences to teach others how to achieve their goals. The Harvard graduate has spent over
50 years teaching his success principles, which has helped millions of people and now he brings his expertise to the Global Woman Summit 2021 this March.
---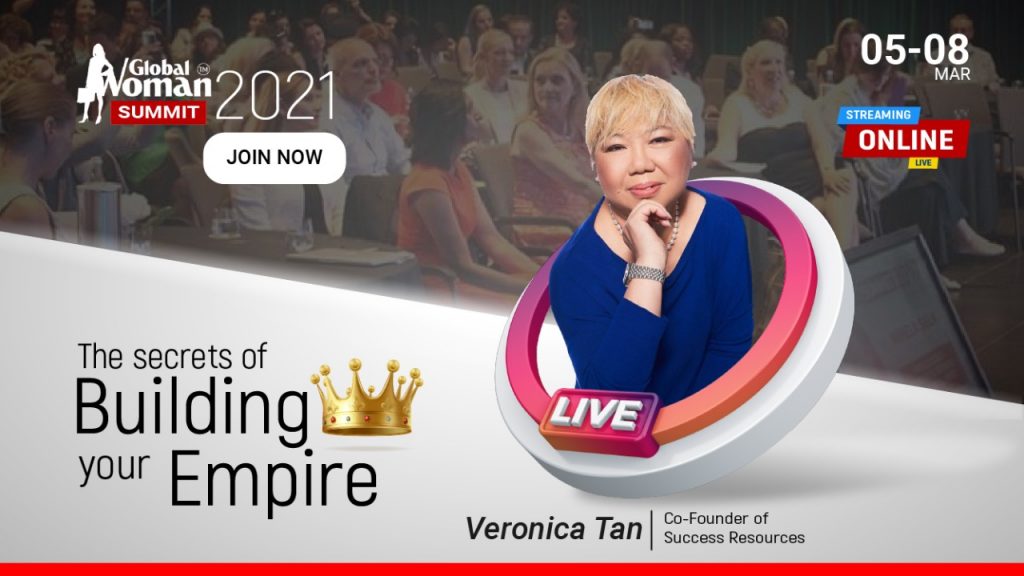 Find the Key to Your Success:
Veronica Tan is an entrepreneur, who although born into the lifestyle of business, knew it was not an easy road. Working with her husband, Veronica has used her personal experiences to create Success Resources, which provides a way of life
with the aim of bringing the best out from people. With over 10 million people from over 30 countries impacted by her hard work, Veronica Tan now brings her knowledge and skills to the lucky ladies of the Summit.
---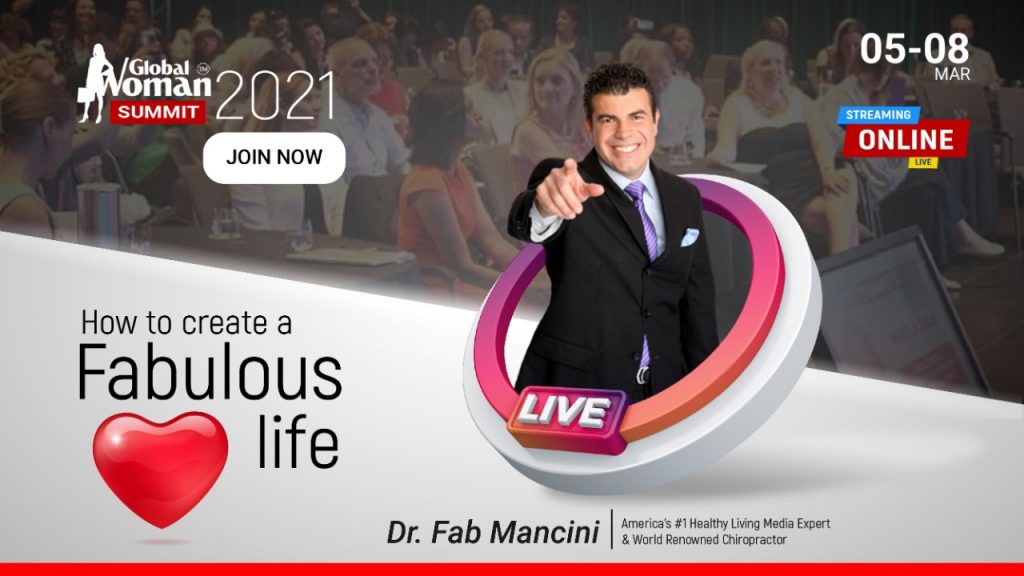 How to Create a Fabulous Life
Dr. Fab Mancini is a healthy living expert that uses his knowledge of health and the human body to promote a way of living that is both beneficial for the body and mind. The Harvard graduate is a renowned success with a
best-selling book (Power of Self-Healing) and a popular radio show
(Self-Healing with Dr. Fab). He has also shared his knowledge on multiple media platforms. Dr Mancini's work has been so inspirational, he was honoured with a library named after him by the President of Mexico. The highly sought after public speaker will be lighting up the Summit and
it's an experience you won't want to miss.
---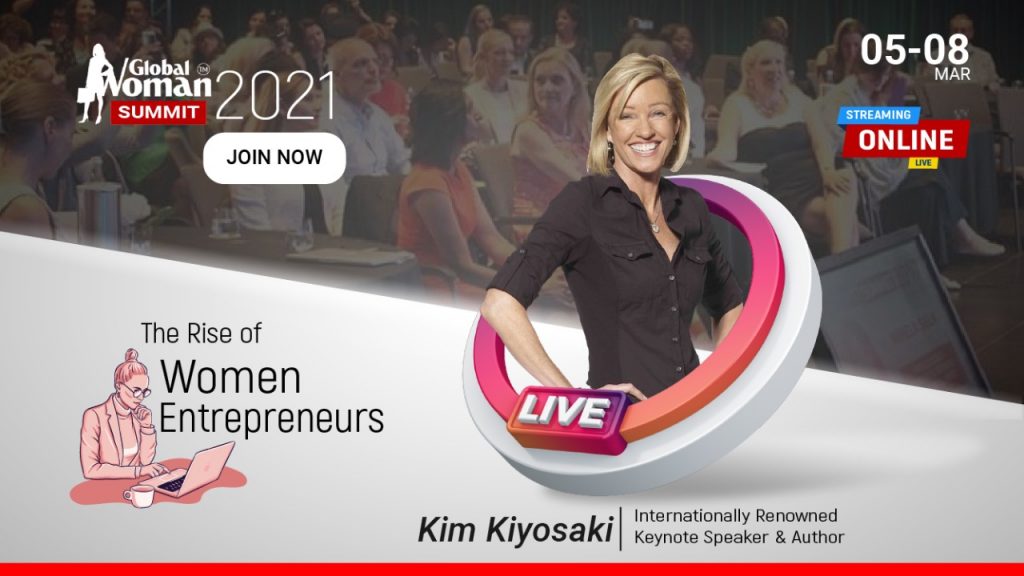 The Rise of Women Entrepreneurs:
Author and renowned speaker, Kim Kiyosaki of the 'Rich Dad, Poor Dad' and 'Rich Woman' books, brings her educational and motivating views to the Summit this March. A previous speaker at the event, she has used her platform to encourage women to learn more about their money. Not only has she found success herself but is now using her platform to teach other women how to step foot in the entrepreneurial game and find their own wealth.
---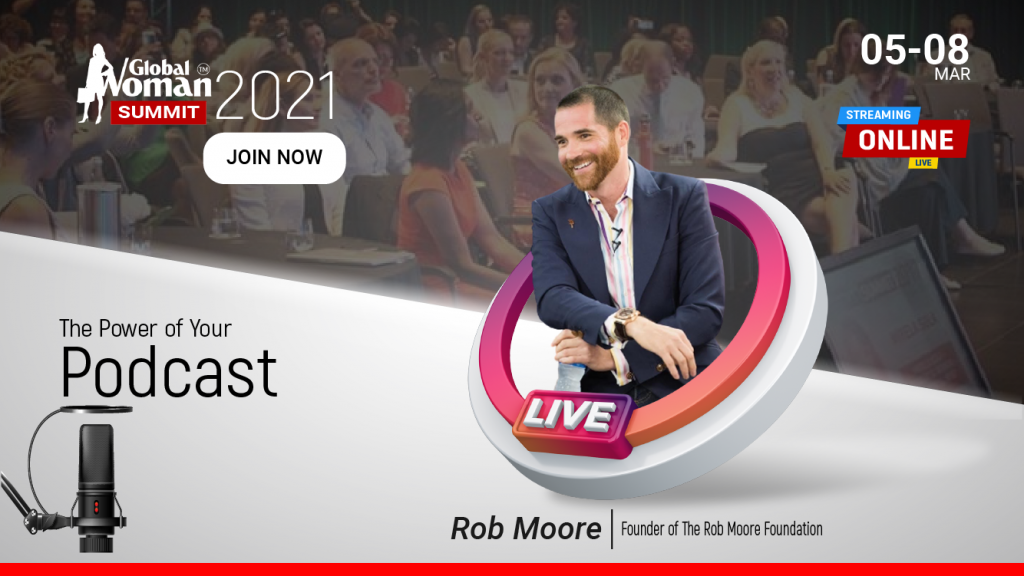 The Power of Your Podcast:
With 6 Amazon and Audible Bestsellers under his belt, Rob Moore is using his platform to create a much needed conversation around entrepreneurship. The prolific podcaster (The Disruptive Podcast & The Money Podcast) is using his
platform to change the way people think about business. The self-made multimillionaire and public speaking record holder is ready to share his tips on how to achieve your own success in the business world.
---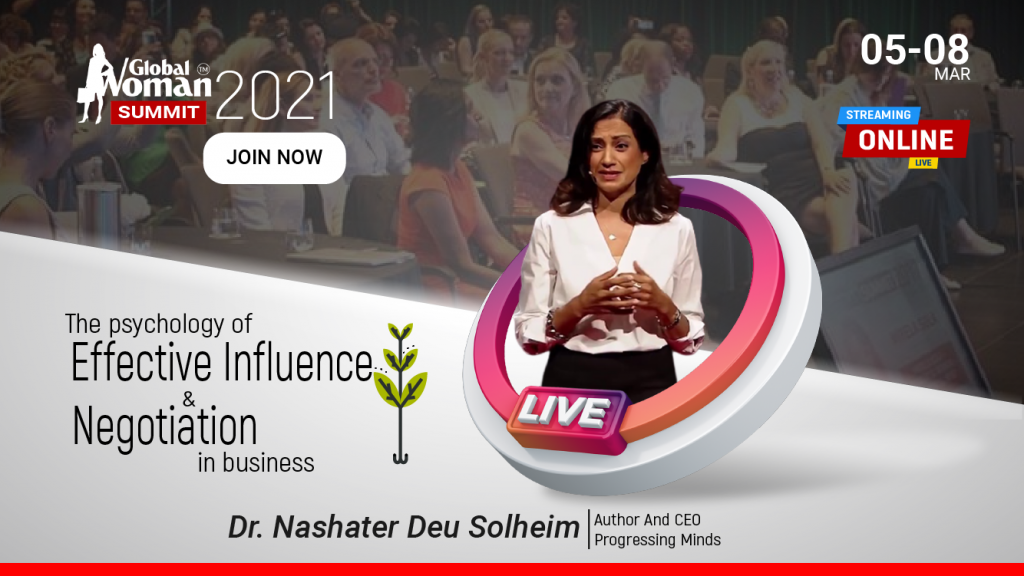 The Psychology of Effective Influence and Negotiation In Business:
With a background in clinical and criminal forensic science and an expert negotiator, Dr Solheim is sure to drop some vital knowledge on negotiation tips in the business world and will teach you how to help your brand create influence in the world of entrepreneurship. The CEO of Progressing Minds, Dr. Nashter Deu Solheim has used her experience as a psychologist to teach others the key to winning in relationships. The established author (The Leadership PIN Code) whose book made the Forbes 2020 list of 8 books, will bring more than 25 years of experience to the Global Woman Summit.
---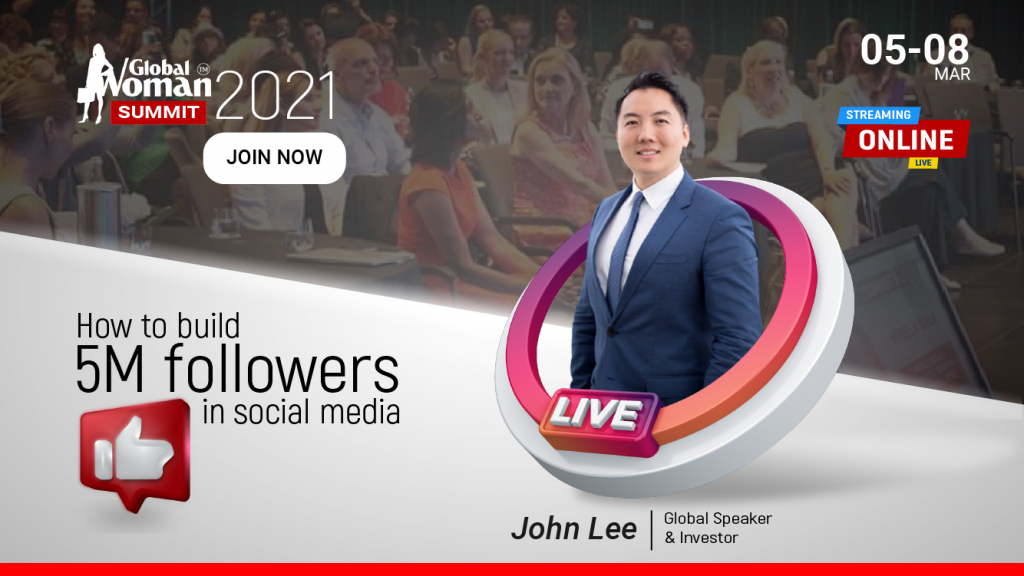 How to Build 5 Million Followers on Social Media:
John Lee is a master of his craft, where in just 3 years he was able to gain 5 million followers on his platform. This spring John brings his own techniques that are sure to help anyone with a desire to build their own following on social media. With techniques that are used by his famous clients, John will share tips on how to make money from social media and how to find a strategy to make money off the thing you use the most, your phone.
---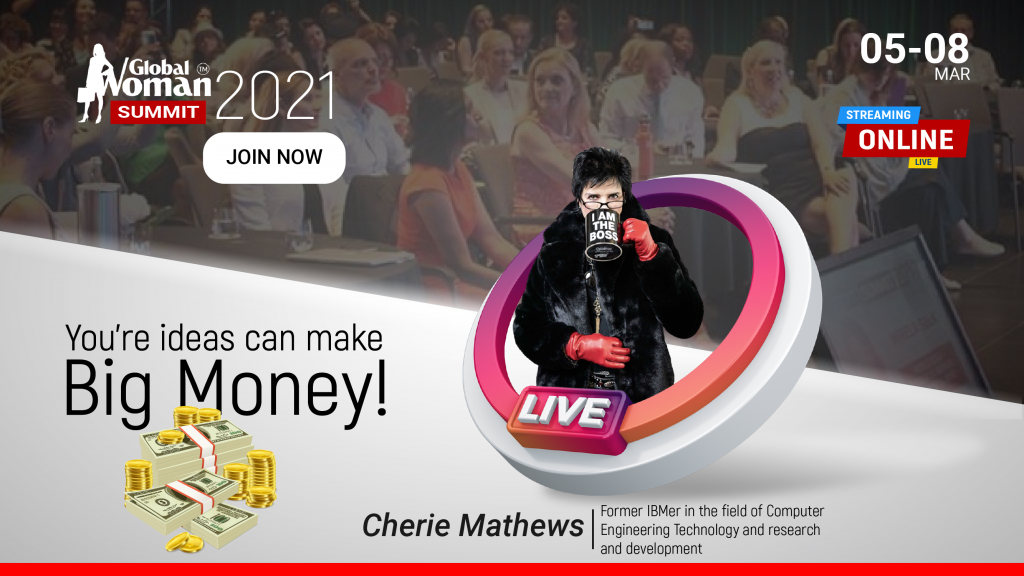 Your Ideas Can Make Big Money!
Cherie Mathews is a firm believer that ideas followed by action can change the world. Through her work and many years of experience, Cherie is a living testimony of how innovative ideas can change lives. As a 20 years breast cancer survivor, Cherie's company 'HealinComfort' has changed the lives of over 41,000 women and men who have gone through mastectomy surgery; offering them dignity and comfort. With a history of working with NASA she co-pioneered the National School Program of the First Tee to help underprivileged children in public schools. This has reached up to 10 million young people. As a frequent award recipient and a life member of Global Woman, Cherie now brings her years of personal experience to teach her fellow women on how to profit off their own ideas.
---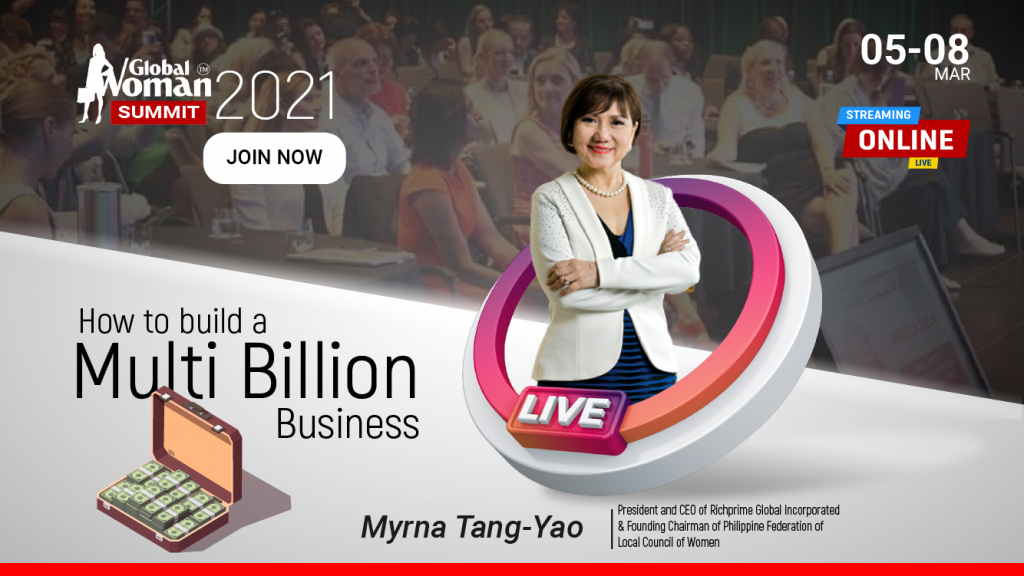 The role of women in leadership
Myrna Tang-Yao is leaving her impact on an industry that is estimated to be worth 97.2 billion dollars. The children's toy industry is one that is changing in the secular world; however Myrna has used her skills and talents to continue making a consistent impact in her country of the Philippines as she is credited with introducing the Barbie doll in her home country. Her position as the executive distributor and licensing agent for multiple popular toy brands has allowed Myrna to thrive in the business. A speaker for multiple clubs, associations and foundations around the world, Myrna will offer her expertise at the Global Woman Summit.
With all these speakers joining us on 5 th to 7 th March at the Global Woman Summit, it is sure to be an impactful, eye-opening event. With many Global Woman Club members excited to attend it's due to be an event that will change the way many women view themselves and will open the door to many skills and opportunities they never thought possible. All that's missing is you.
Did you enjoy this article and find it helpful? Why not share it with your social media network below?