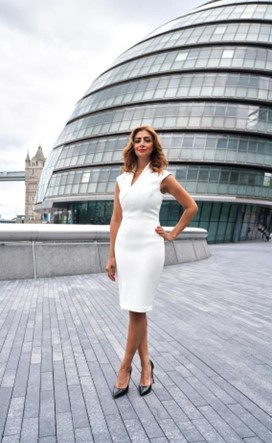 Farah London: Bringing Change in Business, Politics, and Philanthropy
---
In a world where the interconnections between business, politics, and philanthropy are becoming increasingly apparent, one individual stands out as someone who skilfully merges these diverse fields. Throughout her extensive career, this dedicated businesswoman has witnessed the intricate interplay between business and politics, with each having profound effects on the other. She recognizes that political decisions at both local and international levels have direct repercussions on day-to-day business operations.
This realization has been a driving force in her diverse journey. As the founder of BACK 2 BUSINESS International, she plays a pivotal role in facilitating global business connections by fostering relationships between governments and businesses across various sectors. Her platform transcends geographical boundaries, allowing for cross-border trade and investment even during politically sensitive times.
When asked about navigating the complex relationship between global business, politics, and charity for the betterment of society, she emphasizes the importance of empowerment, advocacy, and collaboration. She especially highlights these factors for women in business. She believes that taking risks and stepping out of one's comfort zone can lead to building empires and making a lasting impact.
When envisioning the future of philanthropy and its role in addressing global challenges, she maintains an optimistic outlook on eradicating poverty through empowerment and education. She sees the younger generation fundamental in driving meaningful change. In a world where boundaries are constantly shifting, she serves as an inspiring example of what we can achieve through dedication, passion, and commitment to creating a better world.
---
Your career spans global business, politics, and charity. Can you share the pivotal moments that inspired you to become involved in these diverse fields?
There was not one single defining moment, but rather through years of experience and growth that have guided me into these core areas. Throughout my extensive career as a dedicated businesswoman and through my many years of business of heading international business, I have seen the fundamental role between business and politics working collaboratively together, to achieve an aligned goal. They cannot co-exist alone, as any political decision, be it local or international has direct repercussions on day-to-day business operations.
Considering this, it is imperative for responsible business leaders to recognize their duty in enhancing the world we inhabit. Therefore, it remains crucial to make a positive contribution to society and the local communities that surround us. The establishment of a harmonious ecosystem that bridges business, politics, and corporate social responsibility is the need of the hour.
As the founder of BACK 2 BUSINESS International, you've played a significant role in global business facilitation. How has your platform influenced international trade, and what do you consider its most remarkable achievements?
Our global reach extends across six continents, enabling us to spearhead international trade and investment initiatives. What sets us apart is our distinctive role in fostering connections between governments and businesses spanning various sectors. Our unique position transcends geographical boundaries, granting us the capability to facilitate cross-border trade and investment in a manner that transcends the limitations faced by global government trade teams.
This becomes particularly crucial during sensitive political junctures when politics may hinder direct, open dialogues between governments. However, it's noteworthy that all countries embrace trade and investment opportunities with open arms. In such challenging moments, we play a key role in ensuring that business operations can continue unhindered. We effectively bridge the gap, allowing them to swiftly get Back 2 Business. I would say having that positive influence is an achievement.
You ran as a mayoral candidate in the 2021 London elections. How has your political career intersected with your efforts in global business and charity, and what have you learned from this multifaceted experience?
My extensive international business experience played an important role in crafting a robust manifesto aimed at igniting economic growth and attracting inward investment into London. This manifesto had the potential to reshape the landscape of the city and position it on a trajectory of positive growth, establishing London as a global leader.
Furthermore, my two decades of engagement in charity work and extensive volunteering has provided me with the insight and capability to formulate policies that directly addressed grassroots issues within our communities. These policies were designed to empower and uplift all segments of London's diverse population.
In today's world, effective leadership demands an understanding of how business, politics, and charity converge and mutually reinforce one another in creating a thriving and inclusive society.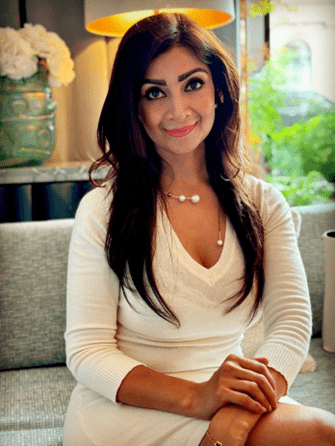 Philanthropy is a key aspect of your work. Could you describe your most meaningful charitable endeavors and their impact on communities globally?
I consider myself fortunate to have the privilege of collaborating with communities worldwide and making a meaningful contribution to social impact initiatives. Some of the projects that hold a special place in my heart involve finding permanent, loving homes for dogs rescued from the meat trade in China, relocating them to the UK and Europe, and ensuring they become part of caring families. Additionally, I am deeply committed to educational initiatives in India, which empower communities and address child poverty.
Within the heart of London, I am actively involved in initiatives aimed at supporting the homeless community. This includes my annual Christmas street-party on the Strand, featuring barista coffee, food, music, and clothing for those in need.
Could you elaborate on the connections between global politics, philanthropy, and business, particularly in how they intersect within the international communities you've worked with?
Certainly, the interplay between global politics, philanthropy, and business is a complex and yet a dynamic one, and it becomes even more critical when we consider their impact within international communities.
In international communities, these connections become even more intricate due to the diverse cultural, political, and economic landscapes. Effective collaboration and alignment of these sectors are crucial for addressing complex global challenges, from poverty and healthcare availability to environmental sustainability and disaster relief. Leaders and organizations that understand how these domains intersect can play a major role in creating a more equitable and sustainable world.
In your experience promoting international trade and investment, what are the major challenges and opportunities that businesses and governments face in the global landscape?
Engaging in international business and investment presents significant hurdles, and politics looms as the principal challenge. The abrupt shifts in policies can swiftly disrupt cross-border trade, and in more dire circumstances, escalate into geopolitical conflicts such as war. Particularly in developing nations, private investments and Public-Private Partnerships (PPPs) emerges as a forward direction to propel progress and economic development, ultimately providing additional funds for community well-being projects, education including social welfare and healthcare access.
How do your roles as Deputy Commander of the Order St George London Branch and as a political figure align with your commitment to charitable causes, and how do they complement your global business activities?
The Order of St. George is committed to supporting charitable projects on a global scale. In my role as Deputy Commander in London, we actively engage with and contribute to local communities while organizing specific events for our members. The values of the Order align seamlessly with my personal commitment to making a positive impact on charitable causes both locally and around the world.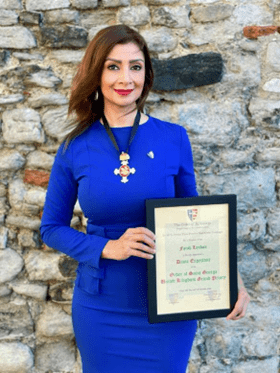 What advice would you offer to individuals seeking to navigate the intricate relationship between global business, politics, and charity for the betterment of society?
I strongly believe that it is our collective responsibility to remain mindful of our broader ecosystems. This entails empowering others, whether within business, local communities, or as advocates for causes through political advocacy and lobbying. I urge women to step forward, raise their voices, and actively engage their networks and alliances to drive meaningful change.
How do you envision the future of philanthropy and its role in addressing global challenges?
The significance of philanthropy in addressing global challenges cannot be overstated. With a growing awareness and a conscientious younger generation, I am optimistic that poverty can be eradicated. Through empowerment and the provision of accessible, quality education, we have the potential to uplift individuals from poverty, paving the way for a brighter, more equitable future.
What advice can you give to other women in business?
Keep going and don't stop and above all take risks, you cannot build empires by staying within your comfort zone, step out of your comfort zone and always break boundaries. If you do not feel challenged each day, then your goals are not big enough. Even when it looks like it's the end, you get up and you keep going, don't let life throw you off course. You are a woman, and we are indestructible, we might need to take a moment but we always get back up. Do not be influenced by others, be your own light, and shine brightly.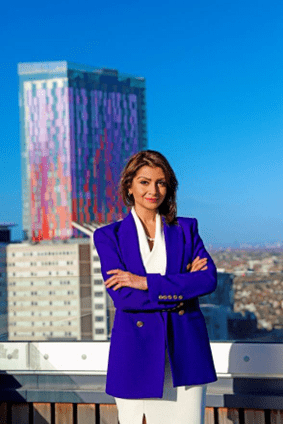 Contact Farah London and find her online:
Ms Farah London DStG (@msfarahlondon) • Instagram photos and videos
Did you enjoy this article and find it helpful? Why not share it with your social media network below?