Countess Paola Kovacz von Csaky: From Fashionista to Barrister
ARTICLE: MIRELA SULA
PHOTOGRAPHY: BRIAN USHER
COUNTESS PAOLA KOVACZ VON CSAKY was born in Canada in 1964, grew up in New Zealand, lived in Paris and Los Angeles and is half Hungarian and half English, Scottish and Irish! As Virginia Woolf would say "As a woman her country is the world".
Your story seems to be enriched with a lot of chapters which starts in Hungary and ends in London. How would you describe this journey?
My journey actually starts with my father who escaped from the revolution in Hungary in 1956  – the uprising against the communists who had taken over Hungary since the end of the war and who had confiscated all my father's family's land. My grandfather was a famous fighter pilot who was shot down in the Battle of Berlin, and as a result the Russians came for my grandmother who wouldn't escape but was standing poised with a pitchfork when they carted her off to a concentration camp.
The communists were locking up all the nobles (as the Nazis had done to the Jews) and his grandmother hid my father away as a baby in the countryside. When the students rose up in the university in 1956, being fed up with the stifling environment of communism, my father aged seventeen, said he was avenging the death of his mother and father and of his Fatherland Hungary. So that was my legacy that I inherited.  He eventually escaped as a political refugee to Canada and that is how I came to be born there.
What is your experience of moving from one country to another?
From Canada to New Zealand, then to Paris, then Los Angeles and then London! As a child it is always a great adventure, and aged nine we went from Canada to New Zealand.  But my real challenges were moving from LA to London at 25, as I moved here with $400 in my pocket and started from scratch. But in those days London was not the dynamic powerhouse it is today, it was quite depressed actually, with massive unemployment and poor people.  But ever the entrepreneur, I started my own fashion label and shop on the Fulham Road, making haute couture and soon found myself in all the magazines.
What attracted you to London?
I was brought here by love as I had fallen madly in love with a tall dark handsome Romanian French 'younger man' I met skiing in St. Moritz and so left my husband in LA and moved to London!
How do you remember starting a new life in London?
Sleeping on friends' sofas and moving from Wimbledon to Tower Hill to West Kensington and my first job was working in Joseph on Sloane Street, in the deep snow where people where skiing up and down the street.
If you could go back in time would you still choose to come to London?
Absolutely. I was living in Paris in the mid 80's, and although Paris is delightful to the eye, it is quite difficult to get going if one is not French.  Parisians are quite snobbish about foreigners, unless they are very rich!
What was the most difficult time you have faced as a foreigner?
I found the English to be the most welcoming if you are coming in from outside. You can slot into their 'society' easily as long as you are amusing and intriguing, and entertaining, and they are not interested in if you are rich or not. (Unlike in Los Angeles, who look you up and down and judge your worth by your "Thread Count", a crude measurement of how much your clothes cost.) It's amazing but true. At least in Britain you can be in painterly rags and no one cares but they love you as a painter!
You decided to change your career after many years investment in Fashion design. What motivated you to change?
I was for twenty years a fashion designer and by the early 2000's I needed a  new challenge. My Hungarian Godmother, who is very holy and very astute, came to me one day and said "You need to go to university and you need to do Law".  Well, that was the hundredth and first time she said it and finally the penny dropped and so I did. Within months I found myself accepted onto the law course at Birkbeck College, University of London, and as soon as I started I knew I would love it.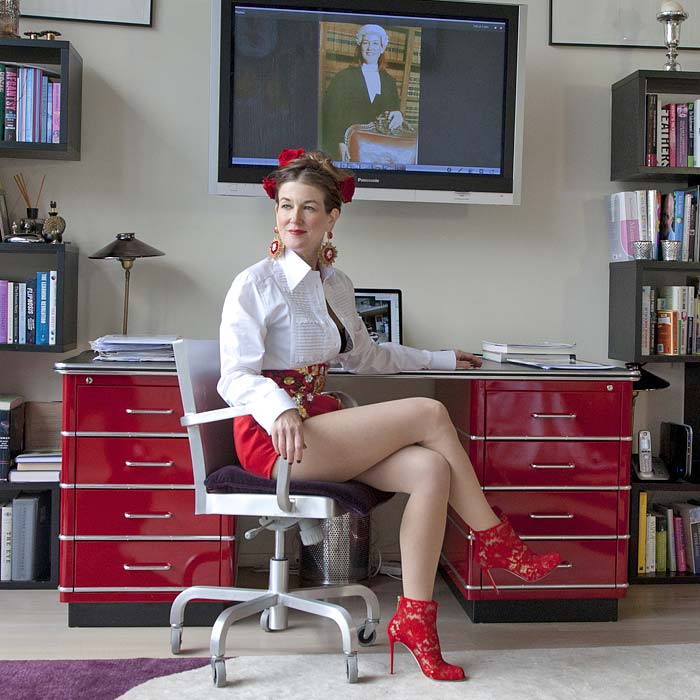 How did you manage to finish your degree and at the same time keep working?
That was the hard part. For the first three years I worked six days a week running this charming Parisian Milliner's hat shop in Knightsbridge, Marie Mercie, and then running off to university every night, coming home at 10.30 or 11pm, steaming my broccoli, studying my books, then off to work the next day. By the fourth year I fell ill with Glandular Fever and it became M.E., or chronic fatigue syndrome, which I still have, but struggled through.
I had two years of recovery then finished my degree by the sixth year. Then I was made homeless as I couldn't work any more from being too ill, and lived only on the Government disability benefit. That was very difficult on just £75.00 per week. I rented a room in Fulham, and then went off to Bristol to study for the Bar.  I was called to the Bar in 2011.
My Hungarian Godmother, who is very holy and very astute, came to me one day and said "You need to go to university and you need to do Law". Well, that was the hundredth and first time she said it and finally the penny dropped and so I did.
How did you deal with these difficulties and who are the people that were part of your life during this time?
I prayed a lot! I was very close to my Godmother and we would go off to the Brompton Oratory and I got a lot of comfort and solace form that. As soon I entered the church it was as though all my troubles would fall away and I knew that God and Our Lady would help and protect me, so that kept me going through those difficult dark years.  Even though I lived alone, and had to do everything on my own, I knew that with God's help I was never alone. And it was true, God did help me through it all, as it was pretty much a miracle that I kept going to become a barrister!
It seems that you are very resilient and you don't give up – is this something you are born with or that you learned in life?
When you are confronted with either an empty space or to keep going, well it seems natural to keep going! And to find a way around the hurdle, as my grandmother always said "there's many ways to skin a cat" and I just kept battling through.  I think the best advice is never take "no" for an answer. It can always become a "yes" if you persevere for long enough.
After many difficulties in life it seems that you are now living your dream.  How would you describe your present situation?
My dream has come true! Finally, after living alone for twenty years and always longing to find a nice man to be my husband, he came to me one lonely Sunday afternoon as I was sitting forlornly at the back of the Chelsea Arts Club, and nursing my Guinness after just moving flats for two weeks, totally exhausted. And then there he was! Within eleven days and after only three dates, he asked me to marry him! He fell on his knees and proposed.  Well I was so surprised I said "Yes" straight away. And since that time my life has totally transformed.
At first it was difficult to adjust to another person wanting to do things in a different way, and sharing one's space took a lot of getting used to. But now after two years we are totally integrated and almost finish each other's sentences. We are definitely like twins, and are called "Les Jumelles" as we love to dress up in extravagant clothes and party hard!
Can you tell us more about your husband and his role in your life?
Robin is the founder of one of the top advertising companies in Britain called WCRS, and he is the "W" for Wight, Collins, Rutherford and Scott, though not many people would know that.  It's now part of the Engine Group, one of the UK's biggest multi-media companies, so he is a busy executive running around town wooing clients and being the creative genius that he is. He is a great inspiration to me as he has endless energy and bounce. I have the bounce but my energy never matches his.  But he's terribly sweet to me about that and brings me breakfast in bed every morning, even when he has to rush off to the office early. I always wake up with a smile on my face!
How do you now feel being married with a man that made your dreams come true?
I do feel very blessed and extremely lucky.  But I did wait an awfully long time for it though! I just know that I prayed for years that I might be with a lovely man for a husband, and eventually my prayers were heard. Dreams do come true, but not always in our timing. I would say that 'patience' is like a piece of string that keeps unravelling and has no end to it, and that is why it's called patience. You can never set a limit on it.
You mentioned that you regret not having children – what does this mean to you?
All those years of longing did involve the dream of children.  It's a biological need that springs up inside and needs to be satisfied. But that is one regret I have, that as I waited and waited for my darling husband to arrive, it became later and later for me to have children.  They never tell you that your basket of eggs will eventually empty out and there will be none left. So it's not true to say "you can have it all". There is always a sacrifice for some area.  But as a compensation I have all of Robin's charming family, as he has five children's and five grandchildren and that keeps us amused. Family gatherings number up to twenty with all their spouses and his ex-wives and cousins and aunties and it's great!
What is your plan for the future?
Lots of plans and so little time! We have a country house to find and Robin is keen on finding an old barn to convert into a little hideaway.  And we have discovered a remote island off Sicily without any cars, that donkeys have to climb up with supplies, but its rural remoteness is its charm and a future of writing and painting beckons for quiet times. And there's Robin's charity that he set up eleven years ago called the 'Idea Foundation' www.iamcreative.com which brings the creative industries in to schools and targets disadvantaged children to get into the advertising industry. That's a great project that the Chancellor has backed, as he gave Robin a party at No 11 Downing Street in February to celebrate 11 years of Ideas Foundation, at No 11!
What would be the wisdom that you would want to share with our readers?
Find your dream. Stick to it! And keep Going.  Never Give it up, even when all the world tells you that you can't do it. Just do it!
Did you enjoy this article and find it helpful? Why not share it with your social media network below?