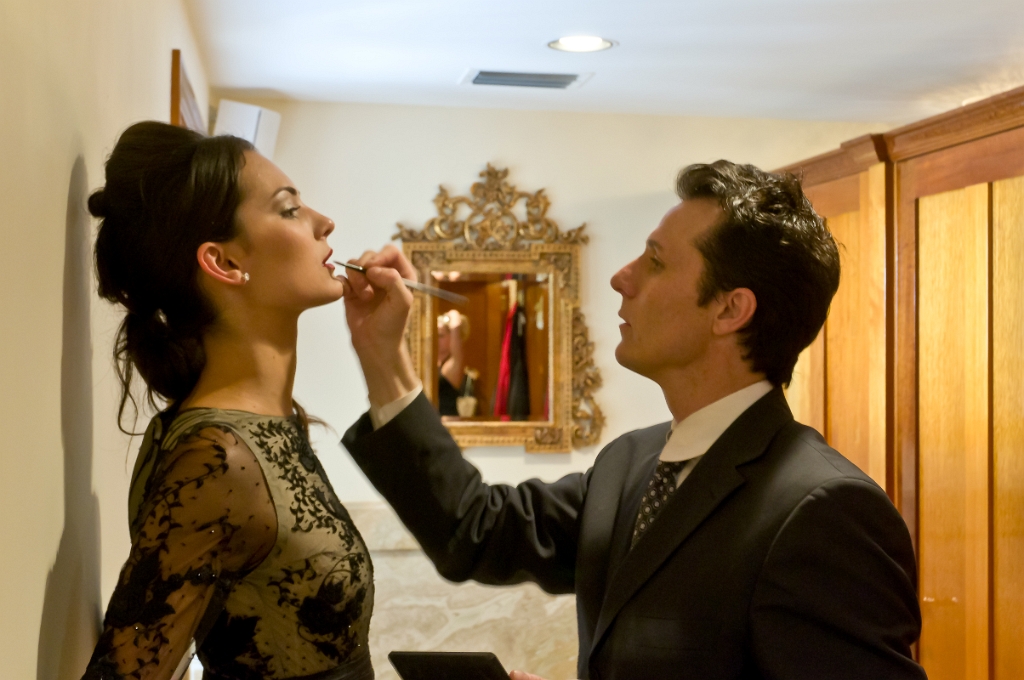 Christian Iles – The Beauty Architect
Christian Iles – The Beauty Architect
By Fati Gorezi
Many of the most powerful men and women in politics, business, entertainment and sport have called on Christian Iles to prepare them for their biggest national interviews, events and performances. Such notables as Mike Modano, Mark Cuban, Ambassador Nancy Brinker, Cindy Brinker Simmons, Former First Lady Laura Bush, Former Secretary of State, Condoleezza Rice, LeAnn Rimes, Star Jones, Patricia Cornwell, Trish McEvoy, and Liz Smith have all used Iles' services. Who wouldn't want to sit in the chair of the man who tamed Janice Dickinson for her close up on E! Television interview or who coiffed the fiery tresses of Naomi Judd and contoured her infamous eyes and cheekbones? Iles prides himself on his southern hospitality and the fact he treats all his clients as friends. There are no limits to the lengths he will go to brighten their day, uplift their spirits and their 'look'. He goes to events and travels with his clients maintaining their look, and more importantly, keeps them laughing. Currently, Christian Iles is known worldwide as 'The Beauty Architect'. He works at Dior Beauty, HIghland Park Village, Dallas, Texas and also works in the motion picture funding industry.
[rml_read_more]
Christian, can you tell us about your education and work experience?
I was attending 'The University of Texas' in Austin in my third year when I received a devastating call that informed me that my mother had Stage 4 cancer. I immediately moved home to be close to her. Then, instead of returning to university life my mother suggested I attend a beauty school. After completion of the beauty school course over nine months I was then hired by Jose' Eber in Dallas, Texas. I worked there for about a year and then decided that I wanted to work for myself. Now, some thirty years later, I continue to be an independent contractor.
 You've obviously chosen a fun and exciting career path where you can let your personality and creativity shine. Why did you decide to follow this profession?
I chose a career in the beauty industry because I love having a direct effect on helping clients discover both their inner and outer beauty. You may ask what keeps me excited about my work in hair, makeup, and styling. I would have to say meeting new people and knowing they are putting their trust in me to help them look and feel their very best.
As you work in a creative profession it can be difficult when a client feels you've failed to give them what they wanted. How do you handle that?
If a customer tells me that I have failed to give them what they want I immediately ask a lot of questions and try to correct my mistakes. It is important that I learn from every experience, whether good or bad. I have come across numerous 'difficult' customers over the years. I've learned to ask a lot of questions regarding their needs – such as how long do they want me to truly spend on their hair in the morning? If they are a 'wash and go' type of client then it tells me not to spend a lot of time putting layers in their haircut.
Can you tell us about any memorable moments you have had while doing hair?
One of the most memorable moments I have had while doing hair is when a customer had to take chemotherapy for cancer as well as having a full mastectomy. Upon completion of the chemotherapy she then grew all her hair back. I felt so proud because I was going to be the first person she would allow to cut, colour and style her hair.
 What is the best part of your job?
The best part of my job is the ability to see when I have put a smile on a customer's face and they return to me for my services year after year.
What does it take to be successful in your chosen industry?
To be successful in the beauty industry you have to be able to learn from your mistakes. Just as important, you need to be able to study and learn from other stylists. You take what they do best and integrate it with what you do best.
You have worked with many famous celebrities. Is there anyone that stands out as your favourite from a Hairstylist stand point?
The most memorable clients I have had the privilege to work on over the years have been Heath Ledger, First Lady Laura Bush, Secretary of State Condoleezza Rice and doing the hair for the 'Dallas Cowboy Cheerleaders' for two years.
What tips and advice do you have for aspiring hair stylists who are just starting out?
My advice for aspiring hairstylist is to know that your career will have many ups and downs. You should always work toward reinventing yourself from time to time. And most importantly you should never worry about something that hasn't happened.
Did you enjoy this article and find it helpful? Why not share it with your social media network below?