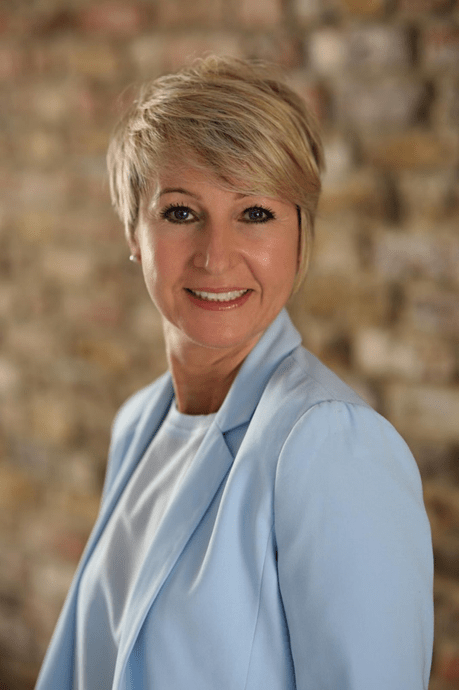 Amanda Frolich: My Life as a Celebrity Entertainer and Mission to Tackle Childhood Obesity
---

Amanda's been on a mission for the past thirty-two years, to encourage children and their families to be active together. She's passionate about shared experiences and teaching children about their amazing bodies and minds from an early age. Amanda works tirelessly to fight the global childhood obesity epidemic at every level and was recently asked to be a Children's Champion in the UK Parliament.
In her sessions, both inside and outside the classroom, Amanda works with babies and pre-school children, inspiring them to discover the world around them in the most action-packed way. She uses props and her own music to introduce shapes, colours, vocabulary, rhythm, and rhyme. Amanda encourages mixed age group classes to help children develop socially and emotionally and learn from each other.
Action Amanda, as she's known, certainly lives up to her name and her enthusiasm and charisma is the talk of London. She's a brilliant party host and the entertainer to celebrities who include Brad Pitt and Angelina Jolie, the Beckhams and even a former Prime Minister that love to employ her. She's often featured in the media and during the pandemic she made an appearance on BBC News talking about her song and campaign to help children to wash their hands properly.
Amanda's daughter, Bibi, was a gift and such is her commitment, just six weeks after having her, she juggled running a business with family life—and has done so ever since. As a mother, Amanda has set an example for her daughter by practicing her healthy body, healthy mind message at home. Amanda eats well, exercises, and makes sure she is well hydrated. She takes care of herself – and those around her.
Here, Amanda explains how she has been on a rollercoaster ride with her business, reaching incredible highs and low points, and why she believes that out of every crisis or disappointment comes an opportunity…
---
You started to run children's activity sessions long before they were fashionable. How did you come up with your concept and why do you think it has stood the test of time?
Yes, I have been around for a long time! Thirty-two years to be precise. And yes, I was ahead of my time when it came to offering daytime activities for children and their parents. Believe it or not, my concept was actually born in Ikea.
At the time I was employed by a local council as a sports coach and fitness instructor in west London and given the task of running weekly classes for families in a local leisure centre.
It was just me and my trusted stereo. The classes were full, but I wasn't fulfilled, and I knew I could offer more. I happened to be in Ikea looking at a pair of bunny ears and an idea came to me. I suddenly realised I could transform my classes by adding in props and also my own music – music for children with adult production values.
And so, I did, and the rest as they say is history!
There is, of course, much more to it than that. I worked hard to understand the development needs of children in the early years, how to build fine and gross motor skills, and also social development and communication.
Children who come to my classes now are introduced to the world around them in the most action-packed way; they develop mentally and emotionally too, learning language and communication skills, as well as health, self-care, and physical development.
As you say, Amanda's Action Club has been around for some time. And you have years of experience working with pre-school children and their families. What do you think are the biggest challenges facing young children today – and how can they be overcome?
I think one of the biggest challenges children today face is not having the freedom to be outside. When I was young, we used to be outside all the time. I know things were different then, but now the focus for many children is on sedentary, indoor activities – watching TV, playing video games. This really upsets me, and I encourage families to play together outside as much as they possibly can. Vitamin D is great for us all, and children learn to be creative, energised, and free when they're not constrained indoors.
Another issue is funding for grassroots sport. We need much more of this so that children who wouldn't otherwise have the opportunity to play football, cycle or swim get the chance to try new things and learn new skills.
I'm working with early years professionals to help them bring movement and action into all areas of their curriculum. You can teach so much when you're not in a traditional classroom setting – and everyone benefits. It's great for the body, the mind, and the soul.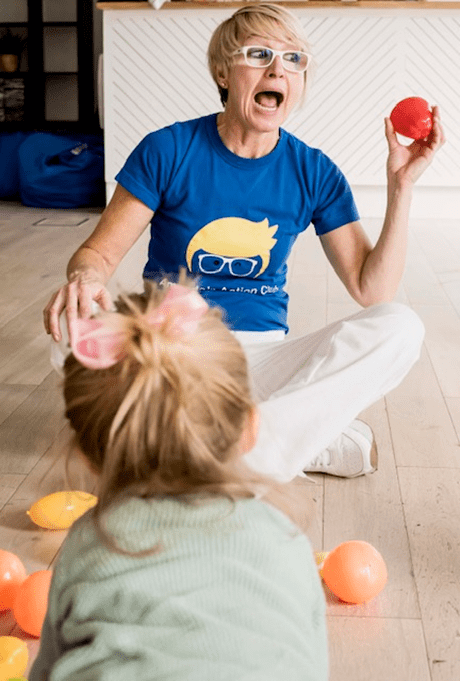 The pandemic brought many challenges for businesses in the children's activity sector. How did you use your brand and experience as a force for good?
The pandemic brought challenges for us all, and I was no exception, but it also presented opportunities. Like many, I pivoted to online classes, to give parents ideas and tools to keep their children active and also help them to maintain relationships with the outside world. I was a familiar face in their living room once or twice a week.
The big thing for me was topping the charts and appearing on BBC News with my 'Wash Your Hands' song, which helped to draw attention to a cause that I have been championing for over 30 years now – encouraging children and their families to focus on health and wellbeing and be active together.
The pandemic made this mission even more critical. Even before Covid, Britain had one of the highest child obesity rates in Western Europe, with one in five children aged ten or eleven being obese. Obese children are much more likely to become obese adults, causing significant health risks.
I realise there's no one size fits all approach and that's why I've worked – and am working – to tackle the problem on many different levels, using my brand and years of experience in this field.
We all know that lockdown life made it much harder for families to be active, but this is a long-standing issue. You say "bold action" is needed. What advice do you have for parents and how do you think we can best teach future generations about the benefits of movement?
I think we all realise that movement and good nutrition are key if we want to lead full and healthy lives. The problem is that modern life can make it difficult to move as much as we should and eat a wide range of foods. For some parents time is an issue and they reach for convenience foods which often aren't the healthiest choice, and for others it is about the cost of fresh fruits and vegetables – or the availability.
To all parents I say this – start small. Bringing movement, activity and good nutrition into your family life doesn't have to take much time – or cost the earth. Get outside and kick a ball around with your children, do a ten-minute walk, cycle, or scooter ride, make sure you drink lots of water and avoid sugary drinks and snacks. All these little things add up.
Try to set a good example – showing children how to look after their bodies and minds from an early age means they're much more likely to carry on these good habits for life.
You rarely, if ever, miss a class and against all the odds managed to recover from being knocked down by a car and breaking both legs in just 17 weeks. What drives you to keep active?
Seeing the difference I make to children, carers, and their families is what motivates me. In my classes no one sits still; adults aren't hiding in the corner with a coffee and their phone, they are actively engaging with their children and me – and they love it!
These shared experiences between parent and child are really important in the early years and that's why I work hard to nurture them.
It's not just about physical development, I see children grow and develop socially and emotionally week on week. I get to open their eyes to the world around them and teach them about their amazing bodies and minds.
I have a unique opportunity to tackle the global obesity epidemic from the roots up – by being able to set the next generation on the right path in terms of healthy eating, exercise, and hydration. There is no better motivation than that.
You went back to work just six weeks after having your daughter Bibi and have juggled running a business and family life ever since. How have you managed this?
I was lucky as my parents were around and very hands-on when Bibi was born and so I was able to return to work soon after giving birth. I wouldn't say it was necessarily a choice though. As I'm a solo entrepreneur and the face of my business, it was hard to bring in other people to run my classes, as everyone wanted Action Amanda!
That said, I did reduce my workload at the time so that I could also focus on my daughter and, when I was able to, I brought her along to classes. Having Bibi there was great as it enabled me to have the same experience as other parents and carers.
I really think it helped Bibi foster a love of movement and music from an early age. Like me, she finds it hard to sit still and is full of energy. She also has a very healthy attitude to food and exercise and I'm confident she will do for life.
You contributed to a best-selling book, The Law of Brand Attraction, and in it you talk about the 'rollercoaster ride' you've been on with your business – reaching incredible highs, as well as some low points. What has been your biggest regret?
Regrets? I don't have any! I'm a positive person and I truly believe that out of every crisis or disappointment comes an opportunity. It's not always immediately obvious, but it always comes. My biggest disappointment was franchising, which really didn't go to plan.
Now, when I look back, I realise that I should have trusted my gut. I knew at the time that it wasn't for me, but I listened to a franchising guru, and I trusted what he said. It cost me dearly – about £150,000. Despite this massive investment, I decided to focus on licensing instead of franchising. I put my efforts into creating an amazing Action Amanda character to help with my mission to reach a global audience through a children's television series.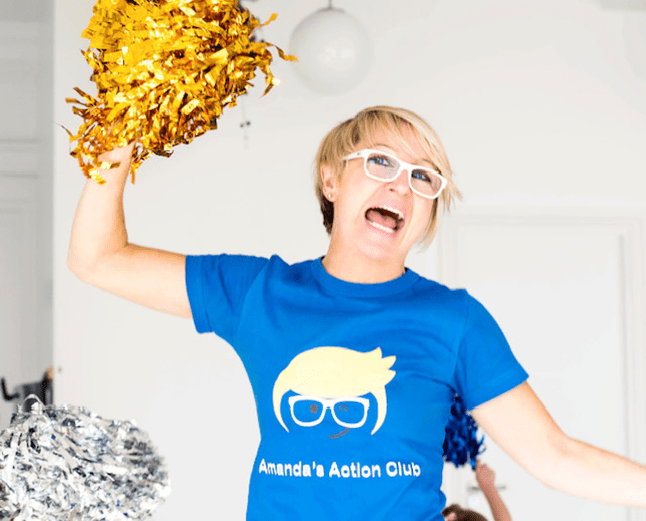 You have recently been invited to become a Children's Champion in the UK Parliament. What does this role entail and how is it helping you with your mission to give every child the very best start in life?
Wow, what an honour.
I feel so privileged to be able to talk directly to policymakers and to try to affect change. We launched the Children's Alliance this year, a charity which was the brainchild of the late Steve Franks.
He was the founder and chairman of Water Babies and was determined to help as many children as possible learn to swim – especially those who wouldn't normally have the opportunity to do so.
He had one mission in life and that was to campaign to put a Minister for Children in the UK Parliament, someone who would put the needs of our children before anything else and would represent them when it came to policy making. Tragically, Steve lost his life to Covid, but we all vowed to carry on his work and honour his legacy. For me, this is the most important work I do.
Across the world children have representatives in parliament, but not here and that's something we are absolutely determined to change.
You have many career highlights including knocking Baby Shark off the top of the charts – and you've worked with a whole host of celebrity clients, including Brad Pitt and Angelina Jolie, David, and Victoria Beckham and even a British Prime Minister. Is there more to come from Action Amanda?
Absolutely! I'm always on the lookout for the next challenge. My immediate aim is to scale my business. I'm searching for Action Heroes who will deliver my classes across the UK and globally and I'm planning to launch this venture in September 2023. This will give me more time to focus on future-proofing my business for the long term. I'm working to expand my Amanda's Action Club training programme for nurseries and schools as I really believe a movement-rich curriculum is key when it comes to tackling childhood obesity.
I'm also – very excitingly – working on an interactive exercise book series, and hopefully a digital game, based on Action Amanda and her new friends. These characters are diverse and have been created to appeal to all children, from all walks of life, and to encourage and empower them to be active in whatever way they choose.
My hope is to be able to inspire children the world over to have healthy bodies and minds for many years to come.
And finally, let's talk about your music. I hear you're working with a famous producer on a new song. Can you tell us more?
Unfortunately, not. It's top secret! But I can tell you that it's true and that I absolutely can't wait to share this song with the world.
Music is so important to me and to what I do. It's a fantastic way for children to learn and it also inspires everyone to get up and move. Over the years I've been lucky enough to work with some brilliant producers on songs which teach children to wash their hands, tidy up and share.
I've also been able to use music to introduce children to shapes, numbers, letters and sounds and most importantly to different cultures and languages – showing them how big and how brilliant this wonderful world is – and encouraging them to discover something new in it every day.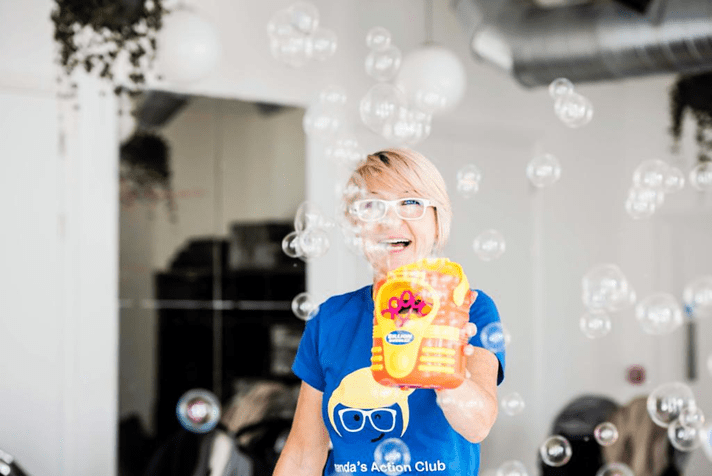 Did you enjoy this article and find it helpful? Why not share it with your social media network below?