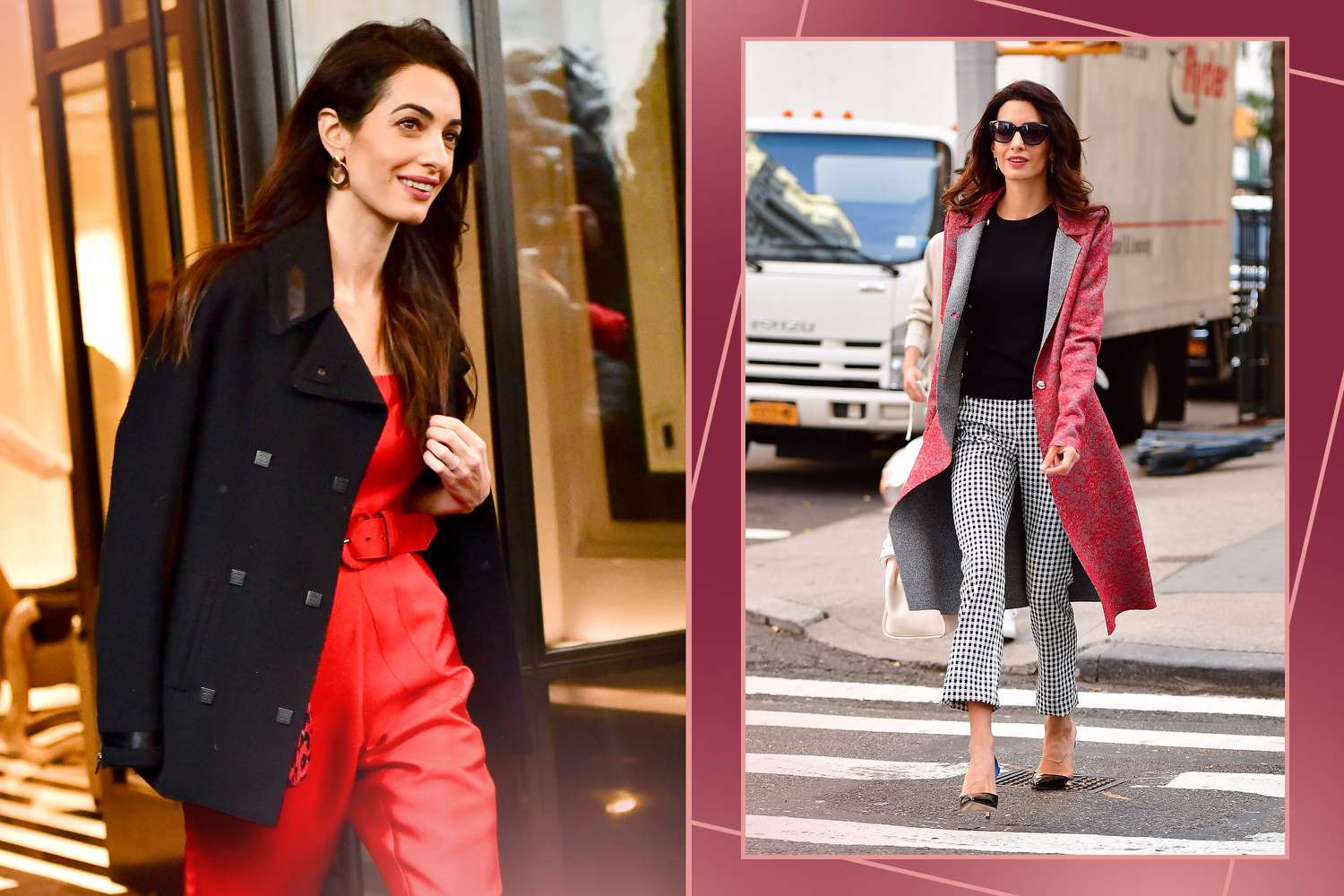 Amal Clooney: A WOMAN IN MIND
How Amal Clooney's empowerment of women has become a global commitment
We are all familiar with that notion of having someone 'light up the room' – to be in the presence of a person so strong, dominant and utterly engaging that all the energy is channelled immediately to them.
We usually reserve such acclaim for film stars, or sportspeople; for musicians, perhaps artists or other creative visionaries. So to find yourself drawn so profoundly to a lawyer, a member of the legal elite, is remarkable.
And yet, to have the journalistic opportunity to share floorspace with Amal Alamuddin (and then again, as Amal Clooney), it's difficult to think of someone more capable of drawing in, captivating and affecting minds, particularly when they are from wildly different perspectives, persuasions and cultures.
In such a complicated world, knowing and understanding Amal Clooney is to appreciate where intelligence, compassion and humility collide, and at that point, marvellous, inspiring and life-changing things can be allowed to flourish.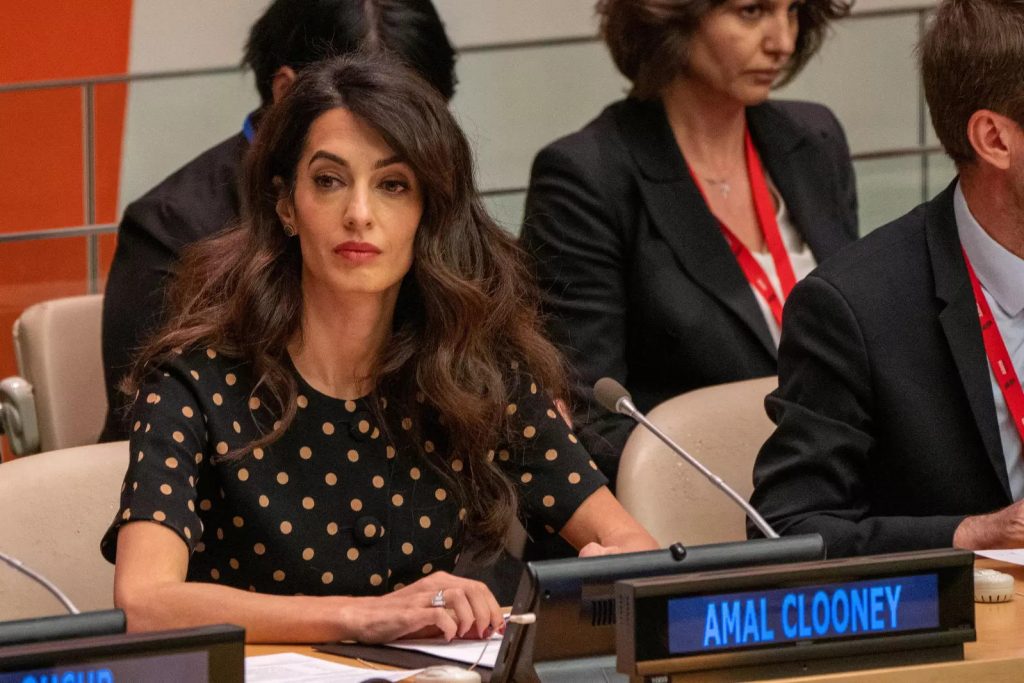 She is one of the world's most respected international human rights lawyers – a role, and a fight for the perception of justice, that she admires. She strives for the man and woman in the street, for the displaced young and the vulnerable and the elderly. Always renowned for her ability to take on the most challenging of cases, and win, she is a passionate supporter of the person with little or no voice.
Yet in supporting the plights of so many suppressed and oppressed souls the world over, the lithe and elegant beauty inadvertently has found her own image propelled onto billboards, magazine covers and TV screens. That clearly adds up to a huge juxtaposition for the 44-year-old, yet is a complex situation she knows she must embrace.
"It doesn't matter whether it's dress sense, whether we're referencing ISIS, the most brutal terror group in the world, or simply acknowledging that every conflict should remind us that there can be no lasting peace without justice, and that a lack of accountability simply leads to continuing cycles of vengeful violence – whatever it is, it's about human rights, and preserving free choice.
"The reality is I would rather go about doing what I do quietly and efficiently, because the attention must be on those who truly need it. But this is the way it is," she says, referencing the media glare, "and as long as someone has a voice, that must be good."
While the fascination of the everyday public is focused primarily on the celebrity elements – quite understandable given that, alongside actor George Clooney, Amal represents one half of, at times, the most talked about couple in entertainment – the reason this brilliant mind doesn't, in contrast, give too much away when it comes to her private life is two-fold. Firstly, she doesn't need to – away from legal instructions she might even be described as a recluse, and someone who has been unwittingly thrust into the showbiz spotlight. But secondly, Amal retains an air of mystery because, in her own mind, the flashbulbs and red-carpet ceremonies are irrelevant; if anything bringing a dangerous anonymity to the real business of changing lives and helping those most affected by society's disparities.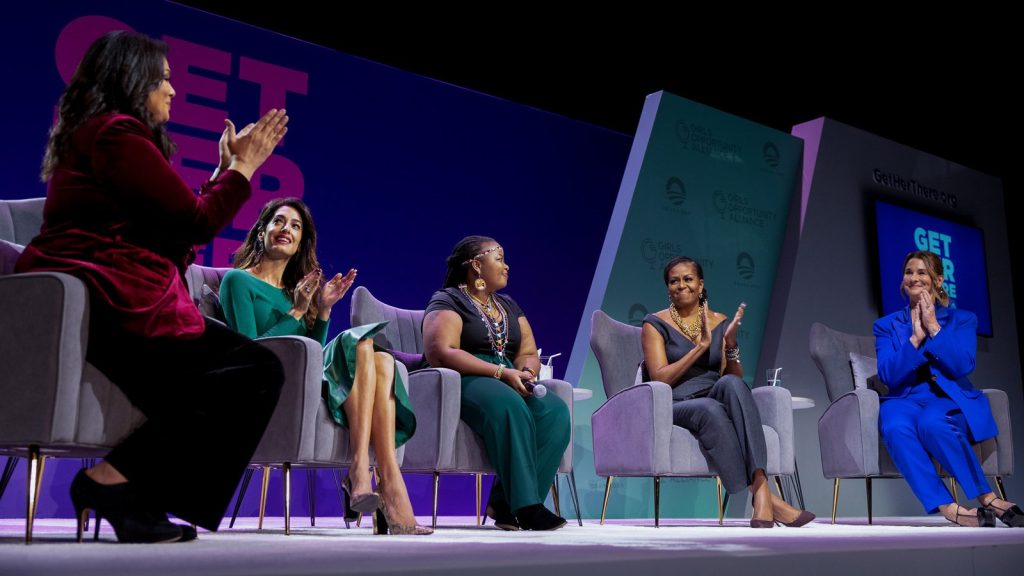 Indeed, when praise comes around, and it is frequent, it clearly sits awkwardly, particularly when words such as 'superhuman' are bandied about. "My dependencies are just the same as everyone else's," she offers. "They are very human! Any praise is nice, but we all have a job to do, and this is mine. Ultimately, I don't want the end focus to ever be on anyone other than those who really need it."
In fact Amal, the Arabic word for hope, has also been quick to point out her own failings. When pregnant with twins Alexander and Ella in 2017, she confessed that turning away her morning espresso was one of the hardest things she has had to do!
Yet it is this candid attitude and refreshing, humble honesty that has made her such a hit with other women around the globe – no mean feat for the person who snapped up Hollywood's most eligible bachelor – as she balances her career with her role as a mother and wife under a glaring spotlight with humility, charm and grace. She is, whether she likes it or not, an impressive role model for women everywhere, proving that one can be taken seriously as a professional while still exhibiting a flair for fashion; can enter into a relationship with a high-profile man while maintaining a sense of independence and autonomy; and, most importantly, can persevere with compassion and high values even in the fickle and tumultuous arena of showbusiness. It helps of course that she is inherently beautiful, intelligent and emotionally sensitive, though we only have to look to her upbringing to understand from where her quest for justice is borne…
Amal was born in 1978 to Lebanese parents in Beirut – her mother Baria is a successful political journalist, while her father, Ramzi, was vice president of the Universal Federation of Travel Agents' Association, which consults with the UN.
From a very young age the family were often on the move, owing to her father's work, and were forced to leave Beirut for good once Lebanon's troubles flared up again, thus relocating to the UK.
There, the young Amal thrived. Highly academic, with a vibrant social life and adoration for fashion, she progressed to study law at St. Hugh's College, Oxford, then attended New York University School of Law. In work, she is noted for having served as a senior advisor to the late Kofi Annan when he was the UN's Envoy on Syria. She also worked as Counsel to the UN Inquiry on the use of armed drones, and stands as a key member of the UK's team of experts on preventing sexual violence in conflict zones. Most recently she was appointed to the UK Attorney General's expert panel.
In many ways, her work – just like her work profile – is simply words, yet it is the actions that follow that truly make profound and everchanging differences to people's lives. And her appeal is widespread – representing the poverty-stricken and war-torn and, in equal measure, those simply attempting to do their jobs, such as the two Reuters journalists detained in Myanmar. This initial, firm, positive step into Asia very much represents Amal's "global view". It is also this ability to gather together people from all places and cultures that has seen her put forward as such a strong advocate for women's rights.
"The worst thing we can do as women is not stand up for each other," she says. "And this is something that we can practise every day, no matter where we are or what we do – because if we are united, there is no limit to what we can do.
"And that is women's rights from underprivileged girls in remote, rural locations; to the empowerment of us in the workplace, the boardroom, the legal system.
"Addressing and seeking to change attitudes has been such a natural and organic thing for me because my mother was definitely my own role model – growing up she was always, to me, a strong, resourceful, positive woman; independent to the point she needed to be, ambitious, yet loving and balanced. That must be what every woman craves; every person, in fact."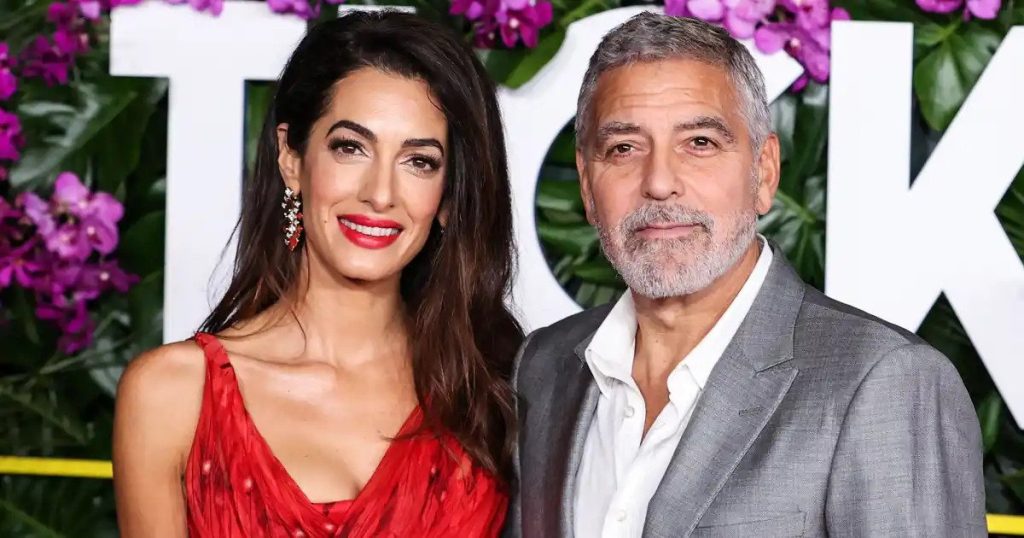 As far as the dynamic goes at the Clooney household, it's interesting to note that although the man of the house is an entertainment heavyweight, Amal appears to rule the roost. George was very careful to note that his twins' first words were "mama", not "dada", while this ultimately modern man certainly undertakes all the childcare requirements necessary when 'mum' is embarking on humanitarian projects that, by the actor's own admission, easily shadow his own work. He famously told Vogue magazine, "She's the professional and I'm the amateur – I get to see someone at the absolute top of their game doing their job better than anyone I've ever seen."
While her dominant work stance stands as tall as ever, in private she approaches life with a little more caution, accepting that there remain several elements beyond her control. Discussing meeting George and falling in love, she said, "It's the one thing in life that I think is the biggest determinant of happiness, and it's the thing you have the least control over."
In such a complicated world, knowing and understanding Amal Clooney is to appreciate where intelligence, compassion and humility collide, and at that point, marvellous, inspiring and life-changing things can be allowed to flourish. In a sense, Amal reclaims some of that control in the way she dresses. Her fashion tastes do portray an idea of being ultimately carefree – from lavish, perhaps overdressed gowns and sweeping dresses, to breezy, even quite girly skirts and poses to match, that reveal an altogether more light-hearted side. "But I'm glad that exists," she retorts. "I don't think any of us are ever one person all of the time, and to have the confidence and freedom to allow fashion to represent different moods is surely a right every woman and man should fight to uphold.
"The high-profile lifestyle and media attention is not something I wanted or ever went after, but if the biproduct of that is increased attention on really important and serious projects, then how could I not think that is a good thing."
Indeed, Amal and husband George have proved themselves tremendous joint ambassadors for fairness. In 2016 they launched their first joint project: the Clooney Foundation for Justice, which fights for the rights of individuals unfairly targeted by oppressive governments through the courts. Soon after it teamed up with UNICEF to support eight Lebanese schools serving 3,000 Syrian refugees, plus gave a $1million grant to help the Southern Poverty Law Centre combat hate groups. The organisation is also developing Trial Watch, a comprehensive global trial-monitoring program, with Amal explaining to US Vogue why protecting freedom of speech is still so vital: "Governments can't get away as easily with taking someone out into the street and shooting them, but they can get away fairly easily with using the court system to throw someone in prison," she explained.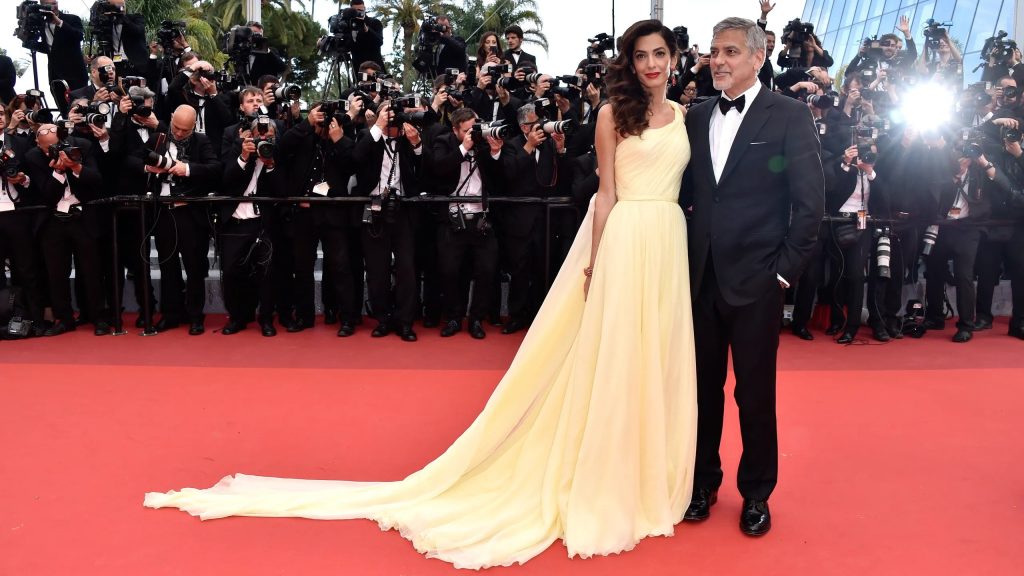 More recently, Amal co-wrote a book with Philippa Webb, whom she worked with at The Hague, called The Right to a Fair Trial in International Law; and while the activist is best known for human, not environmental, advocacy; yet it was at the Greenbuild 2018 Conference that we saw, for the first time, a new side to the celebrity-embellished human rights lawyer. It was one that followed through in some style the conference's mantra that we can only solve society's ills by proper intersection of humanity and the wider environment.
Clearly, Clooney has been steered in this direction by husband George's vociferous commitment to environment change. Across clean technology, renewable energy, energy transition, sustainable growth, climate change and food sustainability, the actor is a driven advocate for change and the protection of our planet. Yet while George can afford to adjust movie schedules to suit personal projects, Amal's work ratio isn't quite as flexible. Indeed, even though her new life may be enviably glamourous, the transition from high-powered single lawyer was not straightforward. For although she is as beautiful, stylish and elegant as any actress who has frequented the red carpet, the nature of her earnest profession is arguably at odds with the superficial glitz and glamour of Hollywood, and were it not for the fact that the couple have so doggedly persevered with their philanthropic efforts, the pressures of fame may have very well proved too much for the lawyer.
"I am fully aware of the additional pressures that come with this. The scrutiny is greater and the best thing I can do is exercise that media attention by continuing to take on this sort of work.
"There is no intentional aim to move into other fields, but the natural evolution of all of it means we are drawn to different things as time progresses."
When asked if she feels pressure to uphold multiple standards that sit a distance away from her core talents – such as linking George's environmental ambitions to the fashion industry, something she is a notable part of given her accidental branding as a style icon – Amal answers smartly.
"I think eco fashion these days is everyday fashion. There are very few areas in which fashion brands, big or small, can get away with producing clothes or shoes or whatever without having some sort of responsibility or provenance.
"Of course I support that, because exploitation of the environment when it comes to responsible sourcing of materials often feeds into exploitation of people – you are not going to get one without the other.
"By the same logic, representing one means representing the other, so this gives me hope.
"As far as this 'icon' tag goes, this is something I actively rebel against! I have always said I have moved into a world consciously but without any intention to represent it or be a part of it. My work is very clear, and I don't want that to be affected or interrupted by this other world."
Much more important to Amal is our own collective and individual ability to make change.
"I believe in the power of courageous individuals as agents of change. We need people to be granted the permission and the freedom to go after initiatives to make the world better, but essentially human beings are self-starters, individualists who can affect change by energy, commitment and desire, and that's an amazing thing.
"This is always why we should be optimistic and positive when it comes to pushing forward any societal objectives that need little more than commitment and action, because this is essentially what the human spirit is.
"No matter how immense the problems may seem at times, enough individuals working together will always make a real impact."
So, the work continues. "For me, it's always been a case of me just getting on with my job, because I've never really stepped away from that. There is no end, nor will there ever be, but giving up is not an option."
Did you enjoy this article and find it helpful? Why not share it with your social media network below?