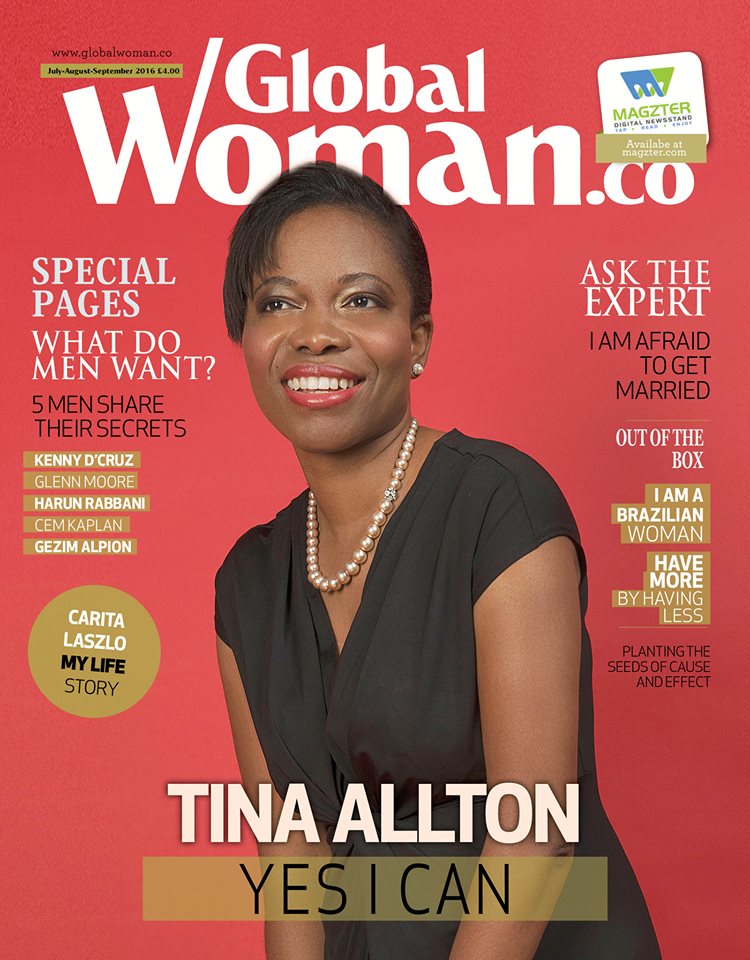 TINA ALLTON: YES I CAN
Tina Allton

Yes I can
Tina is an award winning entrepreneur, business owner and one of the world's leading experts on relationships. She helps and mentors people to discover their true worth and value, and facilitate them in how to leverage that to achieve and surpass their dreams, aspirations and goals in life. People are often crying out for help whether at the work place, in relationships, or family situations etc. Equally some dare not cry out and need to be nurtured to get to the point of accepting and dealing with their issues. 
Have you become who you always wanted to become in life?
Yes, to some extent, I always wanted to be able to influence and make a difference in people's lives for the better. This saw me start my working life as a teacher, and later to owning my own business, growing it mainly through nurturing my team and their relationships with our clients, which has led to Circle Podiatry becoming the UK's #1 multi-award winning private podiatry brand. In 2013, I did the Key Person of Influence programme run by Dent.Global lasting one year. They monitor your progress in subsequent years and I was blessed in December 2015, together with my husband Peter, to win the prestigious title of Key Persons of Influence 2015.
I also wanted to build a global business, which came to fruition in 2014, when my husband and myself launched our award winning, global not for profit organisation called undefeeted, which is about helping people who have diabetes to avoid lower limb amputations. This idea was born after our daughter was diagnosed with type one diabetes aged eleven. We launched it in LA in October 2014 on the same stage as Al Pacino, Sylvester Stallone and Jay Abrahams amongst others. We then launched it in the UK in June 2015 together with the book 'undefeeted by diabetes'. Excitingly, within five months, we won the 'Best not-for-profit organisation of the year' at the FSB surrey awards 2015. A year to date of its UK launch we have had a global reach of over 6.7 million. Now I spend my time to mentor people to teach them from my experience and learning on how to know they have worth no matter what they may think, feel or say.
Now I spend my time to mentor people to teach them from my experience and learning on how to know they have worth no matter what they may think, feel or say.
Who has influenced and supported you in your development process?
To a large extent, it's been God who has been my biggest unfailing support, then my husband and my family. I believe my upbringing led me to strive to succeed in life. Meeting Daniel Priestley also changed my life and now my coaches, JT Foxx, Damien Elston and Shweta Jhajharia have all been big influences in my life, as have my mentors James Lavers & Camilita Nuttal. They have all made a huge contribution to my life for which I am forever grateful.
What do you remember from your childhood?
It wasn't an easy childhood, my father particularly was extremely strict and not someone I could easily speak to or go to if I had a problem. I was sent off to a village secondary school at a very young age, whilst my remaining four siblings all went to the top secondary schools in the country. I remember at the age of 12 thinking I could change my life for the better if I aspired to it and worked hard. I told myself and made it my mission that failure was not one of my options, so I studied very hard and qualified as an educational psychologist, I have also trained in clinical and business psychology, transactional analysis as well as guidance and counselling.

What was the influence of your parents in your life?
My mum was very entrepreneurial, she worked hard to become an award winning business owner and one of the top regional distributors for Nestle, Unilever and Cadbury in the central region of Ghana. My dad was a building contractor who ran his own business and did big multi-million deals all the time, although I recall he was away on business a lot. He was very strict and when he came home my siblings and me would all run and hide in our rooms or keep a low profile behind a book or something. We felt like we were walking on egg shells around him as we could never tell what would lead him to get mad with us. They both had a lot of money, they were no doubt millionaires from the money I used to see being banked or from cheques that were paid, but we were never given money at the drop of any hat which I guess I should be thankful for now.
I remember one time when I wanted pocket money, I had to join the builders who were doing some work for my dad to earn some money. I remember thinking to myself, the way they were with money, that these guy's will not come and save me if I got into trouble, so I had better work hard and create my own economy. However I wanted it to look like, if my life was to be successful it was up to me to make that happen. My mum is also a very prayerful woman, very warm hearted, kind, reserved and an extremely forgiving person. She adopted lots of other kids whilst we were growing up – at one point there were six other kids as well as us living in our seven bedroom house which was known as the 'House of gifts'. I am still in touch with some of our adopted brothers and sisters.
I don't think my parents were happy in their marriage, as I saw my dad mistreat my mum time and time again. Each time we would speak with my mum, she would say "It's okay, I want you all to have a good education and a roof over your heads whilst you're still young". In effect she scarified her happiness for us children to have a "Stable home to grow up in and a good education".
At a very early age in my life I wrote down how I wanted my life to be, the kind of man I wanted to marry, how I wanted my children to be, and the type of career I would have. I wrote it all down and have worked hard at it ever since.
My mother indirectly taught me how to discover my worth as a person and how not to allow anyone to control me, but how to stand up for myself. I saw no one stand up for her when she needed it and I learned when and how to say "No" without compromising on my true values and beliefs. I learned how not to live just to please others at your own expense. I thank her for the lessons and values she taught me, which I hope I have in turn passed on to my four children too.
You are also a mother with a family – how do you find time to dedicate to your career and your personal development?
It's a real act of discipline and immense sacrifice. I am extremely grateful to my wonderful husband Peter, who has been a real rock to me, he has supported me in every endeavour that I have aspired to achieve. I am also extremely lucky to have very wonderful and supporting parents-in-law who help me with the kids, allowing me the opportunity to be able to develop myself and the skills I need to progress in my business, career and life.
What motivated you towards achieving success and how do you define it through the different stages of your life?
My real motivation hit me at the age of twelve, when after a long painful conversation with my dad, I ran crying to my bedroom thinking to myself that I wanted a better life and there is no one going to do that for me, other than myself. From then on I decided that failure wasn't one of my options. From that time, I realised freedom would only come by working hard to earn every bit of lifestyle that I wanted.
I set goals regularly and I think I have a really high level of commitment to my own success because I always want to have that freedom.
Later in life (16 years ago), I would define it though having the courage to support my husband, leave thirteen years of service in the NHS to set up our own private podiatry clinic- Circle Podiatry. Fast forward sixteen years to now and we are the UK's #1 multi award winning private podiatry brand. Another milestone in life was when five years ago on the 1st September 2011, our then eleven year old daughter was diagnosed with type one diabetes. Through our own personal struggles we realised there was nothing to support our daughter to prevent her becoming one of the horrific statistics – that every 20 seconds, someone in the world has a lower limb amputation as a direct results of diabetes. 85% of these could be avoided.
We also realised that more people die each year from diabetes than breast cancer and Aids combined, so instead of sitting and living in fear of all these things, we decided to do something about it. We invested in the amazing James Lavers as a mentor. James also has diabetes and helped us put together our idea of setting up Undefeeted as a Community Interest Company (www.undefeeted.org). Undefeeted's mission is to help people who have diabetes to avoid amputations.
You have developed your business and teach businesses to grow – when did you discover the entrepreneurial spirit within you and what drives you toward business?
I discovered this I suppose from childhood growing up. Both my parents ran successful large businesses and from a young age, I would come up with ideas of ways of making money. For example I once got a bar of soap, cut it up and went through the neighbourhood selling the pieces to make some money. I would offer to be the cashier during school holiday for my mum just to earn a little bit more pocket money and whilst in boarding school, I'd teach other kids in return for payment in the form of biscuits or other things I desired.

You work together with your husband Peter, what are the advantages and disadvantages in working as a couple?
One of the advantages I would say is that you both see the business and how it is doing so your commitment to make it work and successful is always 100% because you both have to take responsibility and ownership for it. We are very good at working together, probably partly because for a long time we have always had a business coach. This benefits us by having someone to hold us both accountable for our actions and decisions within the business. One other factor is that we have multiple locations so we work at different sites, although within the same business and then on one day a week we work together so we can catch up, plan and do business. Honestly if you didn't know we were married you would not necessarily know that from seeing us together at the clinic, as we are both very professional at work.(at least until lunchtime, then we have lots of fun and lunch together etc). Disadvantages may be that possibly we can sometimes get too immersed in the business, so much so that we don't allocate enough time out for ourselves to have fun. Another disadvantage is that if something negative happens, it can hit us both and could mean we are then pulled down by it together at the same time.
What is the strongest point in your relationship?
It's having our faith and making God the third strand in our cord. We both allow each other to be their true self around each other, no pretence, straightforward honest talk, trust, patience and supporting each other. I am an action taker and I need stopping sometimes.

You have travelled a lot to speak and share your message – what makes your story special?
I think it's because not many people aged twelve think to write down the life goals and set out to achieve them. My sheer determination and persistence to be who I want to be has meant that I have had to stay mentally and physically positive at all times. I am yet to meet anyone else who recognised at such a young age that their life was full of negativity to the point it motivated them to aspire to have a better life. I have worked hard to get to where I am now and I have by no means arrived at my destination.
Do you believe that being a woman has influenced the way you develop your business?
Not necessarily, I don't usually have a problem being myself around anyone but of course I will adapt and be sensitive etc when required. To some extent maybe it does as I am naturally a nurturing person, my Ghanaian name is "mother" and I grew up mothering a lot of people through all sorts of stuff/challenges and still do to date.
You have been published as one of the 100 most inspiring women in the world – what does this mean to you?
It is a real honour to have someone recognise that quality and character in you. It's one of my biggest accomplishments to date. To me it means I am real, am on the right track and that I have everything in me to empower and raise up other people to find their worth and to get to their full potential in life. I can do all things through Christ who strengthen me. Philippians 4:13
What is your biggest fear?
I don't have any major real fears in life, not ones that I let rule me. I guess we all entertain fears to a degree, about our children, our business, our family, society, etc but through God's love we should have faith and trust in him to see us through, just as Job did in the bible. My husband has just reminded me of our attempted canopy walk in the tree tops in Ghana. I guess I do have a fear of heights but that is referring to physical heights and not going to high places achievement wise.
What makes you happy?
Being with my family and also having some pampering, like massage, or a spa…. ooh, I get to cloud nine straight away. Also, seeing others change because of conversations they have had with me etc such as a client in The Netherlands who had been in a really bad relationship for nearly a decade. I spoke with the person for just over an hour and less than 24 hours later I got a message from them saying they had been able to walk out of that toxic place and relationship and had been able to say "No" and "enough" to their partner. They shared that they could actually feel themselves breathing again for the first time in a long time.
What inspires you?
Other than God's word? Meeting people who have testimonies of turning a bad situation into something positive such as the amazing Cherie Matthews, founder of healincomfort.com People who inspire me are; Oprah Winfrey, Steve Harvey, Bob Burg
Who are the most important people in your life?
For me it's definitely God first, my husband, kids, family and friends.
How do you nourish your mind?
Through the word of God, reading the bible, and other great books, for example in 2013, I read the Go giver by Bob Burg. It changed my thinking about giving and receiving and in June this year, I had the privilege of meeting him in Austin Texas at the Empower a Billion Women conference, together with Sharon Lechter and Ingrid Vanderveldt, Lisa Copeland, Cherie Matthews, my mentor Camilita Nuttal and other amazing people who blew me away with how they were, to see such truly successful people be so humble and serving to one another was absolutely an honour to me. I also listen to audio books whilst driving.
What wisdom can you share with us?
No matter how successful you become, the key to staying successful is to be humble, serve others as best as you can, be kind to yourself, don't listen to what others think or say about you. You have great worth and you can always live your life to its full potential if you focus, work hard and persevere in your steps. Finally, and my biggest one, is to find a mentor and do it quick!
What would you suggest to a woman who wants to start a business and become an influencer in her community?
Find a mentor or a coach, because you will avoid costly mistakes along the way and finally remember that to be successful your desire to succeed should always always be bigger than your fear of failure. Surround yourself with the right people who raise you up and not put you down even if that is your shadow! 
What Peter Allton says about his wife!
How would you describe Tina as a wife, woman and mother?
Tina is an exceptionally hard working, very driven, focused and extremely loving dynamic woman. She embodies many of the characteristics of love as described in the Bible. Firstly, Love is patient and with four children that is certainly tested regularly (Tina would say five – that I am the fifth and worst). Love is kind and she is certainly that particularly with sharing her time and experience. Love does not envy – ever since knowing Tina she has been content with what she/we have. She is able to live a simple life whilst balancing that with healthy dreams of aspiring to achieve or own something.
Love does not boast comes to mind as she does not blow her own trumpet unless it is to further a good cause or give glory to God for an achievement. Love is not proud –there is nothing wrong with being proud of an achievement but to look down on someone thinking you're better is wrong. She does regularly put herself in other people's shoes so to speak, to help them feel comfortable. For example, at the Migrant Woman conference in May, a friend from church attended with her young child .Tina was sensitive to her feeling a bit distant and so instead of going to lunch with the speakers she sat with this lady and went without her lunch and the opportunity to network just to make her feel accepted.
Love does not dishonour others. She always seeks to build others up and certainly as her husband she has covered for me on many occasions to make me feel honoured. Love is not self-seeking .Tina is always thinking of others before herself be it in a business setting or in family life. Love is not easily angered and it keeps no record of wrongs. Ok you've got me on this one we all have weaknesses and are tested at times and Tina is a strong woman with strong opinions .The key thing is that we realise our weaknesses and try to turn them into strengths and Tina has transformed her control of her temper and has taken forgiveness to a whole new level.
Love does not delight in evil but rejoices with the truth. Tina is a committed Christian and as such strives to live life God's way .She particularly detests lies. Love always protects- Tina is always trying to protect our children and our relationship for example by keeping me accountable to my exercise regime. Love always trusts- again a challenging area for her particularly when I have led her to a place of mistrust but this is an area that she has again transformed for the better. Love always hopes – she is a positive optimistic person. Love always perseveres. She just won't give up on you as a friend or as a child who needs support.
How important is a healthy couple relationship for having a successful business life?
It is vital, particularly if the two of you work in the same business .It's not so easy to take yourself out of the situation and bad vibes will be felt by other members of staff as well as clients.
As parents of four children, how do you find time for each other and having a successful business as well?
If I am honest there has been times when our family relationships have been neglected. Obviously it is important to allocate time to each other and to the children but I think it's also important for the couple to understand and help them understand that life isn't easy and working hard is important. Although we are sometimes away at events we try to instill in our children certain values including the importance of spending good quality time together .For example we have for many years insisted that we all sit down to dinner together on a daily basis.
It's important to invest time in your marriage to ensure you will always be in love and able to adapt to living together alone.
What have you learned during the journey together? 
I suppose patience, trust and forgiveness are huge and ongoing learnings for us both.Also that in the midst of all the busyness, doing business and bringing up children, that one day they will leave home and we will retire. It's important to invest time in your marriage to ensure you will always be in love and able to adapt to living together alone.
You were nominated for an important award recently – to whom do you dedicate your success?
We are committed Christians who believe in the power of prayer so we are thankful to God for any success that comes our way. Specifically I owe a lot to Tina for my progression from nomination to finalist in the category of Entrepreneur of the year at the London FSB business awards. She is a tower of strength to me and extremely sharp and quick to gain insight and inspiration into situations. It may be a cliché but behind every great man there is an even greater woman
Tina & Peter Allton in front of each other

How did you meet and how has your relationship developed?
Tina jokes that I stalked her and to a degree it's true that she did catch my eye, as she lived near my place of work. Our relationship has always been based around God although there have been rocky times as well as the great times. We try to give each other the space we sometimes need and share the household duties. We are very different and sometimes that is a good thing but sometimes it can be challenging. For example, I feel loved with a physical touch whereas Tina likes her space. We have had to become tolerant of each other's differences. When it feels like things are going wrong we try to compare our behaviour in a situation to the characteristics of love as in the bible.
I think this has helped us develop a more loving relationship where we are less self seeking, more trusting and forgiving and more patient with one another on the whole.
I think going forward we need to be alert to external pressures that come be they in the form of business commitments, family issues, ill health or other misfortunes. If we then apply the Love characteristics then by God's grace we can stand united to overcome whatever challenges come our way.
What would you suggest to a woman who wants to start a business and became an influence in her community?
I would urge you to reach out and connect with me today, whatever it is that may be holding you back; fear of change, not staying committed to your goals, the right strategies to execute to enable you to achieve those goals? I can teach you how to challenge yourself, how to make the leap, avoiding costly mistakes, and ultimately empowering you to achieve the shift needed. I will help you to discover your true worth and connect you with the right people who will raise you up. I have done it and so can you!
"I will describe Tina as focused, supportive and driven.
Tina helped me find clarity and structure in my day to day work. Problems in this area were causing me to be inefficient and stressed. Tina is a strong person and this level of accountability along with the structure and guidance helped me achieve real breakthroughs that benefitted me personally and professionally. Tina is real. That means you get her compassion and support on the journey but you will also hear a few home truths when you need them or deserve them.

Her breadth of experience and the structure to her work will be valuable in you achieving your objectives. I also know she herself has a valuable group of mentors which I believe is testimony to her commitment to success for her clients. As a mentor, business associate and friend, Tina is a valuable asset". – Jonnie J. 
I'd describe Tina as Visionary, Focused, Dynamic 
Tina's positivity, authenticity and openness have been inspirational to me. Tina is a leader among leaders. Tina walks her talk she will give a 100% to help you on your walk and you will always know where you are with Tina. Tina's heart is the biggest part of her, you will learn much more than just how to have the great business and life you want for yourself. – Doreen G.
Did you enjoy this article and find it helpful? Why not share it with your social media network below?