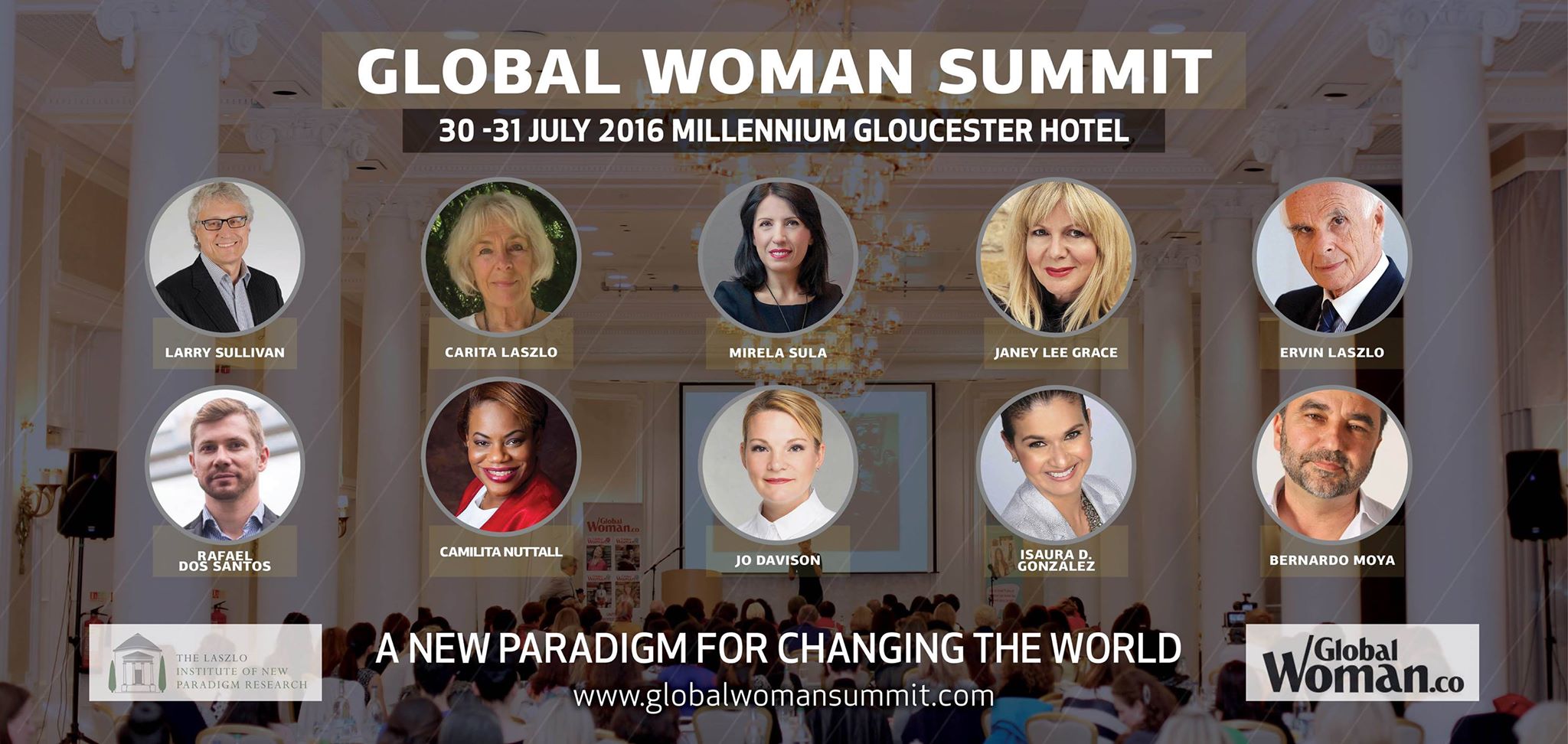 Global Woman Summit 2016
Global Woman Summit 2016: A New Paradigm for Changing the World

Millennium Gloucester Hotel in Kensington 30 – 31 July 2016            
Following the success of the Inspiring Migrant Woman Conference, Global Woman Magazine in collaboration with Laszlo Institute Research, invites you to attend the Global Woman Summit on the 30-31 of July 2016 at a unique venue that is the height of luxury and steeped in history. 
The balance of power has been slowly and steadily changing over the last decade. Today, women are having a much bigger influence on our world than ever before and bringing a more spiritual and nurturing presence to the planet
This summit has been carefully created to awaken women to their potential and to help bring a higher consciousness to the world! 
"Empowering women and girls is not only the right thing to do: It's also smart economics and vital to ending poverty and boosting shared prosperity"— The World Bank Group – 2015
A unique 2-day summer event of thought provoking talks, enlightenment, new knowledge, inspiration, and networking, which will empower you financially and spiritually. A rewarding weekend, personally and professionally, that will boost your wellbeing, wealth, and relationships, and to realise your dreams and desires, achieve higher success in your career or business and fulfill your potential in life.
Together we will be empowered to grow momentum for gaining equality of opportunity without limits, and build on our networks for future fruitful collaborations.
Set against fashionable South Kensington, the Millennium Gloucester Hotel is conveniently located at the heart of the city and Gloucester Road Underground Station just next door, you'll discover how easy it is to explore the city.
"Global Woman' magazine, in collaboration with the "Laszlo Institute of New Paradigm Research" are together initiating a global movement for a New Paradigm which promotes a new era based on the principle of empowering women around the world.
Power is all about engaging with and understanding the unique role that each of us has to offer in the world while collaborating together to empower each other. In order to achieve a meaningful global impact our leaders must learn to connect with a diverse array of stakeholders to build solid communities with a shared vision.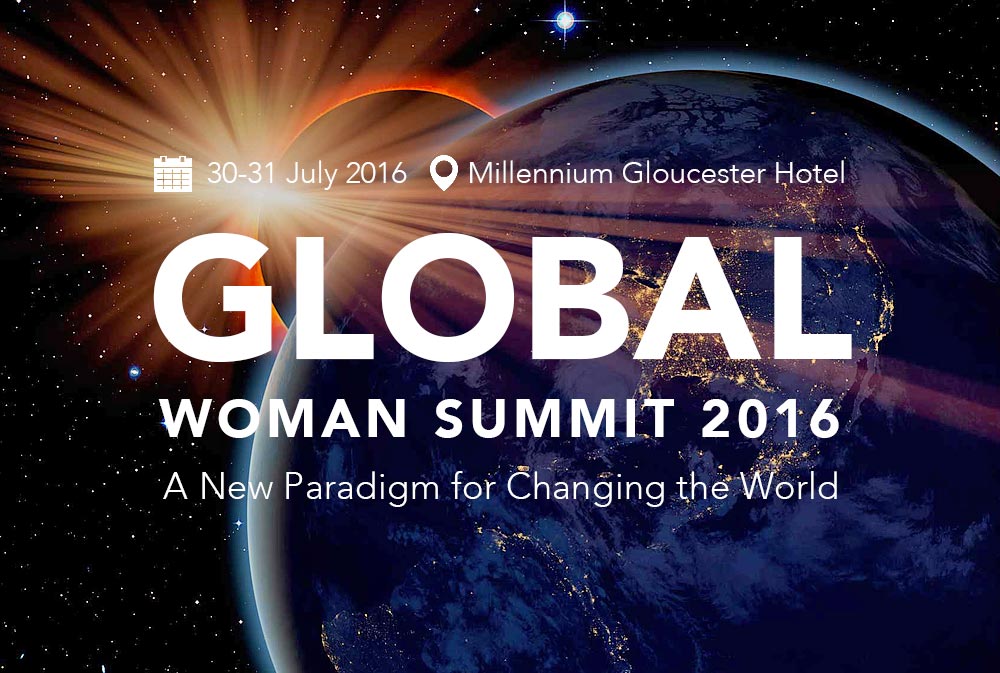 Why you should attend Global Woman Summit
WORLD CLASS SPEAKERS
Hear from our inspiring leaders and their diverse success stories that will motivate and change your perception and your life aims.
LEARN & DEVELOP
Grow your knowledge with an opportunity to ask speakers your questions and mix with like-minded individuals and share your stories, and take yourself to the next level.
NETWORK IN STYLE
Join successful business owners, entrepreneurs and those interested in personal development and people you want to connect with to push your boundaries and human potential.
Be among a select group of like-minded people, entrepreneurial, aspirational and spiritual.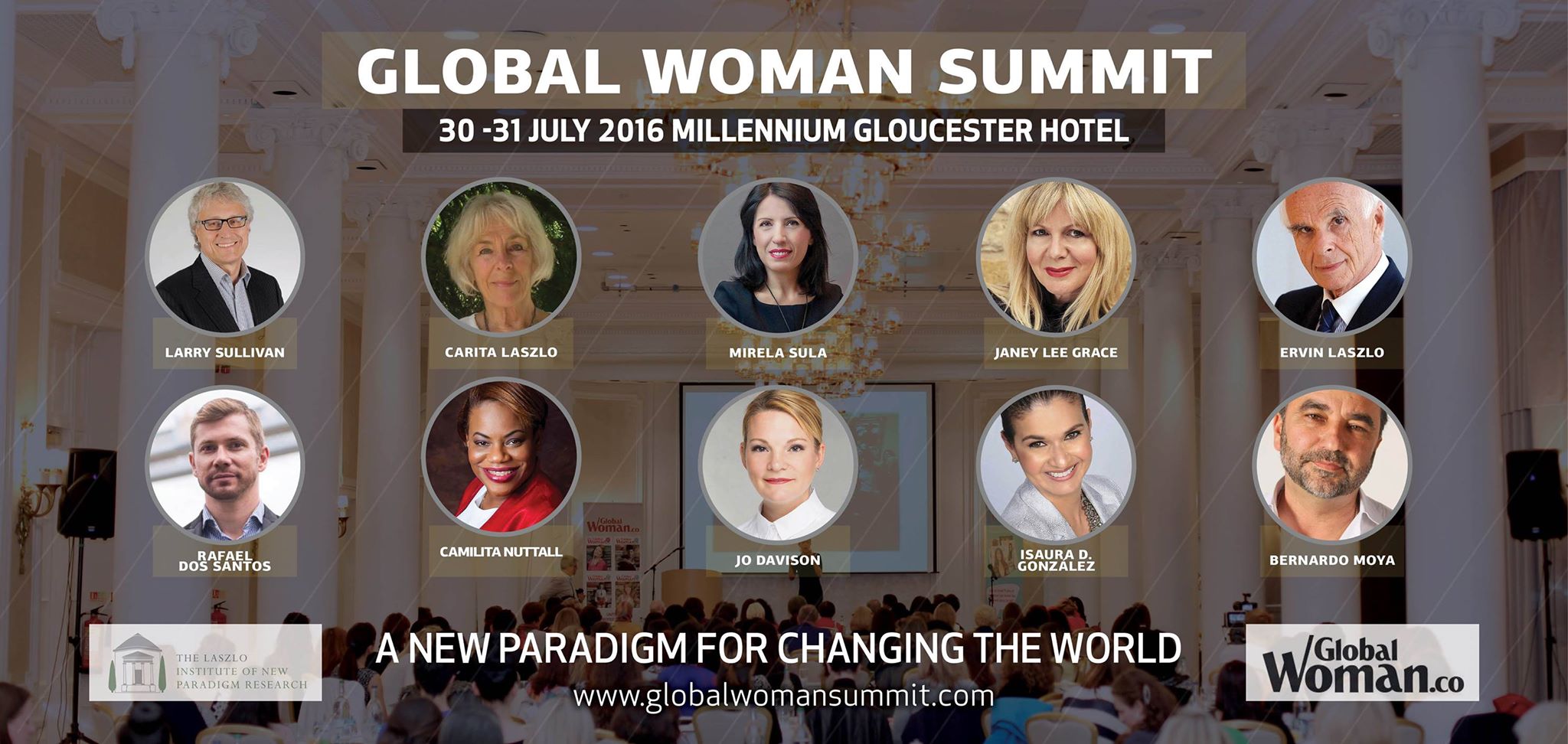 The aims
To raise Global Awareness for Gender Equality and the role of the women in the world!
To create a movement and a new paradigm for women who are able and willing to actively contribute and make a difference to the planet and create a better world for all. 
How?
By actively promoting the New Paradigm

By raising awareness about their inner potential

By promoting gender equality and improving girls education

By bringing men into the discussion

By raising the big questions that are necessary for changing the world

By involving influential people who will contribute to a global movement focused on changing the world for the better
This is a summit that will awaken women to bring a higher consciousness to the world!
In many diverse cultures many traditional stories speak about the changing of the ages. And in these stories it is always the feminine spirit which brings about the transition and transformation to new life. In times of cultural transformation it is also our right-brain, feminine consciousness that is our best guide as it opens us to the creative imagination – the realm of possibility.
In the western story of worldwide spiritual transformation there is a powerful image of 'Cosmic Woman', an image of the archetypal feminine spirit who transforms and gives birth to this new age. And her archetypal image gives us instructions for opening up to and incarnating wisdom.
This image of the awakening feminine spirit is an image of the 'conscious woman'.
3 PRIMARY CONNECTED THEMES AT THE SUMMIT
BE INSPIRED by motivational speakers, well respected in their fields, covering a range of topics and delivering high quality and valuable content.  BE EMPOWERED as part of a movement that is a new paradigm for changing the world
How to get in touch with your spiritual core self and awaken your spiritual potential.
How to incorporate your "spiritual self" into everything you do so that spirituality is something that you live and breathe every day.
How to develop your inner spiritual awareness and "spiritual senses" so that they work for your vision and goals in your personal and professional life.
How to understand the principles of "planetary consciousness" and "connectedness" and how this knowledge can empower you to achieve what you desire.
How to spiritually integrate a number of key principles that will give you a profound "holistic worldview", including the principles of concentration, memory, energy, healing and divinity.
How to set achievable goals for generating income that will pay for your lifestyle desires, give you financial freedom, and give something back in this world for the greater good.
Be the CEO of your life and put your plans into action to make it all happen.
Using business to change lives for the better – profit with a purpose.
Understand the attributes of a financially successful entrepreneur with a sustainable business model.
Discover how to navigate your way through the challenges, pitfalls to avoid and managing cash-flow.
How to source and be successful in acquiring funding and how to ethically make full use of resources at little or no cost that has a mutual benefit.
How to keep your mind healthy, positive and focused, and relieve or prevent stress.
How to use more of your mental product to achieve far more than you ever thought possible.
Realising the power of your own clean energy as a force for a higher level of socially responsible achievement.
Understanding the science of how your well-being impacts on your personal, spiritual and professional life.
Why Women?
Women are having a dramatic impact not only on the world of work – but also within the societies in which their companies operate. This is especially true in developing countries but we also need to identify women leaders from non-developing countries who can serve as role models in their communities.
Why now?
The world is currently facing a number of significant crises with women, men and children moving across continents in the search for a better life. So where can they find the peace they are looking for? Do they, and do we, know exactly what we are looking for? Are we following our own right path to find our chosen destination? Who is leading us? Where do women belong in this world and what is their power? Can we use this power to change and channel the energy in the right direction? What is the role of men in this process and how can they help and contribute in empowering women?
Women are usually the initiators when it comes to building peace in their communities – and now is the time to give them a voice; to help them speak from their inner spirit; to share their dialogue with the world and share their ideas about healing humanity's relationship with the Earth. 
More information you can find soon at:
Did you enjoy this article and find it helpful? Why not share it with your social media network below?