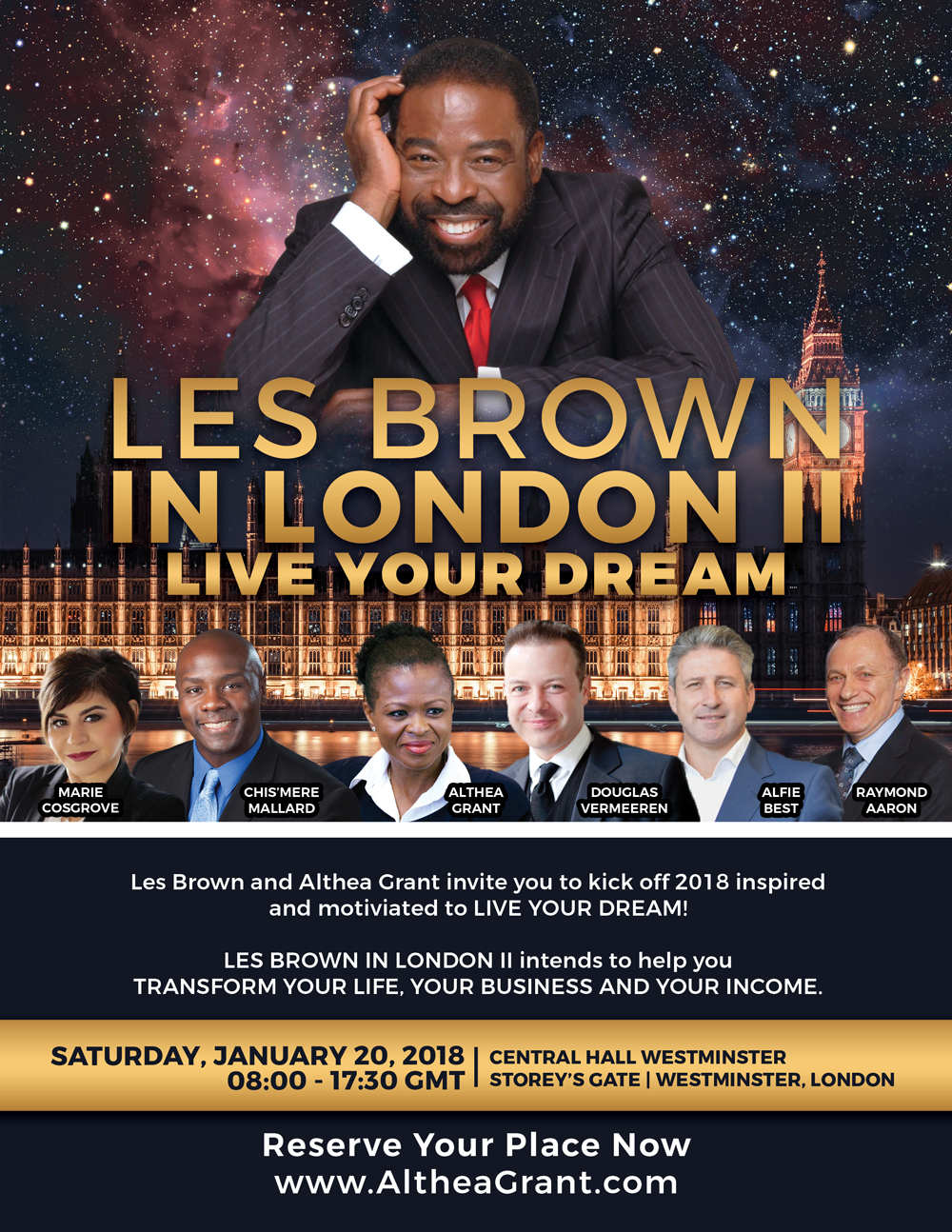 Les Brown in London 20th January 2018
Les Brown in London 20 January, 2018
We are so happy and honoured to be the media partner of this amazing event with Less Brown in London

Welcome to the Most Inspirational event of 2018 with Les Brown at Central Hall, Westminster, London!
Join Les Brown and his amazing line up of inspirational and motovational speakers from around the World.
Attending this amazing event will give you the opportunity toTransform your Life, Business and Income and more importantly show you how you can LIVE YOUR DREAM! 
Where is the event: Central Hall, Westminster, Storey's Gate, Westminster, London
What date is the event: Saturday 20th January 2018
What time is the event: 9.00 am – 6.00 pm GMT
What tickets types are there: Gold, Elite VIP and Elite Plus VIP
The International Speaker Line Up
Main Speaker: Mr Les Brown – Master of Motivation "LIVE YOUR DREAM"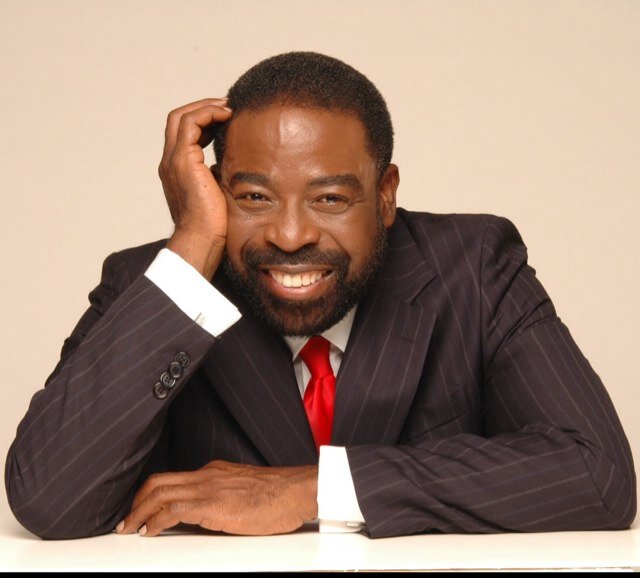 As one of the world's most renowned motivational speakers, Les Brown is a dynamic personality and highly-sought-after resource in business and professional circles for Fortune 500 CEOs, small business owners, non-profit and community leaders from all sectors of society looking to expand opportunity. For three decades he has not only studied the science of achievement, he's mastered it by interviewing hundreds of successful business leaders and collaborating with them in the boardroom translating theory into bottom-line results for his clients.
As a premier Keynote Speaker and leading authority on achievement for audiences as large as 80,000—Les Brown energizes people to meet the challenges of the world around them. He skillfully weaves his compelling life story into the fabric of our daily lives. The thread is forever strengthened, touting why you can't afford to be complacent and to aim high, achieve and actively make an impact on the world.
Les Brown never tires of using his energies to transform the world, well-beyond the podium and public appearances, meshing traditional and social media to empower his audiences. Hundreds of thousands are watching him on YouTube and tens of thousands interact with him regularly on Facebook. He has a keen way of turning what he touches into gold. Over 20 years ago, he won a Chicago-area Emmy® for his unsurpassed fundraising pledge drive for the Public Broadcasting System. Followed by several bestselling books and hosting popular national talk shows on television and radio.
Addressing audiences from Denmark to Dubai, Canada to the Caribbean, Les Brown is invited back again and again for his powerful message and the ability to connect deeply with people from all walks of life. It isn't just his great smile and his way with words that motivates people to take action like never before; when people face roadblocks or adversity it is the depth of his knowledge on achievement that creates lasting results.
Les Brown's straight-from-the-heart, passion and high-energy, motivates audiences to step beyond their limitations and into their greatness in many ways. Over the past decade, Les has expanded his role from keynote speaker to Master Trainer, creating the kind of workshop learning experience that got him committed to personal-and-professional development many years earlier. His charisma, warmth and humor have transformed ordinary people into extraordinary achievers by using his own life, and his in-depth study of others' challenges, to build an understanding of what works, what doesn't work, and why.
Revered as an icon by his colleagues, Brown received the National Speakers Association coveted Council of Peers Award of Excellence (CPAE), and ultimately, its most prestigious Golden Gavel Award for achievement and leadership in communication. Toastmasters International also voted him one of the Top Five Outstanding Speakers. Worldwide. Legions of followers flock to stadiums and arenas to hear a man who never stops believing that with proper guidance and training you can achieve anything you desire in life.
A stumbling block in elementary school was when he was mistakenly declared, "Educable mentally retarded," teachers did not recognize the true potential of little Les Brown. However, he used determination, persistence and belief in his ability to go beyond being a sanitation worker to unleash a course of amazing achievements including broadcast station manager, political commentator and multi-term state representative in Ohio.
Les Brown is committed to motivating and training today's generation to be achievers and leaders as he introduces new audiences every day to It's Not Over Until You Win, Up Thoughts for Down Times and Fight For Your Dream. Les Brown's audio series,"Choosing Your Future," remains his all-time bestseller for its acclaimed impact worldwide.
In business as in real life there are always going to be ups and downs. However, where there is a will, there is always a way to achieve amazing results for your organization when Les Brown fills the room with his high-impact, customized message and standing ovation performance!
---
Speaker – Althea Grant BetterMUSTcome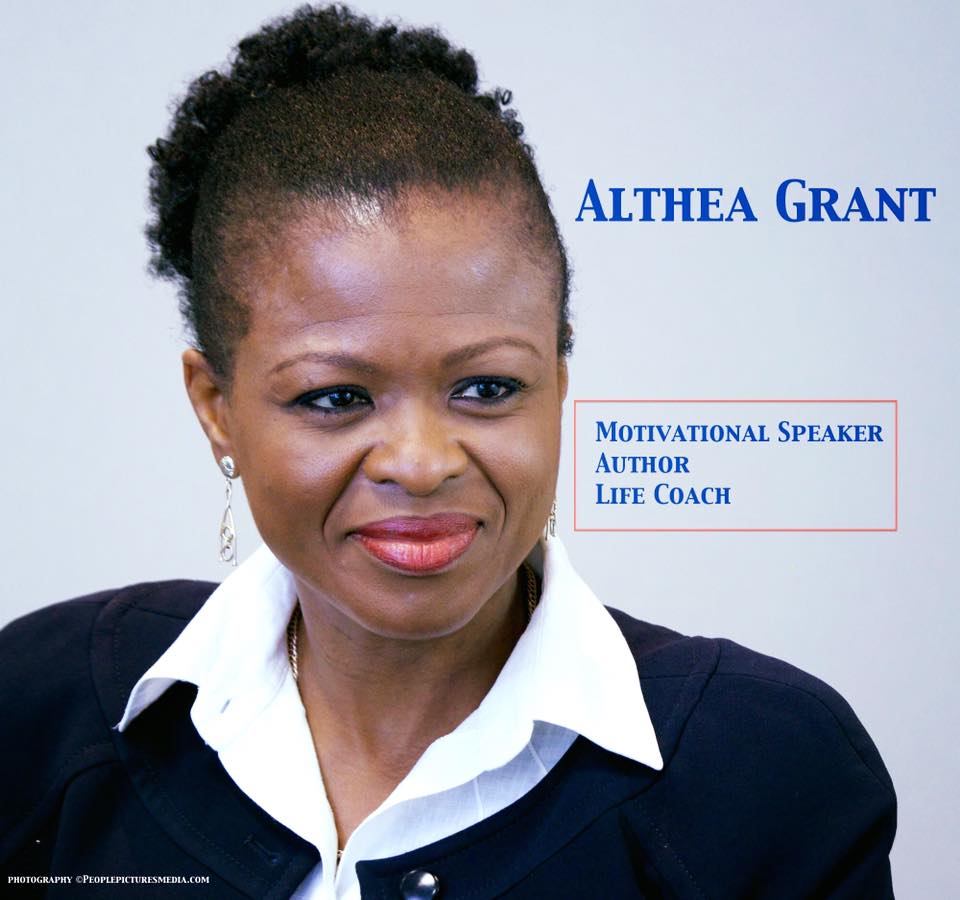 Althea Grant is a Family Lawyer in England who stepped away from her profession to become a International Professional Speaker in 2012 and an Author in 2015. She has spoken on many stages in UK and abroad. She has shared the Stage with such luminaries as Les Brown, Anthony Robbins, Donald Trump (now US Presiden) Lord Seb Coe, Andy Harrington (Althea's first Mentor) and in South Africa at the same event as Keynote Speaker Sir Richard Branson, Raymond Aaron, Greg Secker, Dr John DeMartini, Robert G. Allen and many more.
In 2013, Althea met Les Brown when they spoke at the NAC in Jo'burg. Mr Brown was impressed with her speaking abilities and introduced himself as a possible 1-2-1 Mentor. This professional training as part of Les Brown's Platinum Speakers, has increased the confidence and ability of Althea to reach the hearts of her audience. She is a strong confident engaging speaker with communication skills drawn from her training and experience as an advocate as well as a Professional Speaker.
In 2015, Althea went from 'major operation to major event' , when Mr Brown agreed to Speak on the London stage with her (and a small team) as Promoter. This was her first foray into event management and promotion but that did not stop the event from being a massive success.
Now in 2018, after 2 years, Althea will again host Les Brown In London to fulfill her destiny to help other find their #BetterMUSTcome and go from 'Adversity to advantage'.
---
Guest Speaker – Douglas Vermeeren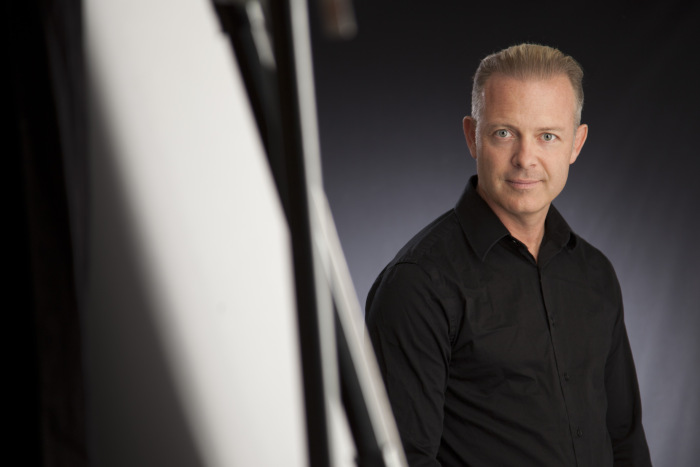 Douglas Vermeeren is the CEO of 10X Your Speaking Business and considered the top speaker trainer in North America. His students are reaching top tiers in their speaking business. He is also the producer of 3 of the top ten personal development movies of all time and a regular featured guest on FOX, FOX Business, CNN, ABC, NBC and others on the business of speaking. He is the author of multiple books on growing your speaking business in todays marketplace. If you are ready to grow your speaking career you've come to the right place.
---
Guest Speaker – Raymond Aaron

Raymond Aaron, has committed his life to teaching people how to dramatically change their lives for the better. Raymond transforms lives by helping people tap into their own potential.
Today, Raymond is helping people achieve greater wealth, branding, recognition, confidence, respect and authority. Raymond teaches his clients how to become respected authorities and experts in their fields.
Raymond Aaron has shared his vision and wisdom on radio and television programs for over 20 years. He is the author of 8 best-selling books, including Branding Small Business For Dummies, Double Your Income Doing What You Love and the co-author of New York Times best-seller Chicken Soup for the Parent's Soul and author of the Canadian best-seller, Chicken Soup for the Canadian Soul. He is also an avid adventurer having completed one of the world's toughest races, Polar Race (a 350 mile foot race to the Magnetic North Pole). This trek to the North Pole has inspired his newest title, How You Can Get Rich Without Getting Cold.
Raymond Aaron remains one of the most sought-after speakers in North America. He lives with his wife in Toronto, Canada and is the father of two daughters and two step-daughters and he is particularly proud of his grandson and three granddaughters.
Expert Guidance for You
One of the most sought-after speakers in North America
For over 20 years, Raymond has shared his vision and wisdom on hundreds of North American radio and TV programs
Author of 8 books and co-author of the New York Times bestselling Chicken Soup for the Canadian Soul™ and Chicken Soup for the Parent's Soul™.
The only author that has ever written a Chicken Soup For The Soul™ book and a For Dummies™ book
Acknowledged real estate master
Member of International Who's Who of Entrepreneurs
Listed in Canadian WHO'S WHO
---
PLUS special guests from Les Brown's First Family of Motivation!
Spend a DAY in the presence of GREATNESS learning strategies from Les and other successful 'SPEAKERPRENEURS'!
As one of the world's most renowned motivational speakers, Les Brown's dynamic personality, experience and business acumen are highly sought-after internationally by Fortune 500 CEOs, small business owners and non-profit and community leaders who are keen to expand their opportunities.
Revered as an icon by his colleagues, Les Brown has received The National Speakers Association 'Council of Peers Award of Excellence' and its most prestigious 'Golden Gavel Award' for achievement and leadership in communication and is rated as one of the 'Top Five Outstanding Speakers Worldwide' byToastmasters International.
Are you fired-up and in flow in your business – or stuck and feeling stagnant?
Take a massive leap towards greater success, impact, and clarity in your personal life and business.
Discover proven strategies for success and how to inspire others with the power of your story.
Grab your chance to know how Les Brown can change your life!
NOW is your time to THINK – ACT – AND GROW RICH!
"STAY HUNGRY" and remember "IT'S NOT OVER UNTIL YOU WIN"!
BOOK NOW and we'll see you on the 20th!
Les Brown in London
Did you enjoy this article and find it helpful? Why not share it with your social media network below?