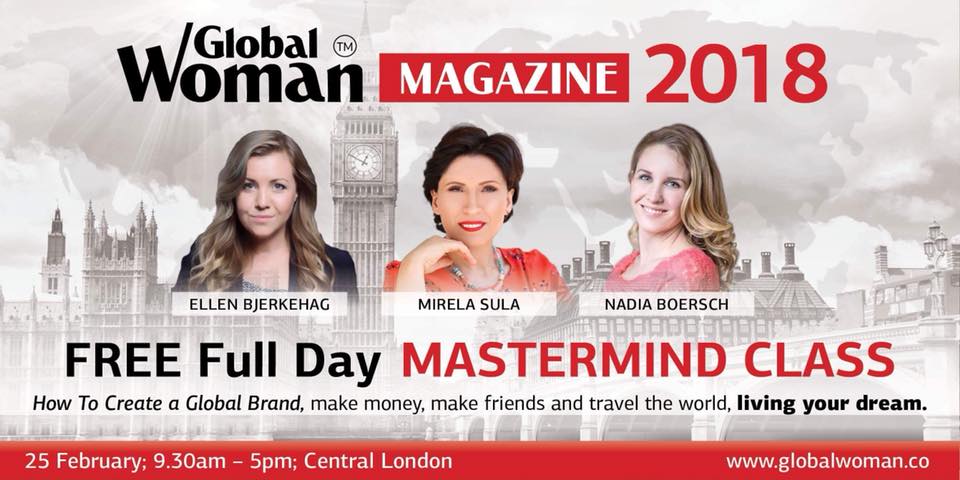 MASTERMIND CLASS: How To Create A Global Brand
MASTERMIND CLASS
How To Create A 

Global Brand, make money, make friends and travel the world living your dream.

 
25 February – 9am -6pm
Radisson Blue, Euston London
130 Tottenham Court Rd, Fitzrovia, London W1T 5AY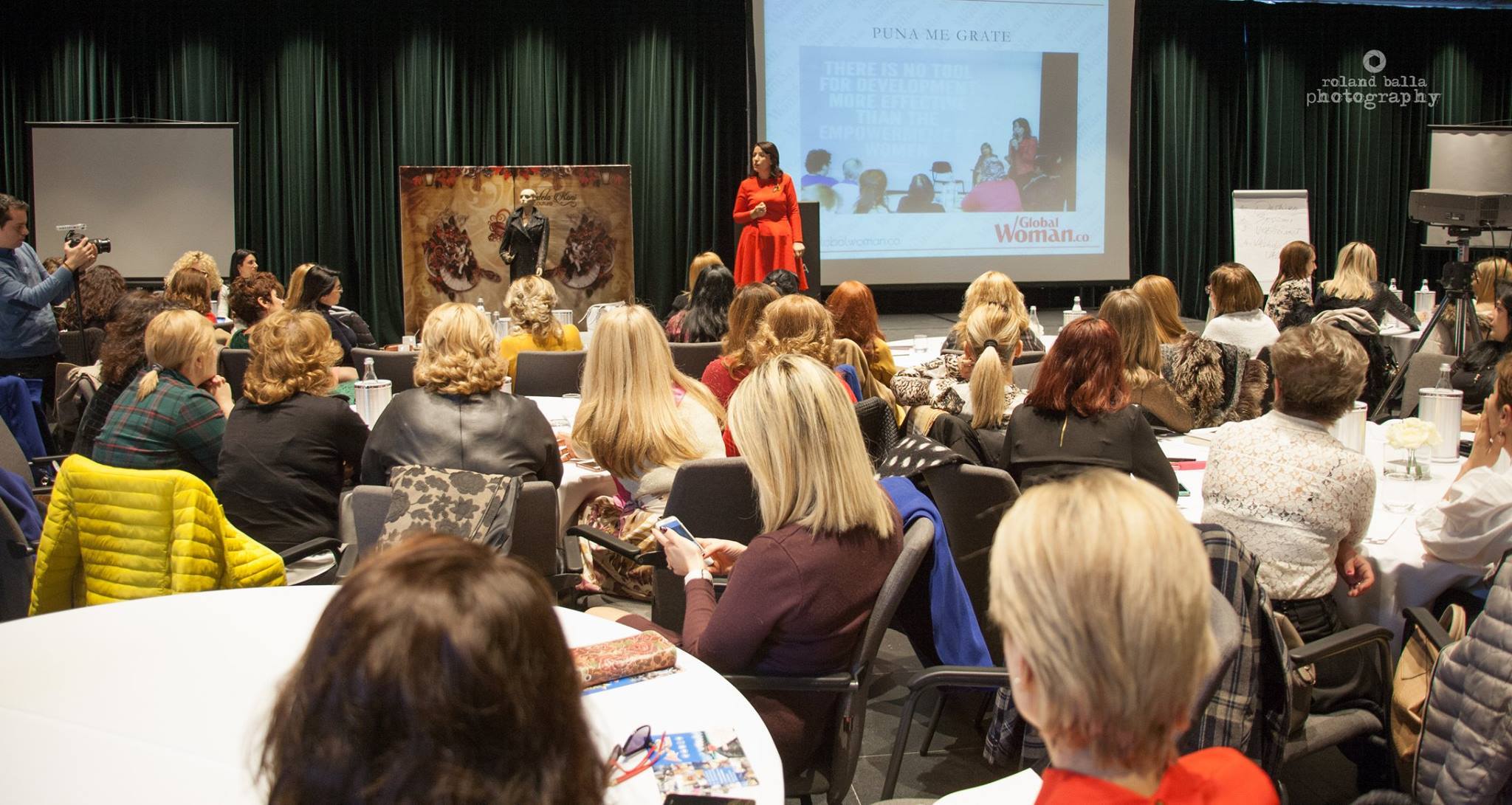 Are you working for a company but in a dilemma to start your own business a gain your financial freedom and also have more time for yourself, family and friends?
Are you already in a business but struggling to find the right formula to make it profitable?
Would you love to have clients rushing to you?
Would you love to reach a global audience over night?
This Master Mind Class will be a Free Full Day Course aimed for women who are searching to reach the highest potential in their career and turn their ideas into a profitable business.
Our founder Mirela Sula has a huge experience on delivering high quality content for people who are hungry to explore new opportunities in life and find the courage to take actions.
Global Woman Club Directors, Ellen Bjerkehag from Stockholm and Nadia Boersch from Vienna  will also be guest speakers for a Full Day MasterMind Class
In her blue print Master Mind Class Mirela and the guests will teach you how to walk toward success and build a successful business. They will share with you exactly the steps that they used to build their global brand. At the end of the course you will have the knowledge how:
To come with a great business idea

To start or grow a business with no money

To brand it and do the right marketing

To build your confidence and discover your inner gifts

To create the right mind-set and keep yourself accountable

To discover the secrets of a strong and powerful mind.

To build resilience and long lasting confidence in overcoming any challenge you face

To overcome negative thoughts, emotions and common limiting beliefs

To bring out your own story and combine it with your expertise in order to write and publish your own book.

To create your online business

To build your platform and make it global

To create your products and sell it online and offline

To use the power of mind in order to create a positive impact in the world and influence people.

To be featured in the media and inspire people around the world

To speak in big stages and reach a global audience

To use social media and secrets behind it

what sets you apart, find your niche, and monetise your mind

To find out

To attract the right associates, the clients of your dreams so you can enjoy your business, make money and have fun.

To avoid the common mistakes and struggles that you don't need so you become successful inspiring entrepreneurs.

To lead with your vision, mission and live your WHY
This course will take you behind the scenes of how Mirela and many women that she has coached have build their success – (with all challenges and victories) she will break down the exact steps she has taken to get to where she is today, so you too can build a wildly successful business and a great career.
BOOK YOUR TICKET HERE 

This course will turn your business dreams into a clear business vision and put you in a global map.
We would encourage you to book your tickets early as the places are limited. We want to make sure that you get a dedicated time with Mirela and our Global Woman team.
This will be a full day together where you will leave with a strategy how to think global, be global and dream big.
Get in touch should you need further information.
ABOUT Mirela Sula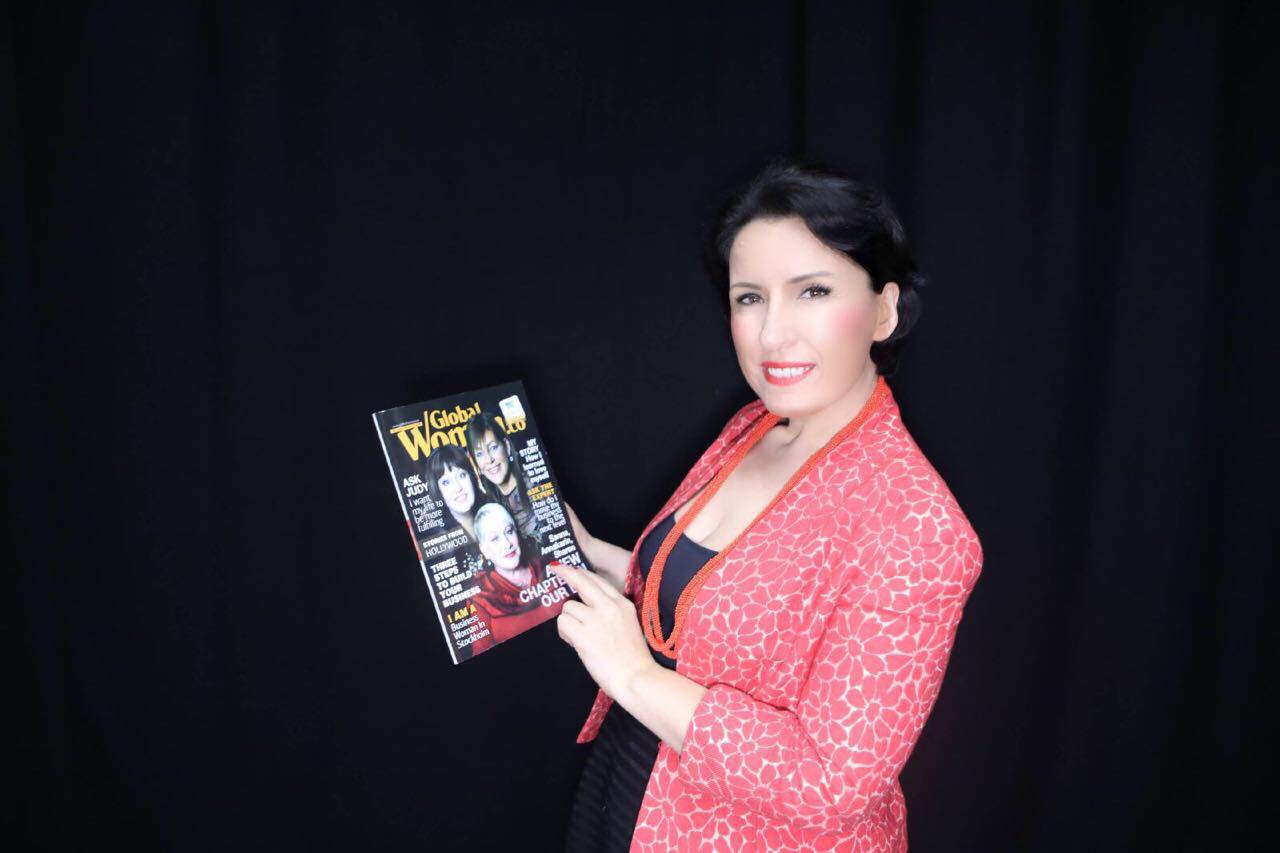 Mirela Sula is a self made business woman. She has worked in media and education for the last 20 years and has speaking experience all around the world. Her background takes in psychology and counselling, journalism, teaching, coaching, women's rights and media training. Mirela is CEO and the founder of Global Woman magazine and Global Woman Club, with the recent acquisition of 'The Business Woman Today', an online network exclusively for women in business. Mirela is also the organiser of the Global Woman Summit and Global Woman Awards. She has appeared on London Live TV, BBC Radio 4 Women's Hours, Sky TV and also featured at the "Evening Standard" and "The Guardian". For Global Woman, Mirela has created a project called 'Phenomenal Global Woman' where ten selected influential women from different corners of the globe travel to Hollywood to speak at a big conference, and also be filmed for the 'Phenomenal Global Woman Show' which will be broadcast on PBS TV in in May 2018.
Mirela is studying for a PhD in Psychology at Regent's University London to follow on from her Master's degree. She is also author of several books. Her last self-help book 'Don't Let Your Mind Go' was a best seller and is also published in America and Turkey.
Mirela has created clubs for women in 14 countries and has helped hundreds of women to unlock their potential, set up their goals and achieve their dreams. She also has created Migrant Woman Talks, a platform that invites women to share their stories and experience of life in a new country.
Mirela has received many awards for her work, including the 'Inspirational Award for Women 2015' for Human Rights, the 'Best Up-And-Coming Inspirational Influencer' Award from The Best You, in 2017 and the Universum Donna Award 2017 from the Universum Academy of Switzerland.  She received The Best Book of the Year from The Author's Awards in 2016 for her book, 'Don't Lose Your Mind' and her new book, 'Struggle to Success', 50 Inspiring Stories of Migrant Women, was launched at the House of Parliament on the 11th December. In December 2017 Mirela won the "Entrepreneur of The Year Award" from the Wealth Dragons, and ended the year in the list of the OOOM 100: THE WORLD'S MOST INSPIRING PEOPLE.
Mirela is passionate about empowering women worldwide and always stands up for, inclusion, diversity, gender balance and supporting the next generation. Her mission is to create a global movement to improve women's future, one economically empowered woman at a time. She uses her years of experience in teaching and leadership to inspire and motivate women around the world, working with them to deliver career and life changing results beyond expectation. Her aim is to reach one million women entrepreneurs by 2020 for her Global Woman Club.
Did you enjoy this article and find it helpful? Why not share it with your social media network below?