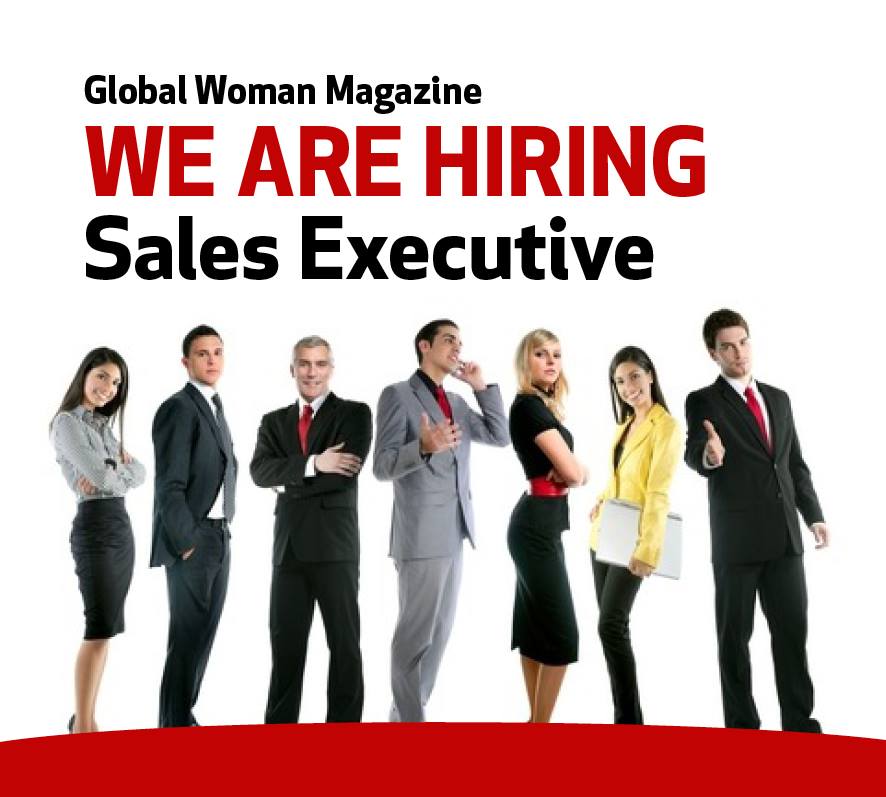 We Are Hiring – Sales Executive 
We Are Hiring – Sales Executive 
Global Woman Magazine started its journey in June 2015 and since then we have also created one of the biggest networks for women in Europe called Global Woman Club. A fast growing community of like-minded women with the aim to empower women locally and connect them globally, and has grown to 30 Global Woman Clubs worldwide. From PR, Marketing, organising events around the world and book publishing, we do it all.
Working for a successful, rapidly growing multi-media brand, you will be generating new business (B2B) and maximising existing opportunities for all our online platforms, publications and engaging events
[rml_read_more]
We are looking for executives to sell advertising space for the magazines, raise sponsorships for our events and sell memberships for our Global Woman Club.
In your role, you will be responsible for shaping and developing print and digital platforms, core relationships and sales products. You will be an important part of a passionate and hard-working advertising team responsible for the continued growth and success The successful candidate will not only be working with the major players in the UK market but will also have exposure with leading agencies who work with key consumer brands.
This Sales Executive role has the core objective to develop and grow revenue potential of new and existing advertisers through the effective management of an agency and client portfolio. The position covers every aspect of the portfolio and provides an opportunity to sell across a variety of revenue streams (creative solutions, digital, display, direct marketing and events). Working closely with the Ad Manager, you will be responsible for the accelerated growth of the print and digital line, working closely with editorial, insight, design and tech to develop and deliver innovative, market-leading solutions.
Skills & Experience Required:
Minimum 2 years experience selling to B2B clients within media sales, advertising, events, sponsorships or similar is essential for this role
The ability to build and implement a sales and marketing campaign from scratch
The ability to think outside the box and over-deliver on campaign results
Able to work independently as well as part of a team
Able to work in a fast paced, self directed, entrepreneurial environment; full of energy for challenges; seizes opportunities. Technical Competencies:
Must have display sales experience in a b2c magazine company
Excellent sales, negotiation and presentation skills as well as keen attention to detail
Strong new business skills and tenacious approach
A core team player with a proven track record in achieving and exceeding sales revenues
Excellent knowledge and ability to apply all the latest applicable research and data within sales process
Exceptional communication, administration and business skills
Must have a passion for consumer publishing
The role involves:
Generating sales, advertising and sponsorship for our events, online platforms and magazine
Researching target clients, identifying new contacts and decision makers
Calling new clients to introduce Global Woman, introducing different opportunities and sales offerings providing a consultative service
Sending marketing information and publications to clients
Managing your own sales pipeline, reporting on sales projections and opportunities
Attending client meetings to showcase the brand and secure new business
Developing a strong targeted network of clients and customers
Account management for a portfolio of clients – maintaining regular contact to ensure clients are happy
Maximising opportunities within existing client base ensuring they are aware of our expanding range of services and offerings
Reporting on targets and KPIs
Making proactive suggestions to the Marketing Manager and Head of Marketing on new formats / methods of capturing leads and feeding these to sales using new technology and approaches. Lead any sponsorship fulfilment.
Leading on all show photography
Managing all PR & press activity related to the content areas, working with the Head of Content, the Content Production Team and Editor and writers to co-ordinate content led press releases.
Where instructed by the Senior Marketing Manager, agree some complex new contract deals attached to content products
*
This opportunity is perfect If you are
– Ambitious and enthusiastic
– Strong under pressure
– Articulate and a people person
– Brimming with ideas and creativity
– Positive and a go-getter
We can offer:
– A fantastic product to sell to the upper echelon of business and finance Great colleagues to work alongside
-A meritocratic environment – work hard, and the rewards are unlimited (Uncapped Commission)
-An opportunity for personal growth within the company awaits the successful candidate
– Opportunity to unleash the entrepreneur within and be a part of a globally growing business
– Investment in you and your development that can be found nowhere else.
– Mentoring by C-level, prolific and successful entrepreneurs.
– Career opportunity based on merit, and time served that will exceed your expectations.
Interviews are available immediately and the role will start as soon as you are ready.
This is a great opportunity for somebody that is motivated by earning great commission for sales of up to three times your healthy base salary.
Benefits:
Bonus scheme
Education reimbursement
Company events & social hours
Job Types: Full-time, Contract
Experience:
customer service: 2 years (Preferred)
Media & Digital Media, Print & Publishing
Location: London
Did you enjoy this article and find it helpful? Why not share it with your social media network below?