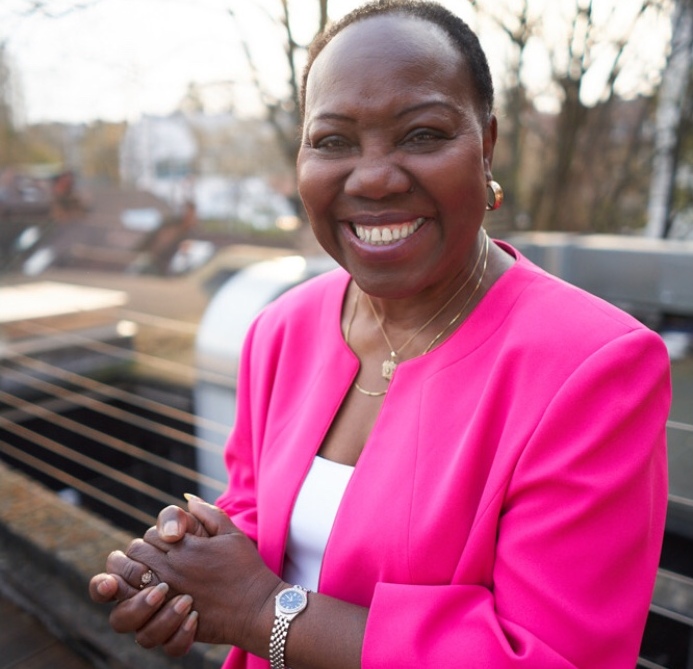 Women are becoming ambassadors to be the catalyst for change
Agnes George – Women are becoming ambassadors to be the catalyst for change
 By Fatima Gorezi 
Agnes George is an International Speaker, Health Strategist and Coach. She became a qualified teacher, trained at the University of the West Indies, with a passion for educating of young children; But felt her passion was elsewhere in the field of nursing and midwifery, and preterm babies. Always willing to help individuals, and to add value, she has always aimed to be a leader, providing benefits and value to those she encounters. Agnes has been speaking on the prevention of type 2 diabetes internationally. She has used her knowledge and extensive experience in Nursing Leadership, and coaching to make a difference to inspire, motivate, transform lives of people. Working with them 1:1 and one to many,she delivers life-changing results beyond their expectations. She is also an author,and is completing her second book on the subject of Diabetes Type 2 Prevention.
[rml_read_more]
How did your upbringing define who you are today?
Agnes George came from a very humble beginning. Being the oldest of three girls, itwas always instilled in me from a very early age to go to school, get a good education, in order to get a good job so I can take care of my parents in their old age.
I would have the responsibility of the role model for my other siblings. I had to be perfect,an example to my two sisters, be the best at everything I did to make my mother proud of me.She has always been my main supporter, now and all throughout my professional career, asI lost my father at a very young age.
At school I was always number one as a sports athlete, selected to compete for my school and country among the Caribbean Islands. The bar was set high for me since a kid. To be the best, to be perfect at a very young age. One highlight from back then was theprivilege to meet Queen Elizabeth of the United Kingdom; when I was nine years old, on her visit as Head of State of the Commonwealth Countries. I was overwhelmed when the Queen came up and spoke to me while waving the union jack flag, over the moon as She shook my hand unexpectedly. I remembered my teacher saying to me: "You are very lucky, she choose you out of the whole school".I remembered him saying now you wont wash your hands for a very long time. I was bursting with excitement to get home to tell my mother the news.
My impression at nine years old. I was in awe, remembering all my friends asking me what did the Queen say to me. The second time I met the Queen Elizabeth of  United Kingdom was when I won the sport event, she presented me with my trophy at the sporting event at the Queen's Park now called the National Stadium in St George's Grenada. Through my meeting with the Queen has inspired me to come to the United Kingdom to study.
I did very well in school , and in sports.I always have to be first, was number one in sports for my Parish in the Country.
When was your very first introduction to public speaking?
My first introduction to public speaking was at Wealth Dragons Lifestyle Business Convention Event when my mentor ask me to speak on stage to an audience of 1500 people.That was the most amazing time of my life. I shall always remember that moment, my first time public speaking on stage, being trained by the best of the best as a World Class Speaker,has enabled me  have speaking opportunities to speak on many other platforms, in the united Kingdom: The Inspired Stage in Mayfair, London. The Fearless Speaking Academy, The Champion Academy  Stockport in Wales Health Conference, Grenada in the Caribbean 5 days, speaking at the medical School to junior doctors and medical students, 2 secondary Schools, Grenada Eastern Bankers Conference to an audience of 250 Bankers, and in March of 2019 and invited to be interviewed by Antigua & Barbuda Observer Radio; at The international Women's Day in Antigua &Barbuda, and at a Secondary school. Being interviewed by His Excellency Sir Rodney Williams , Governor General at his Residence in Antigua & Barbuda.
My first time speaking at Global Woman Business Breakfast was awesome. I was born to be a speaker, to enable me to empower individuals help save lives.
What is your proudest moment as an entrepreneur and as a mother?
The proudest moment as a mother was at the birth of my only son, and him giving me two adorable grandsons.
These are my proudest moments altogether.
My proudest moment as an Entrepreneur was when I founded the Health and Mental Well-Being (HMW.co.uk) Company.
To educate children and older people on the Prevention of Type 2 Diabetes through coaching and publicspeaking, through 1:1 and 1 to many,spreading my message, and adding value to persons internationally. Another achievement I take pride in is being trained and certified by Wealth Dragons as a World Class Speaker, the best of the best.
In my first speech as a World Class Speaker, I was given the privilege to speak on stage with my mentor while crewing at the Lifestyle Business Convention in front of an audience of 1,500 in London.
As an entrepreneur, what is it that motivates and drives you?
As an entrepreneur, what motivates and drives me is my passion in helping educate people and children in making healthy choices. I focus on the youth, as they are our future generation, as I see them being the future change agents of tomorrow,towards healthy life choices that enable us to have a healthy nation. Promoting a healthy lifestyle at a very early age is important.
Your health is your wealth: one cannot buy health. If one doesn't have good health, what's the point?We must remember that health is not just being fit, it's what you do on a daily basis. Your health is your vehicle to life. We only have one earthly life, it is our responsibility to take care of it before we lose it.
What motivates me is giving people clarity through my speaking and coaching, regarding the importance making careful health choices. Most often people say theyfollow me on socialmedia, which had them make some healthy lifestyle changes to their diet,managing their weight. Makes me feel good inside. It's a reminder to me that my message is being heard. Thank you.
What drives me is making a difference and adding value in individual lives.
There are many stories, but I choose to share this story because it is very close to my heart; and I also feel that it is something that can impact lives.
It is a story of a six year old girl. I made some interesting discovery while having my hair done at my hair stylist's house. For this I had to take immediate action; and at the same time being cautious not to upset the mother, it was evident to me (as a healthcare professional) the child was demonstrating signs and symptoms of diabetes. I felt it was my duty as a professional Health Strategist that I air my concern cautiously to the mother before leaving.
So I started a conversation with the mother and learnt that the child was previously treated with antibiotics by the GP for a urinary tract infection; but the mother and her husband had noticed that the signs and symptoms persistand getting worse; and also the school had sent them a note to say their daughter was being very disruptive in class, always asking for permission to go to the toilet. As the child's symptoms persisted, the parents decided to take their daughter one more time to her General Practitioner to have another consultation, who prescribed another prescription of antibiotics which the child had completed a few days earlier.
Being concerned about the child's persistent symptoms, before leaving their house, I suggested to the mother to take the child to the hospital A&E Department to be medically reviewed by a Pediatrician. The mother was reluctant at first,having had a new baby, as her husband was at work; but I made her promise me she will, and I also advised that she called for an ambulance to take her to the hospital as she also had a three year old child and a six weeks old baby. I also asked her to give me a call to let me know how she got on in hospital.
Three days later the mother eventually called to inform me that her daughter was admitted by the attending pediatrician, who asked her about why she brought her daughter to the A&E that day?  She responded, saying that I, a nurse, got her to promise to take her daughter to the hospital. The paediatrician then followed: "Well she must be a very good friend! Do you know that your friend has actually helped to save your daughter's life? Your daughter has diabetes, and it is very serious, she will be admitted to hospital to be stabilised.
The mother said she was extremely distressed watching the doctors working on her daughter, she had intravenous infusions inserted into both her arms, she told me she started to cry uncontrollably, called her husband to tell him the news,the latter leaving work,rushing to the hospital to be with his family. The hospital had made arrangements for herself, her baby and her three-year old to stay on the Pediatric ward with her daughter while she was being treated and hospitalised.
This is what motivates me and drives me. Knowing that I am making a difference in people's lives.
I am not telling this story to impress upon you, but to advise parents to pay attention to what their children are saying to them or what they're eating, and to take immediate action when it is necessary to do so.
My proud moment is knowing that this child is currently doing very well in school today, maintaining her management of her diabetes with her mother and her school nurse when she is at school.It is not what you say but how you say it.
This is what pushes me, making a difference, offering value, and saving lives.
You speak on the prevention of type 2 diabetes and how to enjoy a healthy living. Can you tell us more about it? What are some simple steps to preventing diabetes?
Type 2 Diabetes is the most common type of diabetes; it occurs when the pancreas fails to produce  enough insulin. It is thought to be a metabolic process. The blood sugar is raised. The body fails to utiliseinsulin. 90-95% of diabetes diagnosed  are adult onset. What is known about the condition is caused by a complex factor of genetic and environmental factors,
Type 2 diabetes is the fastest growing International Health Challenges in the World. It is more common in adults, type 2 diabetes increasingly affects children as young as 7 years of age, although research shows as childhood obesity increases.
Type 2 diabetes remains reversible and preventible condition. There is no cure for diabetes.
Prevention of type 2 diabetes is making healthy lifestyle choices.Lowering the risk of diabetes, lose weight if overweight, exercise daily, eat healthy. But this is hard to do alone: to achieve lasting success, this is where a coach can help you by holding you accountable to enable you to achieve your goals.
Simple steps in preventing Type 2 Diabetes:
1- Maintain a healthy weight.
2- Be physically active.
3- Keep blood glucose (blood sugar) levels under control.
4- Know your cholesterol  levels.
5- Have your blood sugar checked regularly.
6-  Do not smoke. Quit smoking.
7- Drink water as your primary fluid.
8- Avoid Sedentary behavior/ Lifestyle.
9- Watch portion sizes.
A healthy diet helps reduce the risk of developing type 2 diabetes, and reduce the complications in people with the condition.
How are the current innovations happening in positive psychology influencing health coaching?
With psychology influencing health coaching, one must have the right mindset to start with; because diabetes can have a tremendous impact with the different aspects of self-management. This is often leading the person feel overwhelmed.
The responsibility for managing diabetes lies almost entirely in the hands of the person with the life-long condition.
People with different types of diabetes often have different psychological needs. This is focusing on type 2 diabetes which is the most common form of the condition, and has a great impact on the quality of life.
The personal costs for those individuals with type 2 diabetes are numerous, because it can impact on the relationships, work and social life, and on psychological well-being with consequent effect on the overall quality of life.
Constantly monitoring the diabetes is paramount by following a healthy diet and finding time for exercise can all lead to improved mental and emotional health.The opposite may also be true following depression or being anxious can all lead to poor control of diabetes. Studies have demonstrated acyclical relationship between mental health and diabetes.
People with diabetes are up to three times more likely to report symptoms of depression; these can be debilitating for type 2 diabetes; attributed to poor mental health. Research however states that, less than 15% of people with diabetes have access to psychological support in spite of the fact that psychological support improves health costs.
Service is available to all those identified as having depressive symptoms,improving access to psychological therapies which consists of taking coaching such as cognitive behavioral therapy coaching.
Don't be afraid to ask for help. Individuals found that asking for help having psychological problems can be difficult as it is believed that mental health problems still carry a stigma which can influence whether or not symptoms are expressed.
Using non-discriminatory words can open up conversations, as well as identify the particular needs of the person with diabetes.
Diabetes can have a serious psychological and emotional impact, and can affect self-management as well as the individual's quality of life. It is recommended that psychological well-being is crucial in coaching so that the most appropriate, person-centered care is provided to the individual's needs.
What's one of your favorite memories of something that happened to you after or because you became a health coach?
My favorite memory is from a few years ago, when my mother said thank you for teaching her about healthy lifestyle choices, as she was diagnosed with type 2 diabetes; and to see her today having followed my instruction, improving her lifestyle with great benefit to her health. At 96 years of age, her type 2 diabetes is managed byhealthy eating, regular exercise, maintaining her weight, but importantly maintaining a good mindset.
And constantly providing help and supporting clients; especially when clients say thank you to me for supporting them through the journey.
Global Woman is a platform that is heard and viewed by thousands of women. What is your message for them?
My message to Global woman is that you are the best platform to meet like-minded successful women, who are approachable, friendly, willing to share their experiences, welcoming. It feels like family. Global Woman gives one the opportunity to speak on their platform all over the world, wherever there is a Global Woman Club. MirelaSula, CEO of Global Woman Club is very transparent to her members, encouraging, motivating, and welcomes new members to Global Woman Club personally. I am honored to be a Global Woman Club member.
As a woman who has achieved many things in life, you are admired and loved by many people. How do you see women's future? Is there a positive tendency for more rights and free initiative?
Ensuring woman's future for more rights and the initiative are heard by Governments.
As a Global Woman, I see a future full of women embracing opportunities and supporting each other's professional businesses; Collaborating with business women, enabling them to stand strong in making a difference in the world of business.
Women standing up for women's rights, holding the most influencing position in the world of business'.
Ensuring human rights for women, giving women a platform to air their views on political issues as well as local issues pertaining to them.
Equal pay for women, ensuring improvement of women's lifelong financial resilience.
Raise awareness of, and engagement in, risks women face throughout society.
Develop proposals and open dialogue with the Government, the community, employers and wider society to improve women's pension provision throughout the life.
Empower women to make decisions that improve gender balance.
Women becoming ambassadors to be the catalyst for change.
Did you enjoy this article and find it helpful? Why not share it with your social media network below?