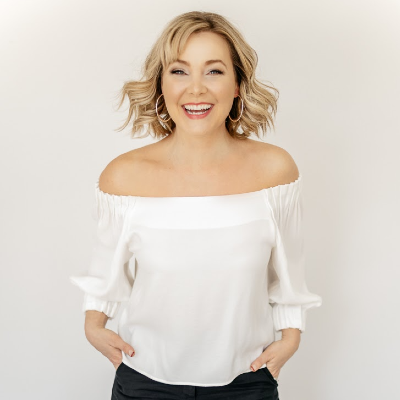 Tina Brigley Reveals Five Money Mindset Blocks That Are Holding You Back From Success
By Sarah Hovenkamp
Whether we like it or not, money is essential to success in business. The question becomes, is money your friend or foe? Tina Brigley is a Breakthrough Results Coach, TedX Speaker, Master Storyteller, and Head of Social Influence at High Performing Coach. Tina's passion is sharing her personal stories of transformation to connect with individuals and help them break through what's been holding them back and achieve their highest potential.  Through her own life experience, Tina has identified the importance of exploring the stories and beliefs we hold as truths about success, money and relationships. Tina explains how our storytelling drives our lives and names the five Money Mindset Blocks that we get to address NOW to move forward.
Deservability
1.
Do you find yourself overloading your programs, people-pleasing, and being too available? Tina noticed people-pleasing becoming a theme in her own life and took the time to confront this roadblock. Her discovery was, she says, "Underneath the pleasing was guilt, hiding a sense of "not-enoughness". The more I gave, the more it gave me a false sense of being enough". A deep-seated belief that she did not deserve a high level of success was at the root of this, and if she had let it remain, she would not be where she is today. To dissolve your limiting beliefs about the concept of deservability requires a rewrite of your story. Tina asks us to imagine, "What would it be like in your life if you walked around owning your worth, and that believing where you are today is exactly where you are supposed to be, and you are enough right here, right now?" 
Value
2.
When faced with setting prices for your services or products, many limiting beliefs and old stories can bubble to the surface. Often this leads to undervaluing and even giving away your services, ultimately slowing your growth. Instead of giving away your services, products, and expertise- remind yourself that what you are offering to the world is a personal transformation and potential clients get to choose the value they place on that. Most coaches have a run-in with "Imposter Syndrome" and believe they need more experience to charge higher fees. Tina suggests, "Your life is your experience." Making it a priority to collect testimonials from clients, helps on those days where you feel like you're undeserving or aren't good enough and you can reflect on those testimonials that disprove your story."
3. Love
If you are passionate about your business but have set up a cycle of feast or famine or resist sharing your success stories, this one is for you! Inside this money block is the emotion of shame and a belief that if you have more than others, they won't accept you. Our primary human needs are a sense of love, safety and belonging. From an early age, we navigate the world by searching out friends and often desiring more than anything to be accepted. Likewise, while growing a business, winning the trust and acceptance of your potential clients continues to be of high importance and often draws out these longstanding fears of not being accepted or liked. Unfortunately, what tends to happen is that you will experience immense success and then shut down quickly afterwards. For those experiencing this Money Block, Tina sets the record straight, saying, "If you have what they want to create, they will trust that you have already been there and can help them get there. Downplaying your success is not helping anybody, and it's also not bragging to share your breakthroughs! It's time to step up your leadership."
4. Courage
For most, closing the deal and the "money conversations" are among the scariest parts of running a business. In terms of overcoming this, Tina suggests practice makes perfect. "No conversations- no business. Your business depends on having many conversations where you talk about money. Own your worth, exchange your value for money, and believe in your ability to change someone's life. Remember this, the value clients get is based on their participation, not your offerings. They get to choose to have you in their corner to help them get there quicker than on their own"
5. Boundaries
Do you cave in when someone bucks at your prices or decide in advance how much people can afford your services? These are signs of a money block. Fear of rejection is the main culprit. Ultimately, we believe clients matter and we don't. Tina experienced this first hand and made an interesting discovery. Talking about how this showed up in her business, she says, "Money is like a mirror reflecting back at you. When I believed I wasn't deserving, my CLIENTS showed up with the same beliefs and I couldn't help them breakthrough until I believed I was deserving too." Setting healthy boundaries is not only necessary for your own success, it will affect the lives of your clients. They want to work with leaders so "Be the coach you would hire".
If you are ready to rewrite your outdated stories, free yourself from money blocks and take your business to new heights, schedule a call with high-performing coach Tina Brigley.
---
Sarah Hovenkamp, Writer
sarah@mindfulmediapr.com
Did you enjoy this article and find it helpful? Why not share it with your social media network below?