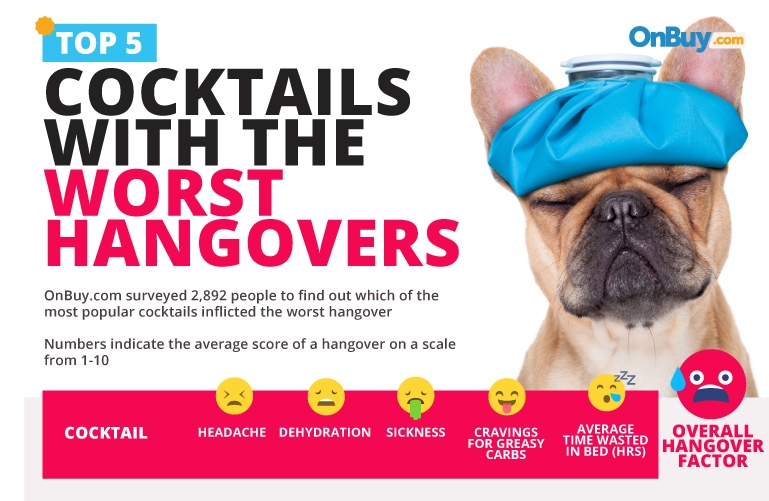 This popular cocktail will leave you bedbound for 10+ hours!
Pornstar Martiniscause the worst hangover with a7.9 out of 10 hangover score!
SolelyRum-based cocktailsare theleast likely to have lingering effects, with Mojito and Strawberry Daquiri in the bottom three
Long Island Iced Teasscore thehighest in headache,dehydration, andsickness factors
Vodka drinkers are most likely to spend all day in bed!
Recent news has given us cause for celebration and for many, a good time and a cocktail are interchangeable – the hangover is just the price we pay. So, which classic cocktail leaves us feeling the most worse for wear?
Interested in finding the cocktails that leave us the most defeated the next morning, experts at OnBuy Drinks created a Cocktail Hangover Index. The linear numeric scale scored each hangover element, such as headaches, sickness and time wasted in bed, on a scale from one to ten. With the results, OnBuy.com was able to discover which cocktail caused the worst hangover.
The Worst Cocktails:
The winner for the most hangover-inducing cocktail is thePornstar Martiniwith a hangover factor of 7.9 out of 10. This passion fruit flavoured, vodka-based cocktail, (with a side shot of prosecco) didn't score highly in most of the factors, however,it's high score for time wasted in bed (11hrs)pushed it to claim the title.
Coming in at a close second, the classic vodka-based Sex On The Beach scored6.9. This cocktail will leave you with intense cravings for greasy carbsduring the hangover phase with a factor of 10. This fruity number also scored second for time wasted in bed (9hrs).
In third, Long Island Iced Tea (LIIT)has an overall hangover factor of 6.8.It scores highly across three out of five of the factors;headache(8),dehydration(8.6)and sickness(6.4). This cocktail contains equal parts vodka, tequila, light rum, and gin. It is widely known that mixing alcohols is more likely to bring you to levels of intoxication, so arguably, it is surprising thatLIIT doesn't take the top spot
.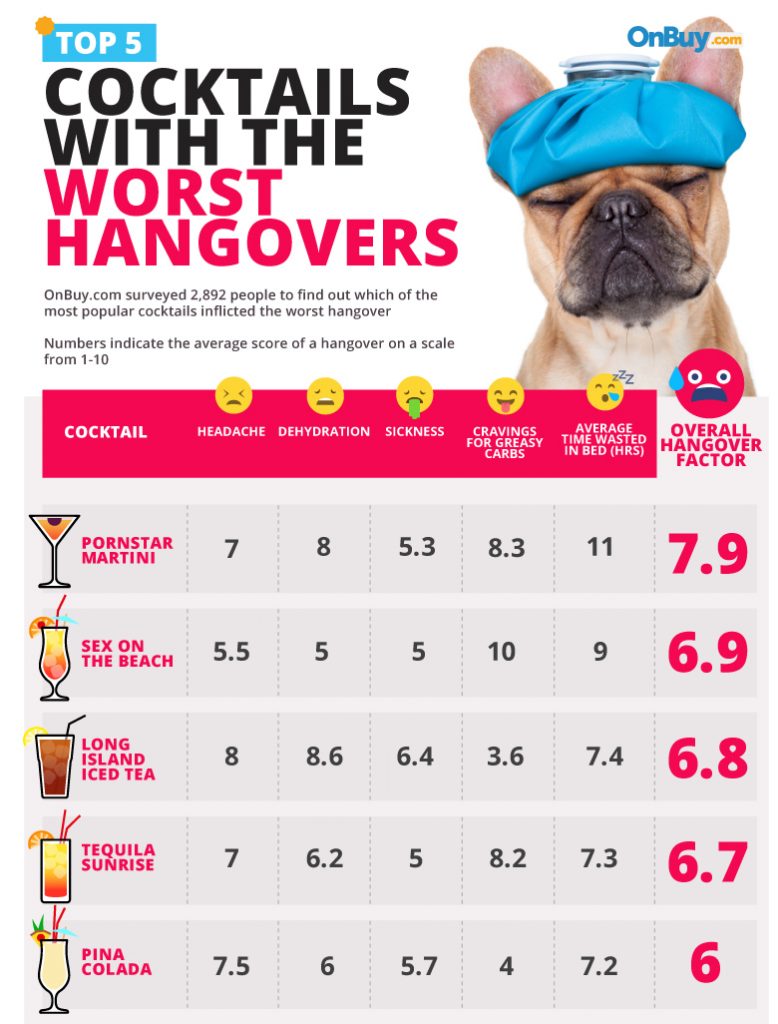 The BestCocktails:
Of the listed cocktails, it is theMojito that had the least after-effect, scoring 4.6 in the hangover index. A minty mix that scored amongst the lowest for time wasted in bed, atjustthree hours wasted. A great drink for all of the fun and almost none of the post-drinking regret.However, it does come in as one of the highest scorers for dehydration(6.7)
Followed closely by the spiced tomato staple, the Bloody Mary, scoring 4.7, and the Strawberry Daquiri scoring 4.8.The Bloody Mary is amongst the cocktails that give you the lowest cravings for greasy carbs(3.2) and time wasted in bed, again at justthree hours wasted.
Strawberry Daquiris are fruity and sweet and scored relatively low for all the hangover factors!
–
Did you enjoy this article and find it helpful? Why not share it with your social media network below?