Tanya Pieterse: I don't want to live an ordinary life
Her name is Tanya, she recently returned from taking part in and completing the Marathon des Sables or Marathon of the sands in the Sahara desert in Southern Morocco.
National Geographic calls it the toughest footrace on the planet. This is "Her Story"
Upon returning me family and friends just shook their heads and asked, "Why did you do it?"
I decided to take part because it held a challenge for me and because I knew it would take me outside my comfort zone, just like any true adventure does.
I don't want to live an ordinary life, but I want my life to ultimately mean something and contribute to the world I live in. I needed to show the woman in my family that they too can live the life they've only every dreamt of and to realize that if I could finish the worlds toughest footrace then they to can do anything they set their minds to and their hearts on, that life affords them every chance to fulfill their dreams if they only have the courage to pursue them
I wanted to have the opportunity to show other woman what one can achieve if your not to scared to face your fears and if you surround yourself by people who support and believe in you. I am not a professional runner.  Everything stood against me taking part in the race and I had multiple hurdles that I had to overcome once there. As crazy as this sounds, and as hard as it was it was, finishing was the greatest gift I could give to my daughter.  I showed her that nothing need ever stand in the way of her becoming the person she wants to be and doing the things she wants most of all, thereby taking the place she wants to fill in the world, fearlessly and with pride. I wanted her to be proud of me and know that she can do anything in life.
"Hardship often prepares an ordinary person for an extraordinary destiny." C.S. Lewis
This was my first multistage race and everything that could go wrong went wrong, from losing most of my toe nails, hallucinating, not being able to swallow and therefore dehydrating, my blood pressure plummeting due to glucose deficiency and facing temporary blindness during the 56.5 mile long stage.  I was given two glucose drips and morphine for the pain so that I could continue with the race.
The Mds is a grueling seven-day extreme multistage footrace of 250 km.  You are self-sufficient and carry "everything" you need to survive on your back, through numerous sand storms, traversing mountains and salt pans, up and down endless rolling sand dunes and in extreme temperatures in excess 122 Fahrenheit.  My backpack weighed in at 22 pounds.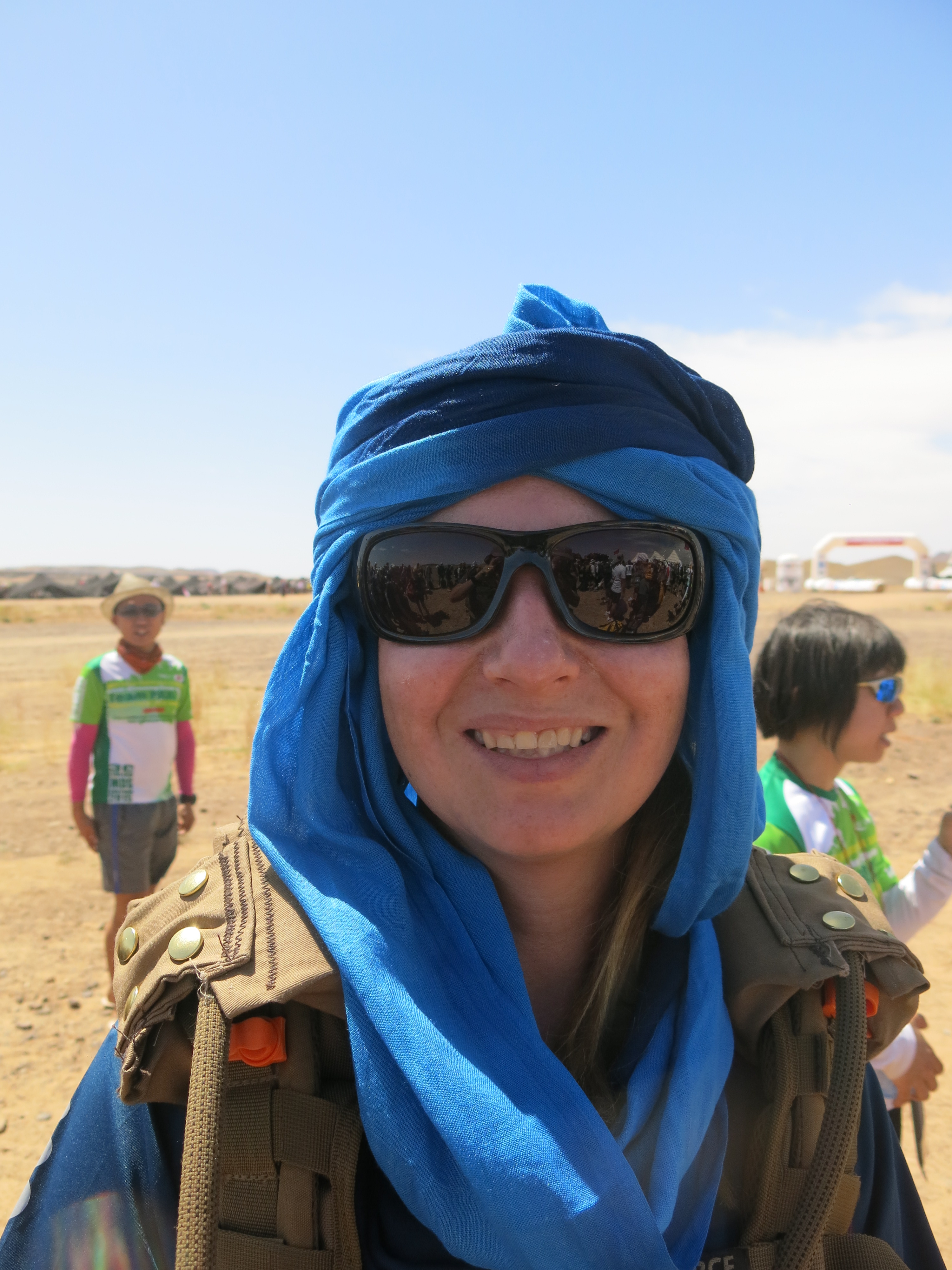 My husband and I ran in together.  He had complete trust in me and that is what kept me going.  He would remind me at the end of each day as we were approaching the end of the section to "keep it together" and I did!
We held hands as we crossed each point together and helped each other trough every hurdle we faced.  I was constantly reminded that I wasn't alone.
Genis wanted me to do the MDS because he knew I could and would finish and that I would never again have to stand back for anyone in my life.
This was truly a team effort!
He had complete trust in me and that is what kept me going.  He made sure we finished at each check point with two or three hours to spare and kept our pace telling me to keep it together.   I had to trust that he knew where we were going and would get us there within the cut-off time – we have been through what very few couples ever have to and he went over and beyond what I expected from him as he was only focused on me, making sure I was settled in for the night before he could try to do anything for himself and has earned my total loyalty, devotion and trust. This was truly a team effort!
This year was the 30th anniversary of the MDS and to celebrate it they made the long day distance the longest so far, so it was also the toughest MDS to date.  I had the added honor of participating with esteemed explorer Sir Ranulph Fiennes, Britain's oldest explorer who has climbed Everest, walked to both the North and South poles and crossed Antarctica on foot.  He described the MDS as being "more hellish than hell!"
As a woman I was completely out of my comfort zone and yet I dug deep and found the inner strength to keep going.  Crossing the final end line was the most rewarding experience of my life. It's an unforgiving and hostile environment especially for women to find themselves in, and I saw big tough men cry.  It was both the hardest thing I've ever had to face and my greatest accomplishment to date!  I was pushed until I was exhausted and tired emotionally, spiritually and physically.
Each day held in a new trial for me, I found it very hard to cope with the vast space around me, the extreme heights we had to reach and climbing the endless dunes while coping with the scorching heat. Anyone can give up, it's the easiest thing to do, but, holding it together when everyone else would clearly understand if you fell apart, that's the mark of true inner strength and courage! I never expected to get the response that we did or to go through such a mind-blowing experience.  It felt as if everything in my life came together in the desert. I was where I was meant to be.  This was my quest and with my husband at my side, and my daughter and family I could do nothing except complete what I had come to do.
"I really am Super Woman!"
When I told my youngest sister that we had written in for the race she said "Wow, your Super Woman!"  I laughed at her, never thinking that I was going to stand on top of a high mountain looking back at the endless dunes and barren salt pan I had just crossed, saying aloud to myself  "I really am Super Woman!" By keeping your mind open to endless possibilities, life will lead you to places you've never dreamed of before and along paths you've never imagined. The universe is limitless and it wants you to succeed and to lead a fruitful life.  There are miracles happening around us each day, endless possibilities that we let pass by.  The only limits are the ones we place on ourselves and allow others to place on us.
The Mds was on our bucket list, yet we still had to actively work towards our goal of competing in it.  The hardest part is stepping outside your zone of comfort, breaking down your wall of protection and by being open to the endless possibilities before you.  It took careful planning, much determination and hard work to bring it all together. The Mds was as hard on me physically as it was emotionally – the desert strips you to your bare essence.  A single act of bravery can change everything – this is what stood between me not completing the mds and me completing it!
Life's not a rehearsal and in the harsh climate of the desert this is especially true.
It often takes a single decision to be brave – to throw caution to the wind and follow your heart.  That's what I did when I got up and braved the long night ahead, braved the unknown. I did it because I wasn't alone, my husbands bravery became mine, his strength my strength and his faith in me gave me the faith I needed in myself.
Life's not a rehearsal and in the harsh climate of the desert this is especially true. You can't afford to make mistakes, everyone at the race made a huge commitment in time, money and practice.  We leave families and loved ones at home who gave up their precious time with us so that we could put in the hours of practice needed, money that could perhaps have been better spent and we leave them to worry at home while they follow us everyday in the news or on the internet.
While running in such an inhospitable and barren landscape I often thought of how privileged I am, how we take so much for granted and don't realize just how much beauty surrounds us.  We've become onlookers and not participants – how I longed to walk barefoot on wet soft green grass, feel the wind on my face and hear the birds singing.
I've definitely returned with a new and better outlook on life.
Did you enjoy this article and find it helpful? Why not share it with your social media network below?