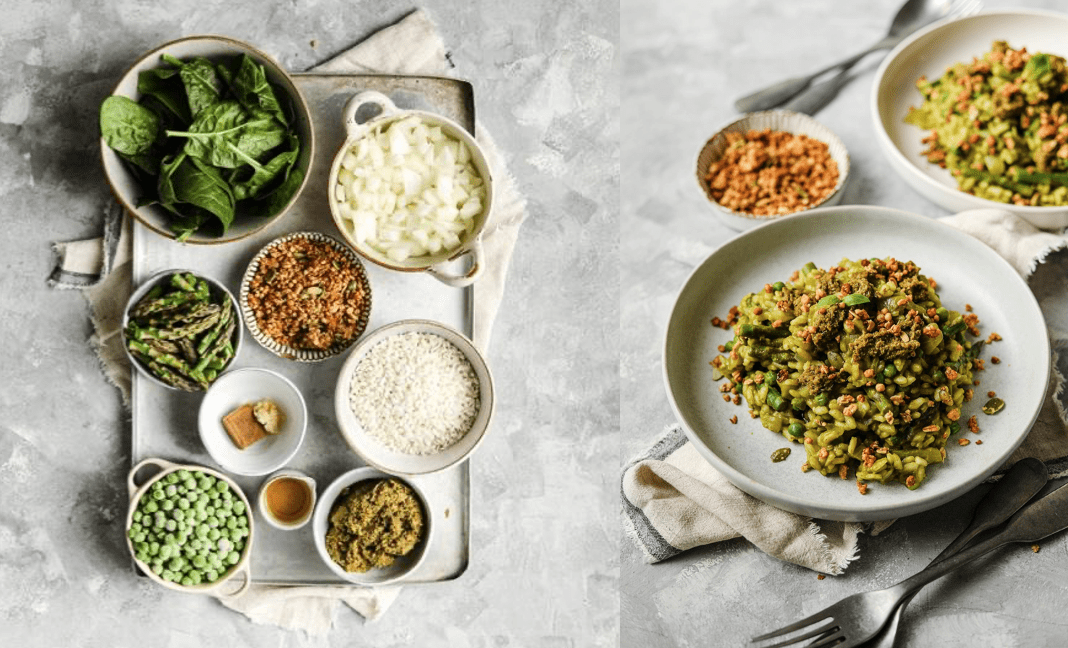 Pea, Spinach and Asparagus Risotto with a Granola Crunch
Lizi's Granola has developed this delicious, protein-packed, vegetarian risotto in partnership with nutritionist Lily Soutter. Perfect as an easy midweek dinner for Spring.
This satisfying risotto is full of summer greens. Despite being a vegetarian dish, this recipe provides a good dose of protein with the addition of peas and the high protein granola topping.
The wholegrain risotto rice is a rich source of fibre and slow-release energy and the addition of asparagus and spinach provides key nutrients such as magnesium, folate and vitamin K. This risotto is completely vegan, so can really be enjoyed by all!
Ingredients
150g whole grain risotto rice (or white rice for quicker cook time)
90g frozen garden peas
50g defrosted garden peas pureed
1 small onion
1 vegetable stock cube
1 tbsp olive oil
30g spinach
90g asparagus, sliced
2 handfuls of Lizi's High Protein Granola
1 garlic clove
100g green pesto
Method
On a medium heat on the hob, add the olive oil to a medium saucepan and heat. Whilst that heats up, dice onion and garlic finely, and cook in the pan.
Add risotto rice to the same pan and stir, coating with the oil. Crumble in a vegetable stock cube, and pour in some boiling water to cover the rice. Simmer and stir continuously for 40-45 minutes. If using white risotto rice, cook as per instructions on the packet as this will be quicker. Keep adding water until rice is cooked; yet the water is absorbed. For the last 6 minutes of cooking time, add the asparagus and 90g frozen peas.
Whilst the rice is cooking, blend 50g defrosted garden peas, spinach, 70g green pesto with a splash of water, salt and pepper. Blend until a puree texture.
Once the water has mostly absorbed with the rice, stir in the blended pea puree and warm for 2-3 minutes. Season with salt and pepper.
Serve in two bowls, each topped with 1 tbsp pesto swirled over and a sprinkle of Lizi's High Protein Granola.
NOTES: Lizi's High Protein Granola: RRP £3.70 for 500g, available from Sainsbury's, Tesco, ASDA, Morrisons and Ocado.
About Lizi's
Lizi's Breakfast Range is available from Waitrose, Sainsbury's, Tesco, Ocado, Asda, Morrisons, Whole Foods, Co-Op, Booths and all good health stores.
The granola range includes: Digestive Health, Low Sugar, Low Sugar Maple & Pecan, High Protein, Gluten Free, Organic, Original, Belgian Chocolate, Treacle and Pecan, Passionfruit and Pistachio, Mango and Macadamia, Pink Apple and Cinnamon. Lizi's has also launched Lizi's Adventurers Granola Crispies for kids, available in Banana and Strawberry flavours.

The Lizi's Super Muesli range includes: Glow, Focus, Boost and Cleanse.
Did you enjoy this article and find it helpful? Why not share it with your social media network below?