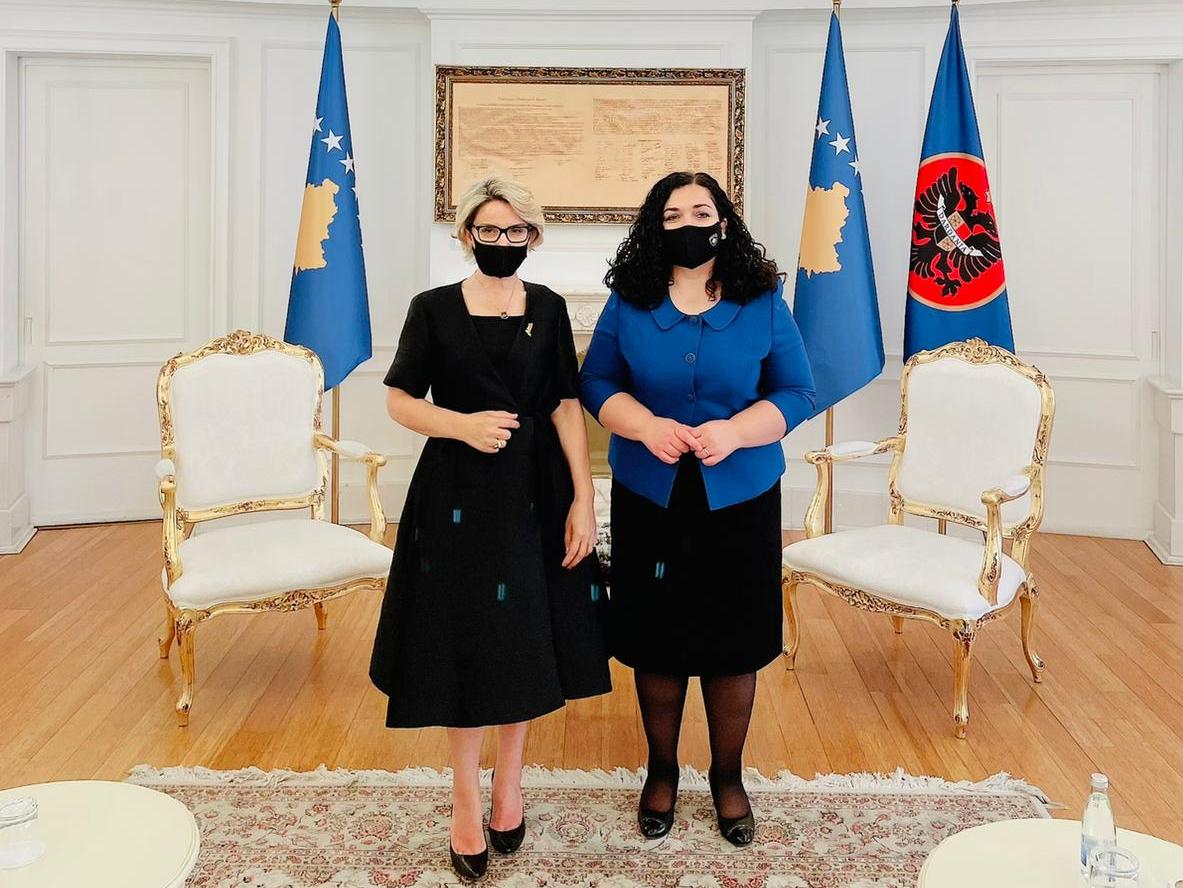 Mirela Sula, CEO of Global Woman, Meets Vjosa Osmani, President of Kosovo
By Sujany Baleswaran
Mirela Sula, Founder and CEO of Global Woman, had the honour of meeting Vjosa Osmani, the President of Kosovo, on a business trip to Albania and Kosovo. Together, they discussed the importance of women empowerment and the steps we as women can take to become more active in decision-making, whether that's politics or business. In the words of Mirela, 'if you want to empower a woman, give her a microphone,' and the President of Kosovo is an advocate for the same message, as gender issues are at the forefront of her politics. 
"Only together will we make the voice of young women and girls heard at every table where decisions are made for them, for the society and the whole world." – Vjosa Osmani, President of Kosovo
Covid-19 has shown the world the strength of outstanding female leaders, from New Zealand to Denmark, and Osmani is one of them. The first female President of Kosovo has been praised for her professionalism in leading the country through this pandemic and has become a role model for women all over Europe. She is a voice for all women, and has joined the UN Women Kosovo campaign against domestic violence, as well as working closely with UNICEF on issues related to children's health and family stability. We, as women, need to support each other and tackle the male-dominant culture that we adopt from an early age – it is time to unlearn the 'traditional' gender roles.
We are excited and honoured to confirm that Vjosa Osmani, President of Kosovo, will be featured in our very own Global Woman Magazine and will be our keynote speaker for the Global Woman Summit 2022.
The Global Woman Club actively work to empower women, creating a community of positivity and strength. Mirela Sula, CEO of Global Woman, has taken the microphone and appeared on numerous Albanian and Kosovar national TV shows over the last week to discuss the Global Woman platform. You, too, can see Mirela Sula talk about everything from women empowerment to business at our live event in London. With the world slowly returning to normality, we are excited to announce that we will be hosting our Global Woman Club event on June 10th – a great opportunity to grow, learn and network with businesswomen from all over the UK and Europe. To book your ticket, click here:
If you would like to join one of our clubs, where we do weekly virtual meetings and networking sessions, click here: