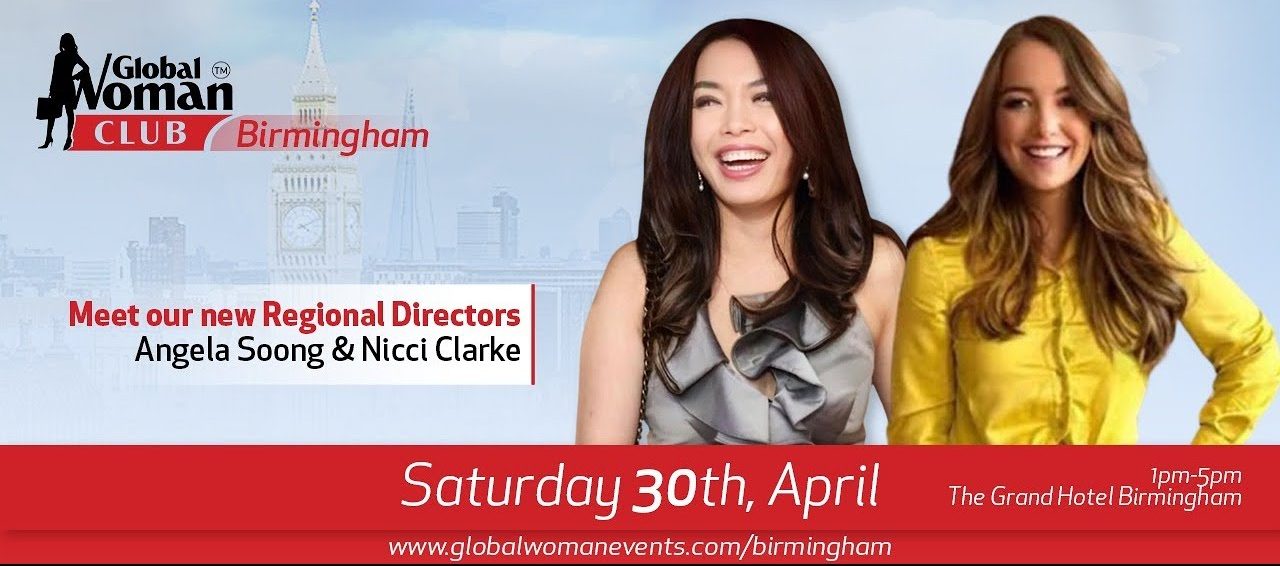 Meet the New Regional Directors of Birmingham – Nicci Clarke and Angela Soong
With clubs all over the globe, from LA to Manila, Global Woman is excited to announce the beginning of a new chapter in another corner of the world. With London and Notting Hill Club in full swing post-pandemic, Global Woman are excited to announce the launch of Global Woman Club Birmingham. The challenge that many female entrepreneurs face today is gaining access to a business community to share their stories and promote their businesses. Putting a twist to the events, combining business with meditations and accountability partners, we spoke to our new regional directors, Nicci Clarke and Angela Soong, as they share their vision for the new club.
Come and join us on Saturday 30th April to welcome our new Global Woman Club Birmingham!
The energy and feeling that you get by being together in person is something you cannot replicate virtually.

Nicci Clarke
You are the new Global Woman regional directors of Birmingham. How does it feel, and what is your vision for this new club?
Nicci: It feels very special to bring Global Woman to Birmingham. Our vision is to create a club for women to get together, learn from each other, network and of course, have fun.
Angela: Our mission and vision is to create a club with a wide range of cultural diversity, connecting businesswomen, cooperates, mothers of society from all walks of life. We want to be the foundation that forges new businesses and new relationships, hosting masterclasses in business and life so our members can learn from speakers and each other. We will be combining traditional business with fine dining options, deep meditation and speaking opportunities – this list is endless.
Something I would like to add to these meetings is short deep meditation and hypnosis experiences to assist in creating a better life, reduce stress and help remove some self-limiting blocks, increase phenomenal coping skills, to those who want to participate.
Creating accountability groups and group coaching sessions, and setting partnerships for goal setting are areas we want to improve on. We plan to organise plenty of masterclasses – the more the women can participate and learn and get involved during the events, the more members take away at the end of the day, encouraging them to join again and refer more new women to attend.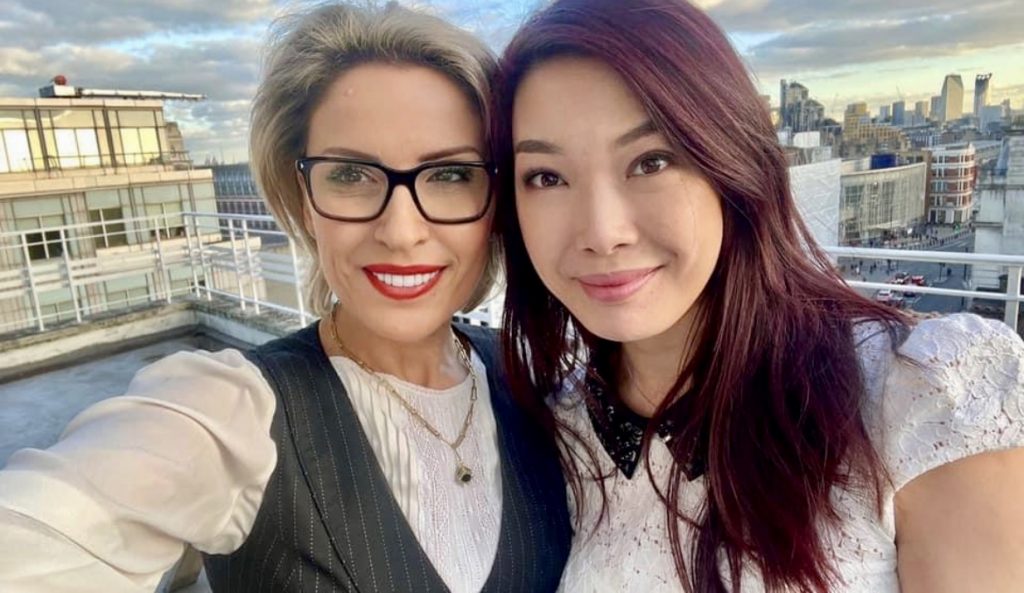 Make your story count. Make yourself memorable and always be generous, may it be through compliments or just being a good listener.

Angela Soong
How did you get involved with the Global Woman community?
Angela: 3 years ago, I attended breakfast clubs and Global Woman Summits. I saw women from all walks of life, humble and inspirational, take a mic and speak with power and confidence. They were so open and brave. When it came to my turn, I couldn't believe that I had found a place that allowed me to share my stories.
It was a safe environment where I wasn't judged but instead supported. I have attended many business events and even hosted the regional most subscribed Property event for two years now at an expert/consultancy level. Nobody at these events knows whether the person they are speaking to has a family/partner or their hobbies or what their why in life is. It's all about business. Global Woman allowed me to uncover my business face and show my heart. What I have learned in life is, it's okay to show vulnerability – make that vulnerability your strength.
Nicci: A good friend started working with a life coach, Tre Lowe, and I noticed a real difference in her. She introduced us, and we started working together. He encouraged me to find my purpose along with many other things. He was so supportive and always suggested things that I would like, and his partner Enas recently became Regional Director of Notting Hill. He suggested I come along to the club in London and the rest, as they say, is history.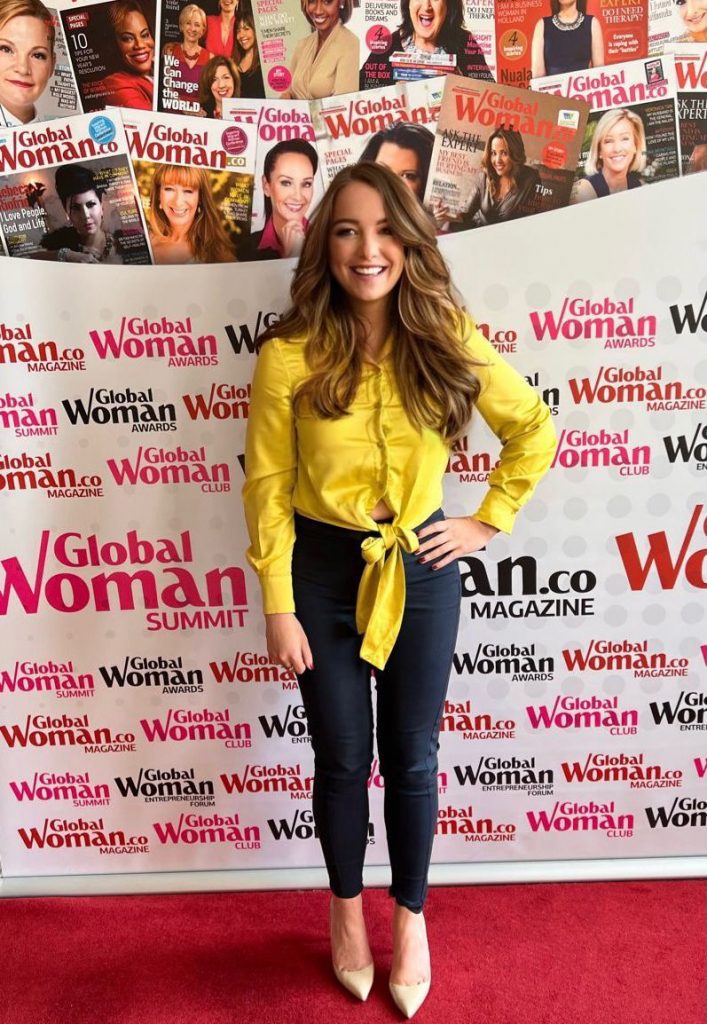 Do you remember your first Global Woman networking event? How was your experience?
Nicci: Yes, it was late January, I spent the week in London speaking at my first work conference restaurant marketer and innovator in London and meeting suppliers. I'd had a great week but didn't really know what to expect, but the photos and comments on social media looked amazing. I only knew Enas and Tre and sat at a table with three amazing women who made me feel very welcome. The energy, stories shared, and support in the room was incredible. I walked away with new friendships, my first radio show slot, a magazine feature and contact to help me purchase my first buy to let property! Little did I know that a few months later I'd be opening Birmingham club with my amazing partner Angela Soong. I've honestly never laughed and had so much fun whilst doing business and learning!
Angela: I was introduced to Global Woman by a friend called Rie Hamaguchi, a GW ambassador, who I met at Kul Muhays Public Speaking academy. I give special mention to these two people because they have been part of my successful journey to being here today. After the event, Rie told me to attend the GW breakfast in Birmingham at that time. She said the event is at my doorstep and knowing that it took her more than 4/5 hrs to get there, I couldn't let her down when I was just 30 minutes away.
I really didn't know what to expect, I have attended many events and courses, so I was open to discovering new things. Not knowing what to expect, I was surprised at how joyful people were, and the experience to share my story gave me the confidence to stand up and speak up more. At that point in my life, I was going through a lot of adversities, and this was a platform I could find openness and supportiveness. I even met one of my best friends who at the time was in need of support, and eventually, this year, bought a house to move down the same street as me.
After a long two years with virtual meetings, you have made the much-needed decision to hold an in-person event. What can guests expect at the first Birmingham meeting?
Nicci: Having all of our events in person was really important to me, especially after spending the last few years behind a screen. The energy and feeling that you get by being together in person is something you cannot replicate virtually. It is also a chance for us to support the hospitality, industry and The Grand Hotel in Birmingham is a beautiful hotel that has recently reopened after 20 years following a £45 million refurbishment!
Angela: At our first meeting, we will be joined by our Founder Mirela to launch the Birmingham club with an exclusive masterclass. We will be inviting women to speak and learn from each other, creating panel events with existing members who have come from all over the country, good music and vibration, dancing, cheering a load of laughter and fun. We have The Grand Hotel experience, one of the best venues in the region. Come along, dress up and join us!
Did you enjoy this article and find it helpful? Why not share it with your social media network below?