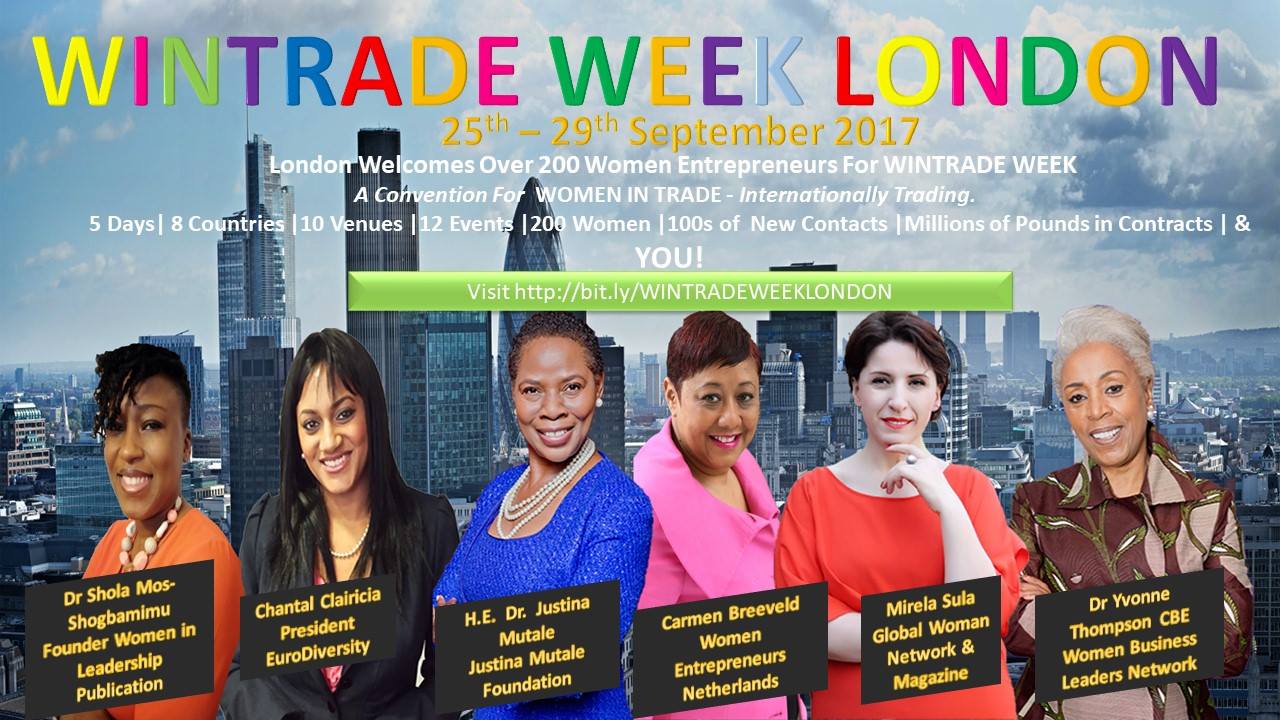 London Welcomes Over 200 Women Entrepreneurs For WINTRADE WEEK 2017
A Convention For Women Internationally Trading.
More than 200 women business-leaders from across the globe are expected to convene in London for the 2nd WINTRADE Week Business Trade Summit 25th to 29th September 2017. Women Business Leaders will attend from a diverse range of sectors and include, Inventors and Innovators, Designers, Health & Lifestyle Management, Retail, Professional Services, Financial & Medical Services Tourism, Personal Development Services, Communications and Event Management, to name a just a few.
WINTRADE WEEK is the UK's largest independent event focused on the state of enterprise and international trading. WINTRADE WEEK is designed to help business executives cut through the red tape of trading nationally and internationally, and learn how to trade to build a competitive advantage, drive new business opportunities, reduce costs and accelerate innovation efforts.
WINTRADE WEEK is the "must attend" event for enterprise executives and decision makers from global organizations. The 5–day conference brings together the international small business ecosystem, including innovative enterprises, industry thought leaders, start-ups, investors, developers, independent researchers and leading solution providers.  
This event is for true entrepreneurs wanting to:-
Promote your business Networking for contracts Meet international partners looking to do business with you
WALK AWAY WITH AN ACTION PLAN
 The convention program is focused on helping your company to understand where to find the right trading opportunities.
Learn from enterprise and innovators how they are harnessing their national and international opportunities.
Walk away with a special report from on how to deploy your own business trading strategy.
WHO SHOULD ATTEND:-
Business Executives • Founders & CEOs of Venture-Backed Companies • Angel Investors • Media • Key Connectors • Corporate Development Officers • Business Development Managers • Product Managers • Marketing Leaders • Early Stage Entrepreneurs • PR Managers & YOU!
If your are a Global Woman Club member contact us for a discount code: info@globalwoman.co 
WINTRADE London 2017 
is supported by high-profiled sponsors with impeccable diversity credentials, and will take place at various venues across London. 
If your are a Global Woman Club member contact us for a discount code: info@globalwoman.co
A SIGNATURE EVENT FOR Women thought leaders in global trade
Our 2017 theme is "Womenonmics – Accessing, finance, contracts, trade, support, advice and guidance". There is a myth that women are expert networkers, but leave without the contract.
The convention will also discuss success stories, best practices and key challenges and solutions that face Women Entrepreneurs in a globalized world. The Convention will stand to motivate, inspire and encourage boldness, ambition and leadership. WINTRADE (Women In Trade), is a network that serves to bridge that gap, break down barriers and give ease of access between Women entrepreneurs globally to facilitate the development of small and new businesses.
It is a multi-lingual convention with sessions strategically aligned to local needs analysis with a global outlook.
For our second meeting, entrepreneurs from across the world have expressed their desire to join the ecosystem of women entrepreneurs, which is considered one of the fastest growing business sectors in the world.
The melting-pot of cultures and talents means London remains highly cosmopolitan. It is accessible, diverse and one of the best business destinations in the world for technology, innovation and other entrepreneurs to start and grow their business, plus it is positioned as a globally strategic gateway.
Being listed among our sponsors, our strategic partners and/or our speakers, affords you and your company the opportunity to position itself as a leading brand with global potential to reach other parts of the world. This is where you will be able to solidify friendships, network and contract with like-minded women business leaders to transform ideas to action.
If your are a Global Woman Club member contact us for a discount code: info@globalwoman.co
With the changes in world and financial dynamics more than ever, small and medium-sized enterprises are increasingly feeling the need to access global opportunities to seek new outlets. To assist in future-proofing businesses WINTRADE is positioning itself as a global platform and partner of choice to support emerging entrepreneurs in accessing international markets, investors and partners to build their profile and credibility internationally.
London is and has been one of the most attractive destinations for trade, the convention's strategic partners' look forward to encouraging innovation, building wealth, finding contracts, accessing partners and supporting startups and ventures in their strategy to internationalizing their business visions.
To acknowledge and appreciate the important role partners play in promoting wealth and prosperity across the globe WINTRADE, in partnership with stakeholders, regional governments and government-institutions, Private Sector Institutions, NGOs and Startups will hold a series of networking, learning,and sharing events across the WINTRADE WEEK as follows:-
If your are a Global Woman Club member contact us for a discount code: info@globalwoman.co
If your are a Global Woman Club member contact us for a discount code: info@globalwoman.co
Dr Yvonne Thompson CBE FRSA President WINTRADE & WINAs  
Carmen Breeveld, President Women Entrepreneur Netherlands
Justina Mutale President Justina Mutale Foundation
Mirela Sula President Global Woman
Chantal Clairicia President D'Affairs Des Femmes Noir France 
Dr Bola Olabisi President GWIIN
Did you enjoy this article and find it helpful? Why not share it with your social media network below?
Global Woman magazine is a media platform to highlight success stories of women around the world and give them the space to express themselves. We have a team of professional journalists who conduct interviews and coordinate different articles with global experts in different areas and backgrounds. If you are interested to collaborate please click here to feel the form or email at hello@globalwomanclub.com
Global Woman Magazine
admin@globalwomanclub.com