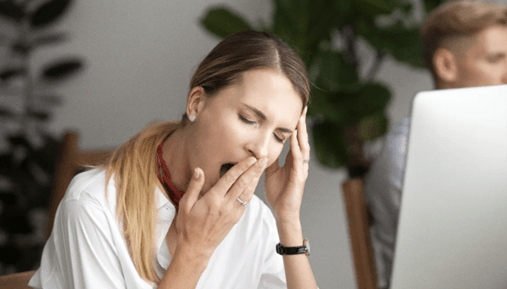 How Sleep Affects Work Productivity
Sleep is essential for maintaining good physical and mental health, as well as overall well-being. Getting enough quality sleep is important for our ability to function at our best, both in our personal lives and in the workplace. Here, Martin Seeley, Sleep Expert and CEO of Mattressnextday shares how a lack of sleep can affect us physically and mentally, and also shares tips on getting a better night's sleep.
How does poor sleep affect productivity?
Concentration and Focus: Lack of sleep can lead to difficulty concentrating and focusing, making it harder to stay on task and complete work efficiently. A good night's sleep can help improve cognitive function, attention span, and decision-making abilities.
Energy and Alertness: Without sufficient rest, workers may feel sluggish, fatigued, and lacking in energy. This can make it harder to perform tasks that require physical exertion or mental effort, leading to a decrease in productivity.
Memory and Learning: Sleep plays a critical role in consolidating memories and learning new information. Without adequate sleep, the brain may struggle to process and store new information, making it harder to learn and retain new skills.
Mood and Emotions: Lack of sleep can lead to irritability, mood swings, and decreased emotional regulation. This can impact communication with colleagues and decrease overall job satisfaction.
How can I get a better night's sleep?
Stick to a regular sleep schedule: Try to go to bed and wake up at the same time every day, even on weekends. This can help regulate your body's internal clock and improve the quality of your sleep.
Create a sleep-conducive environment: Your bedroom should be quiet, cool, and dark to promote restful sleep. Use blackout curtains, earplugs, or a white noise machine to block out any distractions.
Limit screen time before bed: The blue light emitted by electronic devices can interfere with your body's production of melatonin, a hormone that regulates sleep. Try to avoid using electronic devices for at least an hour before bed.
Establish a relaxing bedtime routine: Develop a relaxing routine before bed to help your body unwind and prepare for sleep. This could include taking a warm bath, reading a book, or practicing relaxation techniques such as meditation or deep breathing.
Avoid caffeine and alcohol: Stimulants like caffeine and alcohol can disrupt your sleep cycle and make it harder to fall asleep or stay asleep. Try to avoid consuming these substances in the hours leading up to bedtime.
Exercise regularly: Regular exercise can improve the quality of your sleep and reduce the amount of time it takes to fall asleep. Just make sure to avoid exercising too close to bedtime, as this can interfere with your ability to fall asleep.
By making these simple changes to your daily routine, you can improve the quality of your sleep and feel more rested and productive at work. Of course, your sleep quality also depends on the comfort of your mattress and bedding, making sure you are comfortable is the number one thing you can do for your sleep routine.
Did you enjoy this article and find it helpful? Why not share it with your social media network below?