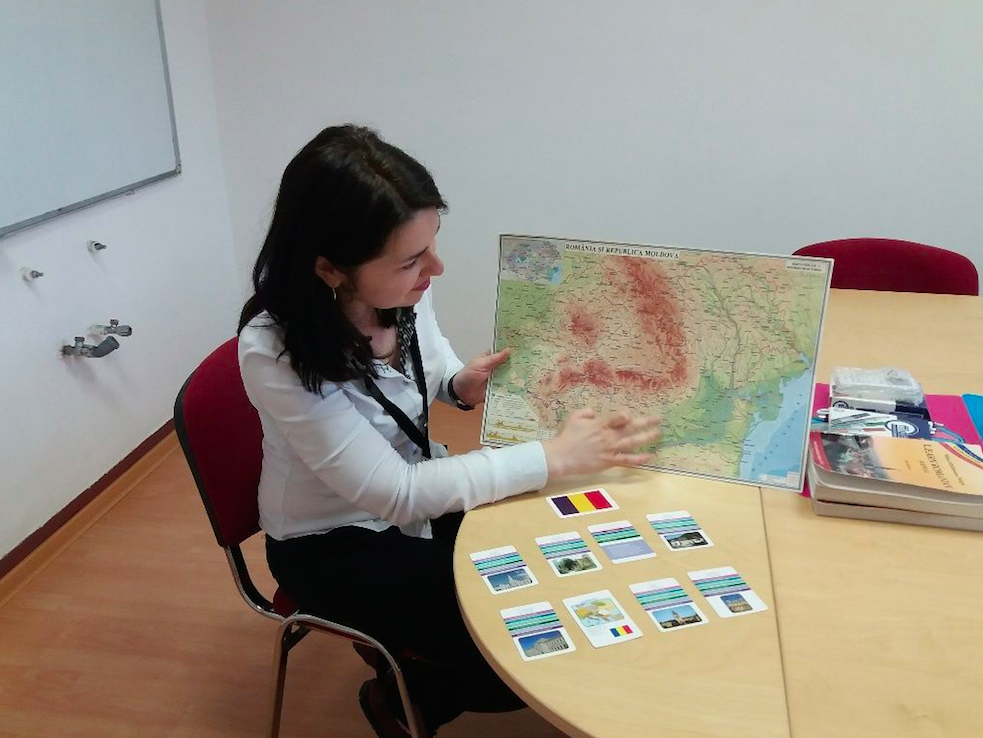 How I turned my passion into a real business
Dr. Mona Moldoveanu Pologea

How I turned my passion into a real business
                                                  By Randi Morse
Dr. Mona Moldoveanu Pologea has a PhD in linguistics and is the founder of ROLANG, a school in Bucharest that teaches Romanian as a foreign language and provides training courses to Romanian language teachers. ROLANG is an international award winning language school and a member of the European Language Council. Mona is the author of Romanian language textbooks 'Learn Romanian', 'Ghid de exprimare corectă în presă', and 'Romanian Verbs'. She also volunteers on a number of projects that promote entrepreneurship, including working with high school and university students to encourage entrepreneurial initiatives and producing and moderating the television show 'Cultural Entrepreneurship'.
How would you describe your upbringing?
I was a very studious student and I was very interested in foreign languages. I loved the Romanian language and I knew from the 5th grade that I [would] do the philology faculty because that was my passion.
[rml_read_more]
What led you to pursue a career in linguistics?
Coming from a small town [in] Romania [to] the capital, I was very motivated to learn as many things as possible. The doctoral internship in linguistics opened my perspectives in language teaching, developed my critical thinking, and taught me how to write a complex thesis, bringing original ideas. In parallel with the doctorate, I was a cultural manager and I taught the Romanian language to the foreign students at the University of Bucharest. During the Ph.D. thesis, I worked 12 hours a day for almost 5 years, but I liked everything I did and I learned a lot from every professional experience.
What inspired you to open a Romanian language school?
I was very passionate about teaching Romanian as a foreign language and I wrote the "Learn Romanian" textbook in 2006 (first edition). I was frustrated because the textbooks on the market didn't have enough materials and exercises, so I decided to write a better textbook. My dream was to found a Romanian language school for international students and this happened in 2009, when together with my husband, I founded ROLANG school. ROLANG stands for "ROmanian LANGuage" and specializes in teaching the Romanian language to foreigners.
You are the only private language school in Romania that specializes in teaching Romanian to foreigners. Why do you think no one else has done this?
For sure, many other freelancers do that, but they are not a school. A school involves a headquarters, business management, many classrooms, a reception, a secretary, a team of teachers, student management systems, textbooks, attractive course materials, a curriculum for each language level, language tests following rigorous standards, etc. We were able to bring these elements together and the success came very quickly. Many other schools in Romania teach various foreign languages, but none of them specializes in teaching Romanian as a second language. It is a niche that brings advantages and disadvantages at the same time: when you do only one thing, you do it better because you can focus on it; on the other hand, the market is limited. If someone is looking for a higher profit, then starting a business as we did is much harder, but the results pay off. A feature that sets us apart from other language schools is that ROLANG is the only school that prepares teachers in the specialty of teaching Romanian as a foreign language.
You started with two students and now have around 900. What do you most attribute your success to?
Many things have made us successful, and most students come from recommendations. They found at ROLANG school things they didn't find elsewhere: a pleasant and a relaxed atmosphere, very well-trained teachers who can answer any questions, the best textbooks on the market, bright classrooms, a lot of optimism, positive atmosphere, and the feeling that they are part of a family. We care about our students' progress and some of them have become Romanian translators, writers, teachers or Romanian citizens. Their positive feedback brought us three international awards: we won in 2017, 2018 and 2019 the "IStudy Global Award" for "Language school of the year", one of the most important international recognition for schools of foreign languages.
Where are your students typically from?
Most of them come from the United States of America and the European Union, but we also have students from Australia, Canada, Japan, China, Korea, Syria, Egypt, etc. We had students from all the countries and we delivered our manuals all over the world. Most of them are diplomats, managers, employees in multinational companies, or foreign students in Romania.
What is the first thing you teach your beginner Romanian language students?
We always start with the alphabet, groups of letters, and greetings. Then the lessons become more and more complex, all of them following the 4 aspects of learning: reading, writing, speaking, understanding. We work a lot with audio and video course materials.
Tell us about the 'Cultural Entrepreneurship' TV show you produced and moderated?
It was a show about cultural entrepreneurs and I invited them to bring their inspirational stories from theater, film, art, dance, [and] photography to the public. It's interesting to know people's stories because each one has an interesting and different story. I love theater, dance, culture, and cultural entrepreneurs have a lot of things to say because they create emotion. My work on this show was a small part of the volunteering activity I carry out every year.
We are in a challenging time globally right now due to coronavirus. How have you managed this?
All our courses are now successfully conducted in the online environment: the one-to-one courses, but also classes with more students continue to take place online. For 10 years we have been organizing online courses, it is nothing new to us, we are teaching with the same passion and our students are very happy. It's very important to understand that everybody should stay at home these days.
In your time as a Romanian language teacher, what is your favorite success story?
There are many people I admire and who inspire me: Brian Tracy, Lorand Soares Szasz, Tony Robins, etc. But the most touching story remains for me the story of a woman, the founder of Global Women, Mirela Sula, whom I met in Bucharest. She is my mentor and I admire her for all she has accomplished. I find myself in her story because she built everything from scratch.
Did you enjoy this article and find it helpful? Why not share it with your social media network below?