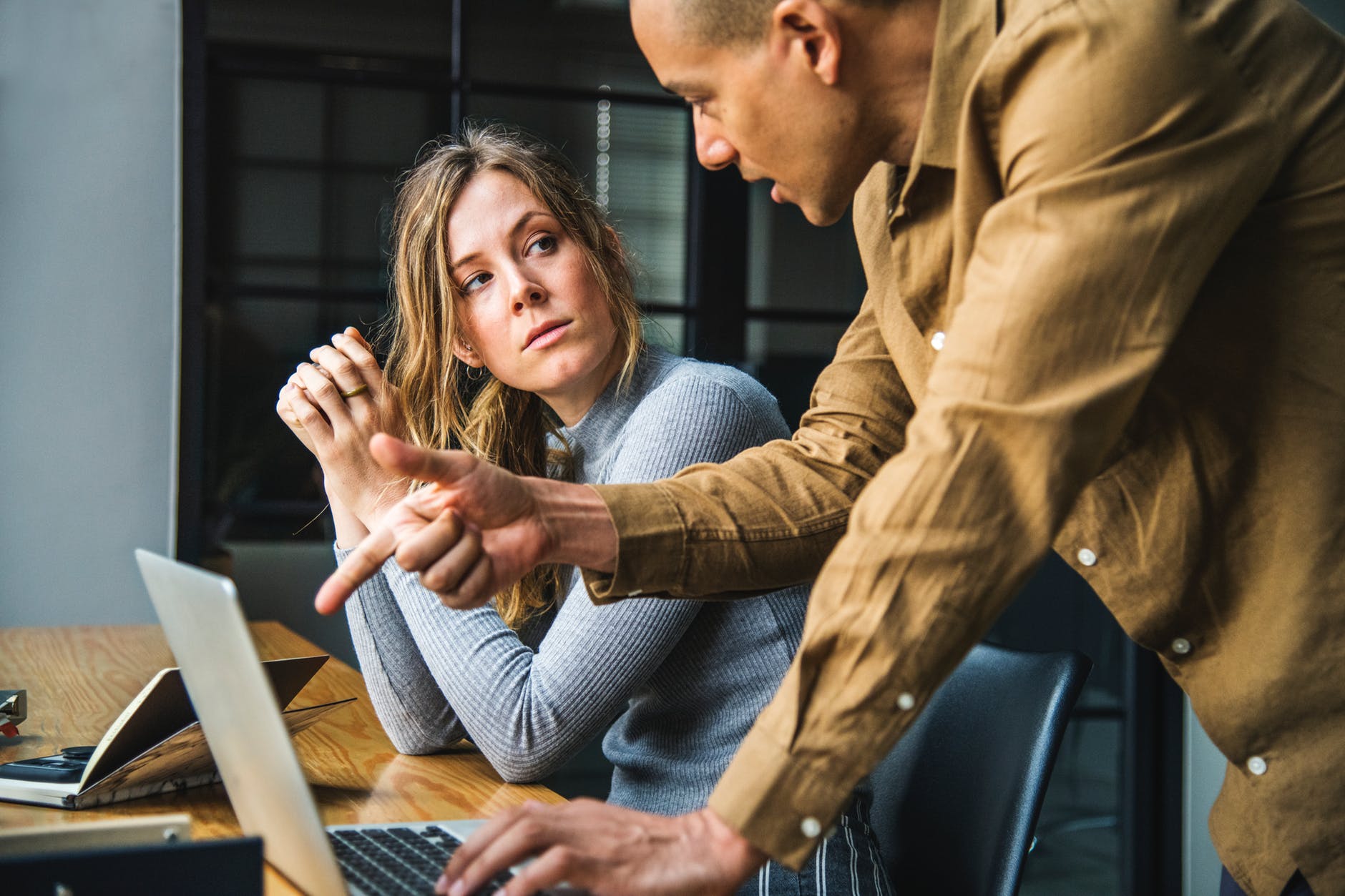 Here's How You Get Men to Sit Up and Listen When it Comes to Gender Inequality
Here's How You Get Men to Sit Up and

Listen When it Comes to Gender Inequality
By Jake Ward 
The Chartered Management Institute (CMI) was keen to celebrate International Women's Day in style so it brought in strategic communications consultancy, MHP Communications to help it come up with a disruptive twist. Having worked on a number of live video streams in the past with live streaming expert, Groovy Gecko, MHP thought bringing that disruptive twist into live video would be the perfect way to demonstrate gender equality in a meaningful way, and a great way for the CMI to have its first-ever foray into live video.  
Hosted by the CMI, the stream featured a panel debate on gender equality and a live Q&A session with viewers.
[rml_read_more]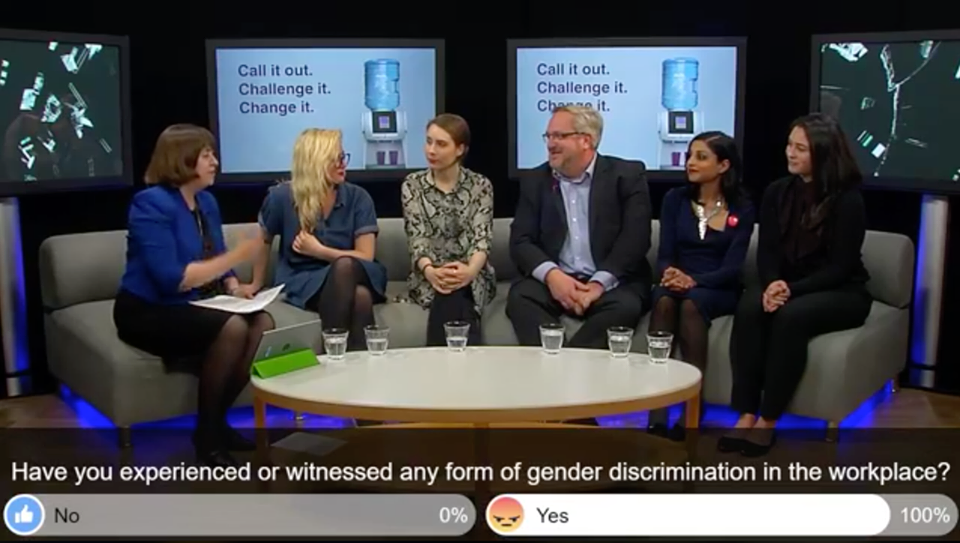 The Gender Equality Debate
The Chartered Management Institute (CMI) is the only chartered professional body dedicated to promoting the highest standards in management and leadership excellence. Providing thorough training programmes and qualifications, it aims to facilitate better led and managed organisations. The institute has been tracking the gender pay gap since 1970, a recent report into which revealed that a whopping 85% of women report experiencing discriminatory behaviour in the workplace.
To mark International Women's Day earlier this year, MHP, CMI's strategic communications consultancy, arranged a Facebook Live panel Q&A with several gender equality activists to launch the Broken Windows campaign, which aims to call out and fix gender discriminatory behaviour in the workplace. The panel was live streamed directly into Facebook by live streaming specialist, Groovy Gecko, a company with proven experience webcasting for some of the world's biggest brands.
After the #MeToo campaign kicked off late last year, followed by the row over the President's Club earlier in 2018, gender inequality has been forced into the spotlight, and rightly so. It's an issue faced by millions, possibly even billions of women around the world on a daily basis, reflected by an in-stream poll during the live event, using Groovy Gecko's polling tool, which asked viewers: "Have you experienced or witnessed any form of gender discrimination in the workplace?" Viewers were asked to 'react' using the Facebook buttons, with a 'Like' for no and an 'Angry' reaction to answer yes. Unsurprisingly, 100% of respondents reacted with a yes, saying they have witnessed or experienced gender discrimination in the workplace – a pretty alarming statistic! The results of the poll were displayed as an on-screen graphic in real time using Groovy Gecko's polling software.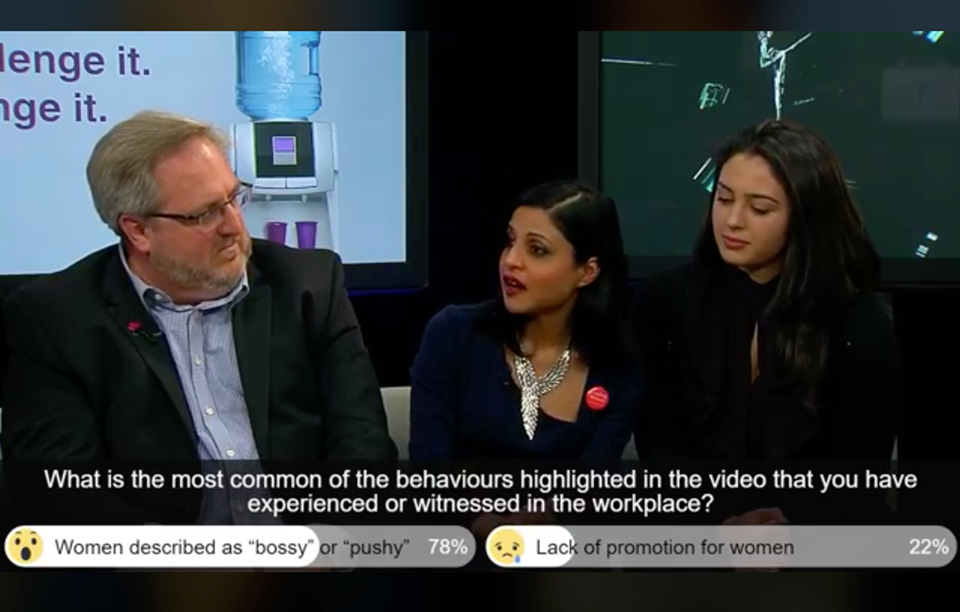 The live panel featured several influential names in the gender equality debate including Anna Whitehouse – founder of Mother Pukka: a platform that is fighting for the right to flexible working for all, Stevie Martin, writer & comic performer, Randall Peterson, trustee of the UK board of UN Women (the only global organisation dedicate solely to gender equality), Reetu Kansal, senior business analyst and CMI gender champion, and Haleema Baker-Mir, a Chartered Manager Degree Apprentice at Nestlé.
To kick off the event, Whitehouse discussed the frustration she felt when her employer refused her request for flexible working after the birth of her daughter, saying "I couldn't be there to smash those glass ceilings because my employer wouldn't let me." This is a recurring theme in the gender inequality conversation with
a 2016 survey by the Equality and Human Rights Commission (EHRC) finding that three-quarters of working mums have experienced bias as a result of having had children.
The panel leader then took some questions from the audience which were pre-moderated by the MHP and CMI teams using the Question Moderation System (QMS) from live streaming company, Groovy Gecko. This was important as it ensured any offensive comments could be removed before being fed to the host's tablet and put to the panellists. A member of the audience asked: "should we tackle flexibility in the workplace or the gender pay gap first?" After an interesting debate, the panel concluded that we should start by tackling small transgressions, before we look to solve the bigger problem.
It is actually the seemingly smaller, less inconsequential behaviour, such as being described as 'pushy', that are more prevalent in the workplace, according to business analyst Kansal. This was supported by another in-stream poll which asked "what is the most common of the behaviours highlighted in the video that you have experienced or witnessed in the workplace?" 78% of viewers used a "wow" reaction to say that being described as "bossy or pushy" was more common than a lack of promotion.
Initiating a Twist
We can't put men in women's shoes in real life, but with live video, it is possible to make them experience gender discrimination for a short while. So that's why at the 22nd minute of the stream, with 26.8% of the event left to go, male viewers were suddenly faced with a pixelated screen. It wasn't possible for viewers with their Facebook profile gender set to male to take part in polls, or ask questions either. So why was the 22nd minute chosen? Well, 26.8% is the current gender pay gap at management level, according to CMI's 'Mind the Gender Gap' report. The same report found that men are far more likely to be promoted than their female counterparts, who as a result, are also under-represented in senior positions.
The live event was managed and driven by creative agency, MHP, while the twist in the live stream was made possible by a bespoke tool from Groovy Gecko. The tool makes it possible for clients to create a secondary stream that can only be viewed by certain audiences using limited data from their profile, such as region, or in this case gender. Groovy Gecko was able to build the tool on top of the Facebook Live API thanks to its close relationship with Facebook as a Live Production Partner.
The desired effect of the live stream was to give male viewers a feeling of frustration by causing them to face unfair discrimination simply based on their gender. With over 8,800 viewers on the day it was first aired, reaching a massive 15,000 today, it was certainly an engaging way to launch the CMI campaign! The stream is still available to watch here.
Did you enjoy this article and find it helpful? Why not share it with your social media network below?