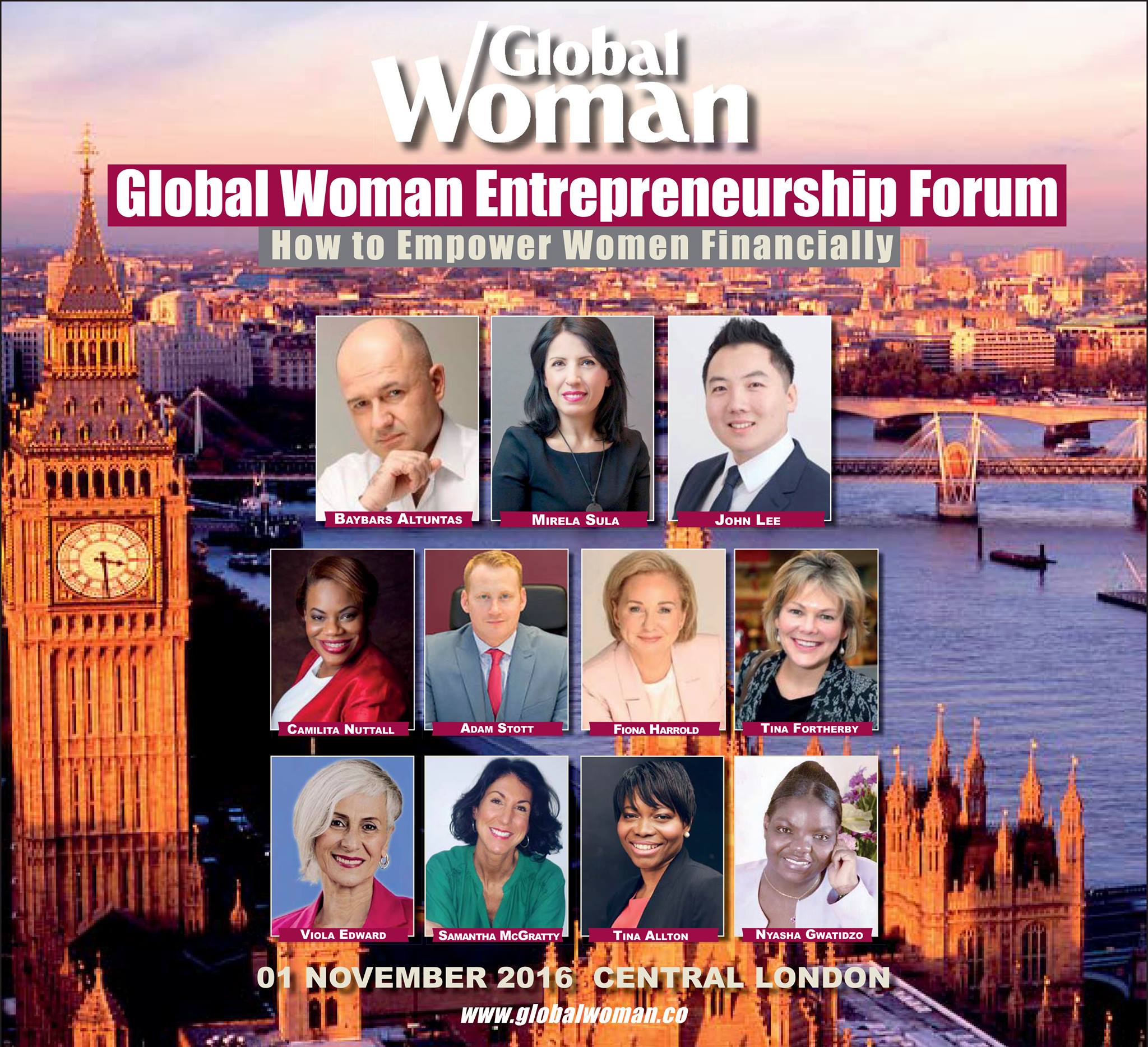 The Global Woman Entrepreneurship Forum
Following our successful Global Woman Summit in July 2016, Global Woman proudly presents:
The Global Woman Entrepreneurship Forum 

Tuesday – 01 November 2016

179-199 HOLLAND PARK AVENUE, LONDON, W11 4UL 
This Forum is designed to help women grow their confidence and empower themselves through gaining financial freedom. Our aim is to encourage women to come together and play a role in building and empowering their communities. Events like this help us to believe in feminine values that both women and men share, that we need to make this world more equitable, humane and sustainable. The event will bring together the most successful speakers and leaders who are redefining the pathways to power — in business, in communities and in the social causes they champion.
The Global Woman Entrepreneurship Forum aims to inspire, encourage and empower women financially from all types of backgrounds and ages, to take action and take charge of their lives. This event is designed to give you the tools and self-belief to empower you financially, as well as the courage to build or grow your own business. The speakers at this event are all entrepreneurs and leaders, who are passionate about their area of expertise and are happy to share quality tips and techniques for the growth and empowerment of the participants.
You will be empowered and motivated to accelerate your journey and transform your life.
At this Event you will learn and be inspired to:
Learn the exact steps you should follow after creating a brilliant business idea.
In this Forum our speakers will teach how you can fund your businesses even when you don't have any support from the family members, banks and public funds.

Our speakers will show you how you can convert idle capacity of third parties to Business and cash if you can execute the basic principles of innovative thinking.
This event will be compass guarantee to success in the entrepreneurial journey from start-up to scale up to exit.
You will come to the conference as women entrepreneurs with potential and will leave the room as innovative women entrepreneurs. 

Set achievable goals for generating income that will pay for your lifestyle desires, provide you financial freedom, and give something back to the world or your community for the greater good.

Be the CEO of your life: Put your plans into action to make it happen.

Use business to change lives for the better – have a mindset to profit with a purpose.

Understand the attributes of a financially successful entrepreneur with a sustainable business model.

Navigate your way through the challenges and pitfalls, and learn how to manage cash-flow.

Successfully acquire funding and ethically make full use of resources at little or no cost that has a mutual benefit.

Do you want to grow your business and connect with many investors?

Baybars Altuntas, the Turkish Dragon's Den is offering a WBAF Delegation Pass for one of the winners of the PITCH Competition. The businesswoman who will win will have the opportunity to meet with hundreds of global investors on the 13th and 14th of February 2017 at the World Business Angels Investment Forum.

Other Dragons who are our keynote speakers will also offer great prices for the other selected women. We have only 4 places available.
If you are interested you can send us an email at business@globalwoman.co

Meet our inspirational speakers, experts in many fields:
Mirela Sula – Founder of Global Woman 
Mirela Sula is an entrepreneur, author, international speaker, journalist, publisher, trainer and psychologist. She has worked in the media and publishing for the last 15 years. Her background takes in psychology and counselling and she is doing her PhD in psychology at Regents University London. Mirela is the Founder and Editor in chief of Global Woman magazine and the organiser of Global Woman Summit. She is also the creator of Migrant Woman Platform and the organiser of Migrant Woman Conference. She is author of several books and her latest best selling book 'Don't Let Your Mind Go' is published in America and Turkey. In 2014 Mirela was selected as one of 10 Women Entrepreneur Leaders for Women's Entrepreneurship Day by International Council For Small Business – ICSB, and in 2015 she received the "Inspiration Award for Women."
John Lee – Co-Founder of Wealth dragons
John Lee is the CEO and co-founder of Wealth Dragons. John started investing in property in his early 20s. By the time he was 27, John had achieved his goal of becoming a self-made millionaire. His experiences inspired him to share his knowledge with others and he was soon teaching seminars in property investment throughout the UK. He subsequently gained an international reputation as a motivational speaker and has shared stages with Bill Clinton, Alan Sugar, Richard Branson, Jack Welch (ex-CEO of GE) and Randi Zuckerberg (co-founder of Facebook).
John also trains people to become world-class public speakers. He has helped several of his students build highly successful businesses and achieve international acclaim. John's success came despite a humble start in life. He was born to Chinese parents who ran a takeaway restaurant in the north of England. All of John's achievements came as the result of endless hard work and unwavering tenacity. John is dedicated to showing others how they have the opportunity to do the same and is continually inspired by watching his students achieve the kind of success they thought they could only ever dream of.
Fiona Harrold – Business Mentor/best seller author 
Being seen as the Authority in your Field is the fast track to making your impact in the world. You'll have more influence, reach more people and have clients chasing you! Fiona Harrold, 'the UK's top Coach' Daily Mail, and author of Be Your Own Life Coach, built a 6x figure business, got publishing deals and a worldwide following from being seen as the Authority in her Field. She'll show you exactly what to do to make your impact and be the highest paid expert in your Field.
Fiona Harrold is the pioneer of coaching in Europe. Known as the 'Queen Bee of Coaching', she has brought coaching to the general public through television and radio appearances and columns in magazines and newspapers. She works with individuals and businesses to become the stars in their field and create a media profile. The Times call her 'one of the new gurus to get inside our minds.' Her books include the best-selling, Be Your Own Life Coach, The 10-Minute Life Coach, The 7 Rules of Success, Reinvent Yourself and Indestructible Self-Belief. She travels throughout Europe and the US working with businesses and entrepreneurs to catapult their profits through becoming the stars in their Fields.
Baybars Altuntas: PRESIDENT OF THE BUSINESS ANGELS ASSOCIATION OF TURKEY
Baybars Altuntas is a global entrepreneur, best-selling author, angel investor, columnist, star of the Turkish version of the television show Dragons' Den, President of the Business Angels Association of Turkey (TBAA), President of Deulcom International, Vice President of the European Trade Association for Business Angels, Seed Funds, and other Early Stage Market Players (EBAN), and the World Entrepreneurship Forum's Ambassador to Turkey and the South East Europe. He has been recognised by the European Trade Association of Business Angels (EBAN) and received the Best Individual in Europe Globally Engaging with the World Entrepreneurial Ecosystem award in both 2014 and 2015. He was the only entrepreneurship guru to be granted a special audience by US President Barack Obama at the White House during the Presidential Summit on Entrepreneurship in 2010.As a popular global speaker on entrepreneurship, innovation and angel investment, Mr Altuntas was invited by US President Obama to speak at the Global Entrepreneurship Summit in Kenya in 2015. In the same year he was recognised as Junior Chamber International (JCI) Ambassador, following Ban Ki-Moon, Secretary General of the United Nations.
Janey Lee Grace BBC Radio Presenter
Janey Lee Grace started her career as a backing singer for George Michael, Kim Wilde and Boy George, touring the world with Wham!  Her own chart success came in the summer of 1991 with the band Cola Boy  with "7 Ways to Love.
Janey is known to 8 million people on BBC Radio 2  on Steve Wright in the Afternoon but she is also known as 'Queen of Natural and organic living.  She has written 5 books including the Number One Amazon best seller Imperfectly Natural Woman and is now a Hay House author with 'Look Great Naturally without ditching the lipstick'.  Janey was been voted Number One in Who's Who in the Natural Beauty Yearbook for three consecutive years and runs the recommendations website Impefectlynatural.com  She is a brand ambassador for heart centred business owners experts and authors who want to make a difference as she is passionate about sharing her knowledge of the media and her experiences in conscious living with others who want to share their message with a wider audience.  She offers media training, public speaking and Breakthrough clarity sessions and to support this her book is You are the Brand
Rafael dos Santos – Serial entrepreneur/ Founder of Mi-Hub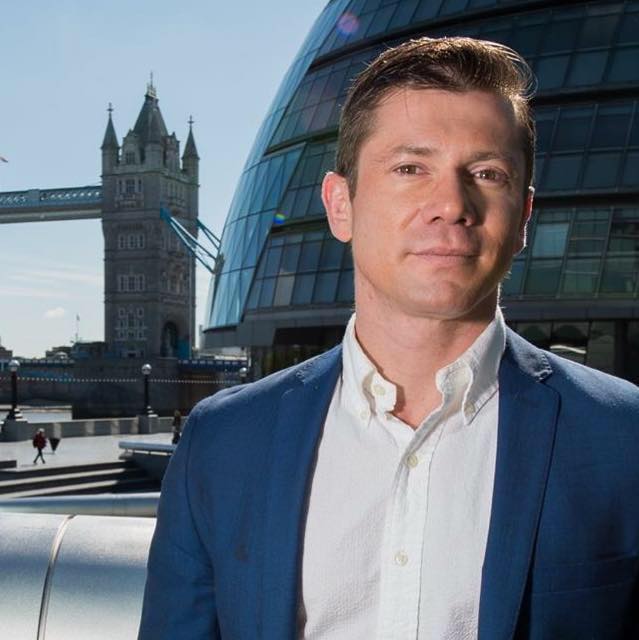 Rafael dos Santos is Brazilian by birth and British by choice on his own words. He stared his entrepreneurial career in the residential property business in 2003, letting and managing rooms in flatshares. During 12 years he grew his portfolio of managed properties to 50 and employed up to 15 members of staff. He successfully sold the business in 2014, the same year he launched his book 'Moving Abroad, One Step At A Time'. Rafael has won 6 awards including the prestigious Sunday Times 'Top 100 Most Inspiring Entrepreneurs in the UK', awarded by Maserati and Centre for Entrepreneurs. His passion is to help migrant entrepreneurs succeed in business. In September 2016 Rafael launched at the Houses of Parliament the report 'Migrant Entrepreneurs – the benefits to Britain', commissioned by the Institute of Directors. Recently Rafael successfully raised over £100k to launch a co-working space to help migrant entrepreneurs start and grow their businesses. Mi-HUB is located in East London and offers office space, training rooms and event space for over 100 British and migrant entrepreneurs. Rafael is now completing his MBA at Henley Business School – University of Reading.
Camilita Nuttall: FOUNDER OF THE EVENTS OF CHAMPIONS
Described as a 'Rock Star' International Speaker, Camilita Nuttall is a Master Motivator, 7 Times Award Winning Corporate Sales Trainer, Executive Business Mentor, Entrepreneur & Real Estate Investor. Camilita, through her various seminars teaches and empowers others to 'Fight for their Future AND WIN'. Known as an inspiration, Camilita's straight talking, bold, highly infectious personality, that brims with passion, has motivated thousands across the world over the last 12 years. Her think-big, no-nonsense approach, coupled with warmth and humour, will leave you challenged and transformed, ready to achieve extraordinary things. Camilita has empowered her audiences, from Birmingham City University Business School, BBC WM and Wales UK's largest Business Show – Introbiz. Camilita has appeared in Celebrate Business Magazines in the USA & Europe and Global Woman Magazine January 2016 edition. Camilita has also appeared on Guardian Radio in the Bahamas, interviewed on Bahamas National TV – ZNS and is currently on the Council of Reference for Premier Radio in the UK. Camilita left Trinidad for the UK penniless but after 4 years had a net worth of over £1Million in Property. She has been a top sales person in a Network Marketing company for not only 1, but 7 consecutive years in Europe.
Adam Stott: FOUNDER of "Big Cars", Visionary Entrepreneur
Adam Stott is a man on a mission and clearly knows where he is going and why. Everything this young gentleman does reflects that sentiment. He has mapped out his path early on and taken the necessary steps to reach the goals that he has set for himself. His can do attitude and why not thinking has laid the path for each step in his journey and no doubt will continue to do so. This journey has taken him from humble beginnings to the visionary entrepreneur, international speaker, innovator and philanthropist that he is today.
Having to make life changing choices as early as age 15, Adam took this in his stride and made the difficult decisions of doing whatever it took to survive and to better himself. Notwithstanding the terrible jobs he accepted or his living standards at that stage – he used this to drive himself to learn as much as he could in his chosen field and come out on top. Step-by-step he progressed up the ladder and made sure he cemented his position, always standing out and standing strong, so that at age 25, he quit his well paying job to start his own business and within 8 years built it up from zero to 40 million £ in Turnover and employing 65 staff members.
TINA Allton:  FOUNDER OF Shift challenge
Tina Allton is a world leading relationship expert renowned for teaching you how to know your worth! She's been published as one of the 100 most inspiring women in the world., she's an entrepreneur, mentor and an international speaker. Tina along with her husband has created UK's #1 multi award winning private podiatry brand, as well as the award winning global not for profit organisation called Undefeeted, which focuses on preventing avoidable diabetes related lower limb amputations. As one of the world's leading relationship expert, Tina has spoken on the same stages as Al-Pacino, Sylvester Stallone, Jermain Jackson, Jay Abrahams, Lady Michelle Mone to mention but a few. As a young girl growing up, she was always told she was never good enough and was made to feel worthless.
Tina was set up to fail in life, however, at age 12, Tina decided that failure was not an option if she was to succeed, and aspire to a better life. Through her past, she studied hard, transforming her life, and has a unique ability to transform the lives of those in bad relationships to know their worth, as a result, she has developed a series of seminars and training programs called you've got worth. Tina works with organisations helping them to know how to forge stronger inter relationships within any business to foster faster business growth, she also works with couples and teaches you how to discover your true worth, how to support each other's dreams and aspirations without losing your worth, and particularly with women, on how to know your worth, how to change your belief and start believing in yourself and fight for your future. Tina has just launched her new mentoring programme "Shift Challenge". If you need Tina to help you unmask, rebuild and fight for your future by discovering your true worth, visit www.tinaallton.com
Leon Streete – Founder of Business Owner Elevation
Leon Streete is The "Lead Generation Expert" and Founder of Business Owner Elevation, which has been created to assist Businesses Owners with Online Marketing and Sales Funnels, which is where Leon's passion lies. The company name is represents the goal of fresh and provenstrategies to help you grow online, whilst mixing in his 20 years of marketing experience. Leon is also the co-host of Award winning Small Business Elevation Podcast, which in 2015 won the Coveted "Best UK Business Podcast Award" and continues to inspire and teach others. He regularly speaks on stage and in workshops covering Lead Generation and what he will speak about today "How to get your marketing to pay for itself". With his purpose at the core to his philosophy – "Together We Rise". Ladies and Gentlemen please put your hands together for Leon Streete.
Sam McGratty: Empowering Women – Our Tribe Community – Mentor & Coach – Motivational Speaker
Sam McGratty will tell you it's taken her whole life to get here! Through the massive transformation she has gone through she uses her wealth of skills and personal experiences to share with others wanting to make the rest of their lives the most happy, abundant, authentic and better beyond any expectations. Sam is unapologetically real and comes from the heart as her most authentic self. She is a highly regarded coach and mentor, charity fundraiser, and recently founder of Empowering Women -Our Tribe Global Community. Sam has been a millionairess in her own right, a successful entrepreneur and property developer. She speaks of 'the shift', the moment everything changed. No longer driven by money and status she went from riches closer to rags and never felt so wealthy! She now empowers others to be driven by their passion and their life purpose, helping to peel off the layers of ego, limited beliefs and patterns that do not serve their future self. She explains the secret is to focus on what makes our hearts sing and being in a constant state of gratitude and happiness. She tells them by doing this watch their bank balance bulge!  Although Sam works closely with both men and women early this year she founded her group 'Our Tribe', now with over 1,000 women being a part of this global community and continually growing. She says "We as women are powerful already, imagine what we can do as part of a global tribe".

Her Mission is: "To create a worldwide support network to inspire and empower men and women to achieve their dreams and ambitions beyond their wildest expectations. Illuminating their pathways and causing a massive ripple effect of love, positivity, happiness, peace and gratitude everywhere resulting in each and every one of us being the change we want to see in the world".

Nyasha Gwatidzo – Social Entrepreneur 
Nyasha Gwatidzo was born in Zimbabwe and gained a degree in Chemistry from London University. She then went on to retrain at Reading University and gained an MA, to work with adults and children with emotional issues. She is a qualified psychotherapist, social worker, coach and mentor. She is a serial social entrepreneur, working with disadvantaged people in the UK and Africa. She runs a multimillion pound social enterprise Banya, which finds foster families for children in the care of local authorities. She founded a charity in the UK, Vana Trust which raises funds for children affected by HIV and AIDS in Zimbabwe, supporting their education. The Trust also supports adults and young people here in the UK who have learning and emotional difficulties, through her therapeutic organic farm in Buckinghamshire. Nyasha wrote a book in 2015 "Walk With Me through 16 Inspirational Business and Life Tips" and is following that up with a 300 mile walk across Zimbabwe in July 2016.
Her vision for the future is to forge global connections with women in the developing world who inspire her everyday. She would like them to reach economic independence through enterprise and she currently mentors women starting up in business. Her current project is World Impact Capital(WIC) which is a 100 million pounds social impact investment fund for African women entrepreneurs/leaders. This fund will fund their enterprises to grow their businesses as well as hands on business support. Nyasha has won a variety of business and community awards. She lives in Buckinghamshire with her husband and has three adult children. She has one grandson
Viola Edward: Author, Psychotherapist & Relationship Coach, Management Consultant & Breathwork Trainer
Viola Edward is the creator of Feminine Capital Rhythm. She is a Venezuelan with Middle-Eastern origins, now living in Cyprus.  Author, Holistic Psychotherapist, Mentor, Image & Colour Consultant, International Lecturer and Breathwork Trainer and Creator of the Feminine Capital Rhythm. Viola founded her first holistic business in 1993 after working in Corporate for 18  years. Her book "Breathing the Rhythm of Success" was published in Spanish (1999), English (2001) and in Turkish (2006). Intuition, knowledge and personal experience in multicultural environments, together with an earthy practical female energy are some of the skills she will employ to work with you in one or more of her many specialist fields. Sessions and lectures can be given in English, Spanish or Arabic, in person and online. "After 23 years, I am still passionate to continue working with the Psychology of Freedom in the empowerment of women and men with the Feminine Capital Rhythm, for women we work to break free from remaining compromises. With Men, we work towards a full acceptance of their uniqueness without competing". 
Did you enjoy this article and find it helpful? Why not share it with your social media network below?