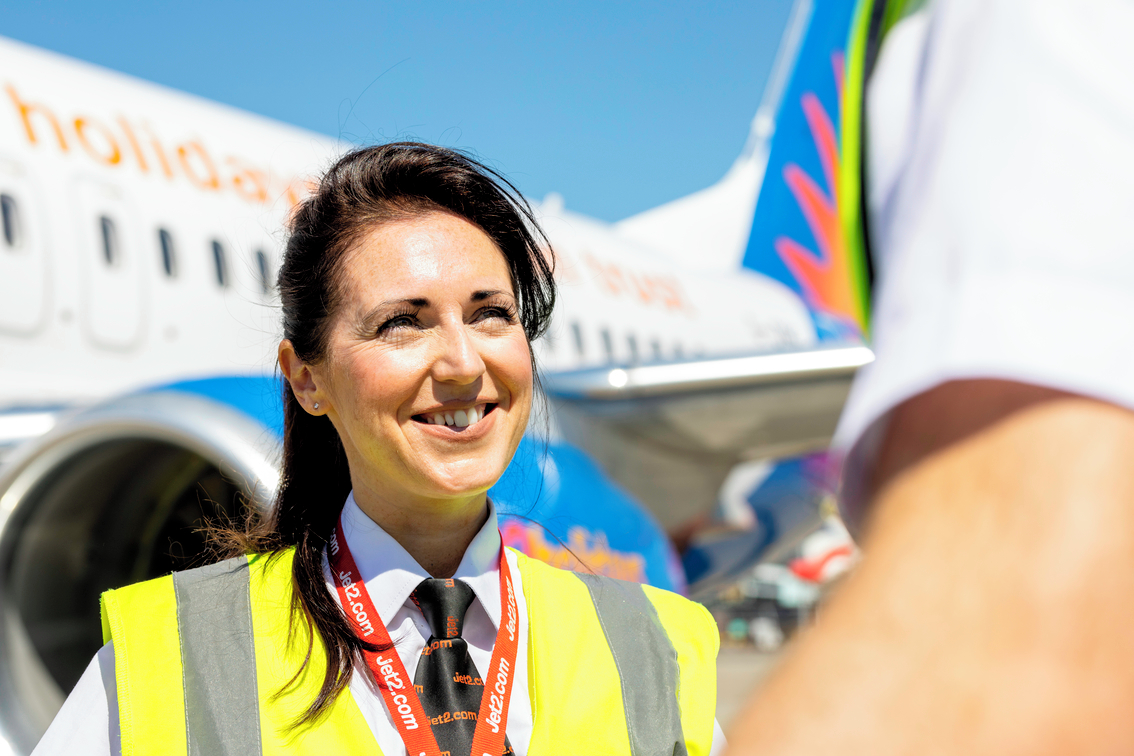 From fashion school to flying celebrities: Jacqueline's journey to becoming a Pilot
From fashion school to flying celebrities
Jacqueline's journey to becoming a Pilot
From catwalks to cockpits, self-confessed "girly-girl", Jacqueline Traynor, is a 41-year-old female Pilot who decided she wanted to fly planes from aged 18. She's gone from studying fashion to Cabin Crew to commercial airline Pilot in an inspired career change. Come and see why she's encouraging other ladies to take to the skies…
Jet-setting Jacqueline
Since sitting in the cockpit for the first time, Jacqueline Traynor knew her Cabin Crew job was only the beginning. Although nobody in her family trained in aviation, she thinks she might get her passion for planes from her grandpa, who was an avid RAF enthusiast.
Now the Captain of a Boeing 737-800 and CRMt (Crew Resource Management trainer) for Jet2.com & Jet2holidays, Jacqueline's career has taken quite a diversion after studying fashion, making clothes, holding fashion shows and mingling with friends who've gone on to work for Armani! It's taken off to the point of her enjoying a glamourous, globetrotting lifestyle. She's flown celebs around the world, visited lavish hotels and had 76-tonne aircrafts in her control.
[rml_read_more]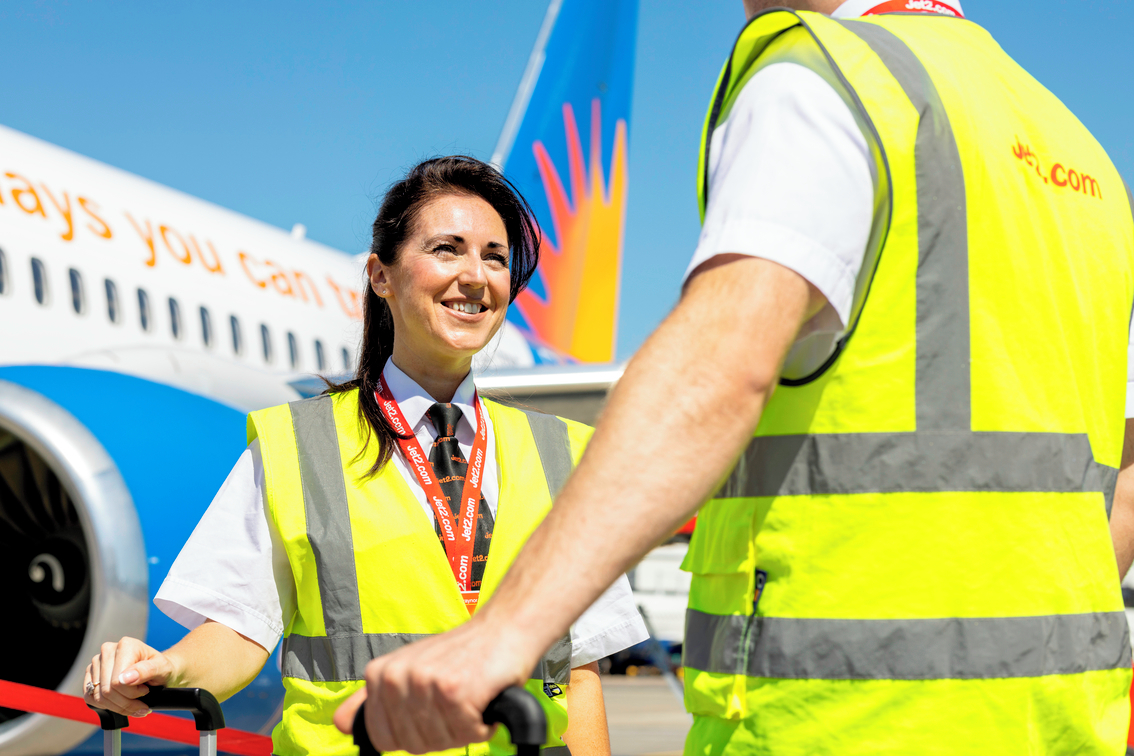 The highlights
After training as a commercial airline Pilot and being at the helm of the Capital FM 'Flying Eye' – a traffic-spotting and reporting service – Jacqueline spilled the beans about the next job she got flying Cessna Citation business jets. "It was great – it taught me a lot and I got to meet and fly some amazing people, mostly celebrities like actors, popstars, politicians, ambassadors and (even) royal families".
The clients' calibre meant it was a tailored, VIP service, and Jacqueline would meet and greet the passengers. Crazily enough, Jacqueline recalled that, "One day, my only passenger was a miniature poodle being flown to Paris to meet his owner (with his own Louis Vuitton bed and blanket, no less!)" – pretty extra, right?
There was also a lot to arrange – "we had to make sure the best Michelin star chefs could prepare canapés". She also mentioned that "one passenger wouldn't get on the aircraft until (Jacqueline) got her some hot chocolate from Harrods!"
Jacqueline went on to say she was "lucky to travel to various fabulous parts of the world essentially for free", stay in "wonderful hotels" and top up her tan during downtime in sun-kissed climates. Sounds dreamy!
She also noted that flying her parents on a sightseeing tour of London for the first time was a memorable occasion. Since then, it's been hard to pinpoint her favourite flight. "(When it's to) somewhere warm and sunny, the smiles and excitement on our passengers' faces is invaluable." If that's not job satisfaction, what is?
Later, applying to Jet2.com was a bit of a culture shift for Jacqueline. "The rosters (were) more stable" and she could go home every night, rather than living out of a suitcase. She was also able to start flying a larger aircraft, which was a long-term goal of hers.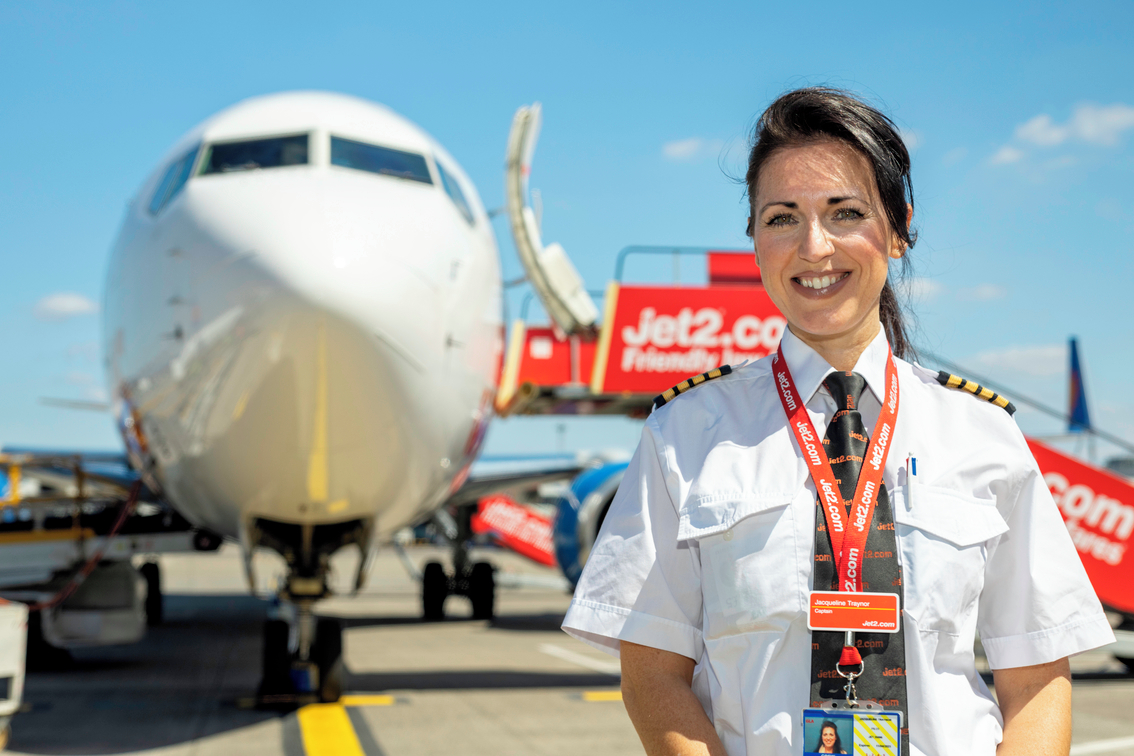 With flying colours…
Civil Aviation Authority (CAA) data outlines that 4.77% of airline Pilots are women*. But why? Does the education system need to play its part and encourage its careers departments to promote piloting to girls? Jacqueline feels strongly that it's something more and more women should apply for – not least because few ladies choose it as a career.
A lot of hard work, motivation and dedication is required, on top of various licences, exams and practical experience. Behind the allure of flying an aircraft, there's masses of training that continues throughout a Pilot's career. Jacqueline also packs "an overnight kit" for all her flights, "just in case the unexpected (happens)". But at the end of the day, it's the "buzz (and) thrill of doing something that not many people do – it's amazing."
If Jacqueline's jet-setting story has inspired you, why not head to Jet2careers for more information about their Pilot Apprentice scheme?
Did you enjoy this article and find it helpful? Why not share it with your social media network below?