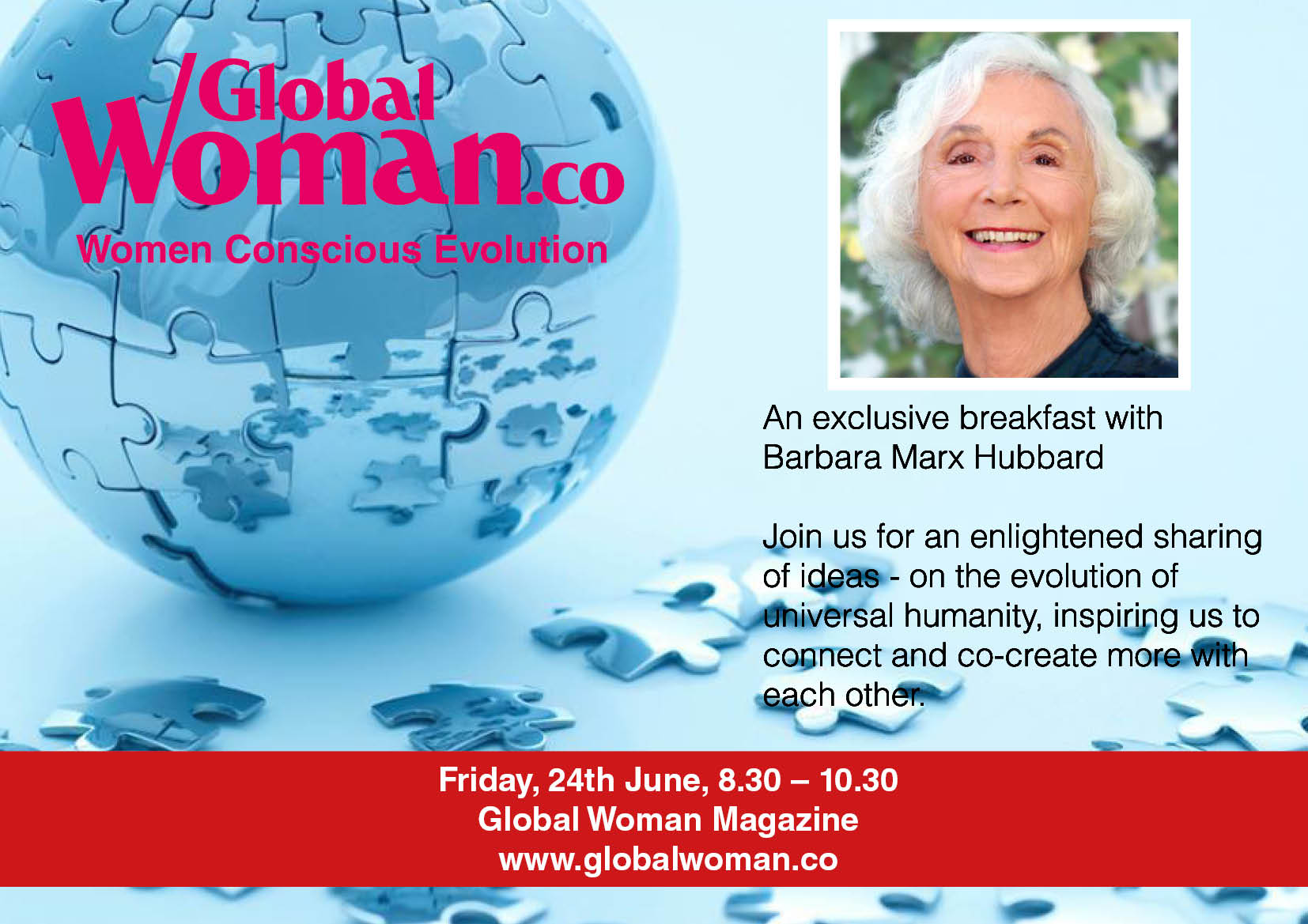 An exclusive breakfast soirée with legendary Barbara Marx Hubbard
Global Woman Club invites you to attend very exclusive meeting with renowned evolutionary and highly sought after speaker – Barbara Marx Hubbard. 
This is the age of awakening for humanity and Barbara will share her illuminated insights, from a lifetime of conscious thinking and work.
Be part of this intimate conversation with Barbara, to enhance your own journey as an evolutionary woman. Barbara is here in the UK till 25th June, and has kindly graced us with this special time, in her hectic schedule.
Friday, 24th June – 8.30 – 10.30
Global Woman Magazine – Total Object, 115 Houndsditch London EC3A 7BT
Tickets will go very fast fast, so please book quickly.
Barbara's Brief biography
Barbara Marx Hubbard has been called "the voice for conscious evolution…" by Deepak Chopra. She is the subject of Neale Donald Walsch's book The Mother of Invention. And many would agree she is the global ambassador for conscious change.
At her heart, Barbara Marx Hubbard is a visionary, a social innovator. She is an evolutionary thinker who believes that global change happens when we work collectively and selflessly for the greater good. She realizes that the lessons of evolution teach us that problems are evolutionary drivers, and crises precede transformation, giving a new way of seeing and responding to our global situation.
As a prolific author and educator, Barbara has written seven books on social and planetary evolution.  She has produced, hosted, and contributed to countless documentaries seen by millions of people around the world.  In conjunction with the Shift Network, Barbara co-produced the worldwide "Birth 2012" multi-media event that was seen as a historic turning point in exposing the social, spiritual, scientific, and technological potential in humanity.
Barbara Marx Hubbard is not an idealist, nor does she believe that social and planetary change is simple.  But she does believe that humanity has the tools, fortitude, and resolve to take the leap towards conscious evolution.Her books include: The Hunger of Eve: One Woman's Odyssey toward the Future; The Evolutionary Journey: Your Guide to a Positive Future; Revelation: Our Crisis is a Birth –An Evolutionary Interpretation of the New Testament; Conscious Evolution: Awakening the Power of our Social Potential; Emergence: The Shift from Ego to Essence; 52 Codes for Conscious Self Evolution and Birth 2012 and Beyond: Humanity's Great Shift to the Age of Conscious Evolution.
Did you enjoy this article and find it helpful? Why not share it with your social media network below?