Elisa Cipro: My Story of Perseverance and Triumph—A Journey as an Immigrant Female Singer in London
---
Elisa Cipro's journey as an immigrant female singer in London has been nothing short of extraordinary. After moving to London in 2015, she struggled to find her place in the competitive music scene until she decided to form her own band, Italian Radio Society. In this interview, Elisa shares her experiences as an artist and a person, how living in London has influenced her music, and how she uses her platform to support causes such as climate change awareness and minorities in London. Elisa also reflects on her band's evolution since its inception and their plans for the future. Join us as we explore the unique perspective and voice of one of London's rising stars.
"I believe that as an artist or person of influence, we have a duty to reflect the times, share our vision of the world, and have the courage to speak out about social issues, regardless of the size of our audience."

—Elisa Cipro
What inspired you to move to London and form a band? Can you tell me more about the process of putting a band together?
In 2015, I had just finished my studies in Rome and I needed a break, so I came to visit a friend in London. I was supposed to stay for a couple of weeks, but I was offered a singing job, so I decided to stay. My English was limited, but people were welcoming and sweet. This was way before Brexit and things like this could just happen.
Since then, I worked as a solo artist for seven years and tried to join a band, but it was hard. The London music scene is seriously competitive, and because I wasn't born here, I didn't have the connections. Moving to a new Country by yourself means facing everything alone. I felt discouraged for a while until I said to myself that if I was unable to join a band, I would put my own band together. I was looking for genuine Italian musicians who knew Renato Carosone by heart, shared a passion for vintage Italian music, and embodied the style, but I couldn't find anyone for two years.
I met Jack in 2022 because I needed a sound engineer for a gig. I was also looking for a guitarist for another gig but at that time I only knew him as a sound design professor. So I asked him if he knew a guitarist, and that is when he said he was the guitar player I was looking for. We played a set together at the Hard Rock Café in Marble Arch with no rehearsals whatsoever, and we smashed it.
Paolo, Lorenzo, and Jorma joined the band in a couple of weeks. So I guess I just needed to believe in the process and not give up.
What does it mean for you to be able to use your platform to support causes such as climate change awareness and minorities in London?
As an emerging artist, it can be difficult to support causes unrelated to your music since you may worry about losing part of your audience. Therefore, some conversations are avoided. However, I believe that as an artist or person of influence, we have a duty to reflect the times, share our vision of the world, and have the courage to speak out about social issues, regardless of the size of our audience. It is crucial for me to address these topics, and I take pride in living my life in opposition to any form of discrimination and never justifying it. Climate change is another issue that is important to me. I have occasionally performed at 'Extinction Rebellion' protests in London, but I also take sustainable actions every day. When possible, I prefer using public transport instead of driving or taking a cab, and I always try to consider my impact on the planet.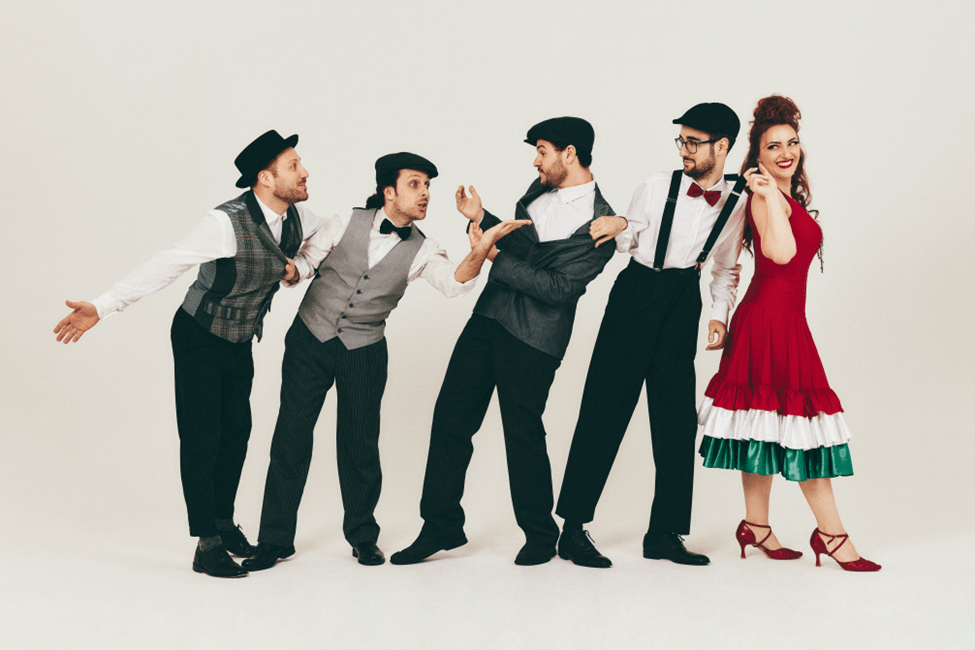 How did the Italian guitarist Jack Hakim contribute to the sound of the band?
I owe Jack everything, I am able to say we have a band today because of him. He believed in me straight away and in a week's time he introduced me to Paolo (drums) and Lorenzo (piano and MD). Everyone in the band is somehow from Napoli or has connections with the city and all of them contribute to the Southern Italian vibe but Jack is also a sound designer / engineer so his extensive technical knowledge in digital music and Logic Pro as well really allow us to be complete and self-sufficient. We will probably be able to record and finish an EP without the help of anyone in the studio, just us. His contribution is invaluable.
What strategies are you using to promote your music online and build an engaged fan base?
We have just started this journey with the band but we are excited to explore new ways to promote our music and engage with our fans. We would like to be a musical collective not just a band and to collaborate with other artists and musicians and create unique products with them. This will not only help us to reach a wider audience but also provide a platform for other artists to showcase their work. Additionally, we plan to leverage social media platforms such as Instagram, Facebook and Tik Tok to create a strong online presence and engage with our fans in an entertaining way. We don't want to be too serious, let's say! It's going to be a whole lot of fun. We will regularly post updates about our upcoming gigs, music releases, and behind-the-scenes glimpses. We really look forward to performing live so we will try to book as many gigs as possible and connect and expand our fan base also in a traditional way. We are eager to see where this journey takes us and are committed to putting in the hard work to succeed as a musical collective. If you are a musician and would like to collaborate with us please don't hesitate to reach out to us.
How has your identity as an immigrant female singer influenced you as an artist? How has your experience of living in London influenced your music?
Moving to London has really impacted my identity as a person and as an artist. The struggle to find my place in a new Country and a new culture has given me a unique perspective that I certainly transfer to music. The diversity of people and cultures that you find in London you will not be able to find it elsewhere. I have been able to collaborate with musicians from all over the world, and this has opened up my mind and has exposed me to new ideas, sounds, and styles of music. London has allowed me to connect with people from different backgrounds and cultures, which has broadened my understanding of the world and influenced my music taste.
London has also changed the way I use words. I have become more conscious of the importance of inclusivity, and this has influenced lyrics and messages that I want to convey through music. London has taught me that we are all connected, and it is through our diversity that we can find unity.
So, while Italian Radio Society is a way for me to reclaim my identity and represent my motherland, my experiences as an immigrant and my time in London have shaped me as an artist and a person and have given me a unique voice that I bring to my music today.
What message do you want your music and social media platforms to convey?
I want to teleport people to a glamorous holiday in Capri in the 50s. I want them to have fun, dance and feel entertained but I also want people to gain a deeper understanding of the concept of 'dolce far niente' and 'la dolce vita'. These are central to the Italian culture and way of life. 'Dolce far niente' literally means 'the sweetness of doing nothing'. Some superficial and biased people may interpret and assume that Italians are lazy and to do nothing is a waste of time. The truth is that as people we appreciate simple things like sitting at a table with friends and family and laughing and talking about feelings and the sense of life while tasting good food and wine. Is this actually a waste of time? For me it's good energy for your soul. I think a lot of people in London who are self focused and live a fast-paced life forget about these things. Don't get me wrong, we love money and expensive things too, but we also try to balance and live a sustainable way of life.
So while our music is certainly about having fun and enjoying life, it is also about sharing our vision of the world.
How has the band evolved since its inception, and what do you see for its future?
When we started we had Costa Tancredi playing bass/double bass but unfortunately he had to take a break for personal reasons and had to leave the band for now (we hope that maybe one day he will join us again). This is when we involved Jorma. Both Jorma and Jack are guitar players who also play bass, so up to this day we still don't have an official bass player but it's really funny to see how Jack and Jorma just swap instruments on stage. We get along really well you know, some days when nothing happens I just receive calls from the boys saying they miss me. We are a really cute band, and we treat each other as equals.
Looking to the future, we are excited about the possibilities that lie ahead. We want to continue pushing ourselves creatively. We would like to collaborate with DJs and producers and maybe sample our vintage sounds, with the aim of reaching younger audiences and introducing them to our music.
We also plan to perform live more, both nationally and internationally, we want to share our music with as many people as possible.
We are excited about the future.
What is your strategy for achieving your goals in the past five years, and how will you apply it in the next five?
My strategy was very simple: I focused on small steps at the time, I worked hard, and I persevered even when I had nobody believing in me or things weren't going as planned.
In this type of journey sometimes you must be willing to give up something and, without going into details, I certainly sacrificed a lot of my personal life and affections. I never sacrificed my integrity though because it doesn't pay off in the long run.
Also, I think I must thank one of my singing coaches, Cheryl Porter. I remember she gave me an articulated list of questions that she used to ask herself which included what I wanted in life, what I needed to achieve my goals and how long I needed to achieve them.
I put everything down in words and updated it every now and then in the past five years.
It worked. It is important to have a structure and have an entrepreneurial approach as well.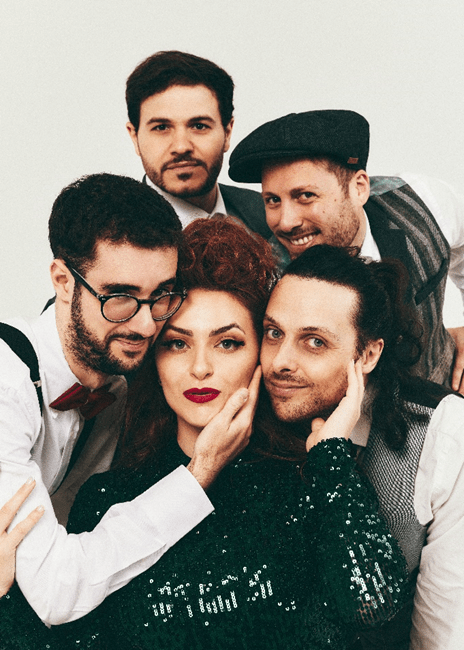 Did you enjoy this article and find it helpful? Why not share it with your social media network below?