Claire Chen: Golden tips on how to make a woman look beautiful and full of self-confidence
Claire is one of those women who has dedicated her entire career to female beauty. Today, with considerable experience, she knows that the most important thing for a woman is to feel comfortable, beautiful and safe even if she does not follow the latest fashion trends. In this interview she tells us how she had to establish herself in this industry after some initial uncertainties about her work. Today, Claire helps women to feel more beautiful and enjoy higher self-confidence but always remembering the values they bring as a woman.

As an image consultant, how much should we take care of our personal image?

I believe it is very important to take care of your personal image which is all about self-care. It can work for anyone who is willing to put in the effort and the time every day into the way they look and the way they carry themself. Your personal style and presence is part of who you are and it is also your identity. It reflects your personality, values, attitudes and your goals. Your image is a visual impression of how people will remember who you are. You are, in effect, your own personal brand which should be designed to enable you to increase your confidence and support you in achieving your goals.

When did you realise that the desire for beauty was more than a passion?

I would say everything started back in 2019. Prior to that I was working for a fashion clothing company in Montreal until the company went through structural changes and I was let go. That gave me time to do some self-reflection and I started asking myself if working for a corporate environment and chasing a fancy title was still something that drove me. In reality, I didn't have much time to investigate my feelings because shortly after I found another job. Once again I began to put all my time and effort into my work and unfortunately I ignored my own wellbeing. That resulted in my physical and mental health suffering significantly. In addition, my husband's career meant he was away travelling a lot of the time. I started feeling very alone and I wasn't getting any fulfillment from my job either. I started losing my direction and my personal confidence was dropping. I had anxiety but didn't realise it fully at the time. I would put on makeup, dress up for work and pretend everything was fine even though I knew something was missing inside of me.
In 2019 my husband told me we needed to move once again because his job was transferring him to Toronto. This news took me off guard and I felt like the plans I had just managed to figure out were now collapsing all around me. This time it led to a breakdown and it took me a while to heal and find my clarity and my purpose again. Now I am on a mission to help women to gain self-confidence so they can truly be who they are, do the things they love, and face all their life's challenges along the way.

Do you compare yourself with the beauty of other women? Or do you define your own style?

I have been working in the beauty and fashion industry for over 15 years now and in my 20's I used to compare myself to others a lot with the way I looked, the way I dressed and the size of clothes I wore. I also wished that I was taller and skinnier. I had moments when I felt very insecure and felt that people would judge me, so I needed to impress and gain attention in order to prove that I deserved to work in the fashion industry. Now I am in my late 30's and I have learned that it is not healthy to chase sterotypes so now I dress for myself and not because of society standards. I don't chase trends anymore and I wear what makes me feel good. I also wear what makes me feel confident and empowered in order to show my authentic self and my own style.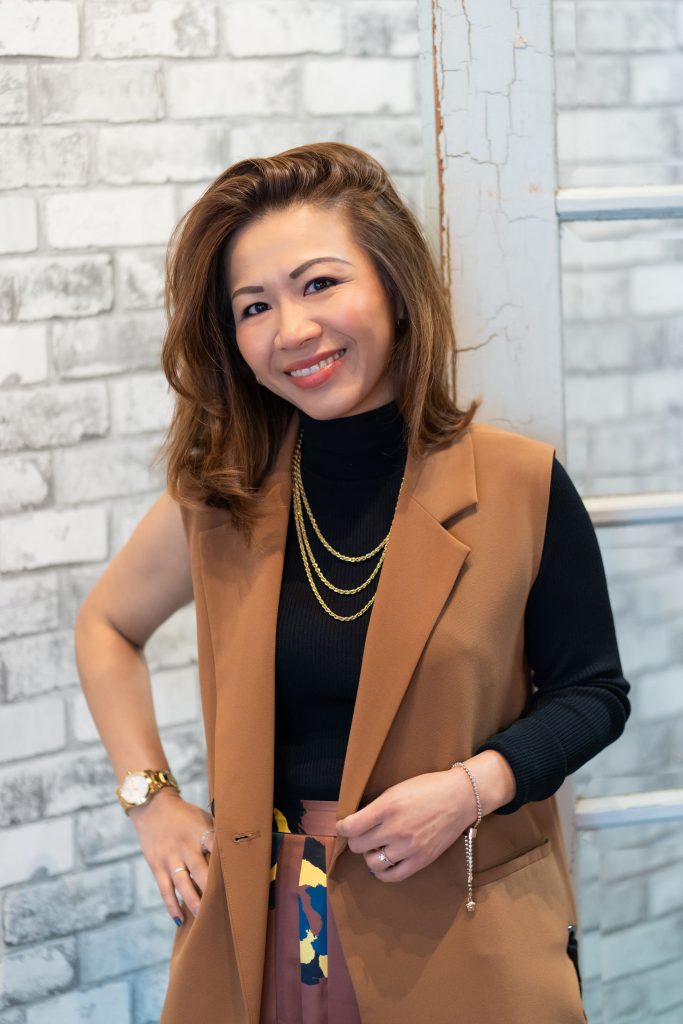 Can you share with us some tips about how a woman could improve her image?

Make your image work for you. Be authentic in who you are and what you stand for and don't worry about what others are doing on social media. Create a signature style and wear your true colour that works for your skin tone. Then put on makeup to let yourself shine through all the elements of your image from the inside out!

How much does the image affect a woman's self-esteem in your opinion?

I believe The way we dress affects our self-esteem. It plays a big role because self-esteem is how you feel about your appearance and it is part of your body image as well. If we don't like something about how we look when we look in the mirror, it is often difficult to feel good about other aspects of ourselves. Self-esteem is connected to self-confidence and when you dress nicely and get compliments, it helps to boost your self-esteem. It is also important to dress comfortably – but dressing in oversized, baggy clothes, because you don't want to show your body is something very different. If you ever feel yourself getting a little down then put on your favourite piece of clothing that has your 'power colour'. Sometimes confidence can build from the outside – in.

Do you think that a beautiful woman, with a perfect image, makes it easier to have a successful career?

I believe every woman is beautiful, and when you put in some effort to look good, dress for your body type and wear a powerful colour then you will get noticed. Whether you're on a job interview, at a business meeting or attending a networking event, you have just a few seconds to make a good first impression to establish yourself as the successful person you strive to be and to set yourself up as an expert. Dress impeccably and you will have more confidence and feel more powerful.

Are there days when you don't have to care about your image?

Yes. There are days when I simply want to wear my lounge wear with no makeup and messy hair – especially when the Covid issue started. I didn't have the motivation to look good and I felt disorganised and non-productive so I didn't pay much attention to my image. When I push myself from the moment of waking up, I shift my mindset into the habit of changing and it makes me feel better. And even when no one is watching, it makes my day stronger!
Did you enjoy this article and find it helpful? Why not share it with your social media network below?