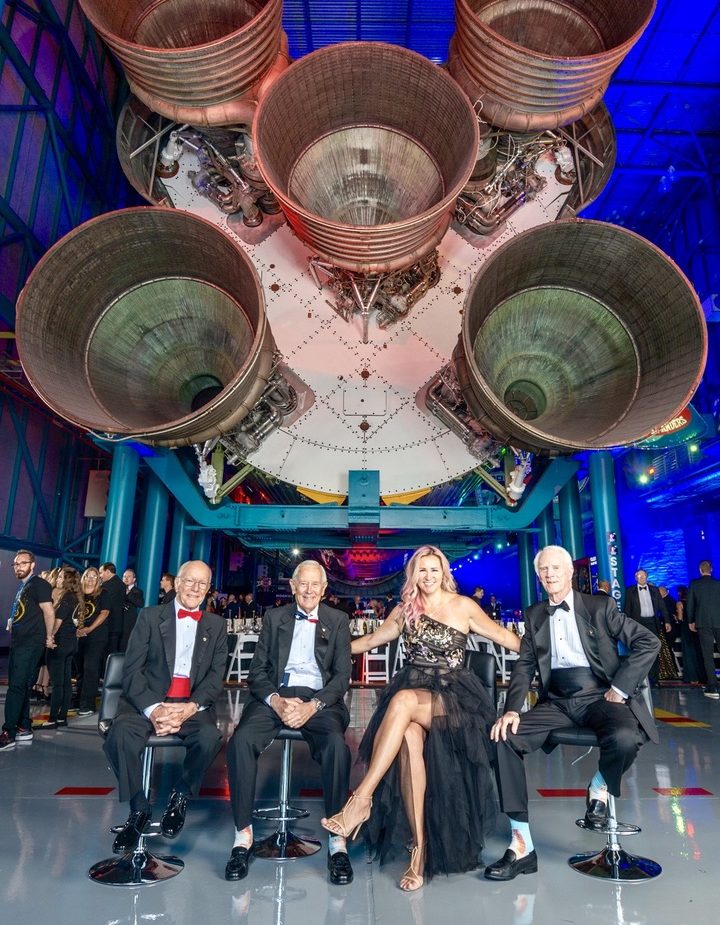 Christina Korp: From South Dakota to Space, Creating a Better World for the Future
By Sujany Baleswaran
Growing up in South Dakota, one of ten kids, Christina Korp never imagined that her career behind the mic, singing on records with major artists like Ringo Starr, would lead her into the space realm. Needing a break from running a media company, Korp took on the role of manager for Apollo 11 and iconic moonwalker Buzz Aldrin, because working for an 'old celebrity must be easier than running a multi-media company.' The Astronaut Wrangler has had a whirlwind of a journey working with astronauts and bringing a fresh creative perspective to the space realm. Her success and perseverance in this male-dominated industry have not gone unnoticed, and with ventures like Look Up to Her and Space for a Better World, she continues to prove that creativity is a breath of fresh air in the world of aerospace.
You were once a full-time singer and songwriter, a contrast to your current entrepreneurial work and work with space. How did your music career begin, and what caused this shift in your career?
I grew up in South Dakota as one of ten kids. My mom is half Native Oglala Sioux and Mexican, so we grew up with that heritage. My dad was in the US Air Force, and he met my mom stationed at Ellsworth AFB, but he was a musician and had always been in bands as a side job. When I was 12 years old, we started a family band with my dad, my older sister, who was 16, and my younger brother, who was 10 years old. We played in bars 4-6 nights a week and that is how we supported our family. I left the band after 10 years to pursue my music career in Los Angeles. I wanted more than just playing in bars and clubs. I had a variety of jobs in LA but eventually got signed to Warner Chappell as a songwriter, and I sang on records for major artists like Ringo Starr. I toured all over the world singing backgrounds for other artists. It wasn't until I had to get a "real" job working for American celebrity John Tesh that I had a taste of what being an entrepreneur was. He had a record label, radio, show production company and commercial product company. He took me under his wing and mentored me. He recognized that I was a hard worker and eager to learn, and I'm forever grateful that he saw the potential in me to teach me how to run a company. I produced a couple of PBS TV concert specials, one I was featured as a singer in. I helped develop several CD and DVD projects and launched a 5-hour daily syndicated radio show. It was an amazing experience but also a lot of hard work. I tend to be a workaholic, so after a while, I ran myself into the ground. I needed a break and decided to leave the Tesh Media Group for the job that I thought was going to be a lot less responsibility, working for Apollo 11 astronaut and iconic Moonwalker Buzz Aldrin.
For ten years, you managed Apollo 11 astronaut and Moonwalker Buzz Aldrin and his company Buzz Aldrin Enterprises. How was this experience for you, and were you hesitant when you started this role?
When I started working for Buzz Aldrin, I thought it was the perfect step down from my previous responsibilities. I really thought it was going to be a nice, quiet, boring job so I could have a life. I knew nothing about space, but I figured working for an old celebrity had to be a lot easier than running a multi-media company. However, I had no idea what I got myself into. Buzz was 77 at the time. It didn't take me long to see he was a genius and somewhat misunderstood. He was an icon of the past, but he was always looking to the future of missions to Mars. Once I had a glimpse of what was happening in space, I realized how little people like me, those who weren't in the space bubble, knew what was going on with space exploration. I convinced Buzz that he needed to start doing things to get the attention of those who loved space but maybe weren't aware of current activities.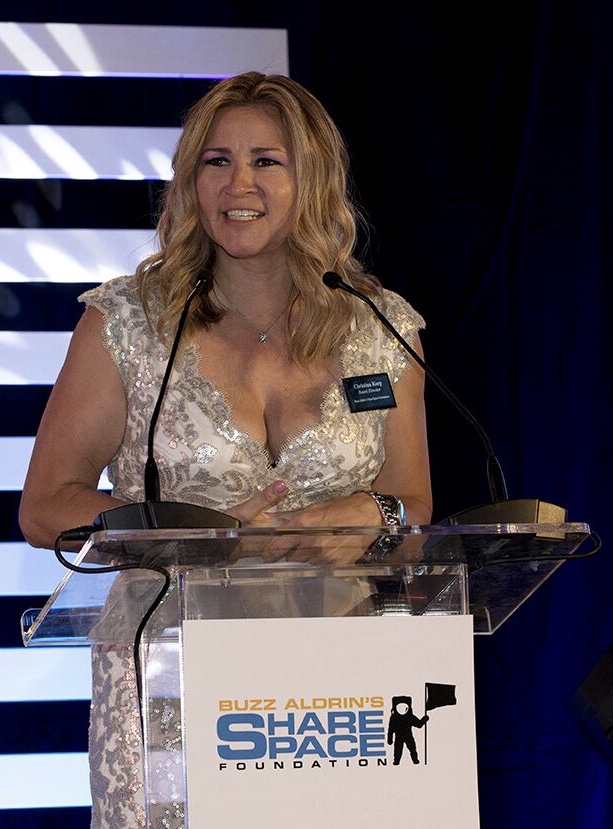 You didn't come from a traditional space or engineering background. What made you stand out from everyone else?
I think my fresh perspective was really helpful. I think I'm an average American when it comes to space. I knew Neil Armstrong and Buzz Aldrin walked on the Moon, but I didn't know much else until I met Buzz and was welcomed into the Apollo circle. I was accepted quickly too, and I think it's partially because I wasn't in awe of these guys. I had been around so many rockstars already, so I wasn't dazzled, I just treated the astronauts like regular people. I think that helped but also being media savvy really helped me navigate their world too. I already knew how to deal with press tours and appearances and big live events.
What did you bring to the space realm?
I used my mainstream entertainment media experience and perspective to get Buzz to do things like a "Making of" rap video with Snoop Dogg and "Dancing with the Stars." This is why he started becoming more famous. Also, as a musician, I already have a pretty creative brain. My family are all artists in some form, so everything I do comes from a creative perspective. I think the space world needs more creative thinkers. I understand why the STEM movement became so important (Science, Technology, Engineering and Math), but I think it makes those who are more creative feel like they don't have an important and vital role to being in aerospace or other tech fields. I really want to help change that thinking which is why I promote STEAM, including the Arts. Creativity is what makes America stand out in the world. We need more of that again in aerospace.
What are some of the obstacles you've had to overcome in your career, whether that's with your work with space and Buzz Aldrin, or your work with your record label?
Even though I've had a lot of success, it hasn't all come easy. As a woman, I know I've always been paid less than men, even if I'm doing twice the work. I was told at one job I would get 2% commission on deals I closed while the men got 20% – insanity to me and bad business in general. I'm tall, and I have a deep voice which in some cases is an advantage. I can hold my own in a room full of men and have never felt intimidated. But I've had men call me difficult because I'm not afraid to speak up when I feel like I have a valid point. I've been told I'm authoritative and not as a compliment. Like many women, I've had some "Me Too" moments, but I have tried hard not to let them slow me down or deter my goals. I've had to be the gatekeeper for an icon, and this means I had to deal with a lot of people who had hidden agendas or were trying to take advantage of me or my bosses for their own gain. That type of job is not for the faint-hearted. But I pride myself on always being honest and working with integrity.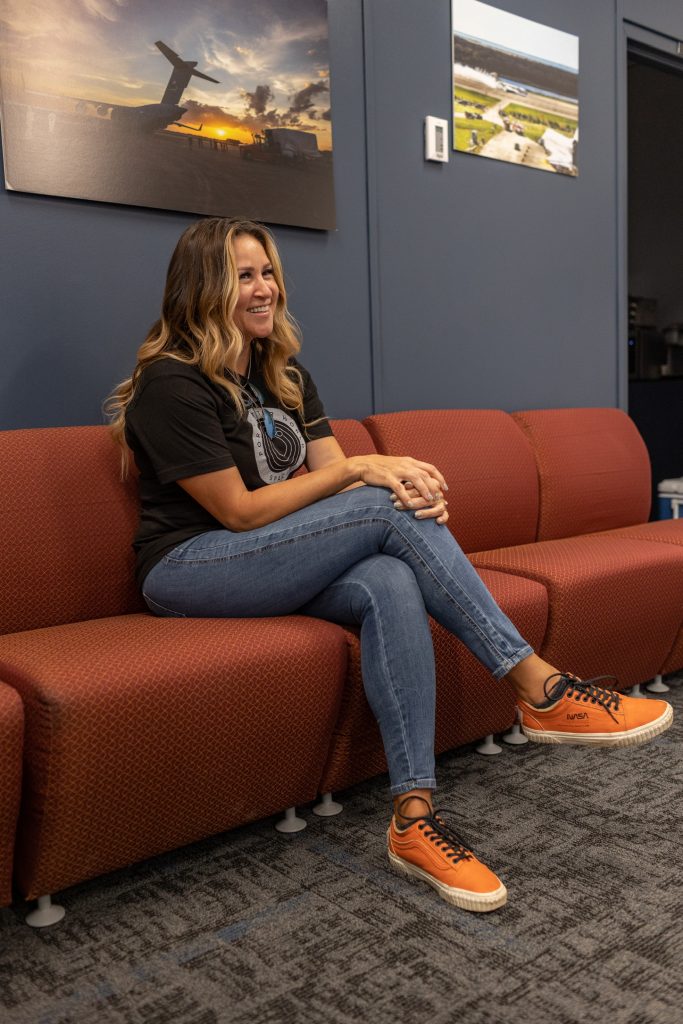 What advice would you give to someone who wants to enter this field?
First of all, aerospace is a male-dominated field. It hasn't always been very welcoming to women, although that's starting to change. Also, there's a perception that this field is only for the elite, or those who excel at maths or science. I have to tell you, in general, the people I meet in aerospace aren't any smarter than people I know who work in other fields. But they share a passion for exploration and innovation, which I find admirable. A lot of women, and people of color, disqualify themselves from going into aerospace and tech because they think there isn't room. That perception has to change. I'm passionate about trying to find ways to inspire more people to believe in themselves and want to go for every job.
What are the core values someone should have to achieve this?
Believe in yourself. That's one of the biggest assets. Persevere. Hard work will get you a long way, and not being unwilling to try new things. Being humble and willing to learn and branch out into areas outside of what you know can lead to an incredibly fulfilling and exciting career you never expected. Everything can be learned. No one knows everything. It's important to try to connect with those who are willing to mentor and share what they've learned.
Two years ago, you founded the project Look Up to Her. What inspired you to create this initiative?
When I was producing the Apollo 50th Gala for the Apollo 11 50th Anniversary I was talking to JoAnn Morgan, the first female engineer at Kennedy Space Center. That led me to start learning about other female pioneers. When I realized the 100th Anniversary of women's right to vote in America was coming up in 2020, I wanted to honor women in a big way. I was already working on a project commissioned by the Women's Suffrage Centennial Commission for the US government. When I mentioned at dinner one night that I grew up in South Dakota a guy said, "You should put women on Mt Rushmore." He wasn't really serious, but then he got me thinking. Women have never been honored at that level and size ever. What if I could showcase the women who helped shape America in a way that was at the same level of honor and respect as men had been shown for decades. People thought I was crazy, but I started talking to Senator Thune's team and gained his support. It wasn't easy – I had a lot of people to convince. We made it pretty far into making "Look up to HER at Mount Rushmore" happen. But then the pandemic hit the world, and everything came to a standstill. I haven't given up on this. I hope to try to make it happen in 2022 or 2023. I still have full support in South Dakota, and I know it's mostly a matter of time and getting past this pandemic. I don't give up very easily if I think something is worth doing. We have our first woman Vice President and many other women firsts in senior levels of US government. It's time women were shown the same honor and respect on a grand scale.
Can you tell us more about Space for a Better World? What does the future hold for this project?
Space for a Better World came from a conversation with my gala co-producer Sophy Williams. She has many people in her network who are environmentalists and don't feel a connection to space or think it's wasteful. It got me thinking. When people say, "We need to fix this planet first" I know they're only focused on rocket launches and carbon emissions. But when I ask people who they think are the ones monitoring climate change or the polar ice caps and weather systems they're pretty shocked when I tell them it's the aerospace community using satellites in orbit. Space is so ingrained in our lives that people take it for granted. So many things we use daily are literally space tech in action: mobile phones, GPS, video conferencing, the infrared thermometers used for the pandemic are a direct tech that came from measuring the heat between planets. Clean energy like solar panels and electric vehicles are directly from space tech and it's not even new tech. It was invented 60 years ago. Materials like memory foam or the soles of our running shoes, all tech spinoffs that came from space research and technology. I began to think, "What if we used space tech to solve problems on Earth as a coordinated focused effort like a Moonshot." Not as an added value but as an intentional way to utilize this tech to make life better on Earth. I've got long term plans to develop this idea but in the meantime I am working with astronauts to do space related activities to benefit partner charities that help people and the planet. Water Charity provides clean water to people in regions where it's not readily available. They use water filters that were invented through space technology used at the International Space Station. I've become passionate about using the knowledge and unique perspective I've gained to do good on a broad scale. It's definitely a big part of my purpose. Also, I hope to light the spark of purpose in others.
Did you enjoy this article and find it helpful? Why not share it with your social media network below?