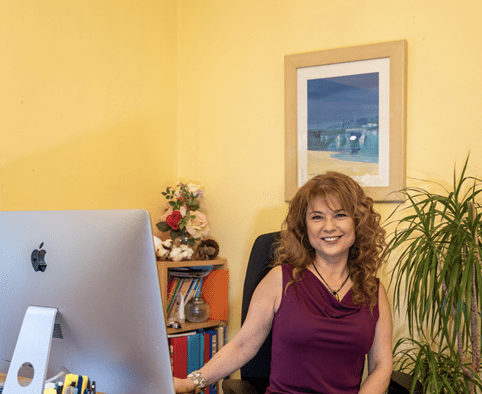 Aylin Webb: From a TV Producer to Psychologist & Anxiety Specialist
---
Making the transition from a career as a TV producer to becoming a Psychologist and an Anxiety Specialist is no small feat. It requires determination and a deep commitment to personal growth. For Aylin, this shift from the glamorous world of television to the realm of mental health was driven by passion and purpose. In this article, we will explore a pivotal moment in Aylin's journey that has profoundly shaped her current path. As a single mom working at a children's channel, Aylin experienced both blessings and challenges. In her role as a promo producer, she found immense joy in the creative process of crafting engaging content for young viewers. However, within the fast-paced world of the television industry, Aylin held a more profound passion. A fascination with psychology had quietly been brewing inside her, and a deep-rooted desire to assist others was always present in her heart. The shift from television to psychology appeared as though it required leaping across an immense abyss. But then, a pivotal moment arrived that would shape the path of her extraordinary journey.
---
Can you share a pivotal moment in your transition from a TV producer to a Psychologist & Anxiety Mastery Coach? How did it shape your current career path?
I have always felt very fortunate and grateful for my work in television. As a single mum working at a children's channel, I enjoyed many advantages, and the job I had as a promo producer was a lot of fun as well. However, the deadlines, the pressure to deliver flawless promos, and the heavy workload could also be stressful. I have always had a special interest in psychology and, ideally, I wanted to help people. But at that time, the idea seemed really far away. There was a crucial moment when I saw a producer, much older than I, who seemed extremely stressed at work. It made me think, "I don't want my future to look like this", so I decided to just explore BSc in Psychology.
Motivated, I took the modules one by one while working full-time. When I finished the undergraduate degree, I felt much closer to realizing my dream. Subsequently, I pursued a PgDip in Cognitive Behavioural Therapy and an MSc in Forensic Psychology, earned my accreditation and later got an EMDR certificate as well.
Transitioning from television to psychology took several years. While pursuing my Master's, I had to leave television, it was sad, because it was end of an era for me. Fortunately, I was able to work as a legal interpreter, a role for which I was already qualified, allowing me to choose workdays and hours that accommodated my studies while still earning money. I was also teaching middle eastern dance and I had about 150 students.
After working as a CBT and EMDR therapist for several years, I realised that I could not only help people feel better but also help them unlock their full potential, and thrive. This led me to obtain my coaching and NLP certificates. Now, I feel that I am fulfilling my purpose and doing exactly what I am meant to do. The positive outcomes of my clients further confirm this belief.
In your work as an Anxiety Mastery Coach, you mention helping people overcome their fear of making mistakes. How do you approach this challenge, and what strategies have you found to be most effective?
The fear of making mistakes represents one facet of perfectionism, often rooted in the limiting belief that one is "not good enough" or "a failure." It is essential to recognise that limiting beliefs are not facts; they are merely strongly held opinions. Unfortunately, many people accept their beliefs at face value, assuming them to be absolute truths. In addressing this, we first identify the maintenance cycle, which encompasses the thoughts and beliefs provoked by a situation, as well as the ensuing emotions, bodily sensations, and behavioural reactions. Following this, we evaluate both supporting and opposing evidence to the limiting belief to foster a more rounded perspective. Another effective technique is to contemplate the worst possible outcome that could result from the belief. I have found this approach to be quite effective in breaking the cycle of negative self- perception.
I have recently created a brand new 7 step formula entitled "Overcoming Anxiety and Building Unshakeable Confidence" filtering my 10 years of experience into 7 proven steps. This is a transformative journey designed to lead individuals from a state of anxiety to a state of robust confidence. Over the course of this program, my clients acquire proven strategies to manage anxiety effectively and foster a resilient sense of self.
We dive into critical areas such as self-awareness, emotional intelligence, and resilience, providing clients with the tools they need to turn their fears into opportunities for growth. The ultimate goal is to enable individuals to not just survive but thrive, embracing a life marked by joy, fulfilment, and a deep-seated belief in their abilities. It's about equipping people with the means to build an unshakeable core of confidence, deriving true strength from within.
Your program "Overcome Perfectionism and Take Control of your Life" seems comprehensive. Could you elaborate on one key aspect that has made a significant impact on your clients' lives?
The "Overcome Perfectionism and Take Control of Your Life" programme encompasses eight critical steps, each holding equal significance, however deep down in perfectionism individual's self-worth is dependent on certain rules and standards that are unrealistically high.
I would like to emphasise that there is nothing wrong with aiming for excellence, making sure you utilise your full potential, learn from your mistakes and grow. I think you owe yourself that, and it is healthy, however perfectionism is very unforgiving if those extremely high standards are not reached. As a result, the individual is very self-critical, feeling others are better and a serious self-worth issue. The programme includes Self-compassion module, and looking at the blocking beliefs of self-compassion, self-love and self-care, resolving these often make a huge difference.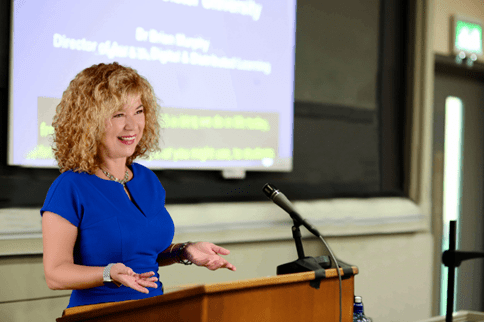 Being a Keynote Speaker, what's the most memorable speech you've delivered, and what message did you want to convey to your audience?
I conducted a workshop for the Edinburgh City Council on "Overcoming Stress & Anxiety," attended by over 250 participants. They were a fantastic audience, and the outpouring of positive feedback at the end of the workshop was overwhelming. Many expressed that the workshop was much needed and that their perspectives had shifted. They also appreciated the useful techniques shared. I felt incredibly gratified after this workshop, knowing I had helped reduce many individuals' stress and anxiety levels in just a short period of time.
You are a BABCP accredited CBT Therapist & EMDR specialist. How do you incorporate these therapeutic approaches into your coaching practice, and what benefits do they bring to your clients?
I believe the "All-In-One" option gives my clients an excellent choice and opportunity. It allows us to select the most effective technique or combination of techniques — from a range that includes CBT (Cognitive Behavioural Therapy), EMDR (Eye Movement Desensitisation and Reprocessing), NLP (Neuro-Linguistic Programming), and Coaching principles — tailored to my client's needs. This means they don't have to seek out different specialists if one approach doesn't work; I offer a comprehensive solution. Rest assured, I hold all necessary accreditations and memberships, ensuring that my clients are in safe, professional hands. What I particularly appreciate is that our journey doesn't have to end when a client returns to a baseline of feeling okay; we can continue working together, leveraging coaching principles to unlock their full potential and help them build the life they deserve. It's incredibly rewarding to witness their transformation.
Your book "Transformation Through the Power of Quotes" explores overcoming tough times. Could you share a quote that has personally inspired you in your journey, and why it's meaningful to you?
All the quotes in "Transformation Through the Power of Quotes" are my favourites, compiled under various themes that guide the reader from vulnerability to happiness through values, hope, authenticity, and more, across ten chapters. The book includes reflections for the beginning, middle, and end of the week, paired with daily 5-minute journals, creating a practical manual grounded in psychologically proven principles. A couple of my favourite quotes are: "This is a wonderful day, I have not seen this one before," by Maya Angelou, which always fills me with happiness, hope, and gratitude; and "Be there for others, but never leave yourself behind," by Dodinsky.
I'm also excited to announce that my new book, "Perfectly Imperfect: Cultivating Your Self-worth in a Demanding World," will be published at the end of October. To celebrate, I am planning an in-person launch in London, complete with a book signing.
Drawing on proven Cognitive Behavioural Therapy (CBT) principles, this transformative book challenges the conventional wisdom surrounding perfectionism. For too long, high standards and self-criticism have been seen as the pathways to success, but what if they are actually the chains that hold you back? Navigate through the maze of self-imposed barriers and societal pressures with actionable strategies and practical exercises. Learn to differentiate between healthy ambition and toxic perfectionism and liberate yourself from the anxiety that comes from constantly striving for the unattainable. Stop missing out on the beauty of the present moment and start experiencing the joy of being 'good enough.' If you're tired of the relentless chase for perfection and yearn for a more balanced, fulfilling life, this book is your roadmap to self-discovery and true, lasting happiness.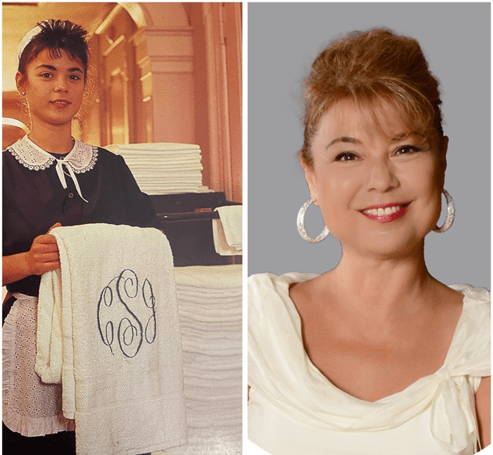 As a podcaster, what are some recurring themes or insights you've gained from your show "I am a perfectionist, get me out of here," and how have they impacted your own perspective on perfectionism?
I found it truly humbling to host such wonderful guests from all around the world, who were willing to share their stories. Their openness ensures that anyone grappling with perfectionism realises that they are not alone. Together, we share numerous tips and strategies to assist our audience. These are all real people engaging in heartfelt conversations about their struggles and the strategies they've adopted to cope.
In the past, I had my own struggles with perfectionism, measuring my self-worth through unattainable "shoulds and musts" I set for myself, and I didn't even know what it was. When you are inside the frame, you cannot see the picture. Since launching the podcast and also separately interviewing incredible individuals for my book, my knowledge and understanding of the sneaky ways perfectionism infiltrates people's minds and steals their joy has deepened immensely. It is, regrettably, a rapidly expanding pandemic.
Your work includes helping women develop better relationships with themselves. Can you share a success story or a particularly transformative experience from one of your clients?
One of my clients was in quite a bad place when we began working together. She carried numerous unresolved childhood traumas with her that considerably impacted her self-worth. This burden manifested in her work life, where she constantly pushed herself to the brink of illness out of fear that she wasn't competent enough for her high-level position, a fear deeply rooted in her subconscious.
Through our sessions, we unpacked these limiting beliefs, peeling back layer after layer to reveal the core issues. This process allowed her to transition from a state of deep depression to a place of healing and self-acceptance. She learned to let go of the past, to appreciate herself, to cherish time with her family, and to recognise and trust in her own capabilities. Instead of merely trying to survive, she began to truly thrive, both personally and professionally.
You have a background in linguistics and interpreting. How has your language expertise influenced your work in mental health and coaching?
My multilingual background stems from living in various countries. I was born and raised in Istanbul, a city that bridges two continents — a trait also reflected in its rich cultural tapestry. Before moving to London, I lived in Copenhagen for 13 years, experiencing a range of diverse countries. When I arrived in Denmark, I could not speak the language, so in order to make a living I have worked at McDonalds, and in housekeeping at Hotel D'Angleterre, which was an upgrade. Once I was fluent in Danish, I could get more decent office jobs, but still feeling I was meant to do more, I did not feel fulfilled.
This journey has profoundly educated me on cultural differences, diversity, equity, and inclusion. I firmly believe that to fully embrace a country's culture, learning its language is essential; otherwise, you risk self-imposed exclusion.
My proficiency in Danish was crucial in securing a job at Viasat London, facilitating my daughter's and my relocation here. In London I felt at home. I still do. And of course I loved working in Fox Kids, Disney and Universal Channel. I earned my English-Turkish Legal Interpreter Certificate after passing five examinations, including the simultaneous interpreting, and also working as an examiner over time, providing me with flexible working conditions, while I pursued my studies. I continue to leverage my native Turkish language skills, offering coaching to clients of Turkish background, who prefer expressing themselves in their native language, and appreciate my deep understanding of the culture.
In your testimonials, people praise your impact as a coach and facilitator. Can you describe an instance where you felt especially proud of the positive change you facilitated in someone's life through your coaching?
Absolutely! There are many life-changing examples of my clients that I find very fulfilling, but one that stands out is the case of my client in his 50s who had a lifelong needle phobia. Despite trying CBT, counselling, hypnotherapy, and other types of therapy without success, he remained hopeful. With the urgent need for a COVID-19 vaccination, he came to see me and said this is his last attempt to overcome this phobia. Given the circumstances, we opted for EMDR. A while after completing our sessions, I received an email from him, which read, "Just wanted to let you know that I had my second jab today, and it was even less stressful than the first. I wanted to thank you once again for all your help and support; it has made a massive difference. A year ago, I wouldn't have believed that I could handle two injections, but with your guidance, the experience has changed from night to day. Thank you again."
Listen to My Podcast:
Explore My Website: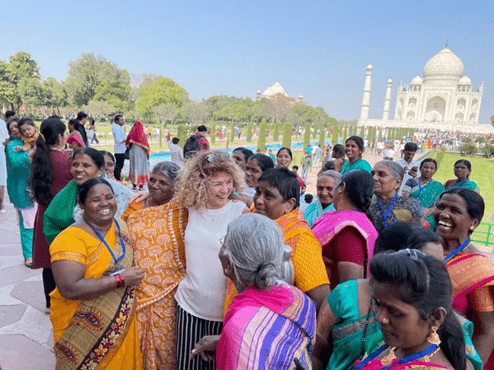 Did you enjoy this article and find it helpful? Why not share it with your social media network below?