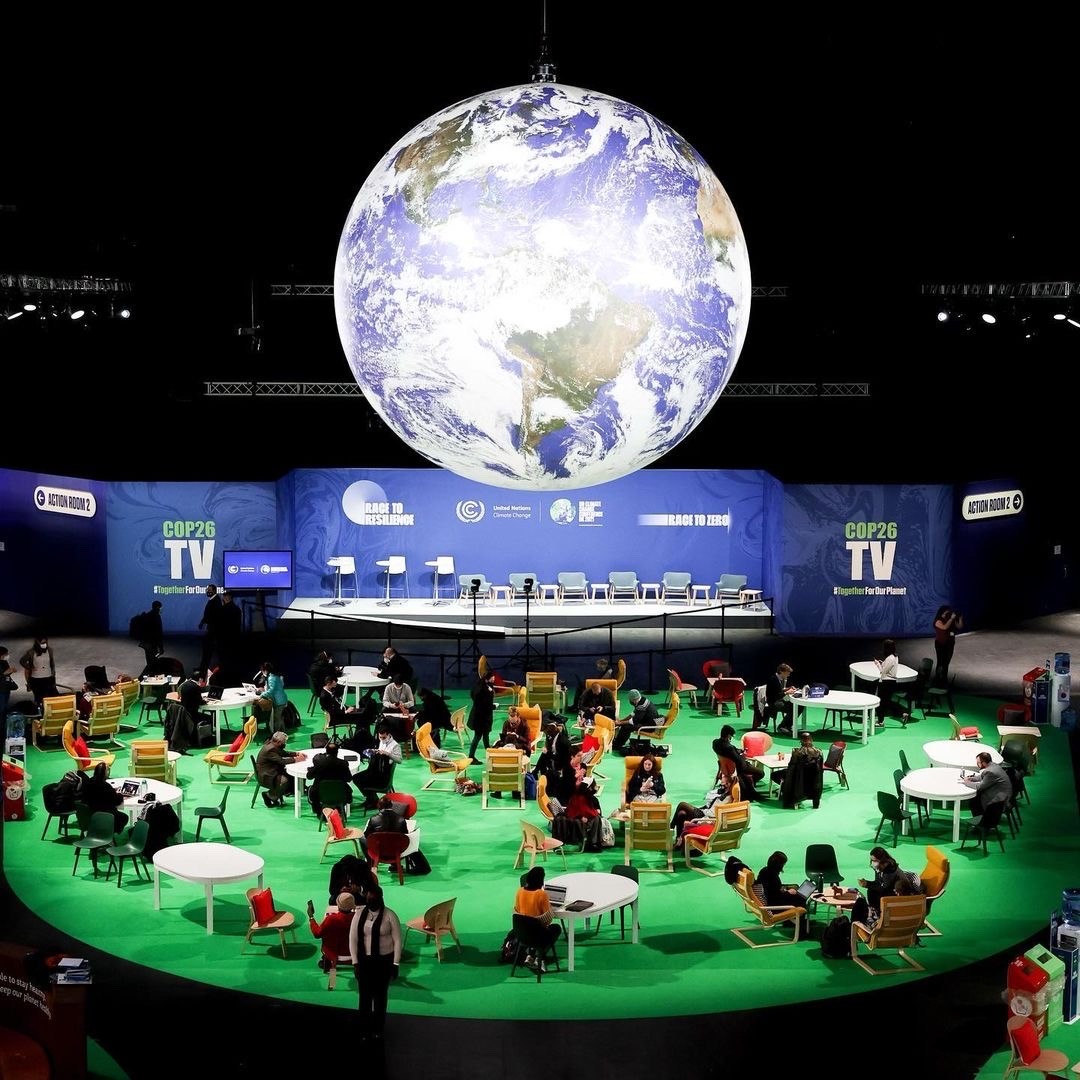 COP26: Creating a Sustainable World?
Countries and negotiators turn to the COP26 table as they gather in Glasgow as the UK hosts the 26th UN Climate Change Conference of the Parties. Starting the two-week conference, Boris Johnson ended his speech with the daunting reality-check, 'It's one minute to midnight on that Doomsday Clock, and we need to act now.' With the mission to accelerate action towards the goals of the Paris Agreement and UN Framework Convention on Climate Change, 200 countries are joining forces with civil society, companies and individuals on the frontline of climate action.
With one week of intense discussion, producing a commotion of deals, announcements and pacts, the second week will need to focus on the 'how'. What has been agreed at COP26 so far?
Many countries set out plans to reduce emissions before the summit:
Trees – More than 100 world leaders have promised to tackle deforestation, an important promise as trees can absorb vast amounts of CO2. There have been similar initiatives before, but this one is better funded.
Methane – More than 100 countries joined a scheme to cut methane emissions by 30% by 2030. However, big emitters China, Russia and India haven't joined.
Coal – More than 40 countries have agreed to shift away from coal, the biggest contributor to climate change. Once again, some of the world's most coal-dependent countries, including Australia, India, China and the US, haven't signed up.
Money – 450 organisations controlling $130 trillion dollars – around 40% of global private assets – agreed to support "clean" technology.
With the second week commencing last Monday, countries are discussing the intricate details of pushing the movement forward:
Regulations on how countries measure and report on their emissions.
Whether, and how, carbon trading can play a role in how countries meet their commitments.
How countries can be helped to adapt to the impacts of the climate crisis.
How can countries receive financial help for any impacts too great to be adapted to – known as loss and damage.
But let's turn our eyes and attention to Tuesday 9th November at COP26 – Gender Day. The United Nations estimated that a staggering 80% of those displaced due to climate change are women, with a US government official stating, 'the climate crisis is sexist.' It is estimated that 100 million people living in developing countries can be pushed into poverty by climate change by 2030, and women will be the hardest hit. Women form a large percentage of the world's poor often depending on farming to support their families. Climate-related hazards lead to an increased workload for women, with women and girls undertaking labour of gathering food, water and household resources. According to the Malala Fund, the climate crisis will contribute to at least 12.5 million girls not completing their education each year. Education empowers women, supporting them to be more resilient, giving them the confidence to lead change and take climate action.
As much as women face the largest threat from climate change, they are essential to finding solutions and powering the transition to the green industry. Research has shown that women thrive in leadership positions, implementing positive changes within the sustainability space. Women are crucial to finding global solutions to tackling the crisis. 'Gender Day' at COP26 seeks to recognise and celebrate the empowerment of women, gender equality and women taking space in climate policy and action.
"The world as designed by men has destroyed many things. The world should begin thinking like women. If it was designed by a woman, it would end violence against women and children. We want to be in the corridors of power and take part in decisions at international level to end this struggle of climate justice" – Angelica Ponce, executive director of the Plurinational Authority for Mother Earth in Bolivia
Sustainability at the Forefront of Businesses
With the celebration of Earth Day, the explosion of the youth movement sparked by Greta Thunberg, the unified powerful demand for change in action through the climate strikes, Extinction Rebellion to the current COP26, sustainability is increasingly becoming a necessity in everyday lives and businesses. Although 90% of executives think sustainability is important, only 60% of companies have a sustainability strategy – the 'knowing-doing gap'. Many businesses are becoming aware of the importance of reusing and recycling, creating a more circular economy, and the potential growth of the renewable energy market that is expected to be $2.15 trillion by 2025.
So How Can You Implement Sustainability in Your Business?
Businesses all over the globe, from Nike to Ikea, have implemented changes, recognising the need to act on sustainability. The UK is aiming to achieve net-zero carbon emissions by 2050. This target has been met with a positive response by businesses agreeing that Net-Zero is an achievable target. So what can your company do to meet this goal?
Let Employees Work From Home
Remote work has a lot of advantages compared to traditional office jobs – flexibility, self-sufficiency, and a work-life balance are just a few. The year of the pandemic saw employees emptying their desks, with WFH becoming the new normal. However, remote working goes beyond helping the employee, and may actually have a positive impact on the climate. Research has shown that working from home can have a huge impact on a company's environmental footprint. Working from home jobs also means fewer commuters, therefore less greenhouse gas emissions, better air quality and reduced energy consumption.
Small Energy-Efficient Changes
Becoming energy efficient doesn't only shrink carbon footprints, it also reduces a company's energy bills. Small simple changes can be made around the workplace such as changing to LED lights or smart thermostats – the simplest changes can save money and the planet.
Reduce, Reuse and Recycle
We have all heard the three Rs, whether it was plastered over walls or it came with a catchy tune taught to your children at school. Once again, the simplest changes on a large scale can make an impactful difference. Switch out the disposable cups and utensils to real glass and ceramic alternatives. Reams of printed paper can be opted out for recycled products – this maintains a circular economy and reduces the overall waste.
Second-Hand Finds
With the recent addition to apps such as Facebook Market and Gumtree, getting your hands on a perfectly good second-hand couch is just one click away. Why not use upcycled furniture to deck out a new office space. A little bit of a scrub and a coat of paint does wonders to second-hand furniture.
Let's close the 'knowing-doing gap' – What changes are you making to your business?
Are you a woman with a "green" sustainable business? Either in the products or services you provide or the energy-saving, recycling, sustainable products purchased and other practises that contribute towards reducing carbon and methane emissions? We would love to hear from you and to share your story in a follow-up article shining a spotlight on sustainable businesses. Contact london@globalwomanclub.com
Global Woman Club London will be holding their monthly Breakfast Networking Event this Friday but with a little twist. Our Global Woman Community from all over the UK will be slipping on green attire in support of climate action. Join us this Friday at Richmond Hill Hotel as we delve into business and sustainability. Get your tickets here!
Did you enjoy this article and find it helpful? Why not share it with your social media network below?