We are looking for volunteers
Are you passionate about women's empowerment and interested in being a part of a dynamic and impactful event? Global Woman Summit is looking for enthusiastic volunteers to join us on July 15-16th in London.
Apply Now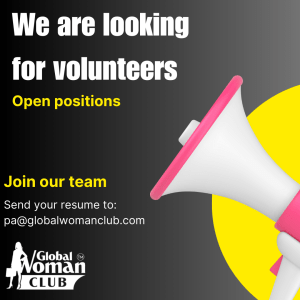 Find more about the Global Woman Summit here
As a volunteer, you will play a vital role in ensuring the smooth running of the event, from assisting with registration and directing attendees to providing support for speakers and exhibitors. You will have the opportunity to network with industry professionals and gain valuable experience in event management.
We are looking for individuals who are reliable, organized, and friendly, with excellent communication skills and a willingness to learn. You must be available to volunteer for
Online meetings before the Summit

Briefings sessions beforehand  

Attend two full days from 7am to 7pm
In return, you will receive:
A free pass to attend the summit, an opportunity to build your network and skills, and the satisfaction of contributing to a worthwhile cause.

A free pass for you to invite a guest

A free ticket to attend any of the Global Woman Club events around the world.


A free course in Public Speaking
If you are interested in applying, please click at the link below
Did you enjoy this article and find it helpful? Why not share it with your social media network below?