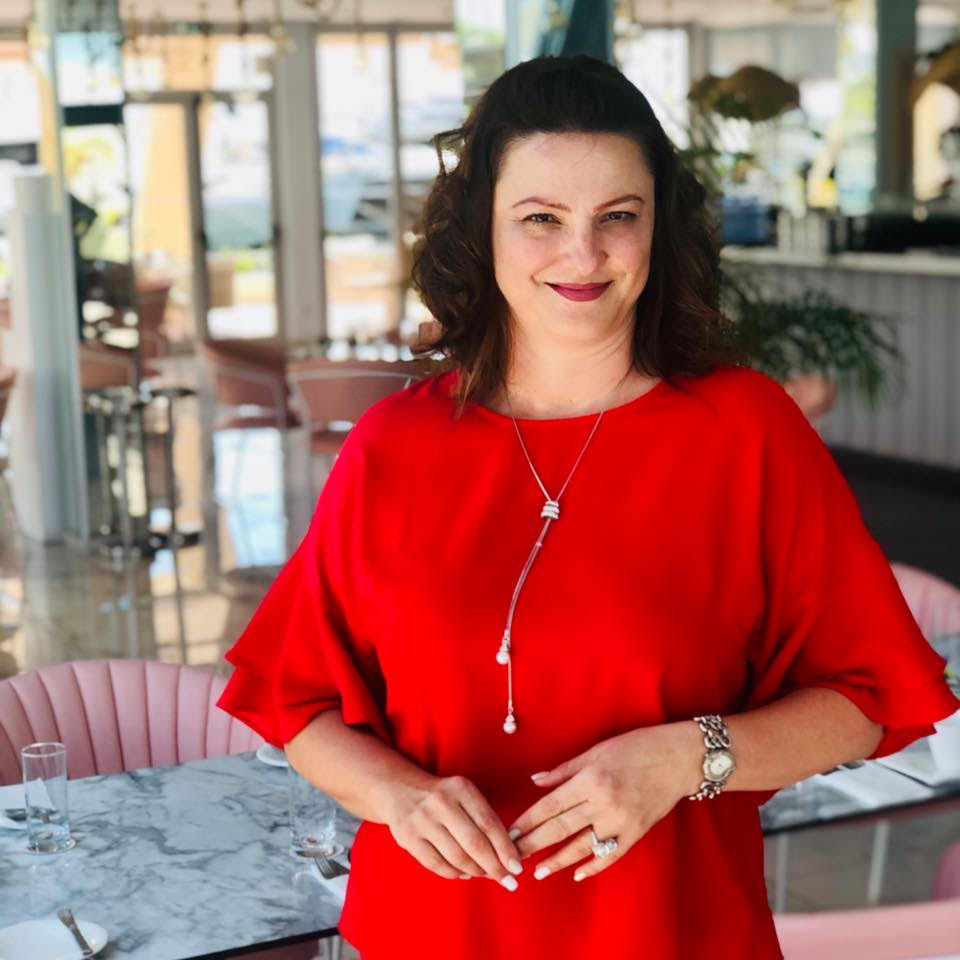 Laura Stefania Efthymiou: Turning Preserved Moss into Works of Art
Working as an accountant by profession with a passion for art and nature that has grown over the years, Stefania Efthymious decided to pursue her creative dreams and attended art school for 4 years, and with nature in mind, she entered the world of interior design. Over the last two years, we have witnessed the world restricted to four walls. Inspired by nature, Stefania vowed to bring nature into our homes, and with preserved moss, Design with Moss was born.
What is the inspiration behind your art? Have you always been a creative person?
Nature has always been my inspiration. Coming across this beautiful item plant called Moss and all its many variations, I immediately felt like I was coming home. We are surrounded by natural elements. I take these natural elements, re-position them, then use their changing colours and shapes to achieve a unique result. Of course, you will need to be an artistic person and have to let the creativity flow within you to achieve a lovely result.
Since I was young, I have loved colours and shapes. My favourite paints were always the ones with pastel colours that we mostly find during the autumn season. The shades of spring, such as the greens and yellows, were also a favourite of mine. Having a sense of creativity makes me see things in a new light and makes me go the extra length to re-discover the same element from a different perspective. I am a creative person, and I am constantly creating something new.
When I have an idea that requires my creative skills, it's usually is a short time before that idea becomes a piece of art. Moss and preserved lichens allows me to play with colours and textures. They are available in more than 40 colours, so you have plenty of choices when creating a design.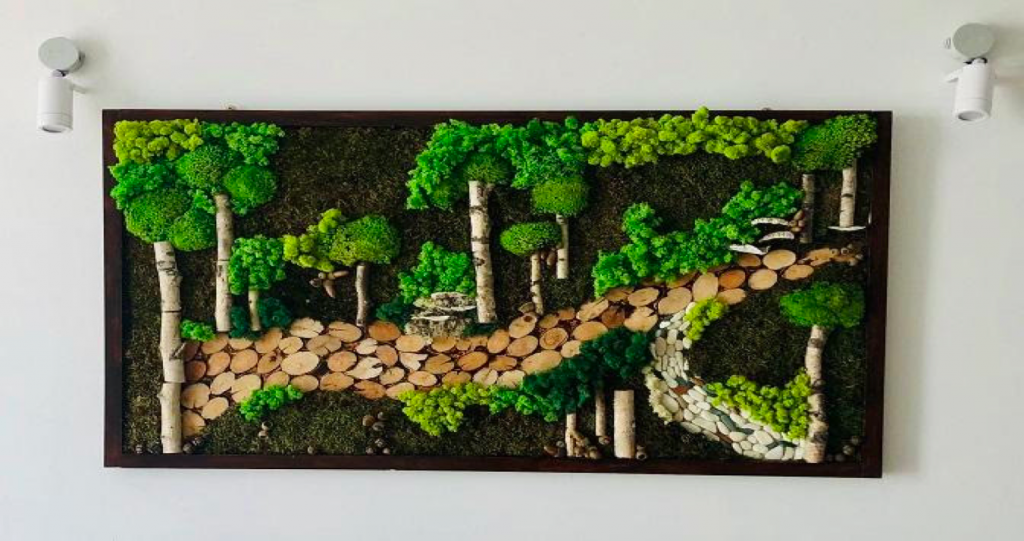 You are an accountant by profession but you also studied at an Arts School for 4 years. What sparked this change in your career?
I grew up in Romania, during communist times, where having a secure job was a must, and therefore, I pursued the accounting profession to secure a stable future. However, art was always my passion and always will be, which is why I went back to Art School to study. I've always been very open with my creativity – making flower arrangements, doing house interior decoration, and experimenting with clothes. I received compliments from friends and family, which helped to boost my confidence, and I believed that I could take this creativity further. There was a point in my life where creativity was an escape, my own bubble of oxygen and breath of fresh air. I realised that I could do more and start my own business in the creative field. So I've taken the time to improve my skills and knowledge in this field. I believe that being a creative person is something that you are born with.
Can you tell us more about Design with Moss – where did it all begin?
As all great things start between friends and Design with Moss is no exception! I was looking to decorate a wall in my own house, and after a long period of not finding anything that I felt "suited me" and my style, a friend of mine introduced me to moss and preserved lichens. At that time, I still wasn't familiar with this beautiful material. I was surprised to find out that it is already popular in Europe and America and is even well-known in Romania. As I started to do more research I fell more and more in love with it.
I realised that moss is the perfect preserved plant which would have almost the same features as a real plant and can be kept indoors. It grows all over the world, especially in humid countries. You can use different types of preserved moss, from flat and bulb to reindeer moss, and it can be framed or just purely moss panels, hung or attached to your indoor walls of homes, hotels, restaurants and offices. It creates this unique natural design which also creates a more relaxing atmosphere.
As it's not available to purchase through local merchandisers in Cyprus, I start to create my own network to import moss in Cyprus to use for my art designs.
Can you tell us more about Preserved Moss?
Design with Moss can be used to create anything from living moss walls to centrepieces in an interior space. Preserved moss can be used in various combinations with natural dried, stabilized, cryogenic flowers. Design With Moss aims to integrate nature into architecture and interior design through natural materials in order to create an environment that promotes wellness and positivity.
Preserved moss is real moss that was carefully handpicked and collected from nature and treated with non-toxic ingredients, mainly consisting of vegetable glycerine and food colourings, to preserve its colour and freshness for many years.
There are various types of preserved moss, but in art, we use reindeer moss, sheet moss, pole moss, mood moss and, deerfoot moss.
Benefits of Living Wall Moss
Stabilised Moisture Levels

– Mosses can help to stabilise moisture levels in a room and maintain levels of relative humidity levels between 40-60 per cent. This is one of the more interesting and beneficial attributes of moss – it can absorb moisture out of the air when humidity is high and then release it back into the air when humidity is low.
Reduction in Airborne Dust – When we inhale airborne dust, we risk getting dust-related diseases like asthma, allergies and, respiratory conditions. By introducing moss into a room, these particles will be absorbed and removed from the air that we breathe.
Improved Air Quality – Moss is particularly good at fighting air pollution. The pollutants in the rain and the air cling to the surface of the moss, and while the pollutants are stuck there, bacteria transform them into the plant's biomass.
Less Stress – The presence of plants in our working place is known to decrease the stress levels among employees.
Improved Productivity – Having plants and green around you while you are at work is proven to stimulate productivity and creates a relaxed mood.
Healthier Skin – Thanks to its humidity regulating qualities, moss creates an environment that helps to keep your skin hydrated, making you feel better and healthier.
Noise Reduction – Living walls naturally block high-frequency sounds while the supporting structure diminishes low-frequency noises.
Lower Energy Costs – A process known as 'evapotranspiration' makes it possible for the areas around moss walls to be cooler in the summer months. During the winter, moss walls provide an added layer of insulation to indoor areas and thus reducing heating costs.
The advantage of preserved moss is that it provides the freshness of natural plants but with the convenience of artificial plants. There is no need for maintenance and no need for soil or light. Preserved green walls are much more efficient than living walls and plants due to their longevity and low maintenance or energy consumption, such as no water irrigation, specific light, soil infestations, trimming and pruning and periodic maintenance. They live for many years – plant walls do not need maintenance and their life cycle is close to 10 years.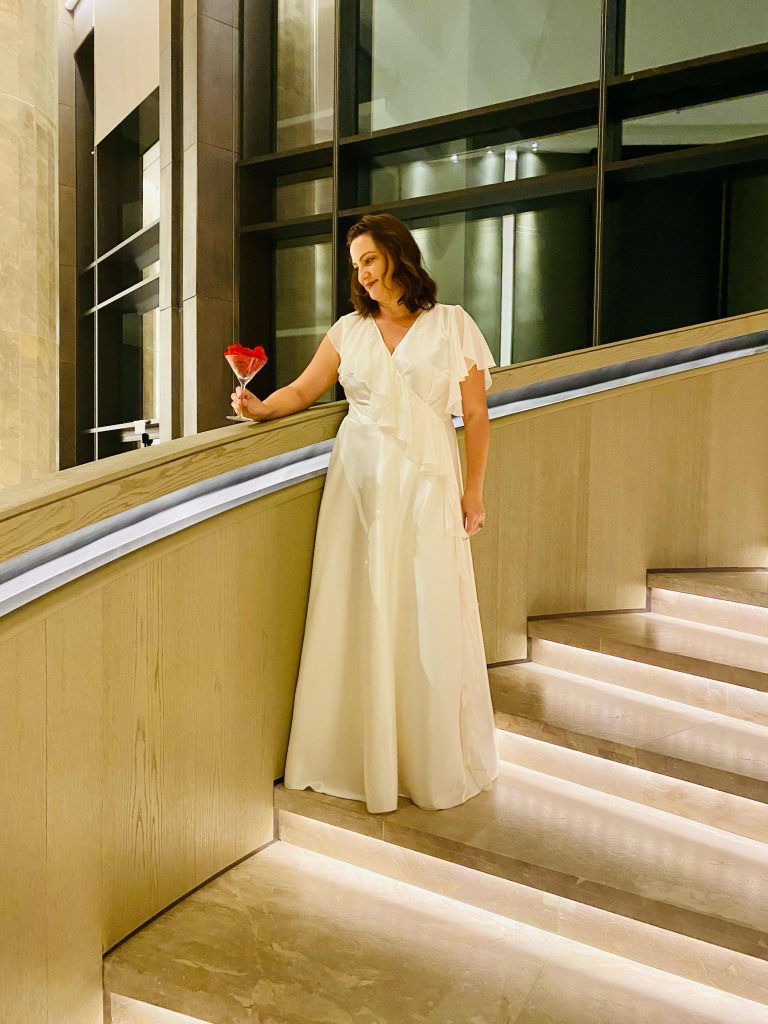 You were born in Romania, lived in Cyprus and Ireland. Does your geographical location influence your work? How has your work changed over the years?
Looking back at the places where I have lived, I can say that the environment was always my source of positivity. I am an earth sign, and I thrive in nature. While I was travelling in Ireland, I fell in love with the country's landscape – smelling flowers, admiring the colours of the trees, watching the sky turn from sunny skies to grey skies on rainy days, observing the various shapes of rocks and stones that stood through time. All of this was an inspiration for me.
Romania is also a beautiful country with so much to offer when it comes to natural landscaping. Lakes and rivers, mountains and plains, forest and flowers – these would surely be inspirational for any artist!
I brought all these inspirations with me to Cyprus. Inspiration also comes through living a mindful lifestyle, which helps me achieve a positive state of mind. When working with customers and creating a moss piece of art, I need to be in a calm environment. Shifting the positive vibrations to my customers through my work is one of the values that I stand by.
Over the last two years, you have delved into the world of mindfulness. How has this experience been for you? Has your personal development positively influenced your work?
After my divorce 2 years ago, I found myself in a new light. Being a single mother to a young teenager, I had to face new challenges every day. I got to a stage where I was looking for more answers. This is when I came across the personal development world. I enrolled in a self-development program where I was committed to yoga, meditation and mindfulness. I discovered a whole new path in my human evolution as a human.
Through this journey, I have also started to realise what it means to be present and how it can benefit you. We often spend our lives chasing and running after everything to find answers, to succeed, achieve, or just to express our opinion. At the end of the day, we are forgetting that the answers are within us. We are ignoring the connection with our inner selves, and have stopped listening to our intuition, which are the main pillars that can guide us to living a healthy, fulfilled and happy life.
There are various ways to practice mindfulness. It is within each person to find what resonates with them and use that as a helpful tool. For me, mediation, yoga and Latin dancing are my favourite practices. Over the past 2 years, I saw a reduction of negative thinking, which stopped me from falling into the pitfall of depression. My daily stress is under control, and I am proud that now I act instead of reacting in any given situation. I was a person that I used to be very strict, inflexible who needed to be in control. Through practising mindfulness, I realised that giving up the need for control is one of my biggest achievements (I still fight it once in a while!).
Things happen in our lives for a reason and a greater good. This new state of mind helped me become more relaxed, open to new ideas and, see things from a different angle. And all this brought many benefits to my creative work.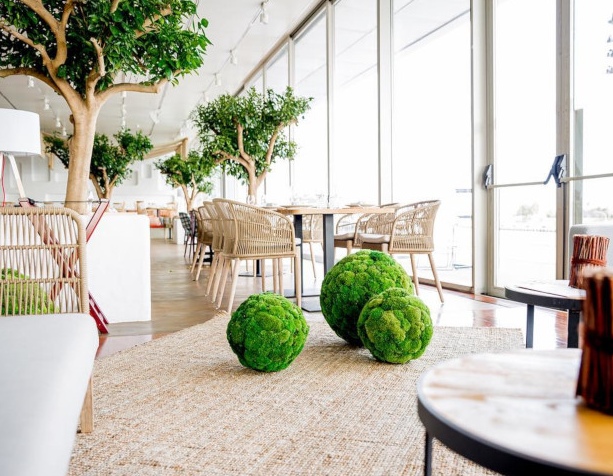 What advice do you have for women who want to enter the creative field of art and interior design?
Creativity is a skill that you are born with and can be used in many areas of your life. It could remain as a hobby or can be elevated to a career path. Art is a way to express our creativity. It is not sufficient to just create a stunning piece of art if it does is not blend with the general interior design of the specific area. The art we display should be a manifestation of the emotions that the owner resonates with.
For those who have this beautiful skill – creativity – and if you decide to follow your passion and make it your career, you need to be prepared for the up and downs. Being an artist, you need to have an open mind when you approach the customer and create something that you will both be satisfied with. You also need to make independent decisions all the way. Being self-critical, having discipline and self-confidence is also a must.
Interior design is a complex field that covers many areas. This is one of the benefits of this career path – you will constantly discover new materials, new ideas, and new trends. This helps to keep the motivation high. An artist must also develop soft skills such as critical thinking, project management, teamwork, communication, work ethic, concept development, and the ability to learn and grow from criticism. Lastly, having a passion for what you do is the foundation for making it in the creative world.
Did you enjoy this article and find it helpful? Why not share it with your social media network below?