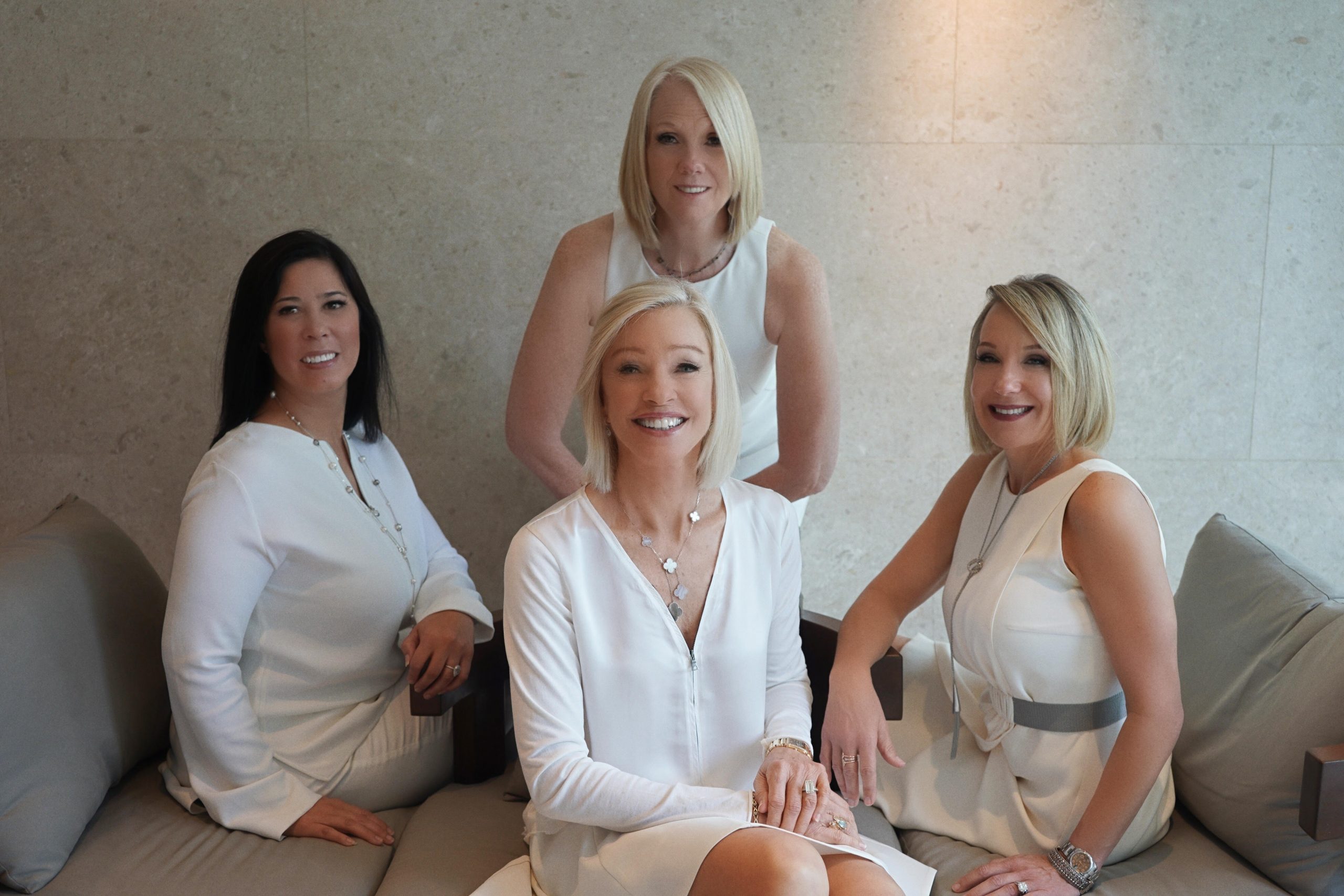 Kim Kiyosaki & Rich Woman – The story of self made millionaires 
Kim Kiyosaki & Rich Woman
The story of self made millionaires 
By Fatima Gorezi
Kim Kiyosaki, Lisa Lannon, Ronda Jaggers and Ceil Stanford are the 4 famous women behind Rich Woman. Over the years, they have built and promoted a unique platform that empowers women around the world to learn more and invest in financial education. They are four self-made millionaires who successfully use cashflow to make increasingly profitable investments. They travel all around the world and provide sincere insights on the empowering world of social entrepreneurship, business management, leadership and more.
In this exclusive interview for Global Woman Magazine, they share with us their secrets to help women like yourself become financially independent and build their confidence, because there is more to life than money and finance! It's about giving back. Living in freedom. Doing what you love. Loving what you do.
 Who says that you can't combine your passion and livelihood to become a Wonder Woman yourself?
[rml_read_more]
Kim Kiyosaki is a young woman who got fascinated by the world of entrepreneurship, ventured in to it and made it big. Her husband Robert Kiyosaki is renown all around the world. She started her career as an employee of a business magazine in Honolulu, Hawaii. It gave her the chance to get used to the ideas of business ownership, investments and being your own boss. Her bio is an inspiration to women all around the world. It definitely motivates them to seek financial freedom and independence. 
How do you define success, and what have been your secrets to achieving that definition of success?
Success, to me, is the freedom to pursue those dreams and goals that are most meaningful and fulfilling to me…and that make a positive difference in people's lives.
Achieving that freedom has not been an easy path, but it is absolutely worth it and one I recommend. It means taking on challenges. Getting out of your comfort zone…daily. Saying, "I'll do that!"- when you don't know if you can. It takes falling down at times and getting back up. Because it is through all of that we learn, get stronger, more confident, growing, flourishing, and prospering.  
Of course, true freedom in my world must include financial freedom. Because money, or the lack of money, is what often keeps us trapped and disconnected from the dreams we aspire to. Financial freedom gives us choices. When I became financially free in 1994, it was the first time I had the luxury to ask myself, "Kim, what is it you really want to do with your life?" That opened up a whole new world.
Finally, to be a Rich Woman goes far beyond financial freedom. "Rich", to me, means being rich in all ways possible: financially, spiritually, emotionally, mentally and physically. That, to me is real success. 
Tell us about a time when you failed, the lessons you learned and how it has made you a better business woman? 
Where do I begin? One of the biggest keys to my success are the mistakes I've made. Because if you're not making mistakes and failing then you're not challenging yourself. You're playing it safe. Worst of all, you're not growing and expanding as a person. Mistakes are how we learn and how we thrive.
The biggest mistakes I've made in my life were times when I did not trust myself. What I mean by that is there were times when I doubted my abilities and what I knew, so I brought in someone else to do the job that I was afraid I couldn't do. Every time I have done that, it was a disaster…and, ironically, I ended up taking over and getting the job done. 
Today, I am much wiser about the talents and knowledge I have and how to use them, as well as being aware of the expertise I need from others.
Many people find themselves in jobs they hate or are in positions they don't want to be in. What would be your best advice for them to generate change? 
I believe one of the most important things people need to be aware of when pursuing a job, a role or work, is to seek out the environment where they will thrive best. For example, I was fired from my first job at an advertising agency out of college. Amazingly, the company hired me back and I was fired again. It wasn't that I was incompetent or difficult; I was simply in an environment that did not suit me. I was an avid hands-on learner. I wanted to learn everything about the advertising industry, but my boss wanted me to know only what I needed to know in order to do my job. 
Being fired was my wake-up call. I knew then that what I wanted was to own my own business. I started my first business shortly thereafter and I have been an entrepreneur ever since. That is the environment I thrive in: one of creativity, innovation, experimentation, mistakes, learning and responsibility. So seek out the environment where your gifts and abilities will thrive.
Being a very active business woman, how do you balance work and the other parts of your life?
So many women seem to be searching for balance in their lives. I never seek balance. I do my best to be fully engaged in whatever I am doing at the moment.
I would guess if a woman feels "out of balance" in her life then she may need to ask herself, "Am I doing what it is I really want to do?" 
What is balance? Imagine yourself standing like Wonder Woman. Hands on hips, feet firmly on the ground, standing tall. In this pose you are balanced. There's only one problem with being balanced in this way; you don't go anywhere. In order to move, to take a step forward, you have to lift your foot off the ground, and at that point you are unbalanced. 
I think it can be very annoying and unhealthy for a woman to assume she has to balance her work, family, friends, and leisure. She'd be in a constant state of frustration, not to mention in judgment of herself. 
My answer to the question, "How do you balance work and the other parts of your life?" You don't. When you work, you are all in. When you're with your kids, you're all in. When I'm on the golf course, I'm all in. When I'm enjoying a glass of wine with my girlfriends, I am fully there with them.
Are there interruptions? Phone calls? Emergencies? Of course there are. That's life. What I strive for in all that I do is not balance but joy, especially inner joy. For me that comes from doing work that inspires and challenges me, hanging out with people I love and trust, doing the small things that make smile, and doing my best to be fully present and in the moment doing all those things. If I can do that, then life is great.
Ceil Stanford is a Coach in personal development, entrepreneur, investor, mom and nana. Ceil is consistently recognised as a leader who makes a profound impact on others, artfully guiding them to develop their "inner champions" and transform their lives in extraordinary ways. She uses revolutionary processes for personal and professional development that change lives across the globe.
Many people find themselves investing in self-development but are still striving to find themselves where you are now, enjoying wealth and prosperity. Can you explain the mindset and the process that led you to your success?
In my early twenties, I began my quest to understand myself and others, and have always wanted to be better in whatever role I was playing. I attended seminars, read books and took a few courses in college centered around relationships. Three days before my 40th birthday, I had a defining moment. I looked at my life and made the decision I was not going to live another year like the first 39 years. I ended a relationship with my spouse and I was terrified that I could not make it on my own; he earned three times as much as me. The first 39 years of my life were filled with getting what I did not want and decided I was going to put my attention on getting what I wanted in life. Upon the recommendation of a very good friend, I enrolled in a personal development course and I now own the company that developed that course! I discovered who I was and my capabilities, and that there is more to life than what I was experiencing. My preconceived ideas, mindsets and viewpoints about myself, people and life changed from negative to positive. I noticed that as I improved, everything around me changed. I got a job with an insurance company, making more money than I ever dreamed possible and my sales increased 33%. I won Account Manager of the Year in the US and my relationships improved with everyone. I found more and more happiness as I became my authentic best self, witnessing my success, prosperity and happiness naturally increase. I discovered that I truly love helping others be the best they can be, and I am able to do that through teaching courses and one-on-one consulting. I left my 19 year insurance career which was another scary moment and started doing what I love in 2004.
Why do you believe we need more female leaders in the world of business?
 I feel women have more life skills in certain areas than most men. For example, women tend to naturally have more empathy, while at the same time they are very able to lead and execute effectively while encouraging and inspiring others. The norm of the business world and leadership positions has predominantly been a "man's world." I don't think it can be stressed enough the importance of a person being able to lead and empower others to be the best they can be. From what I have observed, women excel in this area. It's time to balance the world of business and let women step into their power and take their much deserved place as leaders.
In your work, you help women move away from their comfort zone to start making money. How do you do that?
I find out what the person wants for their life. From there, I review where she is and where she wants to go. I ask her positive questions in a one-on-one consulting session that reveal what is preventing her from achieving her want. If her want is to increase her income, I use certain processes in the sessions to focus on the money area. Many people are fighting and restraining and not using their strengths, abilities and power without knowing it. Almost everyone – male or female – has negative beliefs, thoughts and ideas connected to the subject of money. Whatever the client wants in her life is what we will focus on.
When it comes to the people that are employed by you, do you try to foster a sense of entrepreneurship?
Absolutely! When we hired my assistant, she had her own franchise. I knew she had a certain level she wanted to achieve in order to be out of the "rat race" and have time freedom, which is what she wanted more than anything. We coached and supported her and she made it! Fortunately, she is still my assistant and has not left yet! We never felt threatened by the level of success she was striving for and encouraged her to take our courses to enhance her people and team building skills. I am very blessed because she loves what I do in personal development, and although she is out of the 'rat race", she still works with me.
Ronda Jaggers is a social entrepreneur and CEO with a passion for educational and professional development. Along with her husband, Greg, she is the owner of four special education schools targeting at-risk youth, along with a successful agency providing training and student-related services to the public school system. With over 25 years of experience, Ronda is a proactive and visionary leader.
We live in a time when entrepreneurs are often deified and people are told to follow their passions. Do you think these two things are always compatible? 
I believe these two things are definitely compatible. Part of what makes entrepreneurs viewed in high regard is the fact that many are working within their field of passion. Our businesses need to exist in order to solve a problem. Being crystal clear about what problem we are solving (in an area we are passionate about) creates success. The minute you step outside of your passion and focus on a business for the purpose of making money, you become incongruent and experience challenges within the organisation. 
At what point – and why – did your passion shift from investment to educating people about investment? 
My passion has always been education. I started by career as a licensed speech-language pathologist, and have devoted myself to providing solutions to learning challenges as well as developing leadership within the school systems. Moving into educating women entrepreneurs was a natural progression. So many times women's true passions take a backseat to caring for others; whether that be family, colleagues or friendships. Giving women the tools they need to be their best selves is highly rewarding. 
There's a sense that a growing number of people aren't interested in building up large reserves of wealth, but instead preferring to downscale and simplify their lives. How does that resonate with you and your beliefs about wealth? 
Wealth is not always about money – it can mean many things to different people. For me, being in control of my time is one of the greatest ways to experience wealth. Also, living a life that is in line with what is most meaningful to me and incorporating my core values creates wealth – physical wealth, emotional wealth, spiritual wealth. My experience is that when I am living and doing business in a manner I believe to be in alignment with my core values, I find joy and happiness. 
What is the best business advice you've ever received, that you also like to share with others? 
The best business advise I ever received was to become an active listener and seek to understand. We often miss the bigger picture when we are so focused on the small details of the day. Whether you are working with a difficult customer or upset employee, people want to tell their story and be heard. When we seek to truly understand where a person is coming from, we can move to solution. It is surprising to discover that we usually have more in common than not. 
Lisa Lannon is a social entrepreneur, author, investor, international speaker and mom. Described as a "protector with compassion," Lisa has a bold passion in building businesses and providing safe world-class healing environments assisting warriors in sobriety and healing. Lisa is the Co-Author of the Rich Dad Advisor book, The Social Capitalist. As a successful entrepreneur, she has built and sold 6 private addiction treatment facilities, JHC, with her husband, Josh. She is the founder of Brooke Property Management, with investments including residential homes, commercial buildings, resort hotels, and apartment complexes, boasting holdings of over 2,600 units. 
How do you define success, and what have been your secrets to achieving that definition of success?
  I think each person has to find their own definition of success. Success means something different to everyone. We can be inspired by someone else's success and adopt some of what they achieved, but ultimately it has to be in alignment with your own values and meaning. I define success in 3 categories – health, wealth and happiness. Setting yearly goals in each category assists me in working towards success in life.  
Tell us about a time when you failed, the lessons you learned and how it has made you a better business woman?   
There have been many failures over the years. This is a great question, as I think it's important to learn from them so we don't repeat them. One mistake or failure is when I didn't have the confidence/trust in myself. My business is in a field where I hire highly educated staff members such as doctors, psychologists, therapists, and other executives. I think we can learn a lot from all staff members as each one has a unique skill set and experience to contribute; but also knowing who to go to certain business situations. There have been times when I questioned a business decision because of having a strong team and them giving advise which didn't relate to their department or expertise. This came because I didn't trust or have the confidence in my own decision. It's ok to not know if you are making the correct decision, but trust in yourself is key. This comes with personal development, having a coach or mentor (who has walked the walk in that field), and experience.  
Many people are having a job they hate or are in positions they don't want to be in. What would be your best advice for them to create change? 
Creating change starts with defining what you want.  Then setting measurable goals to get there. If the change seems to be overwhelming, start with manageable sized steps to take each day.  Asking, "what is 1 thing I can do today to move me closer to what I want?" is a great start. If someone is in a job they hate or somewhere they don't want to be, creating clear intention and steps to move out of it is key.  Also, instead of having the mindset of hating the position, change it to: "what can I learn here as I take the steps to move forward?". We are all in positions at some time where we don't want to be. Having a positive learning attitude can make a big difference until change can happen. I was in a job that I did not like in my early 20's – had transferred departments and moved up in the company to this position – and did not like it. But I knew it paid the bills and learned to become grateful for the position because I could have been in a worse place in life (no job, less pay, etc).  So, changing it to being grateful for what I had as I looked for another job made it manageable.  
Don't be afraid of change, learning and finding what you love to do, and go for it!!
Being a very active business woman, how do you balance work and other features of your life?  
Haha! I love the question of balance. There really is no true balance in life. It's finding ways to make it all work together. There are times I spend too much time on business, so it is making the time to spend with family, on my health/personal development, fun, etc. I've learned to really schedule things, even family time. My kids are older now, so they don't require or want as much time with me now as compared to when they were little. But what I have learned is when I am with family, I am present with family. When we can take the time to be present, they feel it, they know you are with them and not thinking about work or other things. Communication with them is key as well: there are times when I will say I need to finish this email/text/etc and then I can focus on you, and it means a lot because they know I won't be distracted. As women, we tend to put ourselves last, so making the time for self is so important so we can be there for everything else. We have to define what that means for us individually. How many times a week do we work on our health, how often do we get a massage, when do we take time to read, work out, relax, etc. It's all about making the time for the "balance" we need individually. Having someone that is willing to call you out on this is also good. I have a friend that usually ask me: "when is the last time you took time for you (if they see me not taking that time)?"  It's good to have that one person that will see when you are over-doing it in one aspect of life, to call you on it and helping you get back in alignment!
Did you enjoy this article and find it helpful? Why not share it with your social media network below?