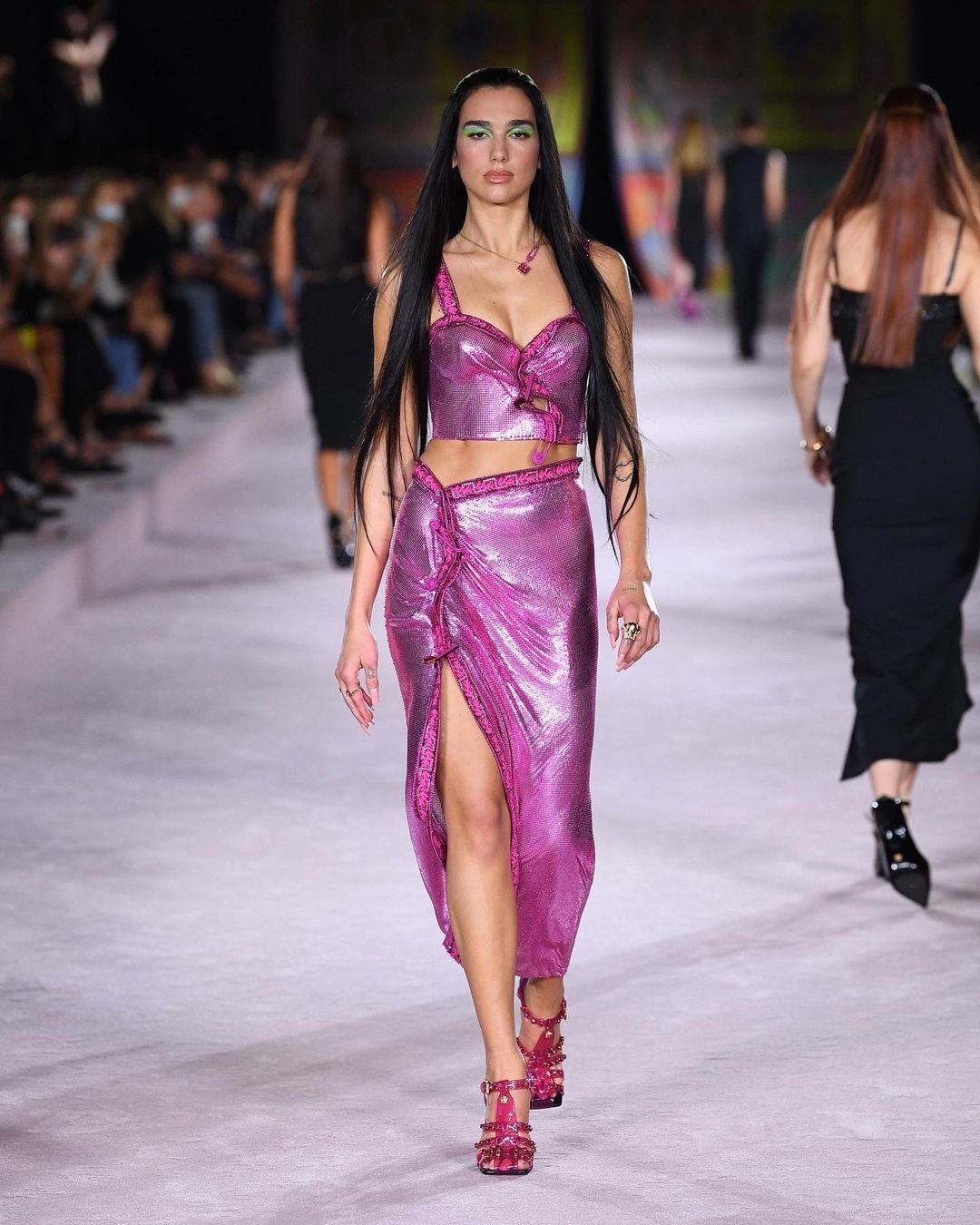 Dua Lipa Opens Versace's Spring/Summer 2022 Runway Show
By Saloua Miladi Wood
I have been waiting with eager anticipation for Fashion Week, particularly Versace's exuberant Spring/Summer 2022 show in Milan – it stood out to me and caught my heart.
The show opened with the British pop star Dua Lipa making her debut appearance on the runway, wearing a sexy black skirt suit, accompanied by her own music, underscoring the designer's penchant for a departure from the norm. Closing the show wearing an unforgettable pink mesh set accompanied by Donatello Versace, she took the final bow to the applause of the ecstatic audience.
The runway was covered with a beautifully patterned, flowing canopy in Versace's trademark brightly coloured silk foulard. The canopy's movement was maintained throughout the show by a team of beautifully sculpted male models, providing a stunning creative vision for the audience. This innovative theme continued through the show with womenswear and menswear, both entailing mind-blowing coloured pieces, paraded by models of all shapes, sizes and ages – something which was extremely refreshing to see.
Naomi Campbell made a cameo appearance in an outstanding dark pink mannish suit, providing the type of characterful highlight we expect from her. Other big names included Gigi Hadid, Emily Ratajkowski, and Imaan Hammam, who shone in a sexy, figure-hugging blue latex piece with a contrasting yellow bag and pink belt.
The use of block base colours with brilliantly coloured inserts and glimpses of contrasting coloured foulard underneath was the dominant element. The show was characterised by the use of soft, flowing materials, with mixed materials present, and a degree of gender fluidity in the pieces. There was the marriage of silk and latex, dark and cut pieces, large pins providing colour accents – a nod to Elizabeth Hurley's groundbreaking "Pin Dress" at the opening of Four Weddings and a Funeral in 1994. All of these elements made the collection truly memorable.
As we would expect from Versace, the womenswear collection reflected bold patterns and vibrant colours – particularly yellow, gold, orange, purple, plum and lime green. Black pieces were re-imagined to create a range of sensual evening wear by the use of soft materials, biased cuts, brightly coloured accents either as accessories or integrated parts of the garments, and sexy touches (of course), including slits, vertical cuts and cutouts.
The menswear collection reflected a sporty underlying theme featuring the same strong colours as the womenswear – soft materials, and brilliantly coloured contrasting accents, but only casual footwear. Logo tops, trademark symbols (both in the fabrics and jewellery), and colour-matching belts were prominent features. The suits, in particular, were a revelation with slightly oversize fits and stunning colours.
"The foulard is a fundamental component of Versace's heritage and character. It's acted as a canvas for our iconic prints and is worn in multiple ways from knotted tops to headscarves to bag accessories – it's a way of adding Versace attitude to any look," said Versace's chief creative officer Donatella. "The foulard has been with us since the very beginning of the brand, but this season turns everything on its head, it is no longer fluid or dreamy, the scarf is provocative, sexy, wound tight."
Dua Lipa may turn out to be a masterstroke with the designer leveraging its music world contacts, using pop culture and pop artists to make its appeal to a wider audience. Undoubtedly, the singer's presence will appeal to a new, younger audience making Versace's designs more accessible to this potential client group and giving the brand an injection of new life: particularly apposite in light of the collection's young, sporty, co-ed theme.
The show's vibrancy, exciting styling, vivid colours, lively music, and general energy is sure to be a major attraction to all observers. To my eye, it made a wonderful viewing leaving the collection shouting "WEAR ME" to its audience.
Did you enjoy this article and find it helpful? Why not share it with your social media network below?