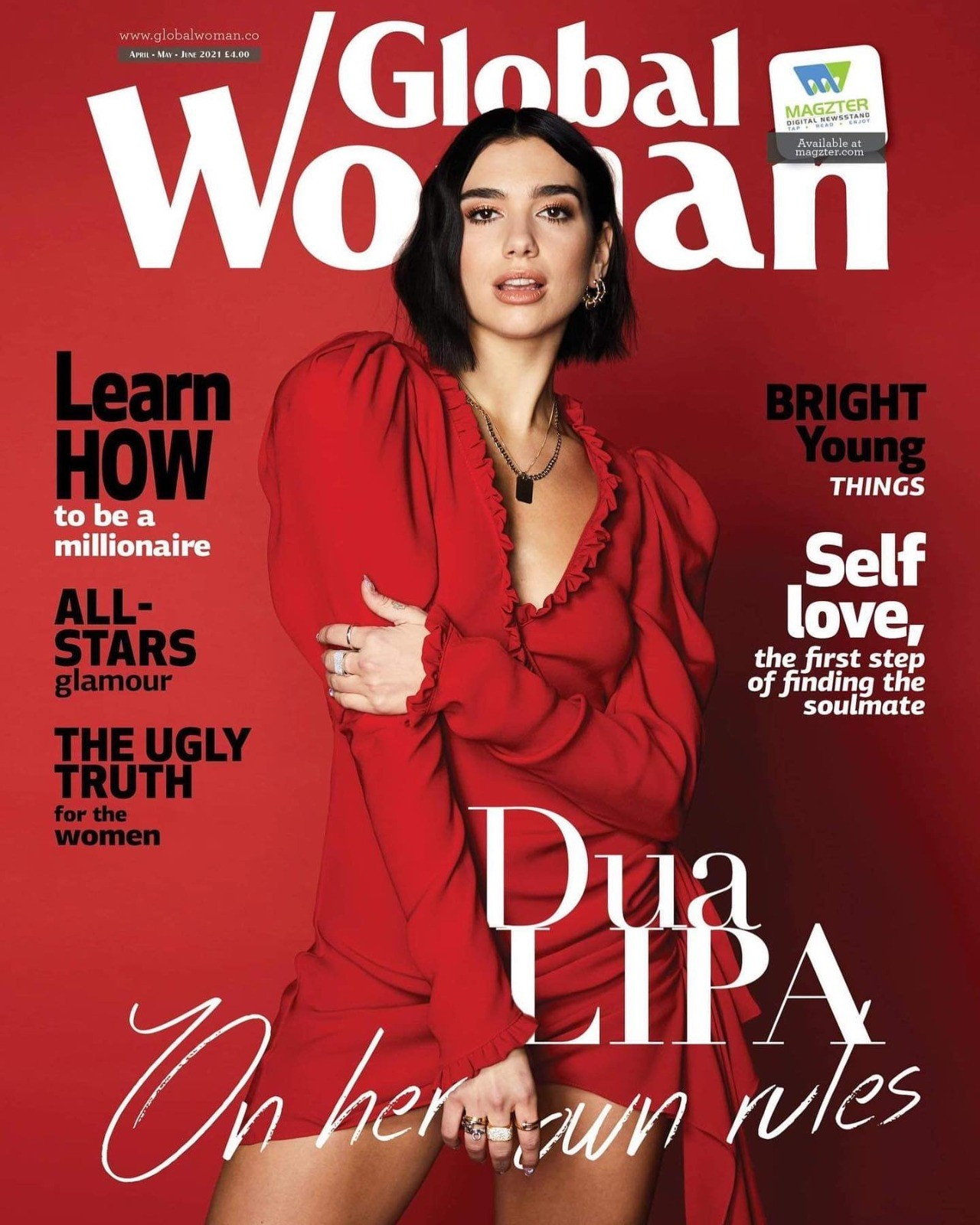 Dua Lipa: On her own rules
Global Woman looks at why Dua Lipa's appeal as a modern influencer goes well beyond songwriting, and why as a role model for positive and optimistic change she is exactly what's needed in this brave new world.
Dua Lipa's ability to be so many things all in one go is what, ultimately, makes her so engaging. Consider the fact the 25-year-old is a London-born descendant of Kosovan Albanian parents who, with Bosnian ancestry thrown into the mix, fled the war-torn former Yugoslavia in search of better, fairer, more fulfilling and, essentially, safer lives.
She is a woman in a relationship with a multimillionaire partner, Anwar Hadid, yet is in every way a self-starting, self-made exemplar of blistering talent and unrelenting energy.
She is someone entrenched in a world of manufactured bubble gum pop, yet a versatile activist and campaigner who will happily turn away Radio 1, Capital, MTV and commercial avenues if the opportunity arises to liaise with political media on subjects as diverse as social justice, equality and human rights.
And of course, as you may well expect, the chart-topping artist is a powerhouse behind sexual equality, and the freedom to play out our dreams and ambitions on a level playing field.
It seems perverse then, at this juncture, to suggest the singer/songwriter should perhaps approach the next stage of her career with caution. After all, thus far, she has barely put a foot wrong, and exists in a world in which we hold our role models in such high regard for their views and influence. The risk, for Dua – whose name translates to 'love' in Albanian – comes in the possible dilution of the very thing that set her apart from others in the first instance: her voice. Not a political voice, nor a philanthropic voice, or a voice for activism, but a voice whose pitch, tone, crystal clarity and sultry soulfulness is more capable of transporting those who hear it to other places than any statement on refugees, LGBT or poverty. "I do know I have to hold myself back from moving too far away from what people really like in me and regard me as, and that is a singer," she concedes. "It is something I think about. However, given where I have come from and what I have lived through I do believe it would be strange if I didn't offer some opinion on what's going on around us. And these are really key issues too – real things that genuinely I have a passion for and care about."
In a worst-case scenario, the singer becomes embroiled in a swirling mass of debate and campaigning in much the same way as have the likes of Sting, Bono, Bob Geldof, Sinead O'Connor in the past. Even in recent months, icons such as Janelle Monae and Beyonce have found that when fuelling topics under the umbrella of Black Lives Matter, for instance, they have struggled to edge away from the movement at times when they just want to talk about their key product – the music. With influence comes temperance, something the London-based singer accepts.
"It's like having a favourite record – you need to listen to it just enough in order for it to hit the right parts and to give you that special feeling. If you push it too far then that whole impact can be taken away. I think that's the balancing act with all musicians, whether they're being interviewed about politics, music or just what they're wearing – you can have too much of anything, or anyone!"
And yet, right now, it seems our appreciation of the New Rules singer continues only on a solid upward trajectory. Musically, her clinching of two BRIT Awards in 2021 (for best album and best female solo artist), comes at a time when most of her peers are struggling to maintain relevance after a global pandemic that has shut down live entertainment almost completely.
Not Dua Lipa though – yes, last year's Future Nostalgia album was followed by a remixed version with a couple of accompanying single releases, but really it is personality and social media buoyancy that has kept her in the spotlight.
The fact a new album is on its way next year is ultimately something tangible to savour – Dua's is style of musicianship that evolves and flows in the way you would expect of an artist twice her age, with originality and changeability at every turn. In summary, this is someone in a good place.
By that logic then, there is little need to garner headlines in the championing of causes and concerns; even those that are close to her heart. "I have been told to steer clear of being too outspoken," she says. "My label are obviously supportive of what I do and say, but I know there is always that danger of someone disagreeing. Yet as a member of society, and as a woman, I believe the most important thing is to be honest – it is that simple."
Certainly, the singer's use of social media with such flair and flourish means that while onlookers may not agree with her all the time, she is tackling issues from an intelligent, informed perspective, and in most cases, with an abundance of lived experience.
"If you're going to say something that people might oppose, at least do it in a way that shows you are credible, and you can think for yourself."
Arguably, the artist's forthright views on Brexit and the UK's drawn-out departure from the European Union were one of the key topics that catapulted her centre-stage. "It made me sad then and still does," she says, "but I understand, as a nation, the people felt they had tried it for long enough and wanted to explore the potential of a new way of doing things. After what happened in Yugoslavia I would be a hypocrite if I said I didn't believe in the will of the people and the ability of people to make change and forge their own path. As far as Brexit goes, I can only view it from my side, and really my perception is that I am so lucky that I was able to make move to the UK from Kosovo. It seems likely that in future there won't be many who can do what I did. That's such a sad state of affairs, but these things happen, and I don't believe anything is forever."
More recently, her outspoken nature has broached the subjects of the NHS, awareness over increases in the number of cases of HIV amongst young people, the Israel-Palestine debate and, of course, the fight against racism in all its forms.
What's interesting about Dua Lipa's position is that it has never been easier, nor more difficult, to reside in the music industry. In respect of marketing, promotion and having a cost base that has stripped away almost all physical product in favour of digital output, once you are relevant as an artist, you have a great opportunity to stay there. Yet the competitive clamour that sees so many bedroom artists vying for exposure and recognition means even being noticed is a challenge 99 per cent of talented artists will fall short of.
For Dua, her route to the top came via the famous Sylvia Young Theatre School. She excelled there in the same way as had past alumni include Amy Winehouse, Rita Ora, Billie Piper and the Appleton sisters, moving back to near her homelands in Kosovo, temporarily, before returning to the British capital. She worked as a model, waitress and shop assistant on the way to earning enough money to get her name out there.
"My route was certainly not a case of being plucked off the street and presented with this incredible prize," she says. "I know there is a perception that this is how these things happen, but that I think is a belief rather than a reality. It certainly wasn't a reality for me and I had to work incredibly hard to get to where I am."
The prize, as Dua puts it, is now hers. Her self-titled 2017 album went top 10 in seven different countries, and her hotly-anticipated follow-up only confirmed the artist's place as one of the most interesting, engaging and talented singers in the industry. Arrowing to the top of the charts in the UK, Australia, Ireland and New Zealand, Future Nostalgia also made it to number four in America, and spawned global hits Don't Start Now, Physical and Break My Heart.
The speed with which the artist has achieved her aims is perhaps quite bewildering; even more so when you consider she has the word 'patience' tattooed on her hand. "It's interesting you note that," she responds. "Really, it's just a personal message to me for my life in general. With my music, I am always working hard to release material as quickly as I can, but things don't always work that way – the promotion, interviews, release schedules. I got that tattoo there in a place that I can always look at, to remind myself that the phrase is true: 'patience is a virtue…' Sometimes, you have to wait for good things to happen."
With her father providing significant music influence – he was in a Kosovan band called Oda – perhaps Dua's success isn't so much of a surprise after all. "I saw what my father did and always wanted to try to achieve as much as I could. Music was something I loved being involved in, both making it and listening to it. There couldn't be anything else, really because music has been my life since I was very young. I don't think I ever had a day where I didn't listen to music – it's always been there at some point."
Blossoming into an attractive, confident, talented and opinionated star, she was always going to be a marketing team's dream. After all, every label wants a dominant, determined female artist who can dance, is fashionable, explores feminism and can delve into society's wider issues with all the confidence of a political correspondent, and Warner Bros got just that.
Our musicians of today are part of perhaps the entertainment world's biggest, most expansive and fastest-moving PR machine. It is one that barely lets up, yet in those rare moments where an artist is free to speak their mind, and does so with such clarity and compassion, it's worth listening to.
It's for that reason that we need to, and surely will, cherish Dua Lipa for some time to come.
Did you enjoy this article and find it helpful? Why not share it with your social media network below?