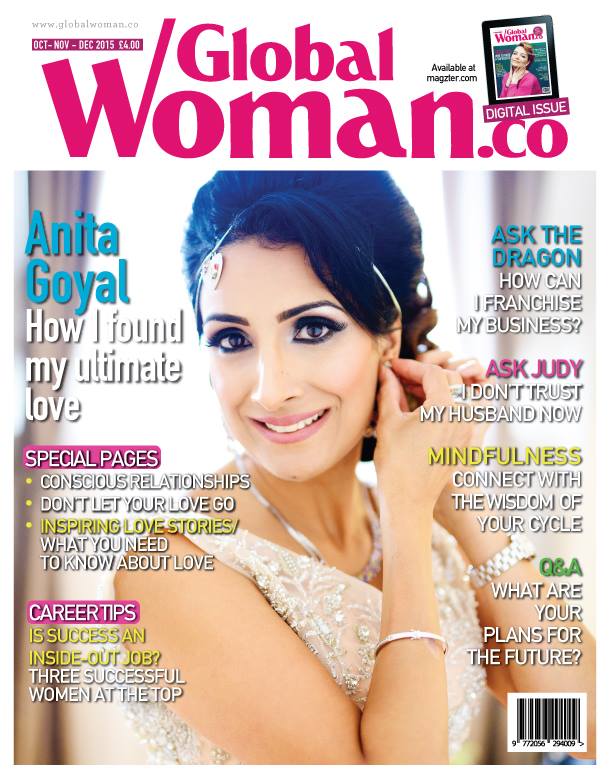 Anita Goyal: How I found my ultimate love
Anita Goyal: How I found my ultimate love
By Mirela Sula
Anita worked for twenty years as a Science teacher in secondary schools and as an Assistant Head Teacher of inclusion. Now, together with her husband Avnish, they are recognised for their community activities via the Hemraj Goyal Foundation, by being awarded the Top 5 Couples in Community Affairs by Asian Power Couples. Their love story is the dream that everyone would love to turn into a reality. If you are curious, I invite you to read this extraordinary story.
You are now living your dream with your partner. How did you find your ultimate love?
My ultimate love is my amazing husband Avnish Goyal. It all started in January 2013 when I received a call from my brother's friend, who I had met at a family celebration after many years. He was aware that my late husband had passed away twenty months ago, and asked me if was interested in meeting anyone. I was quite surprised by this initially, but when he shared his own love story with me and how he had found "the One," I was curious to know why he wanted to reach out to me.
He was passionate about taking it forward and had a desire to make a difference in other people's lives by 'match making' in his spare time! I was intrigued, at that time in my life, I was ready to further explore the world of dating. Eventually, after one failed attempt, he introduced me to my wonderful husband. I had no idea what the future held for me, all the love that I had to give and receive in abundance began in February 2013. It took us about three months of dinner dates and coffee meetings before we decided to start our intimate relationship. For me, I was physically and intellectually attracted to my husband, yet we took time on questioning each other to explore our compatibility before we made any commitments.
I was physically and intellectually attracted to my husband, yet we took time on questioning each other to explore our compatibility before we made any commitments
How did you know that "this is the one?"
I knew that my husband was the one for me and that I wanted to spend the rest of my life with him. Early in the relationship, I was so fascinated by how aligned we were in our thinking. We came from a similar a background and I was pleased to have discovered that my husband was actually born in the same town as my mother in India! That was a remarkable coincidence as this meant that our dialect in Punjabi was identical. We didn't have to deal with any cultural differences and we were both born into the same religion.
In my search for "the One" I was adamant that my educational background had to be similar to my husband. The reason for this is that in my previous marriage, we had very little in common and I repeatedly lowered my standards and struggled with our incompatibility. I knew my husband Avnish was 'the One' as we were highly compatible in most areas that were important to us. There was no compromise!
All the qualities that I desired in my ultimate partner, such as integrity, high self-esteem, commitment to personal development, a great relationship with family and friends, were some of the characteristics that were important to me. We are both emotionally open and this has always been incredibly powerful for us as we freely share our hopes, dreams, fears and failures.
Earlier on in our relationship, we discovered that our primary love language was the same, we both felt loved through physical touch. We also routinely use the other love languages to meet each other's needs. I also feel loved when my husband enjoys spending quality time with me. I meet my husband's other love language through acts of service, for example, giving him a face or back massage. Knowing each other's love language helps you to communicate love in a practical way.
How has this impacted on other areas of your life?
Being in a passionate marriage has enhanced every aspect of my life. My relationship with my family is the best it has ever been. I come from a very close supportive family, where I was raised to have great self-esteem with high expectations in life. For me, it was vital that my partner not only had an outstanding relationship with his own family, but would also love and respect my family. Love transformed me, it enabled me to become more of all the things I believed in – to be kind, humble, compassionate and mindful of the needs of others.
My confidence improved over the last three years and I committed to personal development through reading more books on relationships, attending seminars such as the Landmark Forum, Unleash the Power Within, by Tony Robbins, and developing my own public speaking. My husband and I are committed to making a difference through our charity work, we have learnt so much from some of the most inspirational and influential people that have transformed thousands of lives. This has enabled me to continually grow and I never imagined that my new life would expand my thinking and capacity of understanding on such a high level.
Love transformed me, it enabled me to become more of all the things I believed in – to be kind, humble, compassionate and mindful of the needs of others.
After all this experience how would you define Love?
Love is a choice not a feeling. Love to me is something that we do, not something that just happens to us. When we choose to love, we expand ourselves and there should be no limits to what you are willing to explore to become the best version of yourself. A whole new world opens up when your relationship is full of potential, and happiness that weaves through not only your togetherness but also enriches your individual lives. Relationships are about teamwork where it's about giving and receiving, always working together to achieve a common goal.
You have started an initiative to help people find their ultimate partner- can you tell us more about this?
My husband and I believe that the most important relationship that transforms you, is the one with your partner. This partnership can light up every part of your life where you can truly experience the depths of intimacy. In 2015 we started an initiative to help people find their ultimate partner, where we run a unique one day seminar that is designed to leave you empowered into taking action in finding the person of your dreams, and create a relationship that is not only sustainable but gets better over time.
We help our participants discover their blueprint for love on how their upbringing affects intimate relationships and views on love. We discuss how their selection process may be flawed and help them to establish what it is they're really looking for. Clarity is gained on who they need to become to attract "the One." Learning techniques such as online dating to help find their 'Ultimate Partner' more easily and quickly is a popular part! Finally, gaining an insight into how to sustain and develop a new relationship.
We are currently developing a seminar for couples on how to put the magic back into your relationship. Our new ultimate relationship book will also be published shortly.
A lot of people dream of finding "their perfect partner". How did you turn your dream into reality?
The creation of my vision board had a lot to do with how I turned my dream into reality.
It was one afternoon in the Easter holidays, approaching the first anniversary of my late husband's death, that I gathered the strength to begin a project that I believed would change my life. I found two A3 size poster papers and joined them together on the back with some sticky tape. I collected a range of magazines together, a pair of scissors and a glue stick. I remember my mother giving me a strange look and enquiring what I was doing. I replied, "I'm making my vision board Mum, and from this day onwards I will focus on what I really want in life!"
It was simple really, I flicked through the pages of the magazine and selected images and pictures that appealed to me and cut them out. I thought about all the words and phrases that inspired me and started to construct, in order of priority, all the life experiences that I wanted to extend on and all the new adventures that I wanted to enjoy. I placed the images around the words and quotes that I had selected and stuck them onto the pale yellow poster paper. I had completed my first ever vision board.
At that time in my life, I was becoming exhausted with all the grief and pain that surrounded me. This was the way that I believed would help me to realise a better future and hope for a new life. I displayed my vision board in my bedroom where I could see it every day and night. More importantly, I focused on the various images and words, visualising them as if I was experiencing them that very moment. This actually made me feel happy and gave me hope.
I created my vision board from a great story that I had watched and read about in a wonderful book – 'The Secret'. This book was my first exposure to personal development. Since then my husband and I have conducted vision board workshops for family and friends and we produced our first joint vision board. We have it displayed in our bedroom and still get blown away when things on it come true. A prime focus on helping and supporting others' lives by contributing in a meaningful way has been immensely empowering in my life.
A prime focus on helping and supporting others' lives by contributing in a meaningful way has been immensely empowering in my life.
Love also needs to be committed and engaged – what would you say to people who fear this?
In relationships people may fear being rejected, or they may wonder:
What if they are with the wrong person?
What if someone better comes along?
It is such hard work, relationships aren't easy
It's such a heavy responsibility
I once had a limiting belief that I would never have a happy marriage and that any man in my life would cause me pain! Fortunately, I addressed this unfulfilling feeling of certainty when I attended a Tony Robbins seminar – 'Unleash the Power Within'. By making a choice on that day, I eradicated this belief from my consciousness and replaced it with a new empowering one – "I will be happy and fulfilled in my new intimate relationship".
I knew that this alone would not be enough, so I adopted effective strategies from the books that I had read and applied them in my life. As I repeatedly used the various techniques to stay in love, they became easy, pleasurable and then simply a habit. Three very powerful techniques that I use every day in my ultimate relationship with my husband are:
Balance of power – maintaining equilibrium in a relationship
Masculine and feminine energy – managing the interchangeable traits
Sustaining connection, communicating and embracing intimacy
Believe in love and never stop believing. It's really simple, with your ultimate partner you have the power to influence the way your relationship works and your happiness together. This is conscious love.
What tips can you share for our readers who are still looking for their ultimate partner?
Be clear about what you want
Keep developing yourself
Always be ready. Be the best version of yourself when you are out and about as you just don't know who you will meet
Check out your compatibilities before you make any commitments
Watch out for any red flags, as they could be a clue for disruptive and dangerous behaviours
Be in action
'Enjoy your journey as you may surprise yourself at your ultimate destination.'

Avnish and Anita
Together we are passionate about making a difference. We run seminars for singles and couples on how to create your ultimate relationship.
Our next seminar – 'Finding Your Ultimate Partner' for singles is being held in London at Foyles Bookstore on Sunday 29th November 2015. Please visit www.avnishandanita.com for more information.
Who is Anita?
Anita has completed a Master's in Special and Inclusive Education, and is the Director of the Hemraj Goyal Foundation (www.hgf.org.uk). She is also the trustee of the Care Workers Charity and works with her husband in the family business – Hallmark Care Homes. Avnish and Anita are passionate about making a difference in peoples' lives and are continuously designing seminars and writing to share ideas and contribute to various areas in life. They led their second successful 'Finding your Ultimate Partner' seminar earlier this year.
Did you enjoy this article and find it helpful? Why not share it with your social media network below?